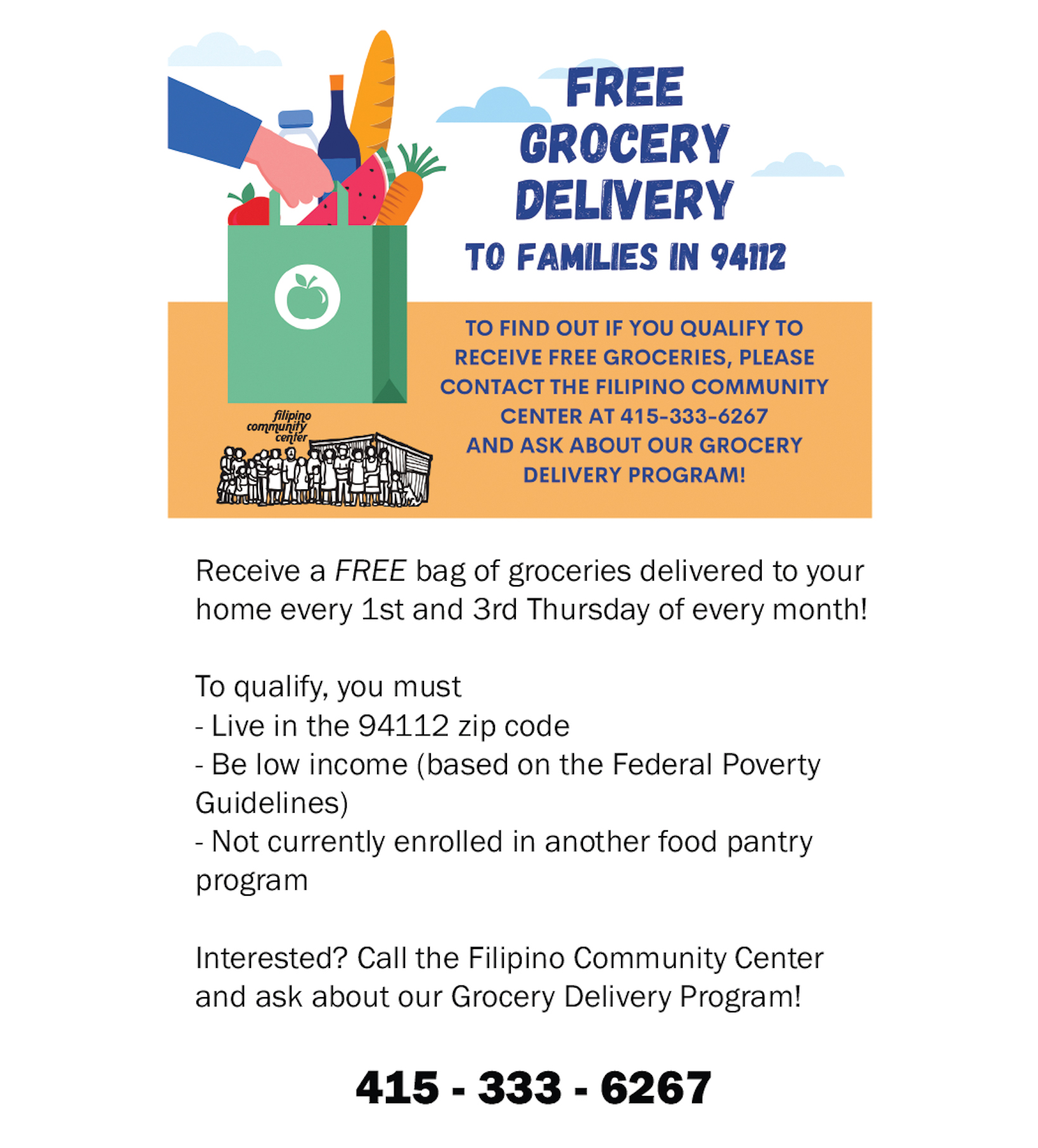 THE Filipino Community Center (FCC) offers many opportunities for community members to stay in touch with the organization.
The FCC recently announced that individuals who are interested in getting involved through volunteer opportunities are encouraged to volunteer for its Food Delivery Program under the Bayanihan Response to COVID-19 Campaign of the National Alliance for Filipino Concern (NAFCON). This program serves working class families and households in Excelsior District (94112 area zip code) in San Francisco and offers free groceries every 1st and 3rd Thursdays of every month from now until June 2023.
The FCC are currently partnering with the Bayanihan Equity Center to help make this program possible. It is currently looking for:
Grocery packers – Volunteers will help prepare groceries every 1st & 3rd Tuesday of every month at Bayanihan Center from 9 a.m. to 12 noon.
Volunteer drivers – To help with picking up groceries from Bayanihan Center to the FCC and/or helping deliver groceries to families and households residing in Excelsior District (94112 zip code).
Delivery staff – Volunteers will help accompany volunteer drivers to drop off groceries to families and households in Excelsior District.
In office support – The organization is looking for volunteers to help with various needs in order to help run our grocery program at the FCC such as phone banking recipients and transporting groceries to delivery drivers and staff.
To volunteer, go to https://docs.google.com/forms/d/e/ 1FAIpQLSeQP2KoR38c VI9w3yQ2EU2-ILZJMAYuXke5LPDhKnFqqnQpJw/viewform, fill out the form and submit via email to [email protected]. For other inquiries, please call Shara Orquiza at (415) 333-6267.
(FCC Release)