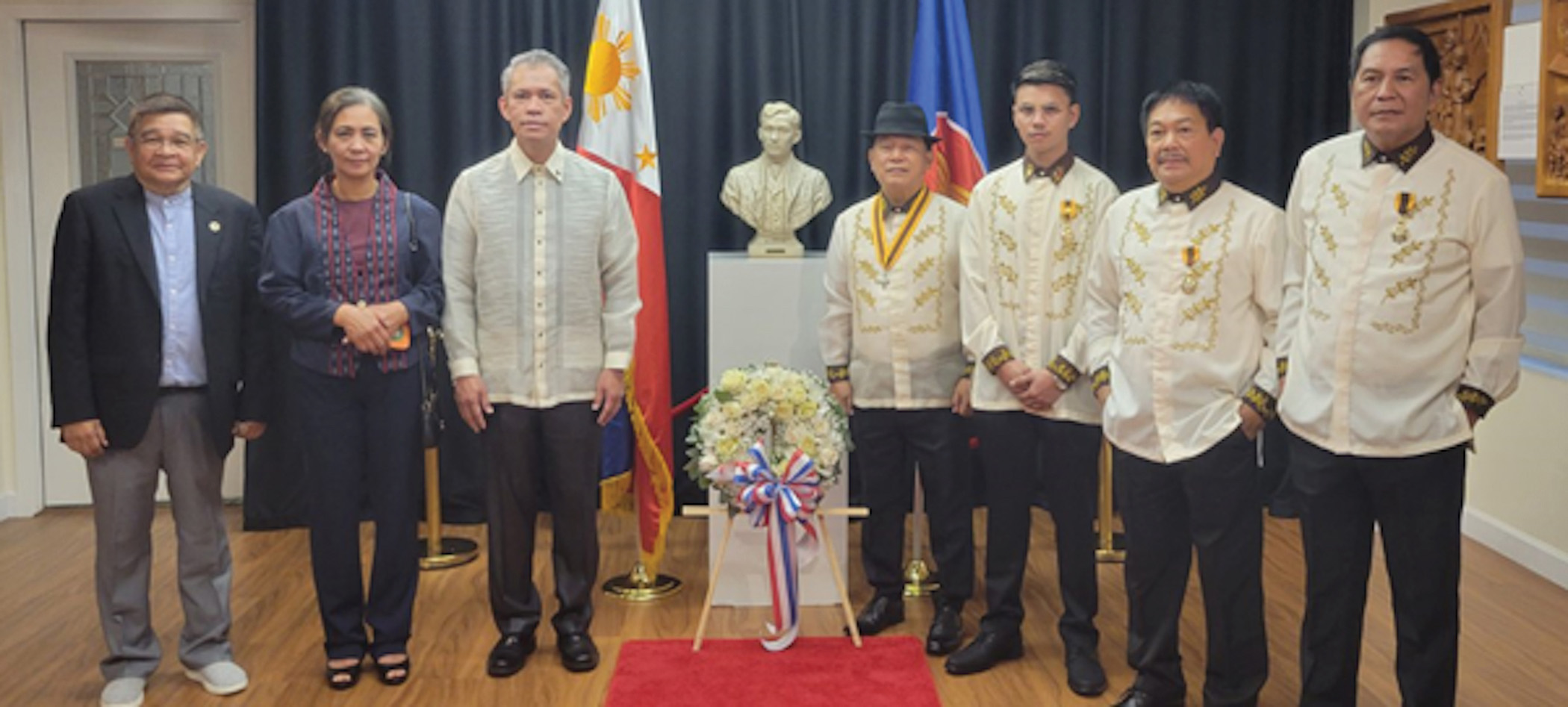 SAN FRANCISCO – Philippine Consul General Neil Ferrer led the commemoration of the 126th anniversary of the martyrdom of Philippine national hero Dr. Jose Rizal in a solemn wreath-laying ceremony at the Sentro Rizal of the Philippine Consulate General in San Francisco on December 30, 2022.
Retired U.S. Army Major Ramon Sumicbay, KCR, LM of the Knights of Rizal Hawaii Chapter joined Con Gen Ferrer in the laying of the wreath before Rizal's bust. Also in attendance was Sunnyvale, California Councilmember Tony Spitaleri.
ConGen Ferrer led the Consulate and guests in the commemorative event, where he expressed the hope that "similar to the statue of Mexican revolutionary hero Miguel Hidalgo y Costilla at Dolores Park in San Francisco… we will commemorate Rizal Day in a Bay Area monument unveiled in Rizal's honor, and we would be happy to work with the Knights of Rizal and local officials on this."
The Consul General cited Rizal's lone visit to the U.S. in 1888, with the Bay Area as his very first stop. After staying for three days at the opulent Palace Hotel on San Francisco's Market Street, Rizal took a ferry to Oakland, then a train to Benicia where the train was ferried to Sacramento. A plaque on Rizal's brief stay in San Francisco was installed on the exterior wall of the Palace Hotel in 1996.
In his message, ConGen Ferrer also shared his hope that "Rizal's life and works will continue to inspire the present and future generations of Filipinos all over the world, including Filipino Americans, to support efforts towards uplifting the conditions of the Filipino people in the Philippines and elsewhere, and to take pride in and promote their Filipino culture and heritage."
The wreath-laying ceremony at Sentro Rizal San Francisco was the culmination of the Consulate's month-long commemoration of Rizal Day. Earlier in December, the Consulate teamed up with GMA Pinoy TV for a special watch party of the groundbreaking fantasy portal series on Philippine primetime TV, "Maria Clara at Ibarra," based on Rizal's novel "Noli Me Tangere," which stars Filipino actors Barbie Forteza, Julie Anne San Jose and Dennis Trillo. (PCGSF Release)