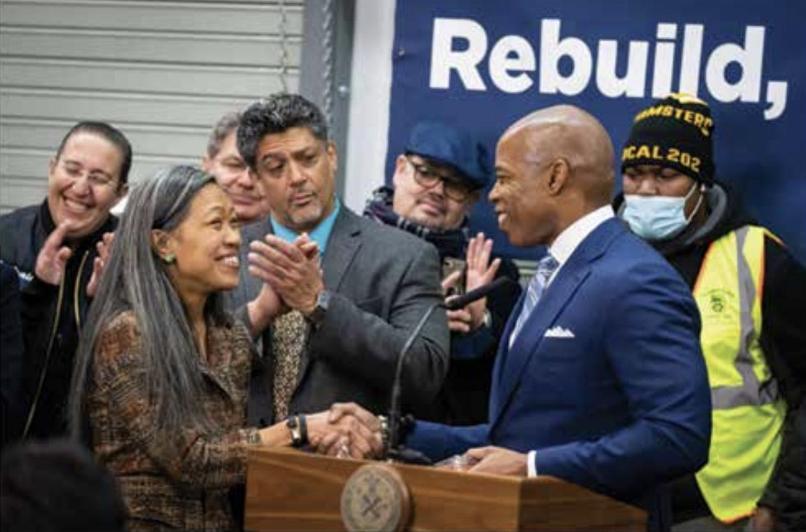 Maria Torres Springer is the city's new Deputy Mayor for Housing, Economic Development, and Workforce
"Throughout her career in public service, Deputy Mayor Torres-Springer has shown clearly that she is ready to take bold action to tackle the city's affordable housing crisis. I'm proud to announce her expanded role as Deputy Mayor for Housing, Economic Development, and Workforce."
With that statement, Mayor Eric Adams made an important announcement on Tuesday, May 30 regarding the appointment of Deputy Mayor Maria Torres Springer to an enhanced position.
In her newly expanded role, Deputy Mayor Torres-Springer will be responsible for overseeing housing, economic development, and workforce matters. This includes spearheading initiatives to enhance the New York City Housing Authority (NYCHA), facilitating the transition of homeless individuals into secure housing, and driving Mayor Adams' ambitious mission to construct 500,000 new homes for New Yorkers within the next ten years.
"Having grown up in Section 8 housing, I know firsthand that safe and affordable housing is about more than mere brick and mortar — it's about creating opportunity and improving lives," said Deputy Mayor Torres-Springer.
Since January 2022, Deputy Mayor Torres-Springer has played a crucial role in advancing the Adams administration's endeavors to expedite the development of much-needed housing.
She has provided oversight to the New York City Department of City Planning and the New York City Economic Development Corporation (NYCEDC), demonstrating exceptional leadership. As a co-chair of the Building and Land Use Approval Streamlining Task Force, she has contributed significantly to Mayor Adams' "Get Stuff Built" plan, which aims to accelerate housing construction. Furthermore, she has been instrumental in driving the "City of Yes" citywide zoning text amendments, which seek to support small businesses, foster the creation of new housing, and promote sustainability.
Deputy Mayor Torres-Springer has also been involved in transformative initiatives such as the construction of 2,500 affordable homes in Willets Point and community planning efforts in various areas, including the East Bronx, Central Brooklyn, the North Shore of Staten Island, Midtown South, and Jamaica.
"In a year and a half with this administration and throughout her career in public service, Deputy Mayor Torres-Springer has shown clearly that she is ready to take bold action to tackle the city's affordable housing crisis," added Mayor Adams. "She has a proven record of creating affordable housing and economic opportunity for New Yorkers, and her leadership of our economic recovery efforts has delivered real results. She is the right person at the right time to create and preserve the safe, high-quality, affordable housing New Yorkers so desperately need, and I congratulate her on this expanded role that will allow her to serve even more New Yorkers."
"Under Mayor Adams' leadership, we came in with a bold agenda to change the paradigm for how we grow equitably as a city. I am incredibly humbled to further serve New Yorkers as we strive to provide stable housing for our neighbors, protect our existing affordable and public housing, and identify new ways to make housing affordable for all New Yorkers at this critical moment in our city's history," the deputy mayor added.
As deputy mayor, Torres-Springer has overseen "Rebuild, Renew, Reinvent: A Blueprint for New York City's Economic Recovery" and the city's strong jobs recovery, efforts to support small businesses with the "Small Business Forward" executive order, commercial district recovery and the "New" New York panel's "Making New York Work for Everyone" action plan, and transformational projects in Willets Point and on Governors Island.
She was previously vice president of U.S. programs at the Ford Foundation, where she oversaw the foundation's domestic grantmaking and made historic investments in support of racial equity, workers' rights, voting rights, and arts and culture across the country.
Proud Fil-Am
Torres-Springer was born and raised in California a year after her parents moved to the United States from the Philippines. Her father, Manuel, is from Pampanga, and her mother, Elsa, is from Batangas. She is the second of six siblings (she has four sisters and a brother).
"I belong to a very traditional and tightly-knit Filipino family," shared Torres-Springer in an interview with the Asian Journal shortly after her appointment in 2014 as the head of the Department of Small Business Services. Reflecting on her cultural background, she mentioned that she retains some knowledge of Tagalog, but humorously added, "I believe my Kapampangan is even better."
"I'm very proud of my ancestry and Filipino culture and my background. I've always hoped to take the values that I learned growing up and apply that to my work and I think more generally to ensure that people and businesses of diverse backgrounds have a fair shot in New York City. If I'm able to do that in this role given my background, that would bring a lot of motivation," she added.
Torres-Springer spent some of her formative years in the Philippines. From age 9 to 13, she lived in Betis, Pampanga, her father's hometown. She moved back to the States around high school and then she visited a couple of times as an adult.
"I miss the food, and how much family surrounded us when we were there. My dad is one of 23 kids. He's the youngest. Being surrounded by family was a very special experience," she said.
When asked about the valuable lessons instilled by her parents, Maria emphasized the importance of not taking things for granted and the value of hard work in achieving one's goals. Gratitude and giving back were core principles ingrained in her upbringing, thanks to the mentors, supporters, and her own family who taught her the significance of acknowledging those who helped her along the way and extending a helping hand to those in need.
The deputy mayor grew up at a time when her parents were still trying to adjust to their newfound lives in America. Their story, she said, is typical of the immigrant experience, where parents make a lot of sacrifices to immigrate to the United States with the hope of providing their children a better opportunity.
Track Record
Torres-Springer has a long track record of public service in New York City, having led three city agencies with over 3,000 employees and approximately $2 billion in annual operating budgets, addressing some of the city's most significant public policy challenges.
As commissioner of the New York City Department of Housing Preservation and Development, she oversaw the financing of approximately 60,000 affordable homes — the most over any two-year period in the agency's history. She also helped develop comprehensive plans for investments in Inwood, Downtown Far Rockaway, Jerome Avenue, and other neighborhoods; advanced initiatives to promote innovations in design and construction; and launched several new programs to protect tenants' rights. She has served as board chair of the New York City Housing Development Corporation and as a board member of the New York City Housing Authority.
As the first woman to serve as president of NYCEDC, she led the implementation of the citywide NYC Ferry service and oversaw major investments in key sectors of the city's economy. Working closely with community leaders, she also spearheaded several neighborhood revitalization plans across the city.
As commissioner of the New York City Department of Small Business Services, she prioritized efforts to raise wages and support women- and immigrant-owned businesses. She also launched Women Entrepreneurs NYC and worked to prepare New Yorkers for 21st-century jobs through the Tech to Talent Pipeline program.
Torres-Springer earned a bachelor's degree in ethics, politics, and economics from Yale University and a master's degree in public policy from the Kennedy School of Government at Harvard University.
Deputy Mayor Torres-Springer will continue to report to First Deputy Mayor Sheena Wright.
"Maria Torres-Springer has been one of the primary drivers of our administration's efforts to build more of the housing New Yorkers so desperately need and build it faster in every corner of our city," said First Deputy Mayor Sheena Wright. "She has a long record of delivering results at the highest levels of city government and of partnering with impacted communities to ensure their voices are heard and their needs are being met. There could not be a better choice to continue the work started by the chief housing officer and her team, and I am excited to continue working with Deputy Mayor Torres-Springer to keep this city affordable for working- and middle-class families in all five boroughs." n