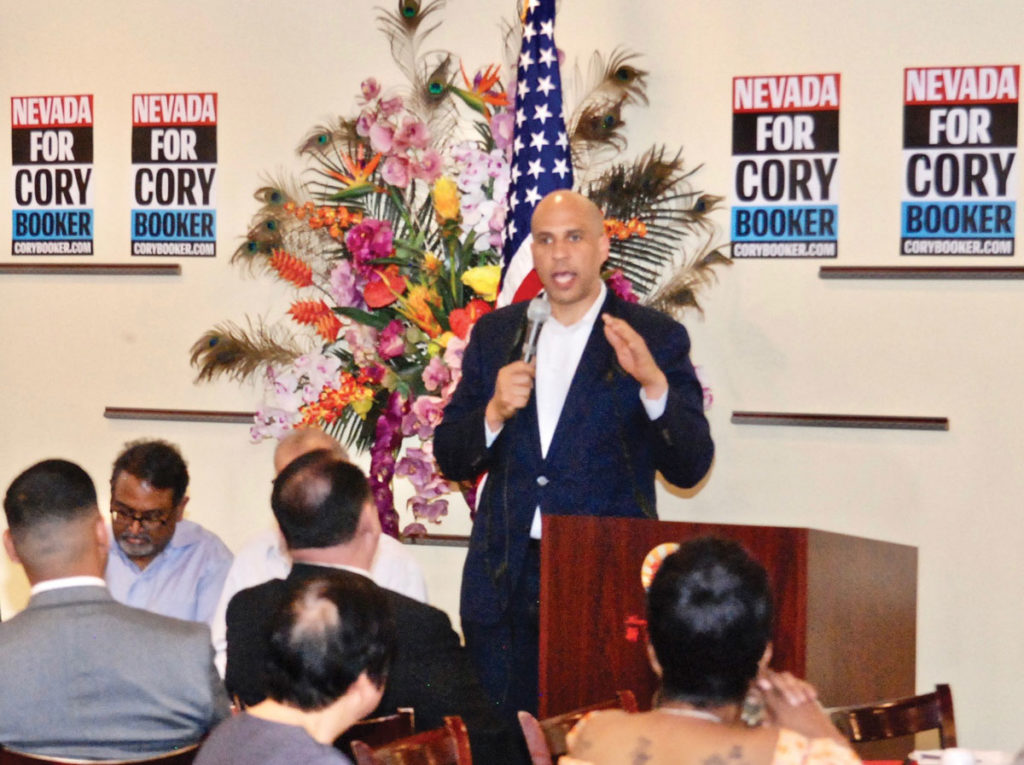 Presidential hopeful U.S. Senator Cory Booker (D-New Jersey) met with Asian American and Pacific Islander (AAPI) community members during his recent three-day visit to Las Vegas. 
Hosted by the Asian Pacific American Islander Caucus, over 170 community leaders and members joined the senator on Saturday, April 20 for a dinner at Hong Kong Garden in Chinatown.
AAPIs are estimated to account for 10 percent of Nevada's electorate and have shown to be a key swing vote in major races in recent years.
The senator started off with his campaign message of "love" and unity in the time of "bigotry" and "tribalism."
"The goal for America is not to become a nation of tolerance, but a nation of love," Booker said, continuing, "Love confronts and embraces. Tolerance crosses the street and doesn't even see. Tolerance builds walls, love builds bridges."
Booker acknowledged, however, that the 2020 presidential election is not just about defeating Trump. 
"I worry that our culture right now is becoming more about us versus them or a zero-sum game," he said. "I worry that with Donald Trump as president, that we can make the mistake of making it all about what we're against and not about what we're for — all about us trying to beat Republicans and not about us trying to unite Americans." 
Among the topics Booker touched on were education, immigration, health care, small business ownership, and AAPI representation at decision-making tables. He proposed affordable college and apprenticeship for students, health care for all, lowering prescription drugs, and a system welcoming to immigrants. 
"We have an immigration system that is making us less safe, that's hurting our economy and that's violating our values," the senator said, citing accomplishments while he was mayor of Newark, New Jersey from the school system to economic opportunities. "We turned our city around in a lot of ways, but we didn't do it by alienating immigrant communities, turning our backs on them, [or] making them communities of fear." 
Analysis from AAPI Data in April found that of the 14 major Democratic presidential candidates, Booker had raised the most amount from Asian Americans in the first quarter of 2019 with $394,923. 
As president, he would work toward immigration reform that "reflects our values" and gives a pathway for DREAMers or students on visas to stay in the country. 
"You can't lead the people if you don't love the people. You can't preach hate from the highest office of the land. You can't trash talk on Twitter and think you can unite America," Booker said.
After his 20 minute speech, he took questions from the audience, from fast-track citizenship for undocumented spouses of servicemembers (which he supports) to how he's making himself standout in the crowded primary. 
"I have a very unique resume that no one else has. I was a chief executive of the largest city in a state and my record in that city was taking that city that was declining and turning it around. I have management experience under difficult conditions," he said, adding his Senate experience as well. 
During his time in the Silver State, Booker had a slate of events, including a meet and greet at UNLV and stops in Reno and Minden. 
"There is no more important election in our lifetime than this election when people are worried about which direction our country is going to take," the senator said. 

The New Jersey senator is among 20 democratic contenders — who include former Vice President Joe Biden, California Sen. Kamala Harris, Massachusetts Sen. Elizabeth Warren, and Vermont Sen. Bernie Sanders — for the commander-in-chief role.