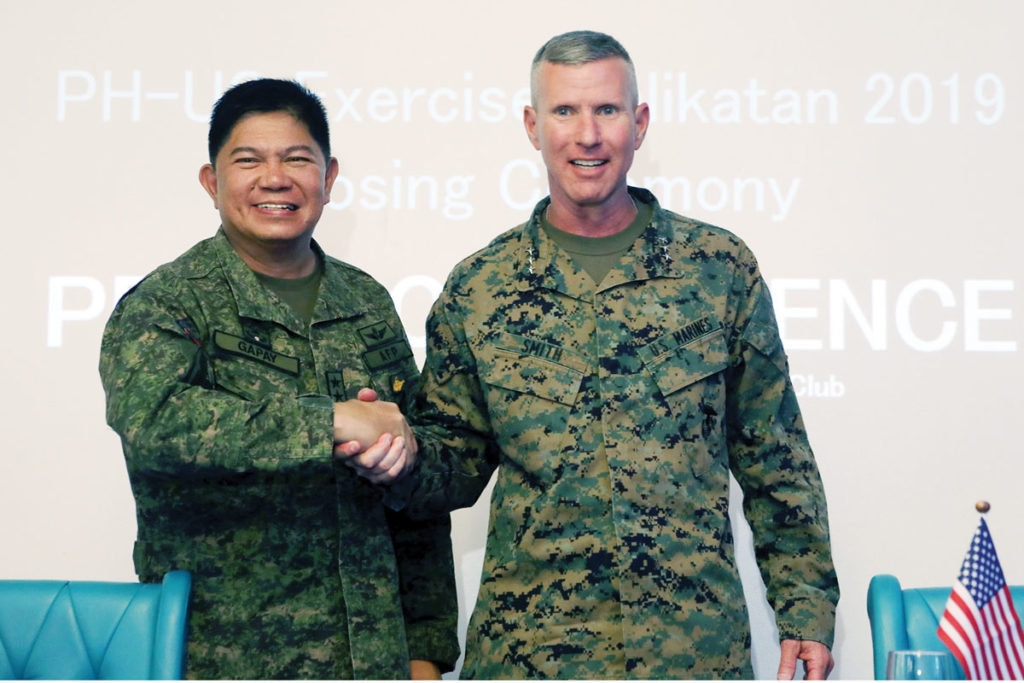 The United States on Friday, April 12, maintained it will continue its operations in the South China Sea (SCS) despite China's protest about American forces stirring trouble in the waters.
"The U.S. will fly, sail and operate everywhere international law allows. That's it. Wish we had a longer statement for you, but that's the simple truth," said Lt. Gen. Eric Smith, commander of the Japan-based U.S. 3rd Marine Expeditionary Forces, during a post-Balikatan media interview at Camp Aguinaldo along with Brig. Gen. Gilbert Gapay, commander of the military's Southern Luzon Command and the Balikatan director for the Philippines.
The statement was made after Chinese foreign ministry spokesman Lu Kang on Wednesday noted that the presence of "nonregional forces" could stir tension in the South China Sea.
"I can tell you that the principled position of the Chinese side is that we hope non-regional forces will refrain from stirring up troubles in the calm South China Sea," Lu said.
Gapay, for his part, said the presence of U.S. forces in the West Philippine Sea, as well as its allies like the Australian troops, as part of the Balikatan exercises had long been planned.
He added that it was not intended to agitate neighboring forces, particularly China.
"The presence is not really to agitate or anything else, but purely for training, so nobody should be alarmed of the presence of all those forces during the Balikatan," Gapay said.
This year, amphibious and assault helicopter carrier USS Wasp and F35B Lightning II fighter jets were deployed in the South China Sea for the joint Philippine-U.S. Balikatan exercises.
According to Smith, the deployment of USS Wasp was a great opportunity for participants to train "and they don't want to waste the training opportunities."
"I think the seal of the (USS) Wasp says it best: nothing says I love you better than bringing a ship with 10 F35s on it because that's all I have on us. We brought everything we could bring because our partnership with the Philippines is so good. This is a great partnership and mutually respectful, beneficial partnership," he added.
Strong bond between PH and US
Armed Forces of the Philippines (AFP) chief Gen. Benjamin Madrigal noted that the importance of mutual cooperation and collaboration between two allied states and their partners was highlighted in this year's joint drill — which focused on territorial defense and counterterrorism operations and urban missions from the previous Humanitarian Assistance and Disaster Relief (HADR).
"This has also bolstered the strong bonds between our countries, as we plan, work and operate side-by-side and shoulder-to-shoulder in our joint undertakings to continuously capacitate and empower the Armed Forces as we fulfill our respective responsibilities in maintaining peace and stability in the region," said Madrigal in his speech at the closing ceremony of this year's combined military drills at Camp Aguinaldo.
He also praised the defense and military observers from Canada, South Korea, United Kingdom, New Zealand, Thailand and Singapore for participating in this year's joint military drills.
Defense Undersecretary Cardozo Luna, for his part, said Balikatan is "a demonstration of our nation's commitment to contribute the peace and stability in the Indo-Asia-Pacific region in the face of evolving regional security challenges."
He added that he is certain the Filipino and U.S. troops who participated in this year's joint drills are now imbued with strong resolve to counter terrorism as well as respond to the need for a stronger HADR.
"As we move forward, it is our hope that the Philippines and the U.S., together with our friends and allies in the region, will continue to work towards mutual peace and stability," Luna said.
"Shoulder-to-shoulder, we will continue to stand together to defend our values, for our prosperity and for the generations to come," he added.