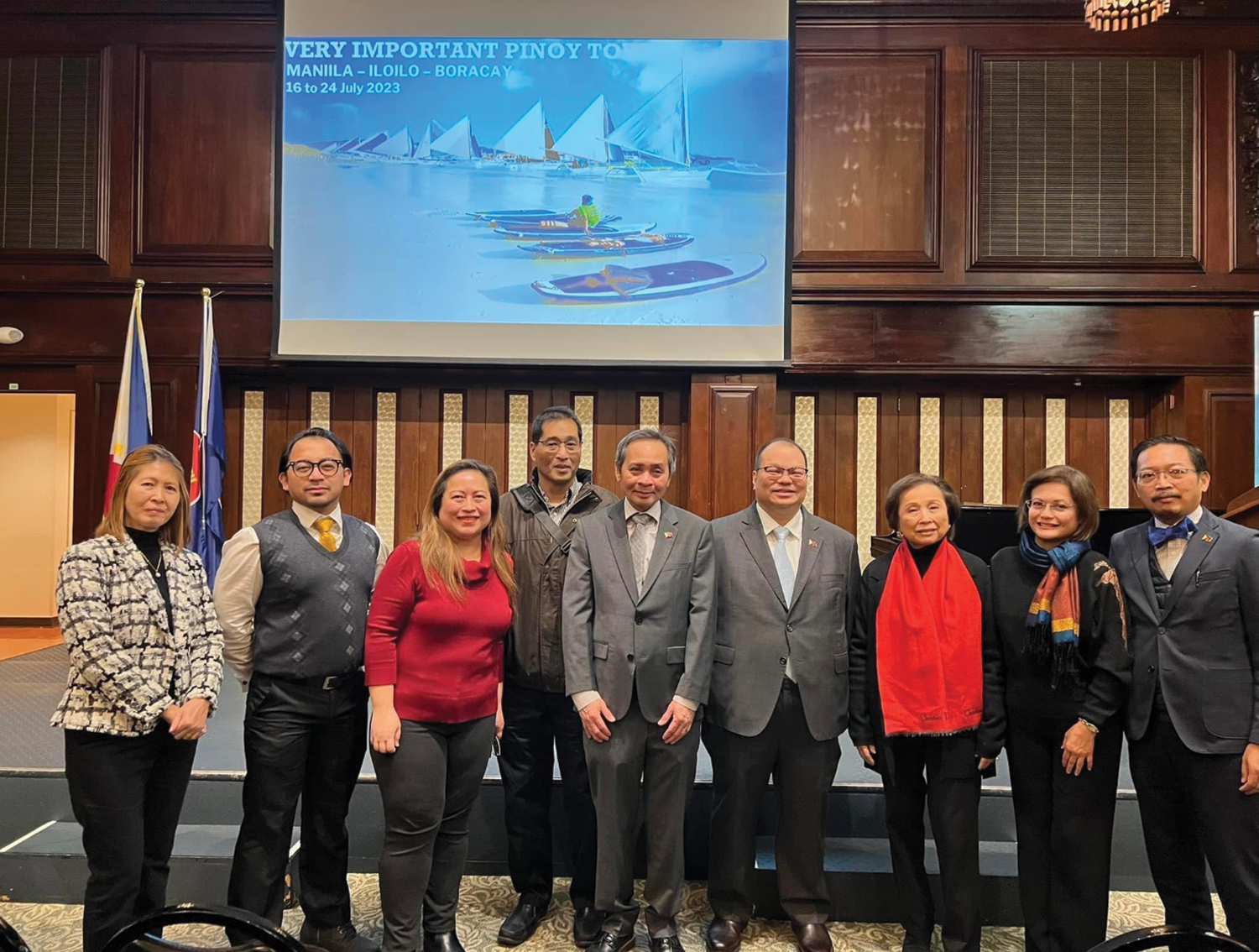 AFTER an almost three-year hiatus brought about by the pandemic, the Very Important Pinoy (VIP) Tour is back.
Consul General Senen Mangalile, in one of his first public events as the new consul general, welcomed the media and travel industry leaders at the New York launch of the VIP Tour 2023 held at the Philippine Center on Monday, Jan. 23.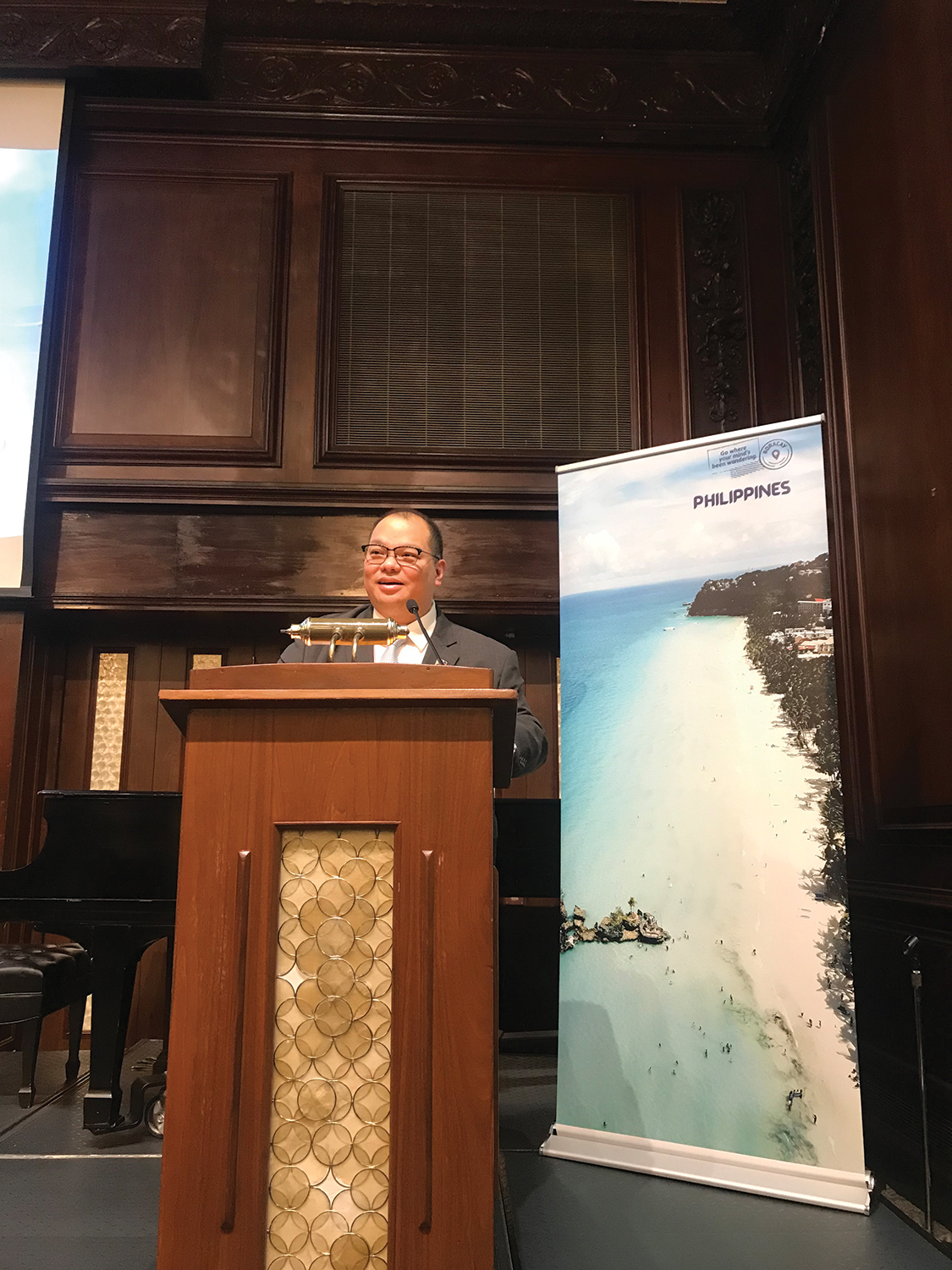 Formerly known as the Ambassadors, Consuls General and Tourism Directors (ACGDT) Tour, the VIP tour is a joint project of the Department of Tourism and the Department of Foreign Affairs and a major tourism activity of all Philippine Foreign Service posts in the United States. The program enables Filipino Americans and foreigners to experience Filipino culture and hospitality and to immerse themselves in the sights and sounds of various tourist destinations around the Philippines.
"I am pleased to inform you that after a three-year hiatus, the VIP tour is back and will be held from the 16th to the 24th of July this year," ConGen Mangalile announced.
The consul general also asked the audience to help disseminate the information and promote the project to ensure a big and solid delegation from the northeast states.
Between 2004 to 2019, the tour was staged 13 times, with more than 4,500 tour participants from all over the United States.
The VIP Tour 2023 offers a 9-day package featuring eco-adventures, cultural excursions, and gastronomic treats in Manila, Iloilo, and Boracay.
In a video message shown during the launch, Philippine Ambassador to the United States Jose Manuel Romualdez urged the Filipino-American community to join the VIP Tour 2023.
"Situated at the heart of Southeast Asia, the Philippines is one of the most biodiverse areas in the world and also one of the fastest growing economies in the region," Romualdez said. "As the post-pandemic travels beckon, let the 2023 VIP Tour treat you to the warmth of the Filipino hospitality and the natural beauty of the Philippines."
Among the guests at the launch were Rajah Tours Philippines Inc. (RTPI) president Jose Clemente III and Rajah Tours founder Atty. Dading Clemente. Rajah Tours has been a pioneer partner of the Philippine government in this tourism initiative since it was first launched.
Clemente said it took them more than six months to conceptualize and prepare for this tour, working hand in hand with officials from the Department of Tourism, Tourism Promotions Board, and the country's flag carrier Philippine Airlines (PAL) to come up with a strong package to entice tourists.
This year, the tour runs longer than usual. They have also created multiple options for participants, including optional post-tours in the country's lesser-known destinations such as Tacloban and Cagayan de Oro.
"Potentially you can stay for more than the nine days since we are offering these optional tours," Clemente told the Asian Journal. "So if you decide to join, you'll be here for about two weeks."
"One of our advocacies now is to raise the profile of the secondary destinations like Camiguin and Tacloban in preparation to eventually develop them to become primary destinations," he added.
Clemente mentioned the Sohoton Caves in Leyte which have been promoted before "but for some reason or another, escapes the consciousness of travelers."
"So now we want to make sure that we're able to offer that plus there's also a natural synergy because of the World War Two historical aspect of Leyte. Cagayan de Oro and Camiguin, it's about diving, the food, the natural attractions, plus we also want to make people know that Mindanao is a safe place to go."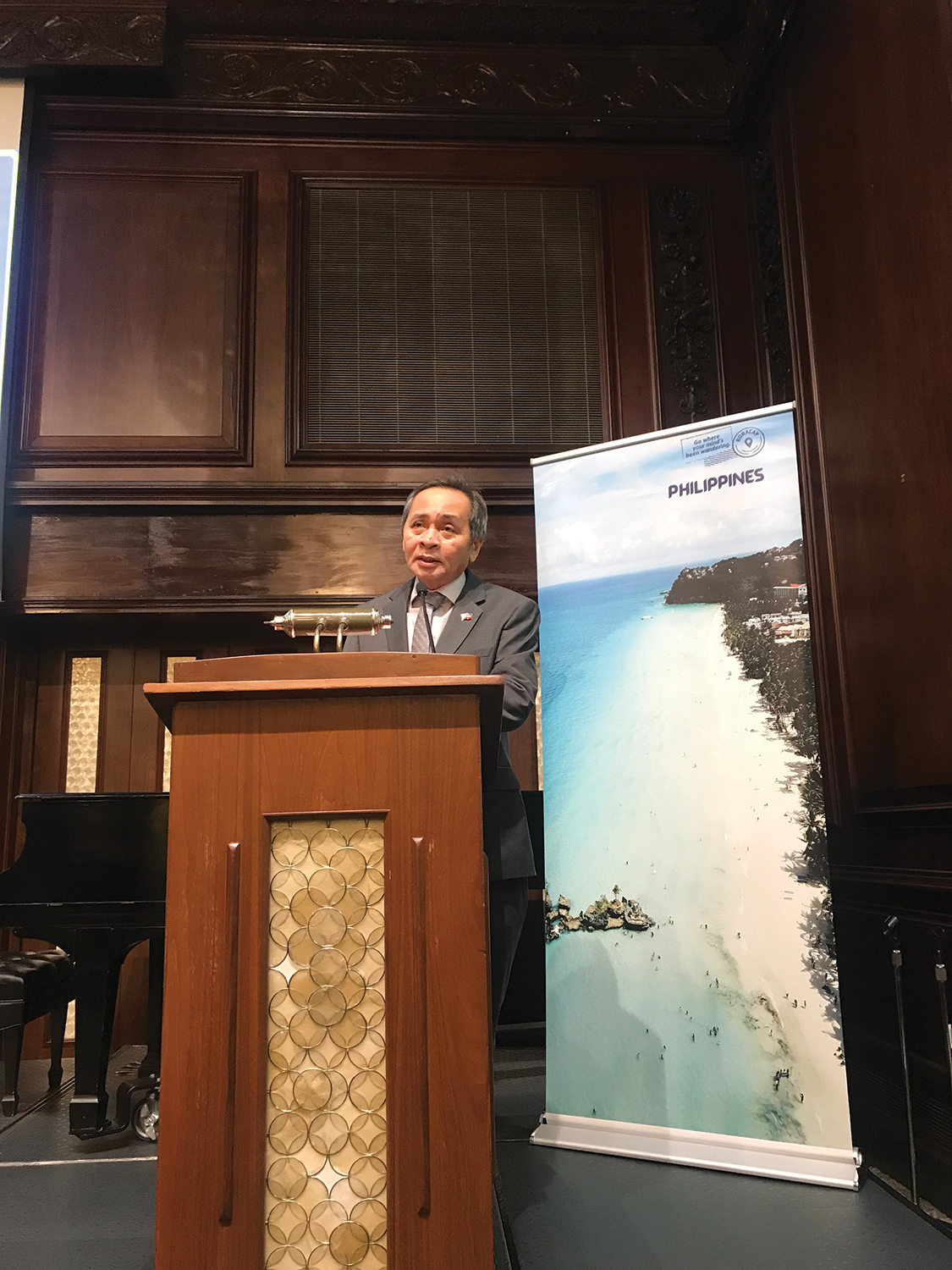 Tourism attache Francisco Lardizabal assured prospective participants that these travel destinations included in the VIP Tour for this year will measure up to their expectations.
"As you all know, we have already opened our borders since last year. And the tourism industry is rapidly picking up," Lardizabal said, adding that this year's VIP tour has something for all kinds of travelers including those who are into history, food, outdoors, or adventures.
Packed itinerary
Upon arrival in Manila on July 16, VIP Tour participants will be greeted with Filipino hospitality at the airport with a welcome reception hosted by the DOT and Rajah Tours staff.
The next day, VIP Tour guests will start their day at Rizal Park Monument. They also have the option see the Charms of Old Manila in Fort Santiago, San Agustin Church and Museum; Chinatown Walking Tour, Walking Tour in Binondo Church, Market and Ongpin Street. They will also have a chance to interact with young Filipino entrepreneurs and visit the gold collection at Ayala Museum.
On Day 3, the tour group will travel from Manila to Iloilo. Upon arrival in Iloilo, the tour will commence and take the group to Oton, the first Spanish settlement on the island. Then to Tigbauan, the location of one of Panay's most beautiful churches; and then to Miag-ao town, site of the UNESCO Heritage Church, Church of Santo Tomas de Villanueva. Seafood lunch at Breakthrough restaurant followed by an Iloilo City tour visiting Museo Iloilo, Nelly's Garden, Jaro Cathedral and Iloilo Museum of Contemporary Art, and Balai Ilonggo (Hablon Styles and Hues).
On Day 4, the VIP guests will have the option to choose which excursion they want to take. They could either choose to have a Culinary Tour ( to try Iloilo's famous Batchoy and Puto at a local restaurant; visit a Barquillos factory and then snack on Molo Soup and Tablea Chocolate drink with lunch and a cooking demonstration at an ancestral home) or opt for an adventure tour at Damires Hills Tierra Verde Leisure Farm where they can hike around a lush tropical forest and admire the beautiful landscape of Northern Iloilo. There are also activities such as Zipline, Canopy walk, fruit picking, and swimming.
Another option is to go on Isla de Gigantes Day Tour from Iloilo. Participants could join this private tour and appreciate the sand, the sun, and the waters as they bounce from island to island at Isla de Gigantes in Carles, Iloilo. This escapade is perfect for beach and island lovers wanting a relaxing escapade with a seafood feast. This tour is known for the freshly harvested scallops which you can bountifully eat along the sandbar of Bantigue Island.
From Iloilo, the group will proceed to Boracay on Day 5 of the tour. They will enjoy the scenic road trip through the charming landscape and have a seafood lunch in Capiz. They will also have a chance to interact with the Indigenous People of the island.
Optional tours are available on Day 6 in Boracay where they could proceed to Tibiao Eco-adventure Antique Tour where they could plunge into the cool waters of Bugtong Bato River. They could also trek to the Bugtong Bato Waterfalls where you can explore three out of seven of its waterfalls. They could also try extreme water tubing and brave the rapids. The group could engage in a unique experience and get "cooked" in a kawa or huge wok. A kawa hot bath is a perfect way to relax.
They also have the option to go on Blue Lagoon & Eco Cold Spring Adventure where they could enjoy the picturesque scenery of the province of Antique on this day trip to Malumpati Cold Spring and Bugang River and experience river tubing in one of the Philippines' cleanest waters.
Another optional tour is a day to Ibajay and witness the beauty of the Katunggan It Ibajay, a natural mangrove species. It is home to the centuries-old and biggest api-api or bungalon (Avicennia rumphiana) mangrove tree in the Philippines. They would also go on a one-hour trek to reach 50 meters high Nawidwid Falls and another one-hour trek to Mt. Balinsasayaw.
Day 7 in Boracay would allow the VIP Tour guests to be on their own. They could sunbathe, shop, snorkel, and island hop. Optional activities on personal account: Boracay Food Crawl ($45 per person), Sunrise Yoga ($15 per person), Parasailing (15 minutes), $38 per person; Jetski (15 mins), $38 per person; Sunset Paraw Sailing (15 minutes), $20 per person; Helmet Diving (15 mins), $23 per person; Banana Boat (15 mins), $14 per person; Discovery Scuba Diving for those who don't have a license (3-4 hours), $70 per person; Scuba Diving with PADI (3-4 hours), $50 per person and Golf (18 holes), $170 per person.
On Day 8, guests will be back in Manila for a farewell dinner and get ready for the trip back to the U.S. on Day 9.
For more inquiries and details about the VIP Tour program, you can visit: http://viptourphilippines2023.com, https://www.facebook.com/veryimportantpinoytour2023 or send an email to [email protected].