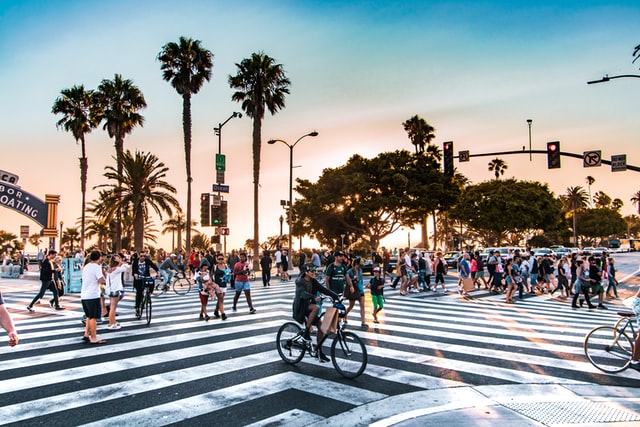 The county reports a whopping 7,232 increase in cases over a three-day period
Despite warnings from lawmakers and officials that the public should continue to practice social distancing and pandemic safety precautions, Californians continue to socialize at newly opened establishments, according to new and improved data processing.
The rise in cases came to a head when a three-day period — from Thursday, July 2 to Saturday, July 4 — yielded a 7,232 increase of new COVID-19 cases in Los Angeles County.
But on Tuesday, July 7, the county reported 4,015 confirmed cases, the highest single-day surge since the beginning of the pandemic, bringing the daily positivity rate to 11.6%.
What's more concerning, public health officials noted, is that residents under the age of 40 now make up nearly half of the coronavirus cases in Los Angeles County, contrasting the widely accepted myth that young people are less likely to contract the disease.
In just three weeks, recorded infections among county residents between the ages of 18 to 40 increased from 27,455 on June 15 to 47,424 on Sunday, July 5, a nearly 73% increase.
Additionally, there are currently 1,921 people hospitalized with 28% of patients requiring intensive care and 18% on ventilators.
"Unfortunately where we are today is different than where we were two, three, or four weeks ago," LA County Public Health Director Barbara Ferrer said in a press conference. "Cases are surging, hospitalizations are increasing and, mostly, this is all a reflection of a lot more community spread.
Although it remains true that the COVID-19 virus more severely affects the elderly and those with existing health problems, the hospitalization rate among those between the ages of 18 to 64 years has also surged over the last few weeks as more businesses, restaurants, services and bars began opening up at the beginning of June.
Public Health continues to encourage residents to avoid the Three C's: crowded places, confined spaces and close contact with other people who don't live in your household. As always, officials are still urging people to leave their homes only when necessary, wear a face covering securely over the nose and mouth and adhere to physical distancing standards by standing 6 feet apart.
Ferrer said that in early April, when the COVID-19 crisis was in its early stages, 86% of LA County residents adamantly stayed home. But, citing a USC study, Ferrer said that number has decreased significantly with 58% of residents practicing strict quarantine measures.
The number of residents coming in close contact with others from different households has also surged, according to Ferrer. At the beginning of April, it was at 31% and has risen to 55% by the end of June, signaling the effectiveness of quarantine — among residents and businesses — to mitigate viral transmission.
"It's clear that after months of quarantine combined with the reopening of many sectors in the span of several weeks, we've had a lot of people disregard the very practices that allowed us to slow the spread. This cannot continue," Ferrer said.
Although beaches in LA County were closed all of Fourth of July weekend, they were reopened the following Monday. Ferrer said that it would take two weeks to see how the Fourth of July festivities affected the COVID-19 numbers.
She added, "If we do not find it in ourselves to actually continue to adhere to the social distancing and infection control practices, it finds us in a place where we're slowing down our recovery journey. What we do now will determine where we are in three to four weeks."