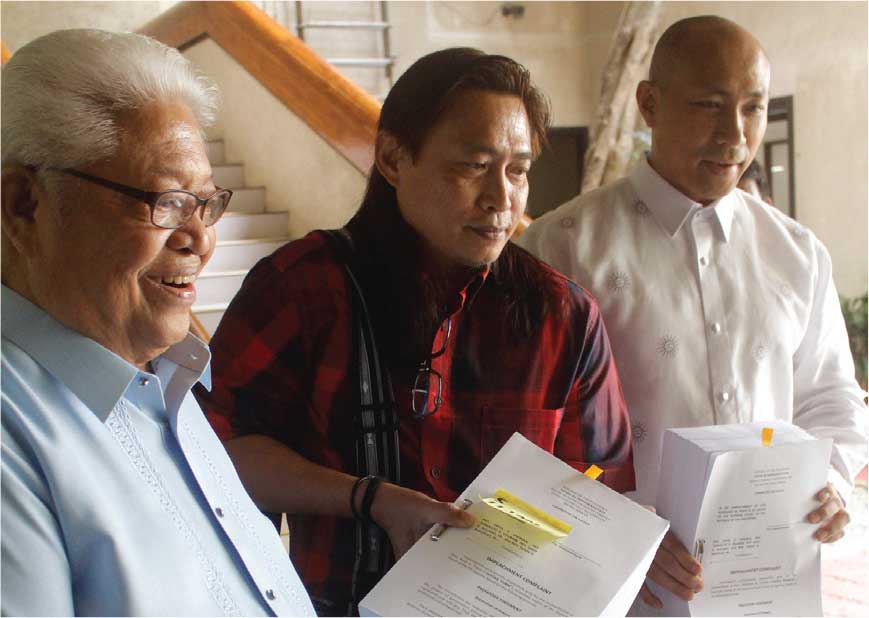 SEVERAL members of the Philippine House of Representatives this week filed impeachment complaints against the seven associate justices of the Supreme Court (SC) who voted to oust former Chief Justice Maria Lourdes Sereno last May. 
Representatives Gary Alejano of Magdalo party-list, Edcel Lagman of Albay, Teddy Baguilat Jr. of Ifugao and Tom Villarin of Akbayan party-list all filed impeachment complaints on Thursday, August 23, against the justices, four of whom are chief justice candidates. 
SC associate justices who are on the shortlist for the chief justice position are Teresita de Castro, Diosdado Peralta, Lucas Bersamin and Andres Reyes. The three other SC associate justices included in the complaint are Francis Jardeleza, Noel Tijam and Alexander Gesmundo. 
The SC officials in question were seven out of the eight who voted for Sereno's ouster from the chief justice position via a quo warranto petition filed by Solicitor General Jose Calida earlier this year. SC Associate Justice Samuel Martires was the only justice not included in the complaint, as reported by The Philippine Star. 
Since De Castro, Peralta, Bersamin and Reyes are aiming for the chief justice post, the filed complaint might prevent them from getting the seat. 
According to the same report, sources in the administration said that De Castro will most likely be appointed the chief justice. However, this will only give her a chance to serve for two months until her retirement in October of this year. 
Lagman said that they decided to file the impeachment complaint to ensure that the SC magistrates would not get away with their "unconstitutional" move of ousting Sereno. 
"It is important the errant justices should be made accountable to the people," the lawmaker told ABS-CBN News. 
The Magdalo party-list representative said that the ouster of the magistrate would give way to a significant display of the "ultimate standard of justice."
"The ultimate standard of justice would be the impeachment and removal of the seven justices against whom we will file the impeachment complaint," said Lagman. 
Lagman also called for the withdrawal of the four justices from the shortlist of possible chief justice. He said that their nomination was "acted with indecent alacrity." 
"The JBC should have considered with requisite deliberation the disqualification of the justices in view of the pendency of the impeachment cases which are akin to or even more serious than an administrative case whose pendency bars the appointment of any applicant to a judicial position," he said.
Department of Justice (DOJ) Secretary Menardo Guevarra argued that the complaint cannot disqualify them because it has not matured into an impeachment case. 
However, Lagman said that argument is "flawed." 
"The rationalization that the impeachment complaints have not matured to a pending case is flawed because upon the filing of the said impeachment complaints and before they are dismissed, said impeachment complaints are deemed pending just like an unresolved criminal and administrative cases," he said.