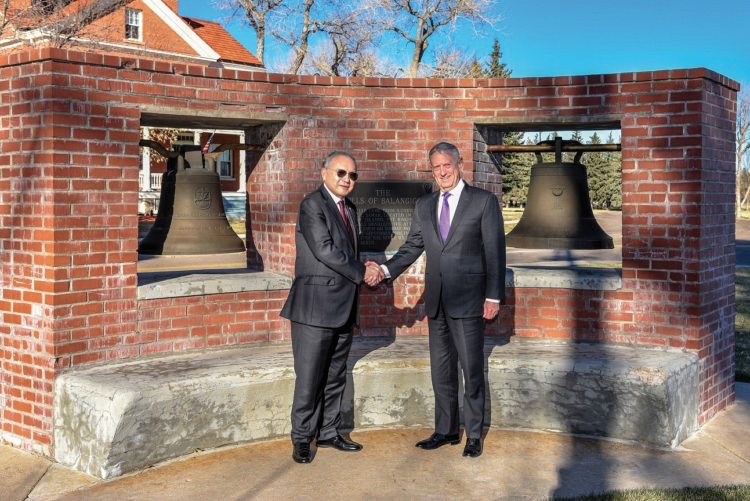 ACCORDING to Philippine Ambassador to the United States Jose Manuel Romualdez, it would be more appropriate for President Rodrigo Duterte to visit the U.S. once the Balangiga bells have been returned to the Philippines. 
Taken by American soldiers as war booty in 1901, the Balangiga bells are expected to arrive in Manila at Villamor Airbase on December 11.
In an interview with CNN Philippines' "The Source," Romualdez said, "I think the president realizes that this is a very good gesture on the part of the U.S. and I'm sure that he will take that into account that going to the U.S. this time would be appropriate."
Duterte had been invited to the White House by U.S. President Donald Trump as early as spring 2017 when the two leaders had a "friendly" phone conversation. 
Foreign Affairs Secretary Teodoro Locsin Jr. previously said that Duterte would only accept Trump's invitation after the Balangiga bells are returned to the Philippines.
A military ceremony was held last month at the F.E. Warren Air Force Base in Wyoming to formally begin the repatriation of the church bells.
Duterte, as Romualdez pointed out, wanted to have a specific purpose whenever he goes abroad as he does not enjoy traveling.
"First of all he doesn't enjoy traveling so when he does he feels that there should be a purpose for it. I mean a specific purpose or there is a reason for him to travel and you know, going to the United States and if he's going to Washington DC it's a 21-hour flight," Romualdez said.
"I think that this is a good reason for him to now go to the United States," he added.