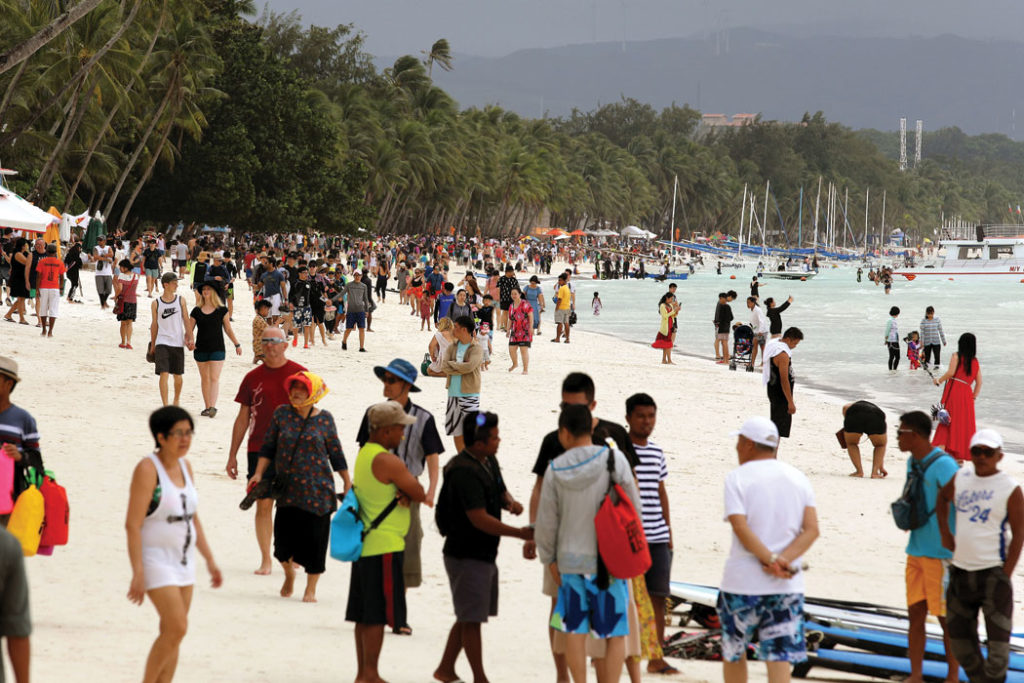 Department of Interior and Local Government (DILG) Undersecretary for Operations Epimaco Densing III confirmed on Monday, September 3, that Boracay Island can only accommodate 55,000 people daily.
Prior to its rehabilitation in April, the internationally-known resort island takes in an average of 70,000 people daily. This means that the 1,032-hectare island in Aklan welcomed 15,000 more individuals than it can possibly handle.
"There was an average of 70,000 people on the island per day, meaning there was a 15,000 overcapacity," Densing said.
The said figures were from DILG Secretary Eduardo Año who noted that the three-village island in Malay town has a carrying capacity of only 19,000 for tourists and 36,000 for residents and workers.
The data was based on the study of the Department of Environment and Natural Resources (DENR)-Ecosystems Research and Development Bureau and the University of the Philippines Los Baños.
Densing clarified that the figures were only a draft and are still being finalized. The initial findings were discussed among the agencies in charge of Boracay's rehabilitation and have yet to be officially presented to the public.
Densing also enumerated the events responsible for the increase in tourist arrivals in the island. "LaBoracay," the Labor Day and long weekend beach parties held in Boracay, once caused the influx of 67,000 tourists in a day.
This number does not include the 32,500 residents recorded by the Philippine Statistics Authority (PSA). The aforementioned events could have garnered nearly 100,000 people a day, thus accommodating around double of its carrying capacity, according to various estimates. 
Boracay Foundation Incorporated Business Group President Nenette Aguirre-Graf stated that in order to continuously rehabilitate the island, the planning of the new carrying capacity should involve residents and local business operators.
"This needs a thorough planning involving native residents and business operators of the island because we will also be involved in the implementation," Graf said.
She suggested a stop to the hosting of "LaBoracay" festivities as they lead to a daily overcapacity on the island.
She advised the local government to provide residential provisions for Boracay workers on Malay mainland to decongest the tourist spot. They should regulate the entry of cruise vessels as they can transport between 2,000 and 4,000 tourists to the island, she continued.
Due to the environmental degradation of the said resort island, President Rodrigo Duterte declared the Boracay waters a "cesspool" in February. He then directed the closure of the entire Boracay on April 26 to give way for a massive cleanup and rehabilitation. Boracay is expected to reopen to tourists in October this year.