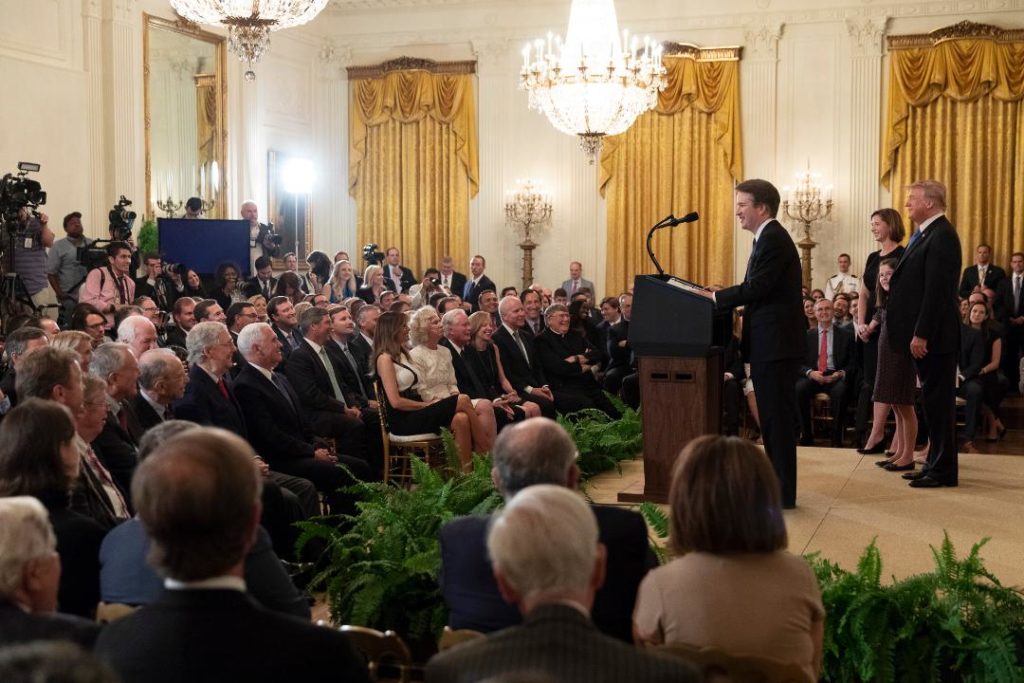 First day of hearings for Trump's Supreme Court nominee sparks partisan battle and protests
One of the most concerning things for Democrats as soon as Donald J. Trump was elected president of the United States was the inevitability that the former reality television star will be poised to nominate a Supreme Court Justice, which will affect the coming decades and administrations.
In July, Trump nominated his second Supreme Court choice, U.S. Circuit Court Judge Brett Kavanaugh, 53, to replace Associate Justice Anthony Kennedy who announced his retirement in June.
Nevertheless, the Senate Judiciary Committee began its first day of the hearings on Tuesday, Sept. 4 with Kavanaugh, a conservative, emphasizing the importance of a non-partisan Supreme Court.
"The Supreme Court must never, never be viewed as a partisan institution. The Justices on the Supreme Court do not sit on opposite sides of an aisle. They do not caucus in separate rooms. If confirmed to the court, I would be part of a team of nine, committed to deciding cases according to the Constitution and laws of the United States," said Kavanaugh, who, if confirmed, would be the second justice confirmed under Trump after Justice Neil Gorsuch.
Republicans have been pushing to expedite Kavanaugh's confirmation to the Supreme Court before the 2018 midterm elections to avoid the chance that the Republicans lose control of the Senate.
But Democrats have been calling for a delay in the hearings due to a lack of available records of Kavanaugh's stint as a White House staff secretary under George W. Bush, who later nominated him for the Court of Appeals.
"We start this hearing with only 4 percent of Brett Kavanaugh's White House record available to the public," Sen. Dianne Feinstein (D-Calif.) told reporters last week.
Then on Monday, Sept. 3, a representative from the Bush White House Library released 42,000 pages of documents from Kavanaugh's time in the White House, a move that according to leading Senate Democrats, justifies a delay in the proceedings.
"The Senate was just given an additional 42,000 pages of Kavanaugh documents the NIGHT BEFORE his confirmation hearing. This underscores just how absurd this process is. Not a single senator will be able to review these records before tomorrow," Senate Minority Leader Chuck Schumer (D-New York) tweeted Monday night.
Senators try to delay hearing over unreleased White House documents
Tuesday's hearing started off heated with Democrats urging for the release of the rest of the White House documents and time to review them before the proceedings.
The committee's Democrats — including Sens. Richard Blumenthal (D-Conn.), Amy Klobuchar (D-Minn.) and Kamala Harris (D-Calif.) — wasted no time in attempting to adjourn the hearing before receiving the White House documents in full.
Committee Chairman Sen. Chuck Grassley (R-Iowa) tried to take the reins of the hearing as protests from Democrats and audience members tried to "disrupt" the process, but Democrats made sure they were heard.
Blumenthal called for the immediate adjournment of the meeting until all the documents were released and reviewed by the committee.
"Mr. Chairman, we have been denied real access to the documents we need to advise and consent, which turns this hearing into a charade and mockery of our norms," said Blumenthal which was followed by applause from the gallery of protestors.
Harris then called for a motion to postpone the hearing saying, "some of the most important principles behind our system of justice is that we have due process and we have transparency. That is why we have requirements in courts of law in our country that there will be transparency that both parties will be given all relevant information. We can argue then to the weight of the documents and the significance, but not as to whether or not they are admissible."
Grassley denied the motions to adjourn the proceedings, firmly pressing that the proceedings will continue and that Kavanaugh will likely be confirmed in early October, well before the midterm elections.
The hearing was continually interrupted by protesters sitting in the back of the room within the first half hour, leading police to escort out scores of audience members, including one who yelled "Cancel Brett Kavanaugh! Adjourn the hearing!"
According to Capitol Police, 70 arrests were made for protests during the hearing and around Capitol Hill.
Feinstein grills Kavanaugh for his views on abortion and reproductive health
Kavanaugh has a long political history of supporting pro-life organizations, which was a key concern among Democrats in the midst of his nomination, so it's not a surprise the issue of Roe v. Wade, a landmark Supreme Court ruling that legalized abortion and that lawmakers and pundits say is threatened if Kavanaugh is confirmed.
Although Kavanaugh reportedly told Sen. Susan Collins (R-Maine) that he considered Roe v. Wade to be "settled law," Democrats aren't convinced since the Supreme Court has the power to overturn laws.
"What women have won through Roe [is] to be able to control their own reproductive system and privacy rights, [and it] is extremely important to this side of the aisle and I hope the other side as well."
Feinstein detailed about the time before Roe v. Wade, recalling "I saw what happened to young women who became pregnant" and she saw women being convicted and sent to federal prison for getting an abortion.
Last year, Kavanaugh dissented in an appeals court case Garza v. Hargan in which he opposed the ruling that allowed an undocumented immigrant teenager receive and abortion under federal care, a dissent that Feinstein brought up on Tuesday.
But Feinstein noted that "the impact of overturning Roe is much broader than a woman's right to choose," but it is also about "protecting the most personal decisions we all make from government intrusion."
Feinstein also called for the release and review of Kavanaugh's documents because "Trump has repeatedly promised to "nominate someone who is anti-choice and pro-gun. We believe what he said. We cannot find the documents that absolve from that conclusion," she said.
Booker, Hirono criticize Kavanaugh as a pawn for Trump amid Mueller investigation
As FBI special counsel Robert Mueller and his team close in on the Trump campaign team in the investigation into Russian collusion in the 2016 election tampering, Washington lawmakers have been fighting to maintain that investigation amid the administration's efforts to shut down the investigation.
For the last few months, lawmakers and experts have been weighing the decision over whether or not a sitting president should be protected from criminal charges if found guilty of a felony.
When Kavanaugh was nominated in June, many were quick to note that he was neither on Trump's original list of potential nominees nor the outsourced Federalist Society's list, and he was only added on the list before the investigation picked up speed, according to Sen. Cory Booker (D-New Jersey).
"We've seen Trump credibly accused by his own personal lawyer [Michael Cohen] of being an unindicted co-conspirator," Booker said. "[Kavanaugh] was added to the list and then the president pulled the one person on that list who was added late…who has already spoken vastly about a president's ability to be prosecuted…and to dismiss or end an investigation."
Hirono mirrored Booker's statements and conclusion that Kavanaugh could potentially protect the president from prosecution if found guilty of colluding with Russia to sway the 2016 election.
"In normal times we would be here to determine the fitness of the nominee of the Supreme Court of the United States, chosen for his or her legal talent and reputation for fairness. But these are not normal times," Hirono said. "Instead we are to decide whether or not to rubber stamp Donald Trump's choice for a pre-selected, political idealogue nominated precisely because he would believes a sitting president should be shielded from civil lawsuits, criminal investigation and prosecution no matter the facts."