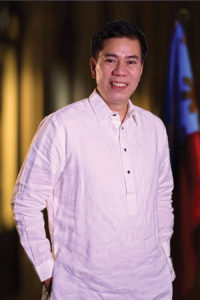 A better and more sustainable Boracay is set to welcome back visitors on October 26 and is expected to usher in newer and bigger markets awaiting the island's full recovery.
Undersecretary for Tourism Development Benito Bengzon Jr. reiterated that the Department of Tourism (DOT) is well on track with its 7.4 million target as the island's closure also became an opportunity to introduce and boost travellers' awareness of other tourism destinations in the country, which was key to retaining the country's positive month-on-month performance on tourism arrivals.
 "The fact that we have kept ourselves afloat is a very strong reflection of how resilient the industry is, how quick we are to make adjustments with our marketing and promotions and I think, also a very strong communication of how prepared the other destinations are in welcoming the influx of tourists who otherwise would have gone to Boracay." Undersecretary Bengzon said.
 The  DOT executive earlier stated that despite the closure of one of the country's flagship destinations, brand equity remains strong as this has been continuously built upon for decades and has ensured stability  such that demands from the global market also remains significantly high even with sudden setbacks.
 A worldwide advertising campaign is set to be launched by the DOT in the following months, to be accompanied by strengthened promotions for various PH destinations, including the much-awaited re-opening of the famous island.
 This campaign is projected to entice more travellers to visit more destinations in addition to Boracay, as trainings and workshops for better sustainability practices are now being disseminated to industry players all over the country, guaranteed to provide better services to future clients.
"When you look at it overall, we really have to make sure that when we roll it out, when we relaunch Boracay, it would be a better destination, more environment-friendly, and it will be more secure and we have to make sure that, more important than anything else, we avoid the problems that led to its closure in the first place."
 The DOT's thrust for sustainability is also accompanied with infrastructure developments aimed at the same goal.
 Among these developments are the new Mactan-Cebu International Airport (MCIA) and an evident buildup in the accommodation sector expected to expand the destinations' capacity in welcoming visitors from all over the world.
Undersecretary Bengzon assures travellers of better visitor experiences with the DOT's projects already laid out for the coming months.
 "For our part, we will make sure that the accommodation establishments comply with the DENR/DILG requirements before they qualify for DOT accreditation.  Manpower training programs will be extended to the accredited establishments so that the frontline services are much improved prior to the closing. And lastly, we will have to work on a very intensive marketing promotions.  So in our travel fairs, in our sales missions, Boracay will be showcased as a better destination for our markets."
In 2017, foreign tourist arrivals reached 6,620,908 in total and in the first half 2018, 3.706 million international arrivals was recorded, promising a positive run towards the 7.4 million goal by the end of the year.
With the reopening of Boaracay, the country is looking forward to bringing in new markets as well as sustaining the growth of its key markets – South Korea, China and the United States.