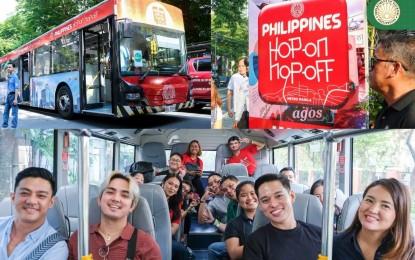 𝘔𝘈𝘒𝘈𝘛𝘐 𝘊𝘐𝘛𝘠— The first ever Philippine hop-on hop-off bus tours was launched by the Department of Tourism (DOT) as it gathered industry stakeholders for kick-off of the tours on Sunday (May 28).
The Philippines Hop-On Hop-Off seeks to provide tourists–particularly group travelers and fully independent individual travelers (FITs)–with convenience and flexibility on when and how they will tour a destination through a seamless, contactless transport and tour booking system.
Delivering her speech at the Activity Area of Ayala Malls Glorietta, Secretary Christina Garcia Frasco noted that the bus tour's pilot launch in Makati marks an exciting time for the tourism industry, as the DOT aims to bring the project to other key destinations around the Philippines.
"Post-pandemic trends of travel have continued to evolve. People search for experiences that go beyond adventure, fun, and they search for meaning. And that is why the (Philippines) Hop-On Hop-Off tours gives opportunities for our tourists not only to be reminded of the spirit of modernity and innovation that Makati has always been known for, but also to get to know the soul of your city that lies in your hidden gems, in your museums, in the many stops that are covered by this tour that will allow our tourists–domestic and international alike– to get to know the people of Makati, to get to know your rich history, culture, and heritage," Secretary Frasco said.
"This is an effort that we wish to replicate in all the other areas in Metro Manila [and the Philippines] and this is just the beginning. Under the administration of President Ferdinand "Bongbong" Marcos, Jr., he has prioritized tourism development and that means a whole-of-government approach towards the transformation the tourism industry, focusing not only in the promotion of our country, which we are continuing to do vigorously around the world, but also more importantly, to give our country a fighting chance at standing shoulder to shoulder with our ASEAN neighbors, addressing the essential pillars of tourism–infrastructure, connectivity, digitalization, innovation, and all these other essential modes of development that will finally give the Philippines an opportunity to become the tourism powerhouse that it can be," she added, as she lauded the City of Makati, the DOT's National Capital Region (NCR) Office, together with private and public tourism stakeholders in Metro Manila for their collective efforts to make the project possible.
Upon full implementation of the Philippines Hop-On Hop-Off in Makati, tourists can take the bus in designated stops within the city to enjoy its best spots and activities following suggested itineraries curated by the DOT-NCR team per stop, with the option to avail of private and guided tours. The HOHO tour will cost around Php 1,000 per person.
The project, which takes inspiration from world-class hop-on hop-off buses in cities such as Abu Dhabi, Argentina, London, Madrid, New York, Singapore, among others, will feature a dedicated website with all essential information, a reloadable EMV-capable card, and to complete the tourist experience, a mobile app for booking tours, making cashless payments, GPS networked-bus arrival monitoring and video guides, as well as information on hotels, food, and tourism merchants.
For the purpose of giving a preview of the Makati Hub of the Philippines Hop-On Hop-Off, a curated tour commenced at Glorietta where Secretary Frasco together with other government and private sector officials led the ribbon-cutting and ceremonial toast.
The DOT Chief was joined by City of Makati officials led by First district Representative Romulo Peña Jr., Second district Representative Luis Campos, and Vice Mayor Monique Lagdameo, Head of International Relations Ms. Ichi Yabut, as well as DOT officials Undersecretary Shahlimar Hofer Tamano, OIC-Undersecretary Verna Buensuceso, Assistant Secretary Maria Rica Bueno, and DOT-NCR Director Sharlene Zabala-Batin.
Meanwhile, Rep. Peña referred to the project as "a terrific way to experience what NCR has to offer at your own leisure."
"Makati, the business hub, is proud to be included in the initial launch of this project. We are happy, actually very happy, to invite and welcome you all to visit and enjoy Makati, the premier city," enthused the Congressman.
"I am particularly happy that the Secretary, the DOT, has chosen our city to be the take off point for the Hop-On Hop-Off project," said Rep. Campos.
"We see this as an opportunity to open our cultural treasures not only to our local citizens, Makatizens, but also to the rest of the country and to the rest of the world," he added.
Also in attendance were leaders of tourism stakeholder associations, Tourism Congress of the Philippines (TCP) President Bob Zozobrado, Philippine Tour Operators Association (PHILTOA) President Fe Abling-Yu, Ayala Malls Head of Marketing and Communications Ms. Chrissy Roa, and Ms. Marinel Barquin Lee of Positive Exposure, the integrator for the Philippines HOHO bus project.
The curated tour next took the guests to the Washington Sycip Park for interactive demo by artists and health drinks, followed by a quick stop in Ayala Malls Circuit for Filipino snacks, Museo ng Makati for coffee culture presentation, museum tour, and entertainment by Makati performers. The tour ended in Poblacion for a street party featuring performances by local artists and culinary treats from Makati's top-rated restaurants and bars.
In 2022, the DOT recorded 5.3 million overnight tourists in NCR, with Makati City ranking third out of 17 LGUs with the highest number of overnight arrivals at 969,927 visitors, after Pasay and Parañaque which took the first and second spots, respectively.
Meanwhile, preparations are already underway for the launch of the Philippines HOHO project in the cultural hub of Manila next. Both the Makati and Manila Hubs of the Philippines Hop-On Hop-Off program will become fully operational after the grand launch slated some time in June this year.