NOW entering two months into stay-at-home orders, individuals across the country have found ways to fill their "free time," whether through baking, sewing masks, or completing puzzles.
Another method has been diving into a good book as a means to escape the outside world. Book purchases grew 777% in the first half of April, compared to the same period in March, according to Rakuten data.
At the beginning of this year, the Asian Journal published a list of titles by Filipino and Filipino American authors to watch out for in 2020. Already, the following books we mentioned have been released: "The Vanished Birds" by Simon Jimenez (January 14); "Wicked as You Wish" by Rin Chupeco (March 3) ; "How to Make Friends with the Sea" by Tanya Guerrero (March 31); and "Any Day with You" by Mae Respicio (May 5).
Additionally, we've seen the releases of "Once Upon a Sunset" (March 3) by Army nurse turned romance novelist, Tif Marcelo; "The Easy Filipino Cookbook: 100 Classics Made Simple"  (March 24) by chef Roline Casper; "Raising Multiracial Children: Tools for Nurturing Identity in a Racialized World" (April 28) by Filipina-Pakistani author and diversity and inclusion specialist Farzana Nayani; and "We Dream of Space" by Newbery Award-winning children's author Erin Entrada Kelly.
As there's no end in sight (yet) for when quarantine measures will be lifted, here are several books — from fiction to memoirs — by Fil-Am authors set to hit shelves and e-readers this summer.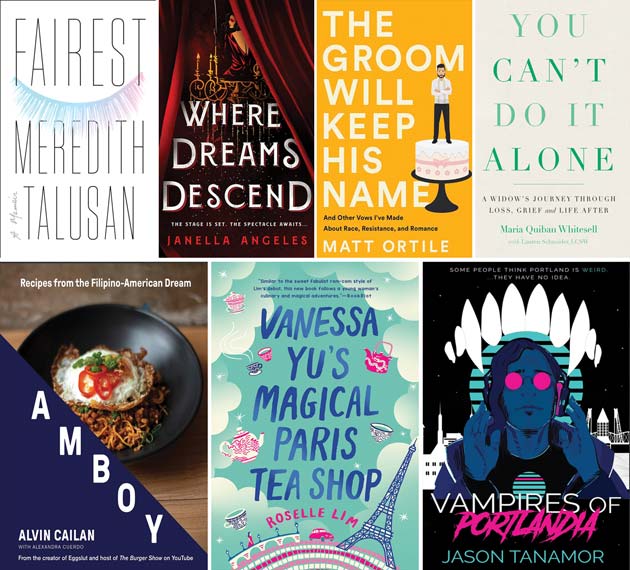 "Fairest" by Meredith Talusan (May 26)
This coming-of-age memoir by award-winning author and journalist Meredith Talusan chronicles the journey of a precocious boy with albinism in the Philippines who would migrate to the United States, study at Harvard and transition to become a woman. Navigating through race, class, colorism and belonging within the gay community, "Talusan shares poignant and powerful episodes of desirability and love," according to publisher Viking. "Her evocative reflections will shift our own perceptions of love, identity, gender, and the fairness of life."
"Where Dreams Descend" by Janella Angeles (June 2)
In "Where Dreams Descend" — the first book in Fil-Am writer Janella Angeles' Kingdom of Cards fantasy duology — readers will be transported to a city covered in ice and ruin where a group of magicians embarks on a series of games in search of the next headliner of the Conquering Circus. There's romance, secrecy and unseen danger along the way as we meet Kallia, a powerful showgirl out to prove she's the best no matter the cost; Jack, the enigmatic keeper of the club and more than one lie told; and Demarco, the brooding judge with a past he can no longer hide.
"The Groom Will Keep His Name" by Matt Ortile (June 2)
The debut collection of essays covering topics, such as dating, identity and sexuality, comes from Matt Ortile, managing editor of Catapult magazine. Releasing this June by Bold Type Books, an imprint of Hachette, "The Groom Will Keep His Name" charts Ortile's journey moving from Manila to Las Vegas and the experience of being bullied for his skin tone, Filipino accent and femininity. The essays explore the idea of social media personas and ultimately, lead to a realization of "radical self-love."
"You Can't Do It Alone: A Widow's Journey Through Loss, Grief, and Life After" by Maria Quiban Whitesell (June 9)
When faced with her husband Sean Whitesell's terminal brain cancer diagnosis, FOXLA's morning meteorologist Maria Quiban Whitesell found herself having to explain the loss to their young son, figure out how to respond to inappropriate questions, and learn how to deal with the day-to-day throughout her husband's harrowing treatments, death, and life after. In "You Can't Do It Alone: A Widow's Journey Through Loss, Grief, and Life After," Quiban Whitesell teams up with licensed clinical social worker Lauren Schneider to provide readers with the roadmap for dealing with illness, death, and grief she wished she'd had.
"Vanessa Yu's Magical Paris Tea Shop" by Roselle Lim (August 4)
Inspired by her Filipina-Chinese culture and cooking alongside her father, novelist Roselle Lim's forthcoming title "Vanessa Yu's Magical Paris Tea Shop" is a dreamy and magical trip centered on heritage and food. The story centers on protagonist Vanessa Yu, who has an ability to predict scenarios, though she thinks it's a curse. Unhappily single and after delivering the worst misfortune to someone she loves, Vanessa finally decides she's had enough—it's time to get this "gift" under control. She enlists the help of the family fortune telling expert, her aunt Evelyn. The only catch? Aunt Evelyn is moving to Paris to open a teashop. Vanessa has no choice but to journey to the city of love to change her destiny.
"Amboy: Recipes from the Filipino-American Dream" by Alvin Cailan and Alexandra Cuerdo (August 25)
Famed Fil-Am chef Alvin Cailan — founder of popular breakfast sandwich purveyor Eggslut and host of online series "The Burger Show" — has teamed up with "Ulam" documentary director Alexandra Cuerdo for a cookbook illustrating the dual identity as an "amboy," a Filipino growing up in America. Set to be released by Houghton Mifflin Harcourt in late summer, this cookbook narrates Cailan overcoming "cultural traditions and family expectations to find his own path to success." Expect Filipino comfort classics from the lens of a Fil-Am upbringing and anecdotes about Cailan's rise as a chef.
"Vampires of Portlandia" by Jason Tanamor (September 29)
Based on Filipino folklore (aswang), "Vampires of Portlandia" by Jason Tanamor is a fantastical tale of different monsters coexisting in the weirdest city in America. When Marcella Leones relocates her family of aswang vampires from the Philippines to Portland, Oregon, she raises her grandchildren under strict rules so humans will not expose them. Her only wish is to give them a peaceful life, far away from the hunters and the Filipino government that attempted to exterminate them. Before she dies, she passes on the power to her eldest grandchild, Percival. He vows to uphold the rules set forth by Leones, allowing his family to roam freely without notice. However, when the aswang covenant is broken, the murder rate in Portland rises drastically. Who is behind the murders? And who is behind the broken covenant? Along with sensie Penelope Jane, Percival must find the truth.