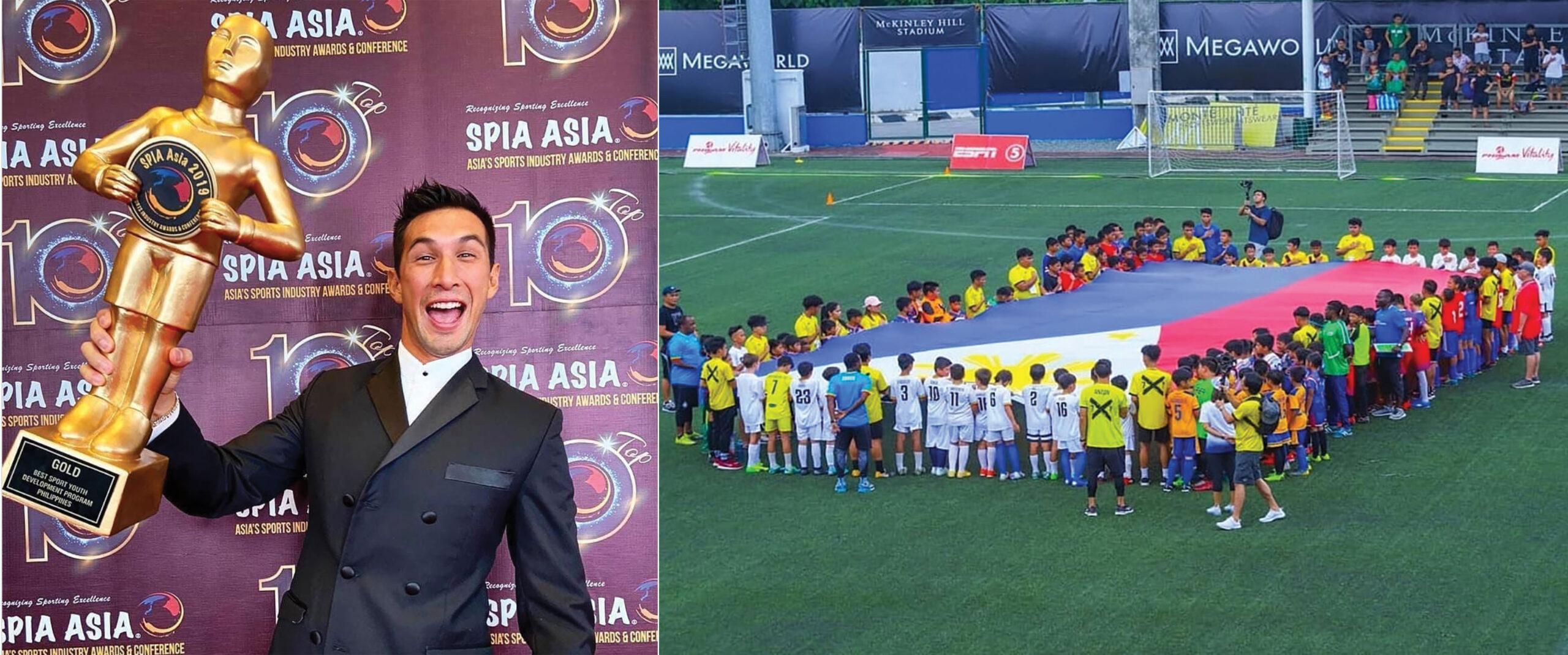 Seven-a-side football's global popularity (also called 7's Soccer in other locations) is taking off and at the helm of this emerging and innovative variation of football is Filipino American entrepreneur Anton del Rosario, himself a world-class legend of the sport.
Del Rosario, who himself founded the first 7's Football League in the Philippines in 2018, has been at the forefront of this growing football community and wants to take the lead in actively promoting it in the coming years, not only in the Philippines but also in the entire Asian region and eventually to the world.
"We are creating a sport here and I am in this godly mission because I know what it could do for the world.  If we're able to create another sport, it's like creating another whole industry. Imagine the jobs that would be created, all of the players, all of the coaches and all the kids that get to dream to play professionally on another sport. It's much more than a sport, it's being able to give back and make an impact to the world," del Rosario told the Asian Journal in an interview.
The 41-year-old football superstar believes that the seven-a-side football, which is a mini variation of the 11-a-side football played in a much smaller field, will be a big thing in the future.
"They say football is the most popular sport in the world but imagine all of these kids, there are not a lot of football fields for all of these kids all over the world. People are playing a smaller-sided football already but has not been structured to it. So that's where me and my company comes in to create that structure," he said.
Kickstarting 7's football league
Seven years ago, del Rosario partnered with premier insurance company AIA Philippines to pioneer the 7's Football League (7s FL) in the Philippines. The league, which was formed to focus on seven-a-side football competitions locally and internationally, is being  played using a mix indoor futsal and standard football rules in a much smaller field.
Starting from less than 10 teams in 2018, the American-born footballer is proud to have tremendously increased the size of league over the years.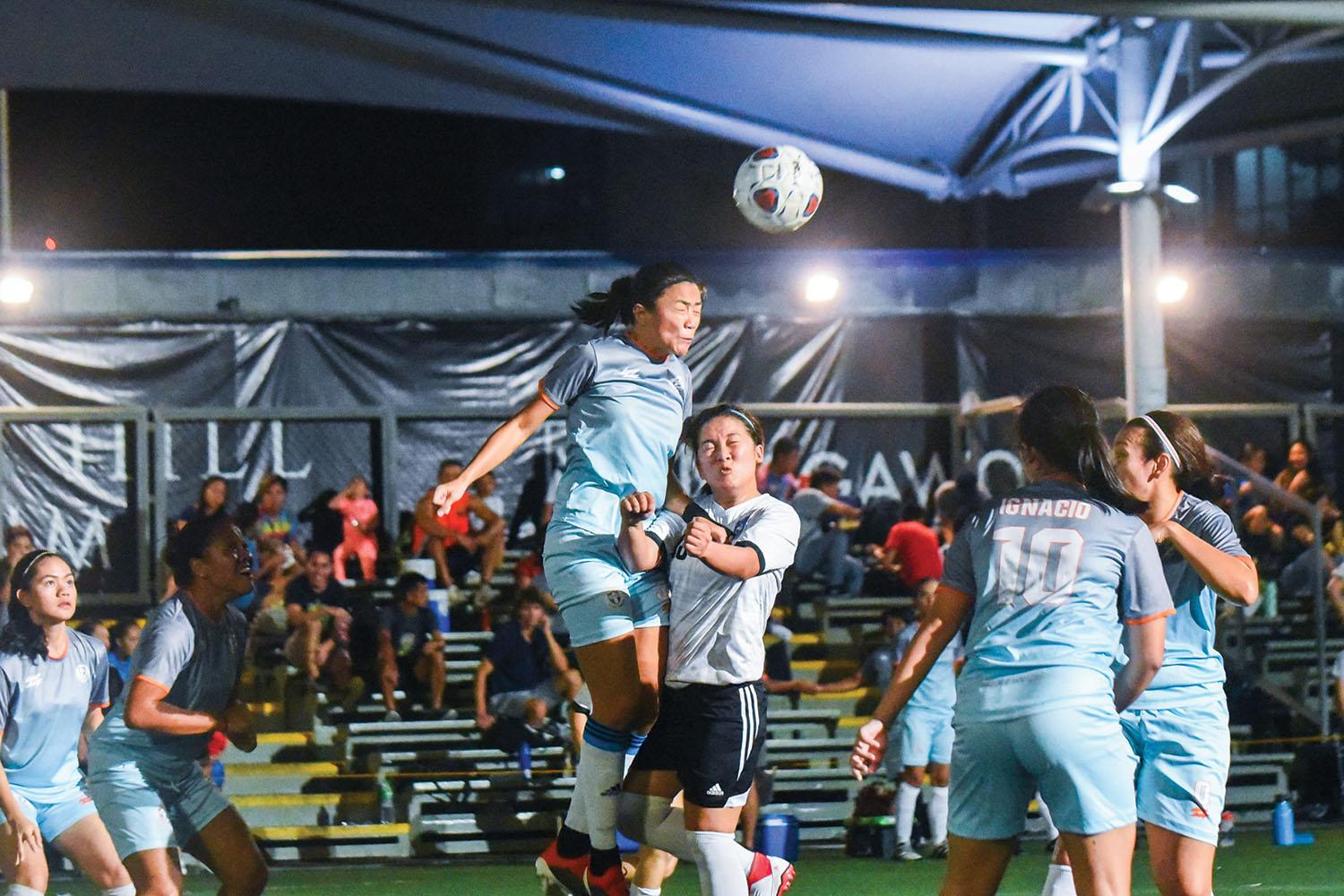 "I started in 2018 in the Philippines with eight teams. Last year, we ended the year with 350 teams across the country of the Philippines. We are now in nine cities. With our partner AIA Philippines (formerly Philamlife), we are the largest men's and women's football league in the Philippines," he said.
So far, the 7's FL already had four seasons. It has a two-tiered men's division, a women's division, and youth divisions. It is also currently affiliated with the Federation Internationale de Football 7 (FIF7). The league should have expanded in the fifth season in 2020 but was disrupted by the COVID-19 pandemic.
Just a year after its inception, 7's FL received the Best in Sports Youth Development Program award at HR Asia's Sports Industry Awards and Conference. HR Asia is the most authoritative publication for HR professionals in the Asian region.
In 2021, the franchise launched further leagues in the United States and across Asia providing an opportunity to people to chase their dreams, to be able to unite players of all ages from all over the world and build a community for football in every city where 7's FL  makes it available for all, giving each person a chance to grow and enjoy their passion.
This year, 7's FL will hold major milestones in the history of seven-a-side football by launching two major tournaments: one in Taguig in the Philippines from April 21-23 and another one in North Carolina in the United States from June 1-2.
Fostering partnerships
As many countries around the globe have already started their journey to the seven-a-side football, del Rosario admitted that Asia still requires a much-needed push to further develop this emerging sport.
"In Europe, they already have organizations playing this. South America have organizations playing this. They are the ones who actually reached out to me and introduced me to this and their big problem is that they can not secure Asia. So that's where I want to come in and I want to be the one to create Asia for all of us," he revealed.
"Asia's quite hard, unless you're there. Unless you have somebody active and believing in it, as much as we do, then it becomes very difficult," he said, when asked why most Asian countries are still a little bit hesitant to go into this new type of sport.
Del Rosario reiterated his eagerness and enthusiasm to become a prime mover in making seven-a-side known in Asia and then to the rest of the world. "Soccer is the number one sport in Asia, that's why it's going to be very successful. Actually, I believe it's going to be successful anywhere," he added.
This innovation in the sport of football, he said, will make it more popular and acceptable. "Everybody knows that soccer has been under FIFA (Federation Internationale de Football Association). FIFA only owns 11-a-side soccer, foot soccer and beach soccer. We are coming in and we are creating seven-a-side soccer similar to what's happened in basketball. Basketball is played five-on-five. Right now, they have a version which is now getting popular, three-on-three, so we want to bring this more modern, exciting style of the most popular sport (football)in the world, to the world," he stressed.
Del Rosario, who entered the football world since the tender age of six, played as a right back or center-back for Maharlika Manila (of which he is also a co-founder and co-owner) and represented the Philippines national team for a decade from 2004 to 2014. He has also teamed up with private companies, a group of goal-driven professionals, and government entities to accomplish the goal of putting a mark on seven-a-side football across the world.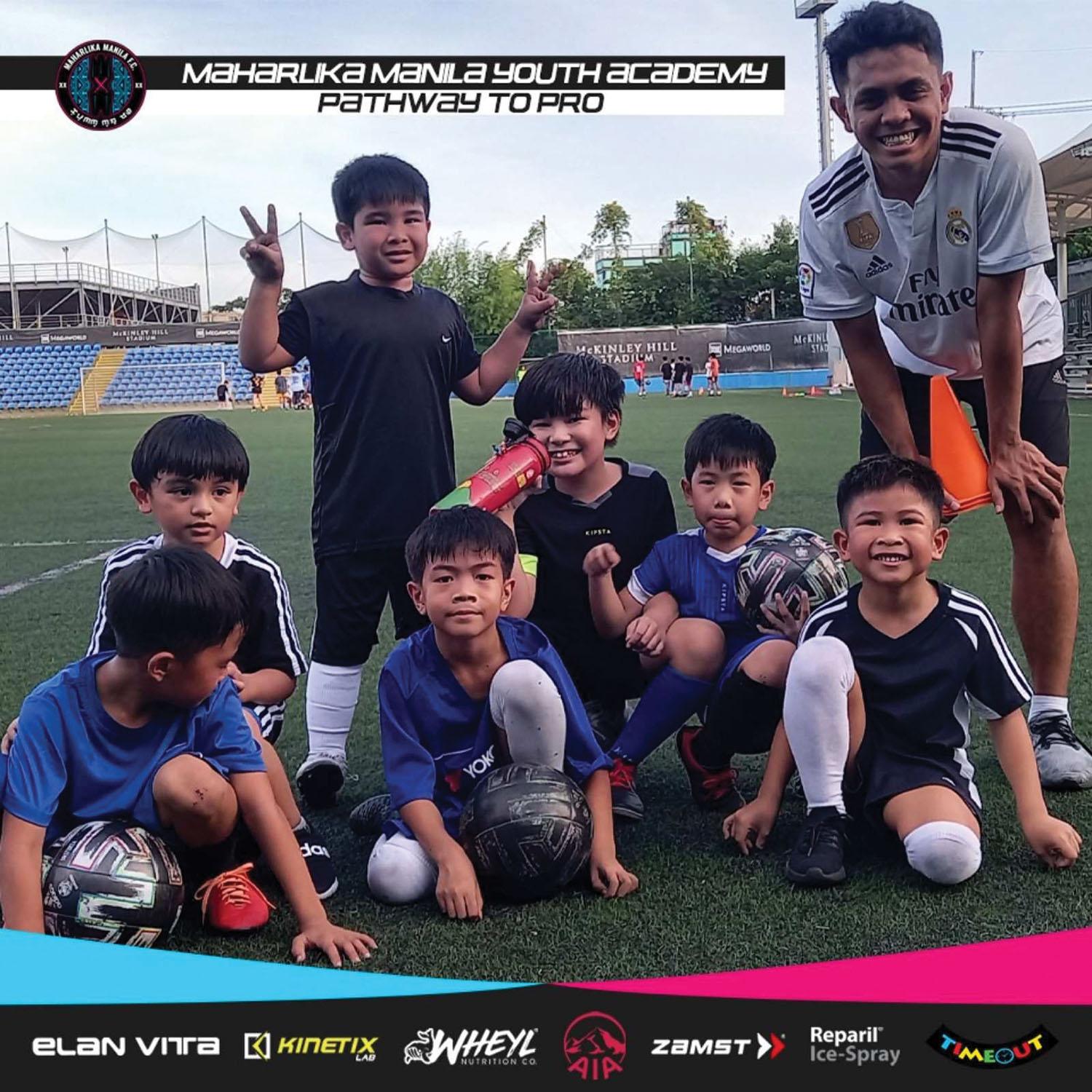 These partners will help del Rosario and his company in facilitating future events and tournaments, making each game not just a regular football competition but uniquely thought off event with a lot of music, arts and festivities.
For instance, 7's FL took in the group of Gonzalo "Bogie" de Guia of TapGo Digital Media Ventures to provide an exciting live streaming coverage for each event.
"I think, we as a company, TapGo is looking for ways to help football in the Philippines and to make football available and football is actually the national sports for Filipinos and not basketball and we feel that there's huge untapped market for football to be the national past time of the Philippines," de Guia, TapGo co-founder and chief technology officer, said.
"We are excited to stream the 7's event, the international part of it. We are very excited to be part of this. This is something we see as a long-term partnership and we know that the right people around, with the right partners, this will grow in to something really big," the TapGo honcho added.
De Guia has committed to bring a broadcast quality stream and coverage to this event. "Once you see your kids playing in broadcast quality format, that is something will be proud of and at the same time we want to make sure that Filipinos and Asian eventually in the region watching. We want them to see quality event both online and on TV. That is something that we bring in to the table, something that make sure that people will love," he added.
The company is also tapping Ovation Productions to handle the festivities and concerts that would be showcased as part of tournament.
"We want to make sure that we bring quality games, good competition and working with people like Ovation will be able to bring other communities, when we talk about communities, football and sport, they go hand-in-hand with music, art especially in the modern day. This is why bringing Ovation into our whole event, it would make so much sense because I think that's where the future of the events could go where we have a great sporting events, mixed in with good music events," del Rosario said.
Del Rosario also brought on board Dion Ugbebor, a U.S.-based Filipina who is a social impact and change driven entrepreneur with businesses and partnerships globally in health care, technology, real estate, sports, entertainment and social solutions.
"I believe in humanity and the powerful change we can make together. Each of us have the role to make that happen- make it passionate, bring your best self. Leadership matter," Ugbebor said.
Being in the healthcare business for more than two decades, Ugbebor is sincerely keen on bringing change and uplifting people's lives by supporting efforts that will make a significant difference to the society.
"There's a lot of passion and excitement on the ground. Seven-a-side is getting really popular in the Philippines and it's just a great opportunity for us to bring forth something innovative with a live streaming platform like TapGo, and at the same time, create a platform for our children, for our families, for our community to tell their story and be heard. [This] sport is more than a sport. What a way for us to do this with great partners, and wanting to have the same mission which is to make an impact to the community and make a difference and do something bigger than we can be proud of as Filipinos and bring it to Asia and hopefully the globe," she said.
Eddie Mallari, who handles the marketing side of 7's FL, for his part, sees this sport gaining ground with the advent of social media platforms which are readily available to stream these sports events.
"It's kinda becoming a trend, especially for social media and things being online nowadays, it's something a lot easier to attain now than it was say 10-15 years ago. The response has been very good," Mallari said, when asked how they expand their reach for support, specifically from Filipino Americans.
Mallari recalled his experience when he got the chance to play for the Philippine national team years back. "I really did not grow up in a Filipino community and when I heard about the opportunities to be able to play football for the national team and eventually it became professional, it gives (them) an opportunity and an advantage. One thing that gives (them) the advantage is because you're a Filipino, you get a Filipino passport and you get treated as a local," said Mallari.
"We are seeing more and more Fil-Ams coming here (Philippines) and to play with the national team, play with the local clubs, send their kids for youth tournaments," he added.
Long-term goal
"Our goal eventually is to try to make it free for kids. I want to be able raise funds from sponsors and local governments to make it possible," del Rosario said.
It was noted that it is only in the Philippines and in the U.S. that football is a fee-based sport.
"The U.S. and the Philippines are probably one of only two countries where football is a paid-to-play model and generally, it's for the people who can afford but everywhere else in the whole world is pretty much for free and its a mass sport," Mallari, meanwhile, pointed out.
Mallari shared del Rosario's vision, saying that making football free would only be achieved through collective efforts.
"What does it take? It's community's building, getting sponsors, people who have the same mission as us to really get support so it would eventually become free in places like the Philippines and the U.S. And it has slowly started  happening in the U.S. in he past 10 years and should improve a lot faster than it is, and we kinda wanna do the same thing out here in the Philippines as well to make it a mass sport where it's not just the privileged people than can pay to play," Mallari said.
Del Rosario has actually started to draw up a concept to make this free-for-all football games for the youth.
The 7's FL executive is optimistic that this goal would be attained in the near-term.
"Give us one year to create a concept in each of these countries and give us another six months to gather sponsors. I should say in two years' time, we should be able (to achieve this goal)," he said.