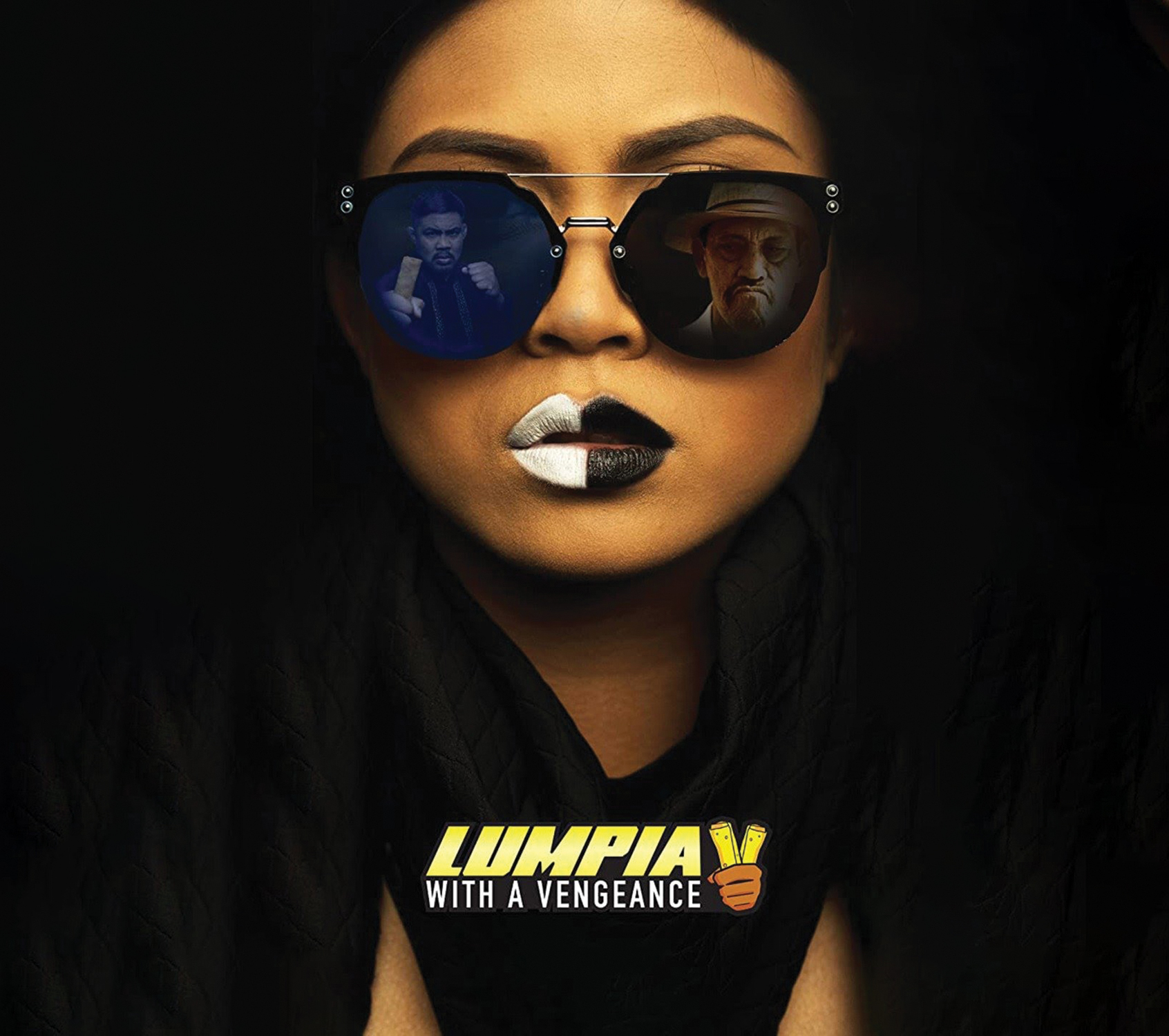 JUST in time for this year's celebration of Filipino American History Month (FAHM), the award-winning Fil-Am indie comedy feature film, "Lumpia with a Vengeance" rolls out in major theaters across the country. 
"Lumpia with a Vengeance" is a representation of Filipinos' unique character, heritage and culture rolled into one like a wrapped "lumpia," said the film's producer and director Patricio Ginelsa, in an interview with the Asian Journal.
Lumpia, the eggroll filled with a savory mix of ground pork, beef and veggies, is an all-time favorite at Filipino gatherings and a crowd-pleasing snack for all ages.
The film has received an endorsement from the Filipino American National Historical Society (FANHS), which is officially co-presenting the film nationally.
"'Lumpia with a Vengeance' is proud to be unabashedly Filipino American and doesn't apologize or need to explain why. It's a glimpse to not only our culture but into our nuances, our humor, and more importantly our history," said Ginelsa, during a recent special screening at the Ray Stark Theater at the University of Southern California, where he graduated with a bachelor of arts degree in cinema production.
Asked how they came up with the film's title, Ginelsa said, "While it's obviously done for laughs, the hero taking on such an odd icon as his superhero symbol is common in the comic book world."
"One of the most popular superheroes dresses like a bat while another takes on the symbol of the spider. So why not lumpia? It's the most iconic food of the Filipino community. It's a parody but the idea of weaponizing lumpia as a source of pride and cultural branding isn't fictional," he added.
True to its catchy and funny title, Ginelsa said the film is made to be enjoyed by movie enthusiasts — who after two years of hiatus due to the pandemic — deserve a good laugh.
"Hopefully, people will enjoy it and have fun. We need to laugh nowadays, just to have fun. I think a lot of us were so quarantined together. What a good time to watch a big screen and just enjoy each other's company. We hope you enjoy our movie as much as we enjoyed making it. Love that lumpia!," he said.
"Lumpia with a Vengeance" is a sequel from the 2003 homegrown, minimal budget film "Lumpia" (also directed by Ginelsa), which takes place in the late-90s at the fictional Fogtown High School. The plot of the original film focuses on a group of high school friends who are targeted for mockery by thugs. To defend themselves from these thugs, they rely on the protection of a hero named the Silent Avenger, whose powers come from lumpia.
Ginelsa recalled that the first film became a surprise hit and received positive reviews. After 17 years, a sequel of the indie classic was made featuring a new egg rolls-armed hero, dressed in a Philippine national costume Barong Tagalog, called Lumpia man.
"It was during the 10th year anniversary of the first sequel 'Lumpia' in 2013 that we decided to crowdfund the sequel to see if there is still an appetite for it," Ginelsa said. "Lo and behold, we were able to raise $50,000 with over 800 backers."
The director is also an associate producer of the award-winning film "The Debut" released in 2000.
In the latest crowdfunded action comedy, the lumpia-slinging hero returns to Fogtown, America's version of Manila. Much like how Metropolis and Gotham City are comic book counterparts to New York City, Fogtown is inspired by the director's hometown of Daly City in California, whose ethnic make-up is mostly Filipino.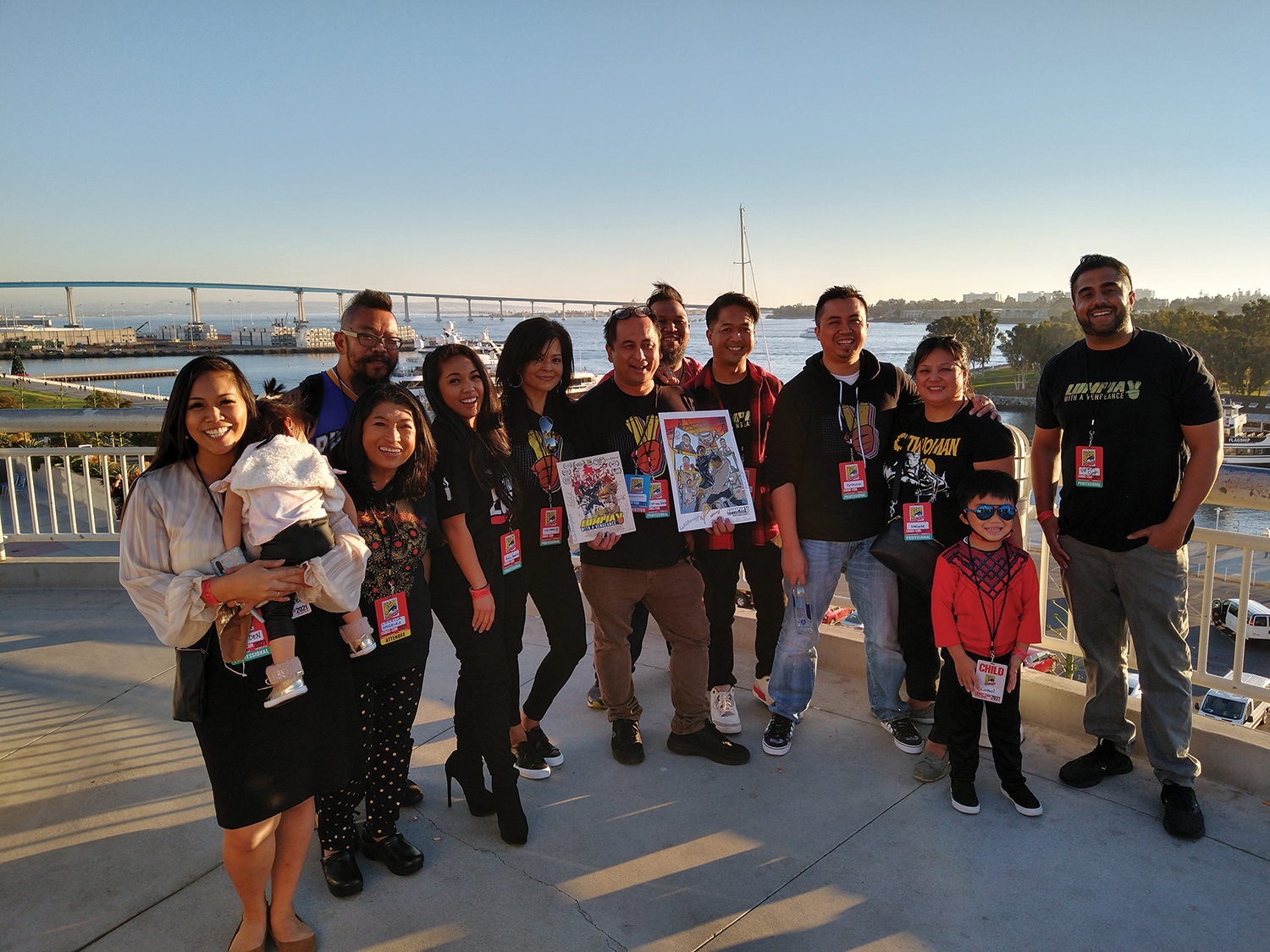 This new sequel's plot now features a female lead, teenager Rachel, a maid of honor at her own parents' wedding, who finds herself tangled up with a crime syndicate selling drugs masked as food. She teams up with Lumpia Man (also known as Kuya) to prevent a mysterious crime boss from destroying her town, and her parents' dream wedding.
Though "Lumpia with a Vengeance" took about a long seven years to finish, it made history at the fully-packed San Diego Comic-Con (SDCC), the world's foremost pop culture event, last July when it was overwhelmingly received by over 400 attendees at its panel.
And after making its World Premiere at the 40th edition of the Hawaii International Film Festival (HIFF), "Lumpia with a Vengeance" has coveted HIFF's Audience Award for Best Narrative.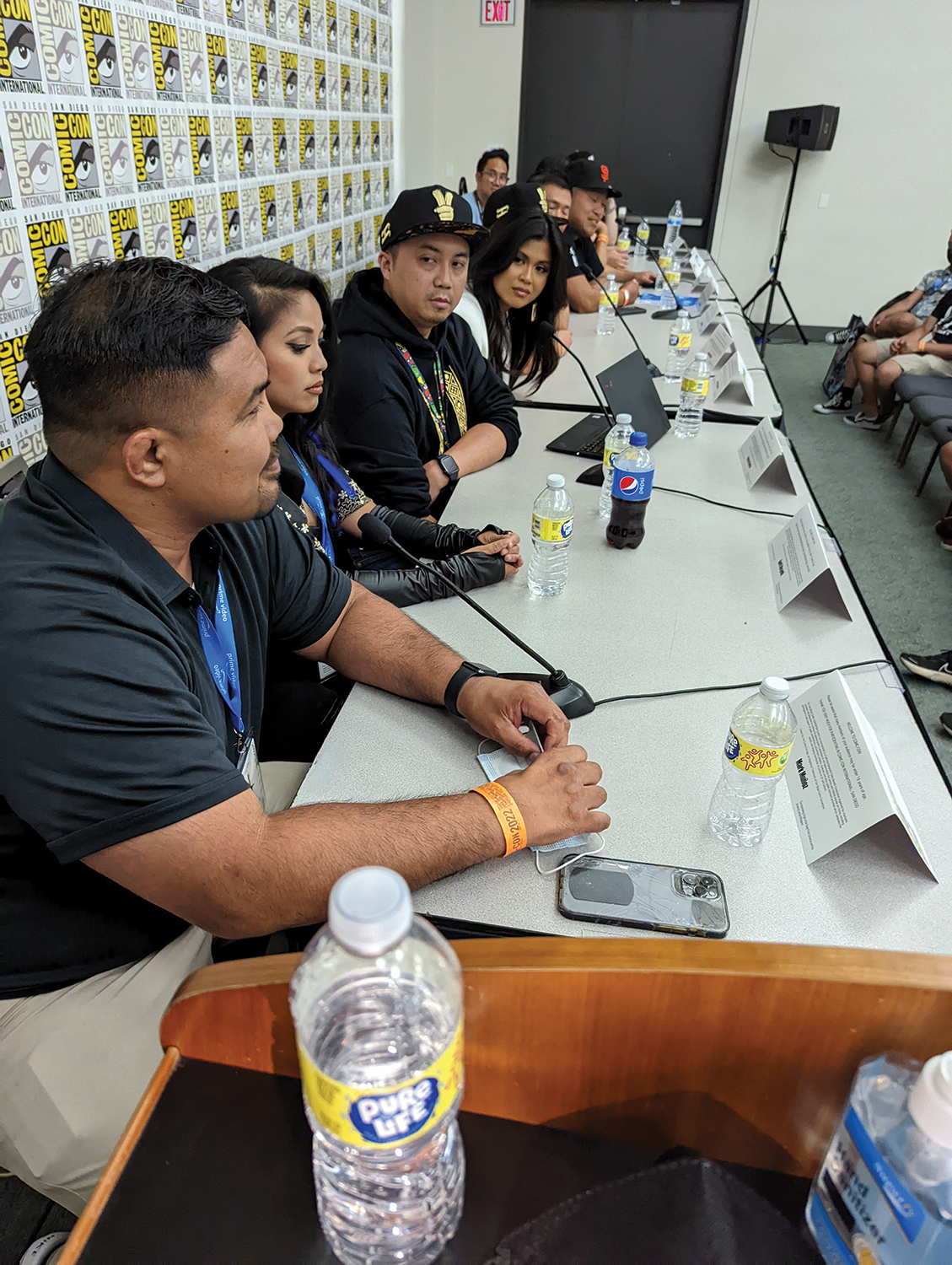 Filmed primarily in the San Francisco Bay Area, the special effects-laden action comedy stars Mark Munoz (former UFC champion), April Absynth (STARZ Blindspotting", Katrina Dimaranan (Miss Philippines Universe Tourism 2021), Darion Basco ("The Debut"), Danny Trejo ("Machete"), Earl Baylon (Netflix "Tomb Raider"), and a talented ensemble including the original film's cast, Francis Custodio and Edward Baon.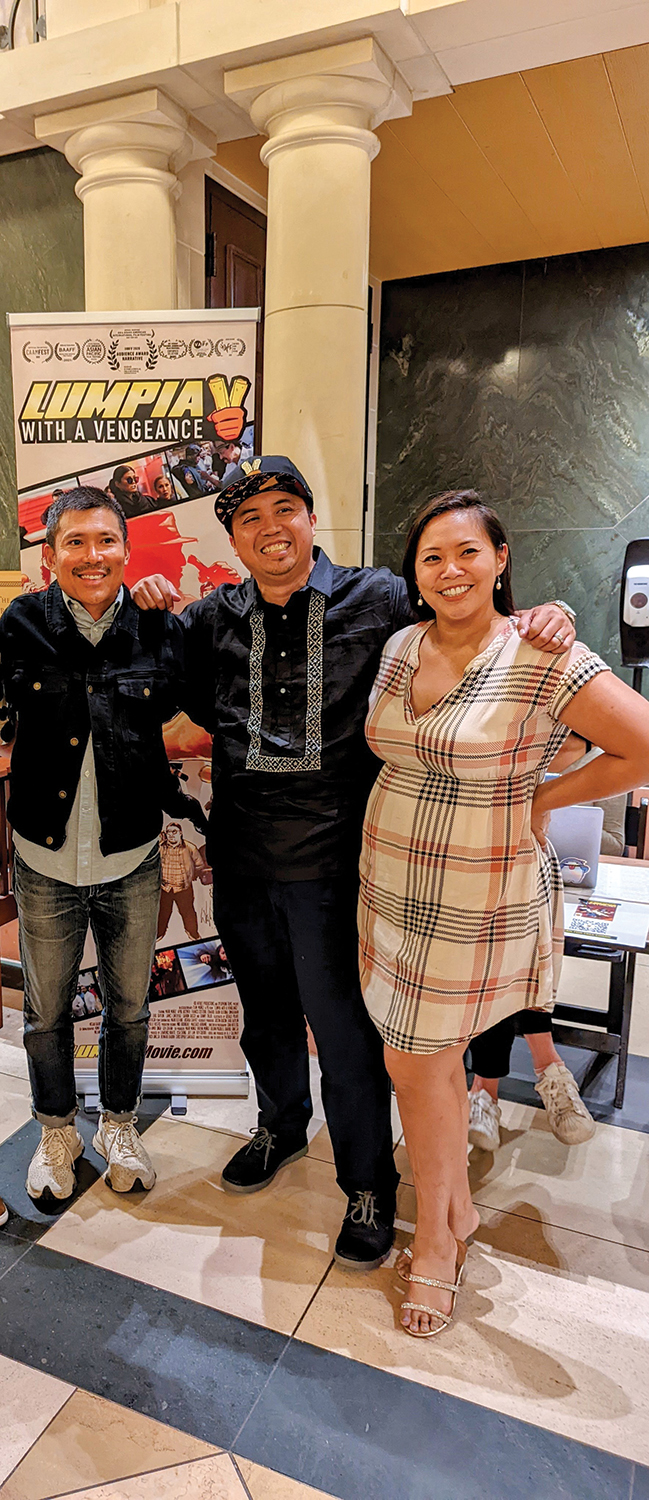 "We utilized our network to include as many notable Fil-Am stars and professionals in front of and behind the camera as a way to showcase the force of talent in our community. So, we used that same playbook when crafting 'Lumpia with a Vengeance,' a crazy comic book action comedy starring a kick-ass Fil-Am role model as its action lead. It has all the potential ingredients needed to capture a universal audience while being an empowering experience for those who want to see more people that look like them in the lead roles," Ginelsa said.
He likewise noted the bayanihan spirit that supporters made through in-kind donations or even through donating their talent in front of the camera as background actors or behind the scenes as production assistants or even post-production VFX (visual special effects) artists.
"I'd like to think we captured that genuine, risky, independent spirit of filmmaking. Despite all the challenges and financial hardships, we would always circle back and rely on our backers to motivate us and push us through the finish line. So here we are, ready to showcase and represent our delicious film! It took longer than what we anticipated, but we felt a huge responsibility to deliver a feature film that was worthy of their support," he said.
He added, "From the very night it was kickstarted, 'Lumpia with a Vengeance' was established as a fun platform from which the community could contribute to, learn from, and play in. And ultimately, it all came together because we believed in what we were doing, knowing we had an eager audience waiting for it to come out."
According to Ginelsa, "Lumpia with a Vengeance" may be an action comedy on the surface, but at heart, it's a community film developed, funded, and starring the community. And it makes use of the one iconic food that defines our community – LUMPIA!"
The film is also co-produced by A.J. Calomay, Lawrence Iriarte, Lisa Chong, Jeff Lam and Rey Cuerdo.
As for what's next for the 'Lumpia' series, Ginelsa said there could be another film, but it will depend on the audience's response.
"Again, I wanna throw it back to the community, if they want to see [the third movie] quicker. I already have a cool story I wanna tell. The Part 3 has to be bigger than Part 2. It has to be bigger in terms scope and in terms budget," he said.
Moreover, the film has spun off its own comic book series, also crowdfunded by its supporters.
Ginelsa, who has a lifelong obsession for comic books, said the "Lumpia with a Vengeance" comic books published independently by Kid Heroes Productions have allowed the creators to expand upon the movie's story and universe with art by the same artists and illustrators that have contributed to the actual movie.
"The variant covers and contributions from legendary creators such as Whilce Portacio (X-Men, Wetworks) and other upcoming artists have resulted in limited editions provided with every screening," he added.
The movie is tentatively scheduled to be shown in select theatres nationwide on Oct. 7 (New York, Queens, Dublin, Fairfield, Los Angeles, North Hollywood and Cerritos); Oct 14 (Las Vegas, Jacksonville, Eugene, Seattle, Washington DC, Lansing, Honolulu, Pearl City, Kapolei, Chicago, Irvine, Riverside, Virginia Beach, Boston, West Covina, Sacramento, Oceanside; October 21 (New Orleans, Philadelphia, Phoenix, Anchorage, Stockton, Ontario, Tampa, Guam, Houston). Tickets via virtual box office are available now. For the latest updated ticketing and theater schedules, visit LUMPIAMOVIE.COM.