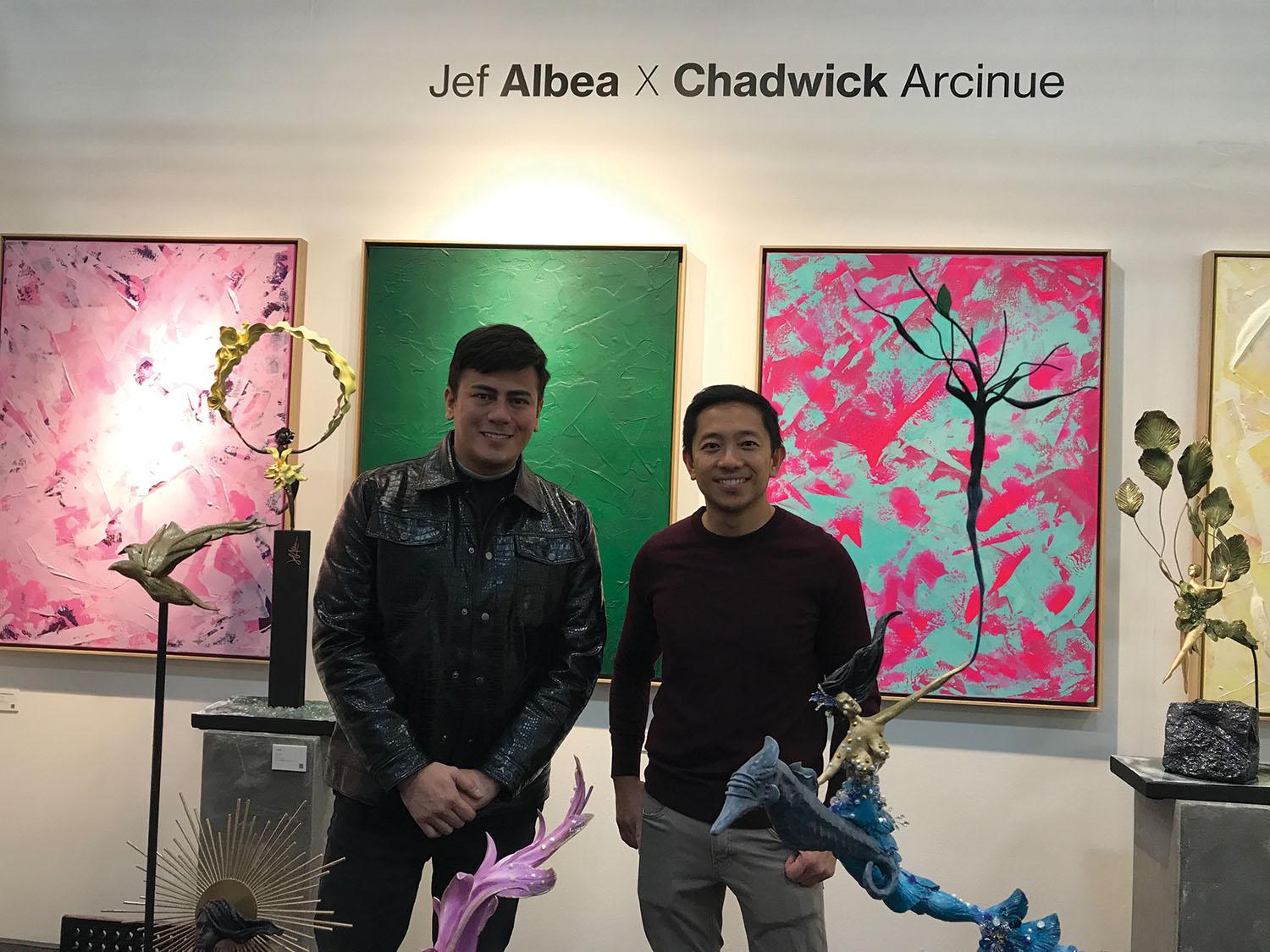 CHADWICK Arcinue worked in business and finance for almost two decades before he ventured into the art world full-time back in 2018.
"It was a process and the evolution was probably years in the making, but I was not consciously thinking about it," Arcinue told the Asian Journal. "When I started my first painting in 2003, it wasn't because I wanted to paint, it was out of necessity."
By necessity, he meant living in an apartment with bare walls and he and his wife Leanne didn't have money to buy paintings. He asked her to go to an art store with him so they could buy some painting materials. He painted cherry blossoms and called the finished work Boston, in honor of the city where they resided then as he was pursuing his MBA.
He didn't consider himself an artist though, for him it was just a hobby.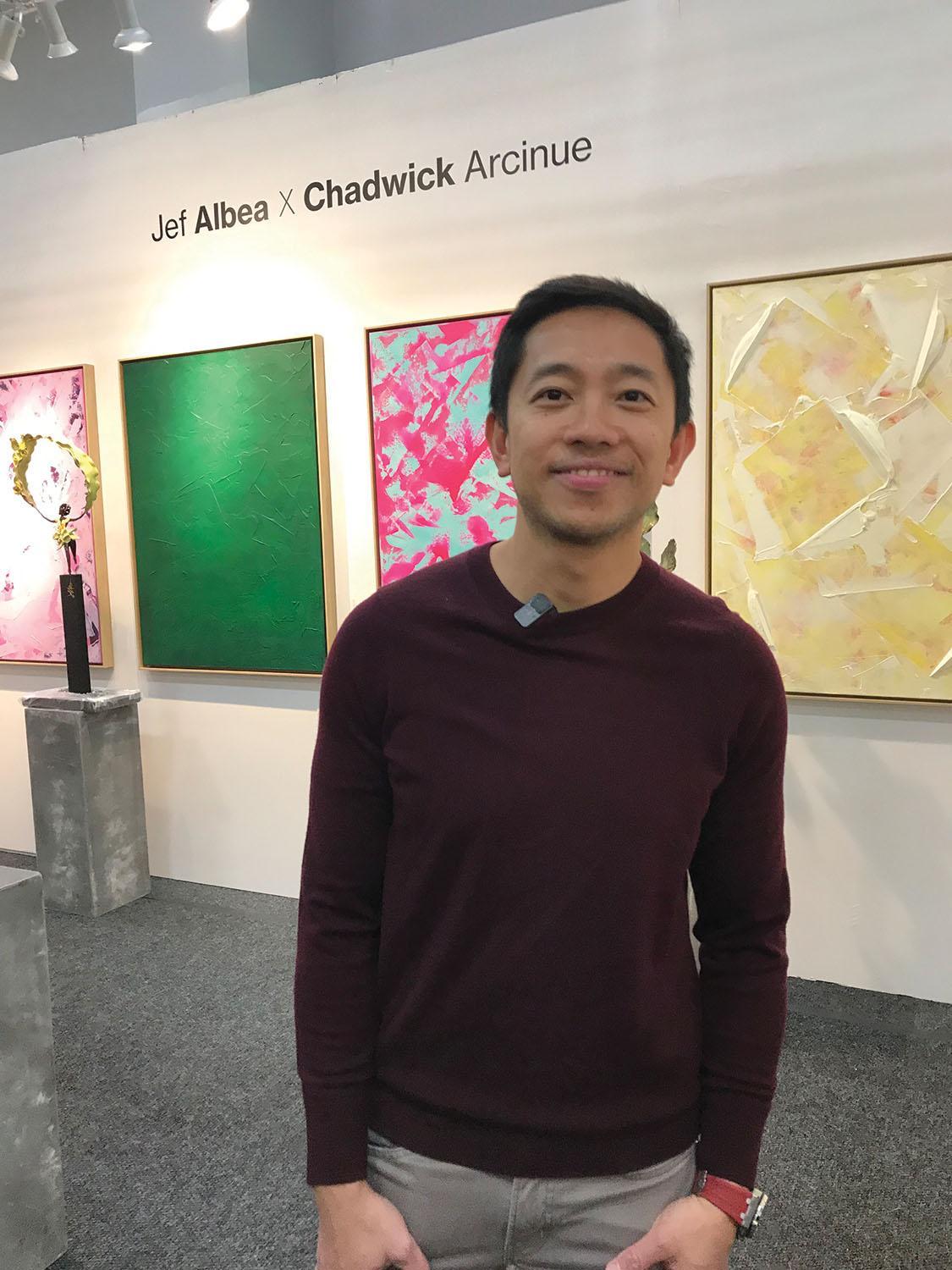 "After all those years of working in finance I guess, that toll eventually caught me and I had to choose between continuing that career, which is nice, or doing art full time," he shared. "I guess it's never too late to chase one's passion and it's also never too early."
Arcinue believed that it was his right time, he was in the right place and the fact that he was not getting any younger made him wonder 'If I don't do it now, I might not do it ever'
With his wife's full support, he decided to jump into this new world and pursue his passion for art.
"He was with EY for 13 years and working towards a Partner track. We both work in professional services so I was surprised he wanted to pursue a career in the arts," Leanne shared. "Go lang. Life is short. Do what you love. Self-actualize. I was just thinking, pursue your passions so that when we're older and look back, we have fewer regrets in life."
Chad established The Chadwick Concepts in 2018, and since then has exhibited his work all over the world, from Rome, Vienna to Berlin and Shanghai. Last year, he launched his first NFT collection in Times Square.
ArtExpo New York 2023
At the recently-concluded ArtExpo New York, Arcinue collaborated with Manila-based artist Jef Albea who himself underwent a reinvention during the pandemic.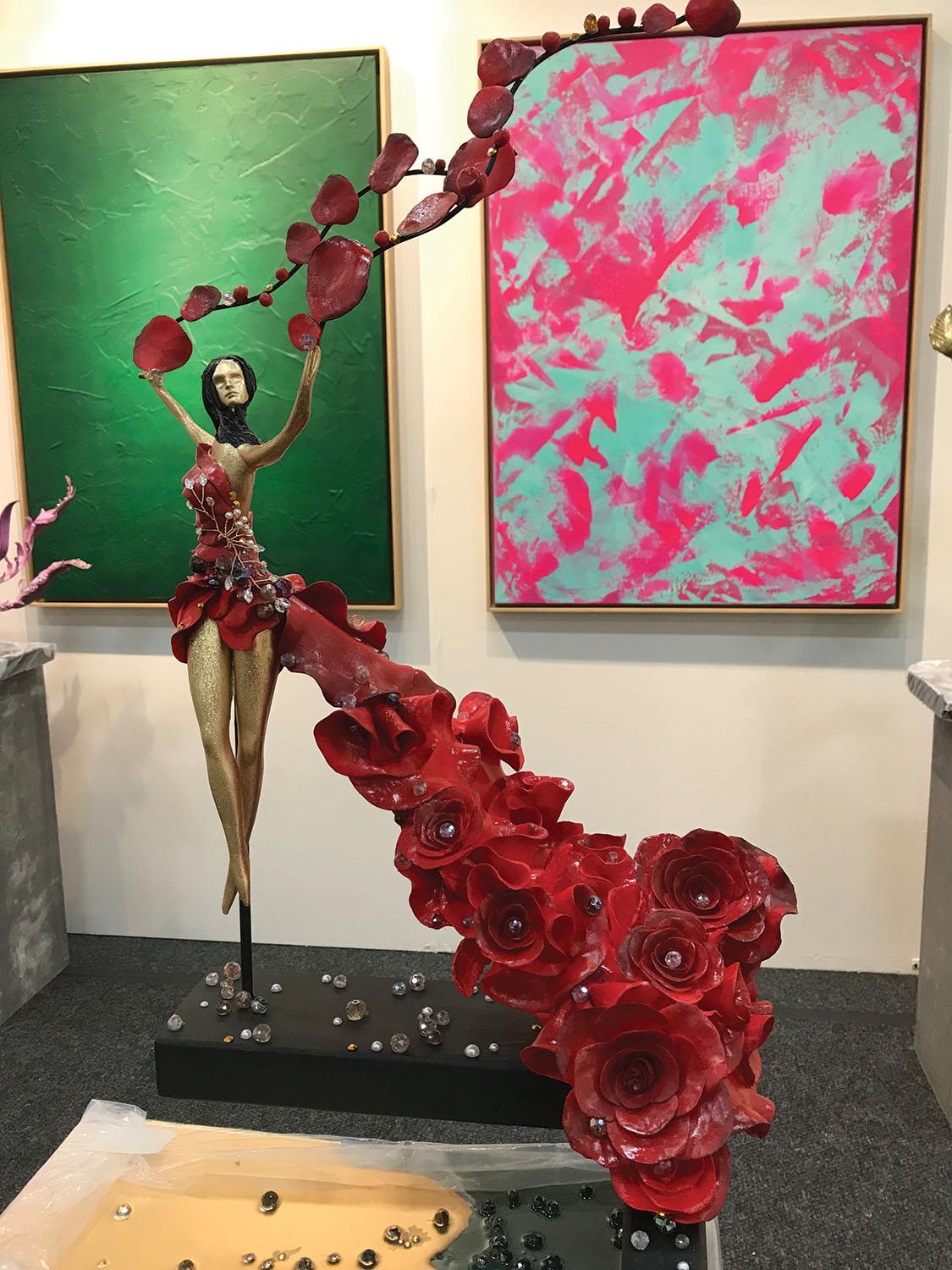 Before trying his hand at sculpture, Albea was a successful fashion designer. His creations have graced the fashion-week runways of London and New York. His success on the runway has extended to museum galleries across the world, and in many celebrities' homes in the Philippines.
"It is a new collection that evokes the emotions and colors of spring which is a season for renewal and rebirth. It is an opportunity to unshackle ourselves from the past and embrace opportunities and possibilities," Arcinue said.
Arcinue's works are a celebration of texture and color.
One of the paintings he brought is titled Springtime at Giverny because it reminds him of the Monet water lilies. It's the palette of Monet, of spring and it doesn't show you the water lilies or flowers, but when you look at it, it evokes the tranquility of the Giverny gardens.
As a texture artist, Arcinue does a lot of impasto and texture in his abstract works, a pronounced evolution from his cherry blossoms era which he calls his impressionist roots.
Since he is a self-taught artist, Arcinue did a lot of experimentation. He had to learn on his own and relied on Google and YouTube for tips and techniques.
"I started with Monet, a lot of Impressionist flowers, seascapes, and then eventually, it became very abstract and expressionist, meaning by movements," he explained. "It's the movement – you see the splatters and sprays on the canvas. The focus of that kind of style is expressionism, or the expressions of the artist, how he moved his hand or how he shook the brush. So that's the art in there."
He has been painting for two years when the pandemic struck in 2020. Like everyone else, he had no choice but to stay indoors. He worked on his craft and watched video tutorials.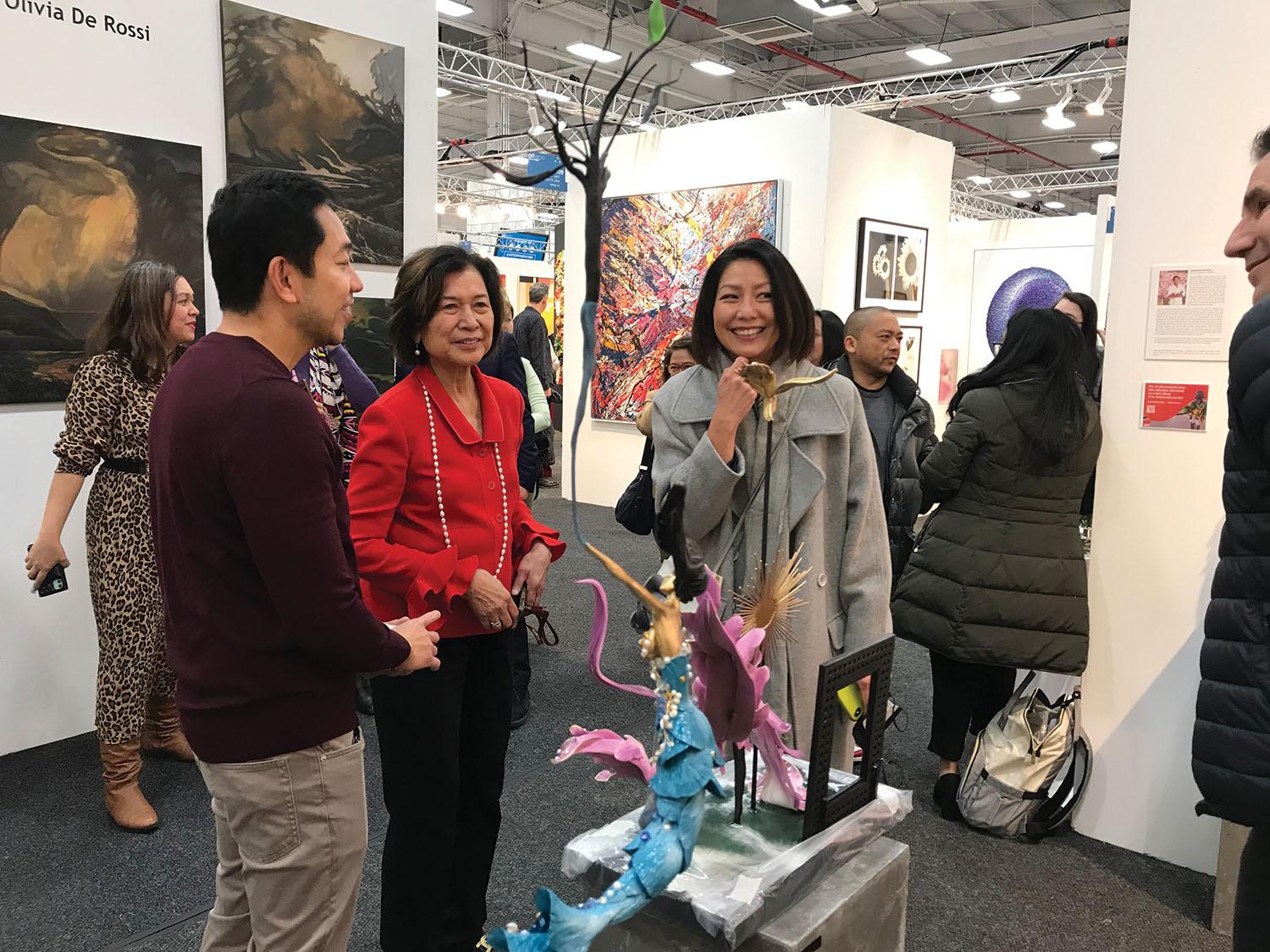 The business side then boomed as the pandemic went on as people were spending more time staring at their blank walls to the point that they wanted to redecorate or renovate. Because of this, Arcinue became quite busy with commissions, creating paintings that his clients wanted for their walls or as Zoom backgrounds.
"It's not fun to attend a virtual art show and nobody wants to see paintings on the screen," he quipped. "They're meant to be experienced in person, face to face."
Arcinue first joined Art Expo in 2019. As an up-and-coming artist, he feels it's a privilege to showcase at the same art show where Andy Warhol started.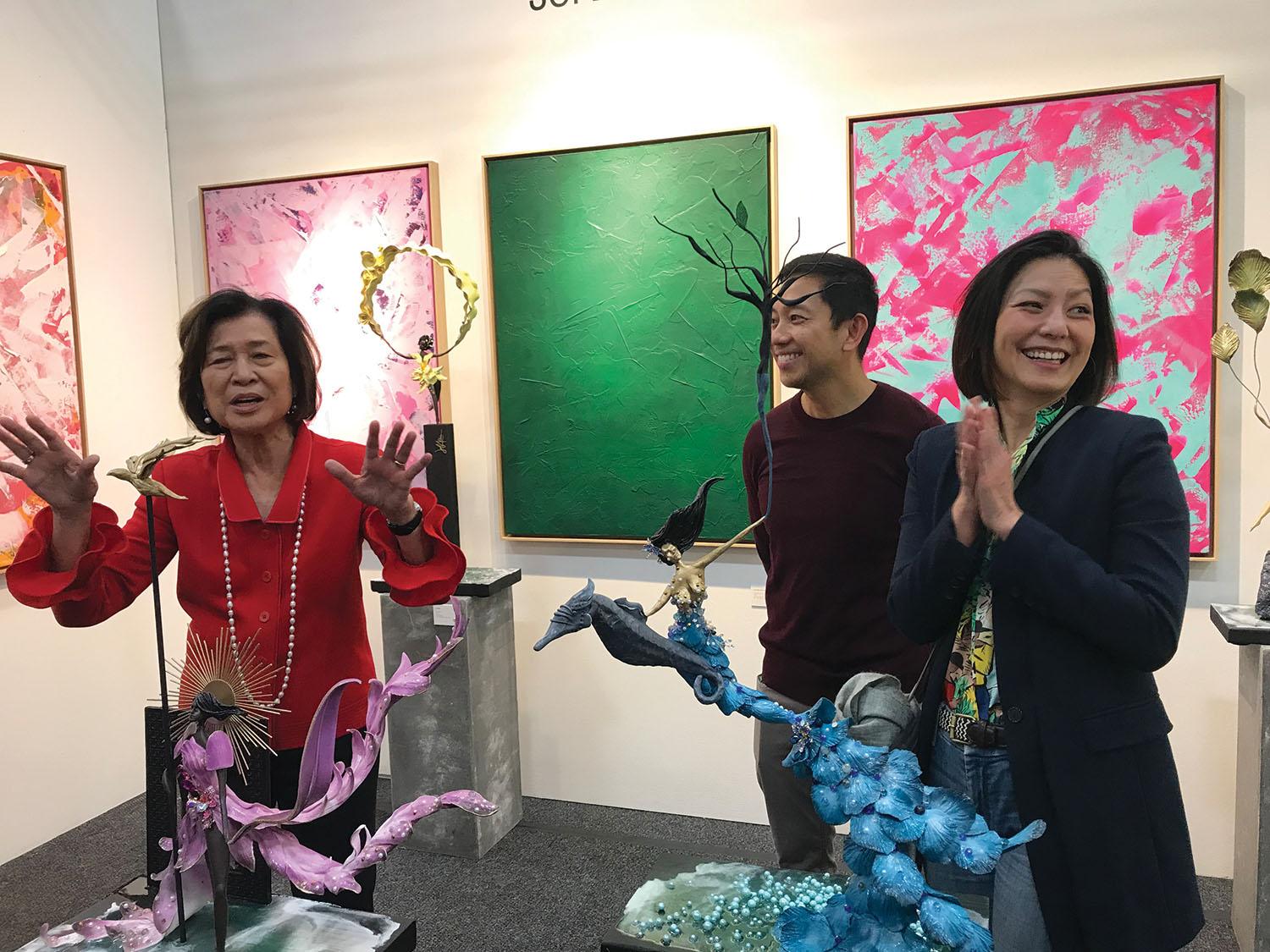 A lot of his collectors love his colorscapes and their corresponding texture and movement.
"They're very monochromatic and seemingly simple because they're usually just one color but it's more of the texture that attracts them and connects them to the painting," he explained. "Because for me, if you buy a painting and you're a collector, you need to be happy with it and you need to enjoy it every day so you put it in your living room."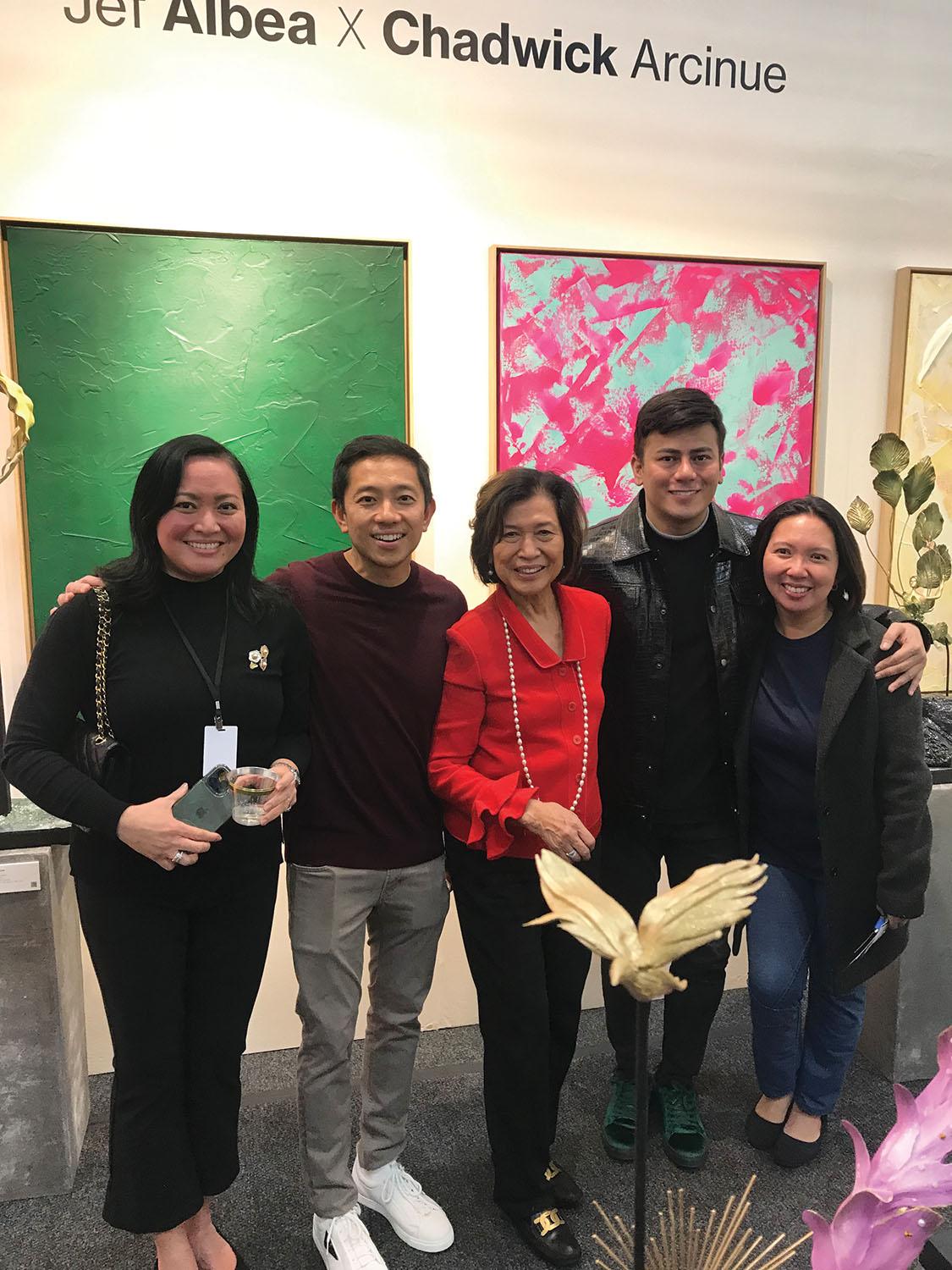 Five years and multiple exhibitions in major European cities later and the self-taught Arcinue continues to find and hone his voice.
"I travel a lot and I do fun things. I try to experience new things so I go to new places. I eat good food, I drink a lot of wine," he said. "My wife is very supportive and my biggest fan and I wouldn't be able to do my art and my journey in this field without her."
Chad and Leanne have been married for 20 years now. They met back in college at the Ateneo de Manila University through Hangad, a Jesuit Music Ministry that Chad co-founded with his Ateneo High School friends from Days with the Lord. He finished with a Management Informations Systems degree in 1996 and then a Communications degree in 1997.
"Until now, I struggle with calling myself an artist because there are so many great artists in the world," he revealed further. "I'm still trying to discover my identity as an artist; It's still evolving and I'm still experimenting. I'm still learning."
–
AJPress photos by Momar G. Visaya