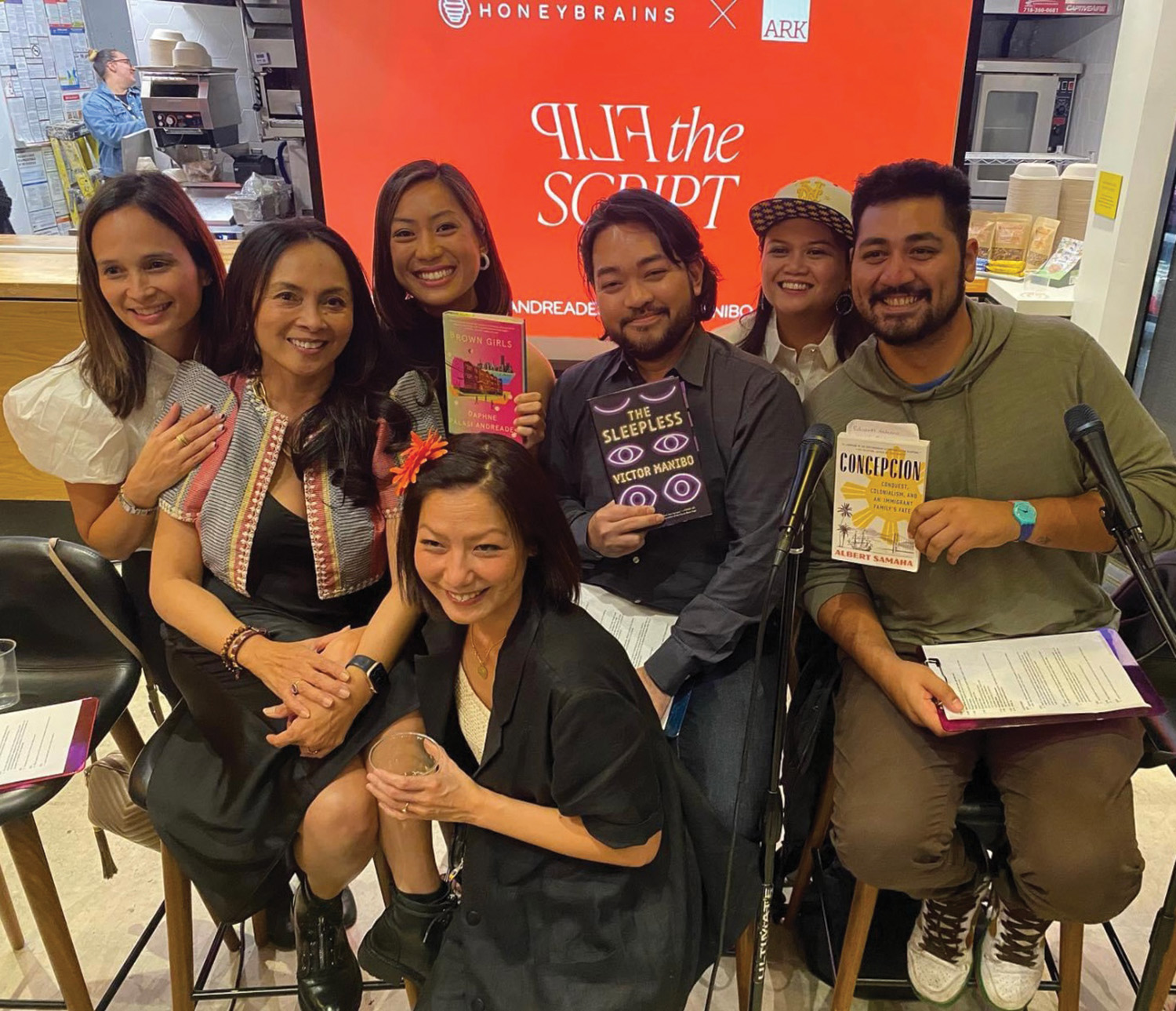 AS Filipino American History month drew to a close, Advancement for Rural Kids (ARK), a social impact innovator and nonprofit staged Flip the Script on Thursday, October 27 at Honeybrains New York with readings and conversations from critically acclaimed Filipino American authors.
The sold-out book-reading benefit challenged the Filipino American community to help solve hunger in the Philippines in just 5 weeks through its program Feed Back.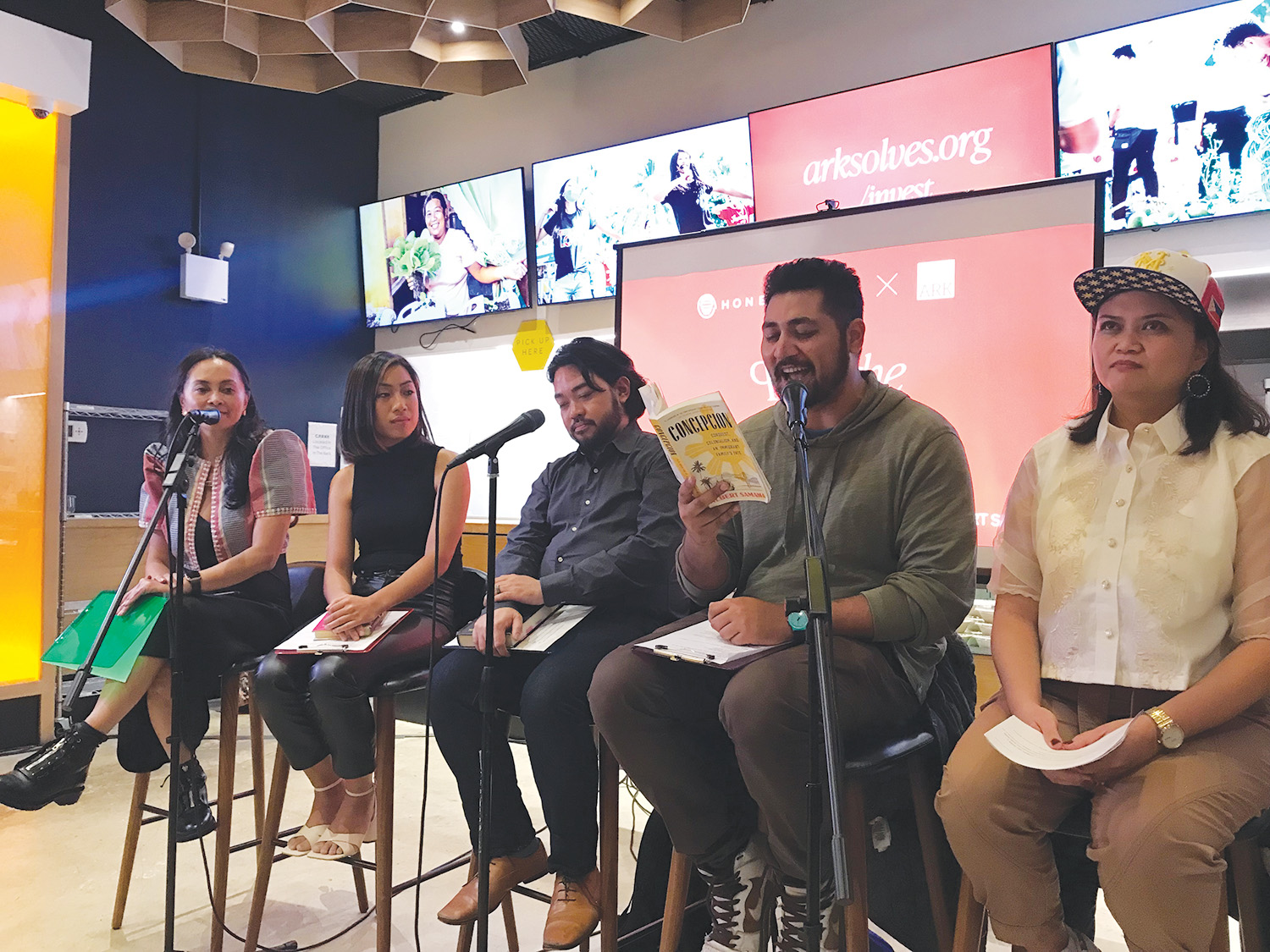 The three FilAm authors featured were Daphne Palasi-Andreades whose debut novel, Brown Girls, was shortlisted for 2022 Best First Novel by the Center for Fiction and is a New York Times Editors' Choice; Victor Manibo a 2022 Lambda Literary Emerging Voices Fellow whose debut speculative fiction novel The Sleepless is Buzzfeed's Highly Anticipated Thriller for 2022, and Albert Samaha a 2023 American Fellow whose latest book Concepcion was a finalist for the 2022 National Critics Circle Award in Autobiography and received a Whitling Foundation Creative Nonfiction Grant.
Palasi-Andreades' Brown Girls and Manibo's The Sleepless are both debuts while Samaha's Concepcion is his second book. All three have been receiving great reviews from critics, fellow authors, and readers.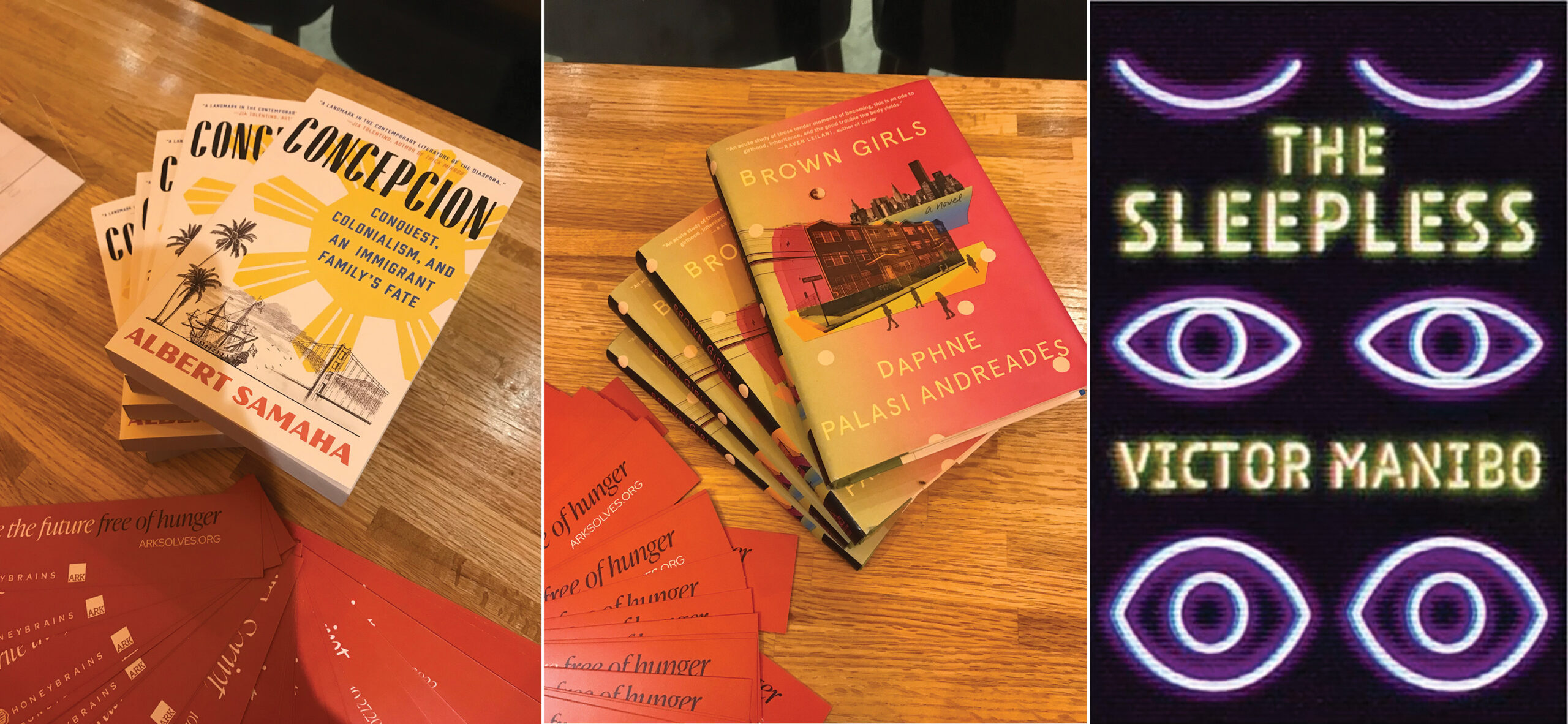 Author Raven Leilan says Brown Girls is "an ode to girlhood, inheritance, and the good trouble the body yields" while another author, Alex Segura, says "The Sleepless will prove its name: you won't be able to put it down." New York's best-selling author, FilAm Jia Tolentino, says Concepcion is "Absolutely extraordinary. A landmark in the contemporary of the diaspora."
An ARK team required reading, Concepcion, interweaves the personal with the intricacies of colonialism and geopolitics. Samaha, who teaches journalism at his alma mater Columbia University delivers stories so powerful and well-researched that they have led to the freeing of a wrongfully convicted man from prison and pushed Congress and six states to pass bills strengthening police sexual misconduct laws.
Manibo's debut science fiction noir novel explores grief, exploitation, and deceit in a futuristic capitalist society. Specializing in constitutional and civil rights law from Cardozo School of Law, he spends his workdays defending immigrants from being removed from the country. As a queer immigrant and a person of color, he writes about people who live these identities and navigate the world in his fiction.
CUNY Baruch College, Palasi-Andreades' alma mater, has picked Brown Girls for their incoming freshmen to read. She was born and raised in Queens and holds an MFA from Columbia University, where she was awarded the Henfield Prize and a Creative Writing Teaching Fellowship. Her fiction often explores diaspora, immigration, and the far-reaching effects of colonialism and imperialism.
Emmy award-winning journalist Ernabel Demillo and 2022 Open City Fellow at Asian American Writers Workshop, Vina Orden moderated the event. They discussed topics explored by the authors in their works – colonialism, immigration, identity, and the future.
The event was hosted by Marisa Seifan and held at Honeybrains, NYC's best healthy restaurant. The event also featured curated wines by Jhonel Faelnar, NYC-based sommelier, Wine Director to 2 Michelin-starred restaurant, Atomix, and 2020 Wine Enthusiasts' 40 Under 40.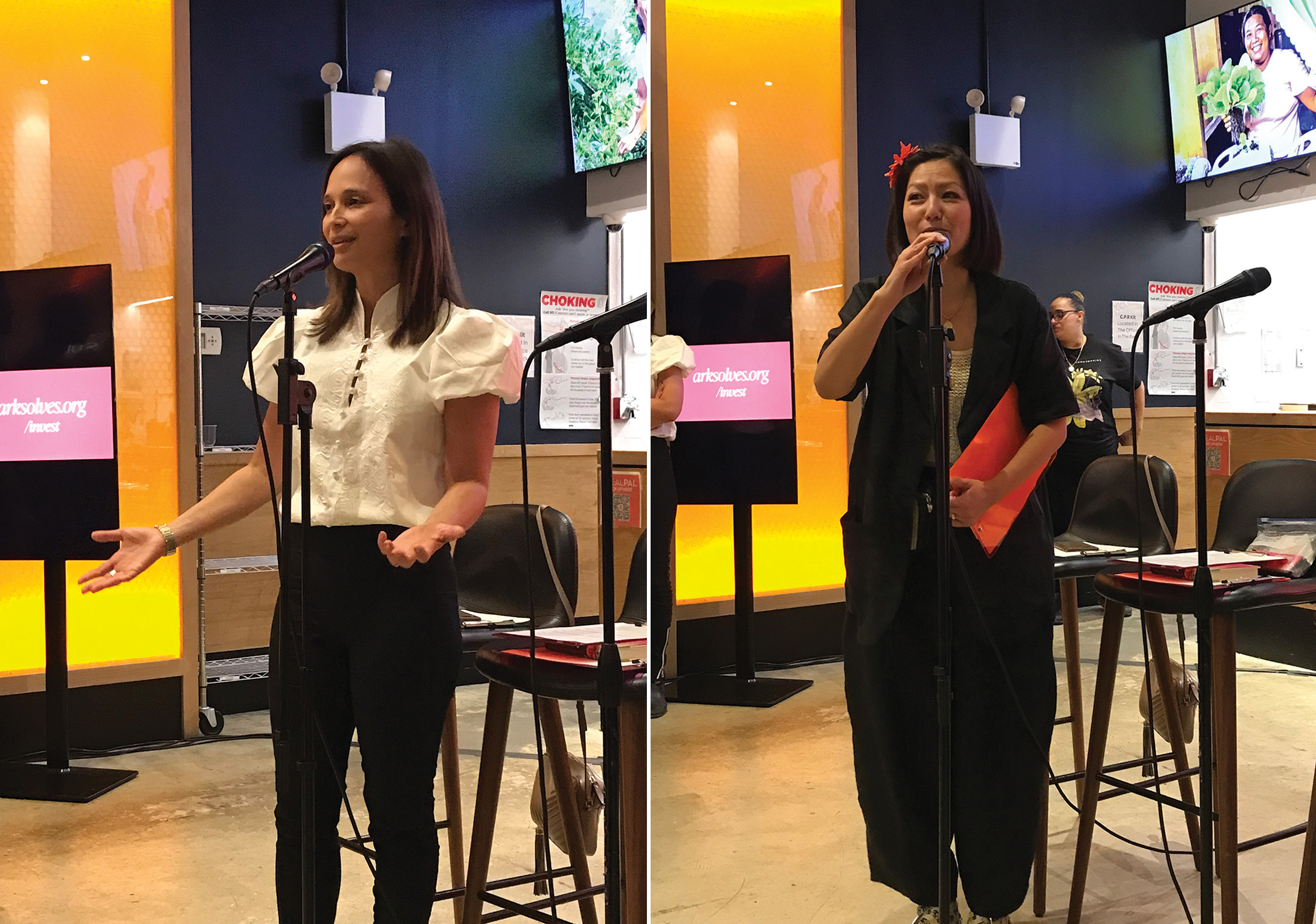 ARK's Feed Back Program
Through its proven community-wide vegetable solution called Feed Back, ARK is solving hunger in 5 weeks with rural communities in the Philippines during a time when food insecurity is at its height by empowering at-risk families to secure nourishing food from their backyards and create excess to exchange with neighbors and sell to nearby towns leading to much needed new income.
Through Feed Back's 16-week time frame, ARK guides and supports community leaders and program managers to set goals, create operational plans, solve structural issues, and track impact. At the end of the 16-week program, ARK Feed Back leaves the community happy, united and investing in each other.
"We are solving hunger for good but we are not doing it alone. We do it in true partnership with rural communities who invest and pay for half the cost," ARK co-founder Ayesha Vera-Yu said. "In doing so, we break the lopsided dynamic of a benefactor and beneficiary (which borrows from colonizer and colonized)."
In her short speech and video presentation, Vera-Yu talked about their venture into Negros Oriental, a province in the Visayas region. She highlighted the story of Kapitan Glory, the village chieftain, a fierce woman who welcomed Feed Back, and the inspiring idea that families could learn how to farm in their own backyards.
Kap Glory's village was predominantly a fishing community so the introduction of vegetable gardening and sharing their crops was something new to them. At the end of the program, the community was able to share with each other over two tons of vegetables as each family was bringing on over 16 pounds for their weekly exchange. On top of families supplying all the food needs of the village, they are also selling to nearby villages and towns, eliminating hunger and malnutrition.
"We take on our most value-added role as Champions and cheerleaders of families and communities who know best and who are determined to solve because they are the ones living with the problem. By believing in them, we are changing lives. Together, we are creating a future that is equitable, just, and something our kids can be proud of," the former investment banker turned farmer said.
Vera-Yu, who started ARK in 2009, also talked about the impact of Russia's invasion of Ukraine on the farmers and fisherfolk in the villages in rural areas of the Philippines. The attack on Ukraine has tripled the price of synthetic fertilizers and therefore prevented farmers in many parts of the developing world from planting their crops. Because of colonization and chemical farming, farmers in the Philippines and many places in the developing world are left with just one crop – rice or corn.
In the Philippines, a bag of synthetic fertilizer is now equal to one month's income for a farming family during the rainy season from June to August. This is the time farmers plant their first crop and is their season of hunger.
The chronic hunger problem is now worse as there is widespread food insecurity for the entire nation, causing more people to go hungry. According to Vera-Yu, there are two billion people around the world who face seasonal hunger year after year.
With ARK's assistance, more rural communities now want to solve this hunger problem on their own. For more details on investing in these rural families and forging a partnership with ARK, visit www.arksolves/invest.