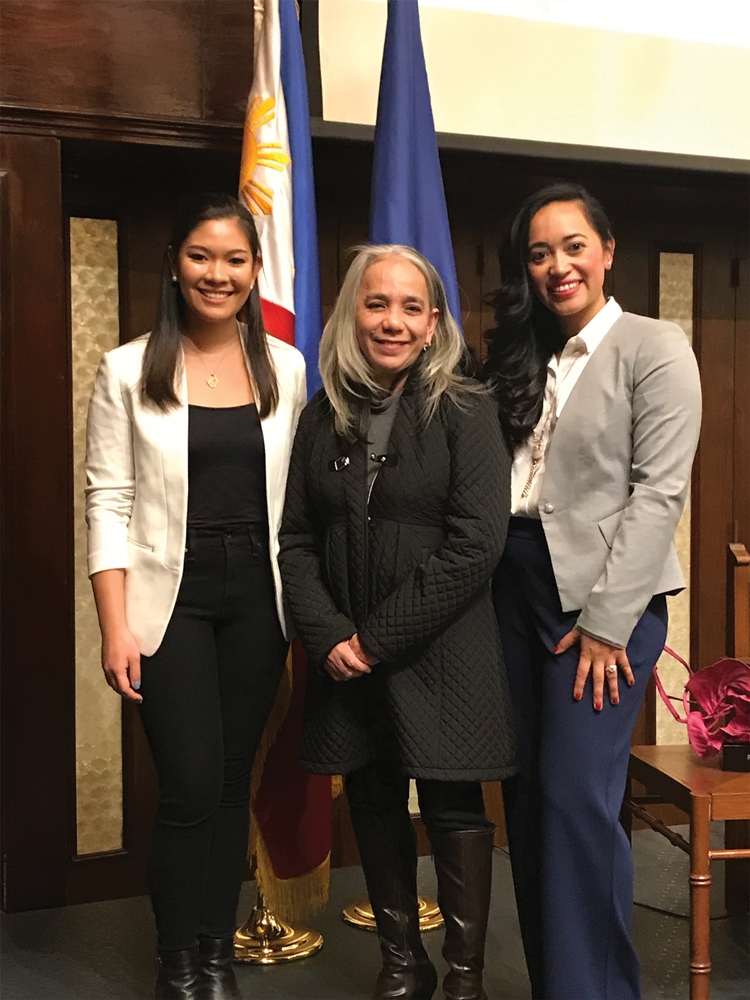 THIS year's distinguished Filipino women in their own very unique ways embody courage, daring and audacity," said Consul General Claro S. Cristobal as he introduced this year's honorees.
FOR the past few years, the Philippine Consulate General in New York has honored Filipina achievers and role models in northeast USA in celebration of Women's Month and International Women's Day.
This year's batch is led by internationally respected auditor Heidi Mendoza, UN Undersecretary General for the Office of Internal Oversight Services; Major Jessica Alina Persad, ranking officer of Connecticut's Air National Guard, and Erin Robles, an interior designer who is also an Instagram influencer.
The three women shared their journeys in their respective fields, along with the challenges and struggles they faced along the way.
Mendoza gained national limelight as the fearless face of the Philippine Commission on Audit where she served as a commissioner back in 2011.
"Ever unflinching in her stance against corruption which has earned her tremendous respect, much deserved, in the Philippines and in the world," Cristobal said.
An anti-corruption advocate, Mendoza has over 20 years of service in government particularly in the field of audit, investigation, fraud examination, anti-corruption and integrity advocacy.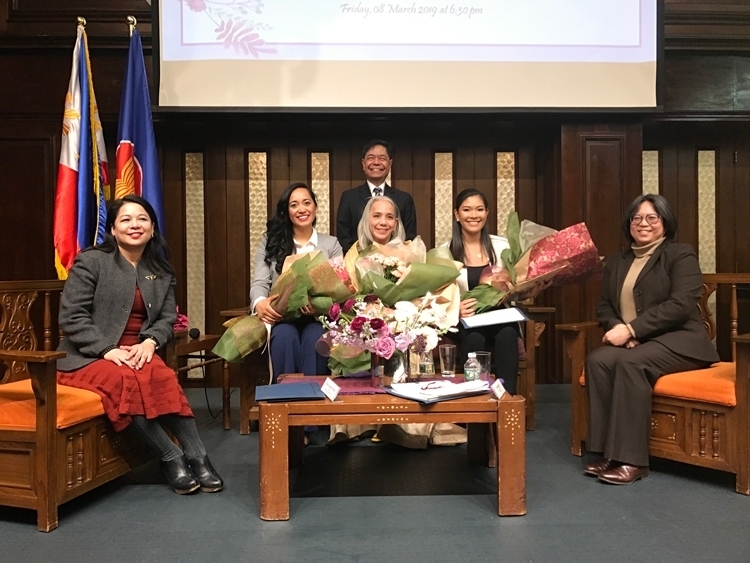 "I am humbled by this recognition, I felt that there are many women more deserving than I am. They who choose to stay and carry on the battle at a time when being a woman is most risky," Mendoza said.
She also honored her own mother who chose to live an "insignificant" life so that her children could live significantly.  Mendoza emphasized the women's values of simplicity, humility, resilience, as well as the principles of accountability, responsibility, ethics, trust, and honesty in public service.
Her remarks took a turn when she discussed how she rose to prominence in the Philippines and why she is standing up once more to let her feelings known.
"When I rose to fame in 2011, I only had one thing in mind. Kailangang manindigan upang patunayan na hindi lahat ng naglilingkod sa pamahalaan ay magnanakaw," she added. "Ngayon muli akong tumatayo sa isang kritikal na panahon ng ating bansa dahil gusto ko uling panindigan ang isang hamong dati ko nang hinarap."
"Sorry Inday, hindi totoong hindi usapin ang katapatan pagdating sa halalan," Mendoza said, her speech cut by the audience applause. "Hindi totoong hindi usapin sa pamamahala ng pamahalaan ang pagiging tapat."
Mendoza was referring to Davao City Mayor Sara Duterte who said that honesty is not an issue in the coming elections.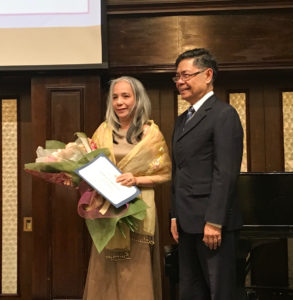 She then talked about the decisions she had to make, particularly leaving a job she loved for an opportunity to work in a foreign land.
"Stepping in a foreign country is enough challenge as it is. The bigger challenge is to maintain your identity and to be judged not from the place where you came from but rather what you can contribute," she remarked. "Therefore at this time, I rise to take tribute to the many Filipinas and Filipinos who left their families in order to put their own contribution in making a strong nation."
Hard work
Major Persad shared her military journey, saying that her decision to join was the best decision she has ever made in her life, and paid tribute to her parents for instilling in her the value of hard work. She has been with the Air National Guard for 15 years now and it has taken her around the world and allowed her to earn not one, but two degrees.
She is currently working on her third, a masters degree in nursing. "I have the military to thank for that," she said.
It is also in the military that she faced problematic situations and people who didn't agree with her.
"I just had to learn to find my voice, which isn't always easy to do when you're a woman in the military," Persad said. "I overcame that by changing my mindset. Those problematic situations became learning opportunities and I needed those for leadership development."
She then encouraged women to bravely take a seat and let their voices be heard.
"As women are rising in leadership positions now, I just want to leave a little bit of advice for anyone who has decided to take this positions and are moving up in management," she said. "Take care of yourself. Take care of your people. Take a seat."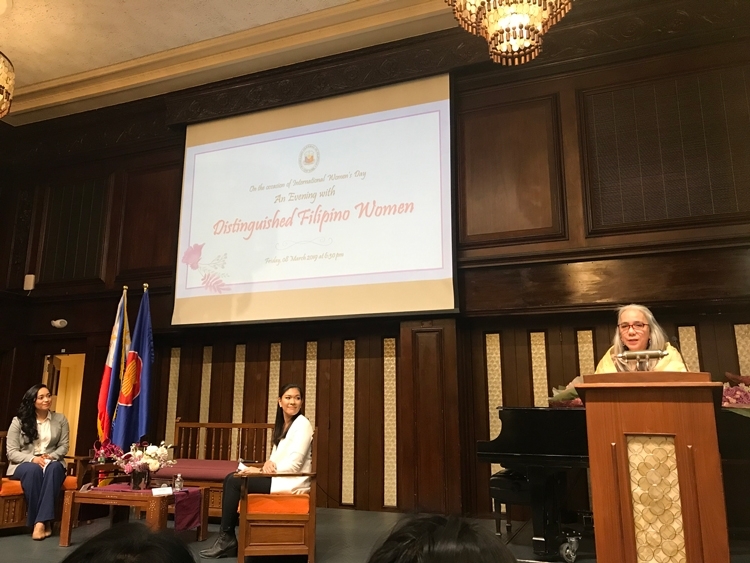 Influence
Erin Robles is the woman behind the Instagram account @foodbabynyc, which has over 70,000 followers. She is an interior designer in the hospitality industry by day and in her free time, she is a foodie who loves taking photos of her food.
Born in Manila and raised in Hong Kong, Robles moved to New York about eight years ago to study design. She is now living her lifelong dream as an interior designer for a design studio she admires.
"Social media is quite a funny subject to talk about. We probably spend much more time on it than we think we should. It is without a doubt a very powerful tool and platform today to have a voice," Robles said.
She started her Instagram account around six years ago and primarily used it to post her food photos.
"Food has also always had a special place in my heart, specially growing up as a Filipino. Food was always at the center of gatherings and celebrations, it brings back memories and it represents different cultures," she said, explaining why food became the main focus of her Instagram account.
Her followers grew through the years and now she receives invitation from restaurants and hotels on a daily basis requesting her to feature their food on her page.
At the end of her speech Robles gave a message to the younger Filipinos: don't doubt yourself.
"Don't discount your achievements because you don't think you need a certain criteria for success. Many times at work meetings, I question if people take me seriously. Sometimes I'm the youngest, I'm the only female, I'm Asian. Sometimes I'm the youngest, female and Asian in the meeting room," she said. "And no matter how well I'm doing, sometimes I still feel inferior and I really shouldn't."
Atty. Elizabeth Cueva and Atty. Connie Montoya, two women achievers in the field of immigration and law and volunteers in the Filipino-American community, applauded the journey and insights of the resources speakers. Atty. Montoya recognized their dedication to duty, staunchness to identity, and courage.