Filipino Women Leaders of the Filipina Women's Network "disrupted" the Philippine Consulate General on 04 March 2019, with the book, "Disrupt 3.0. Filipina Women: Rising," the third in an anthology series of leadership stories from preeminent Filipino women making a distinctive mark on their chosen careers.
"If you want to lead, you must disrupt. And to make change disruptive, leadership is required," stated Vice Consul Tanya Faye O. Ramiro, who delivered the welcome remarks for "DISRUPTing New York" after Consul General Claro S. Cristobal yielded the floor to the Vice Consul in honor of International Women's Day.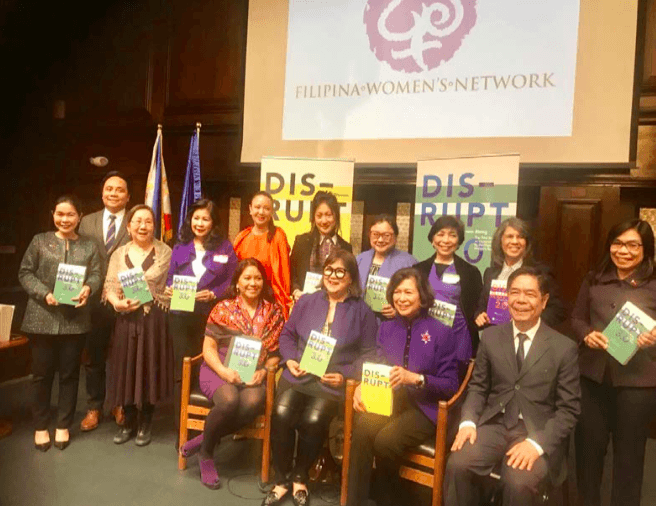 Selected snippets from the "Disrupt" anthology series were read by various authors during the event, such as Lirio Sobreviñas-Covey PhD, a licensed psychologist and Professor of Clinical Psychology in Psychiatry at Columbia University Medical Center and Founder and President of theAssociation of Adults with Autism Philippines, Inc; Isabelita Marcelo Abele, President and CEO of the South Jersey-based family-owned lumber supplier, US Lumber; and Rebecca Murry, an architect and Math Coach at the United Nations International School who uses an innovative "constructive-based instructional approach" to teach about numbers, amongst others.
A leadership discussion with the event's guest of honor, Ms. Hydra Mendoza, Deputy Chancellor for Community Empowerment, Partnerships, and Communications of the New York Department of Education, followed the book reading, with Atty. Loida Nicolas Lewis, Chairperson of the Reginald F. Lewis Foundation serving as facilitator.
Through the sharing of amazing stories of courageous, passionate, and fierce women who disrupted the status quo, the event became a source of inspiration for Pinay Empowerment.
Ms. Marily Mondejar, Founder and CEO of Filipina Women's Network, aims to bring the Disrupt series globally, with a similar event in Dubai, United Arab Emirates in the offing.