Part II of III Series
"I recalled the Columbine shooting only four months earlier [1999] and challenged the students [Class 2000] to live the lessons learned from that horrific event. No one should feel like a stranger in his own school. We all have a place at the table of St. Genevieve. And by making a place for all at our table, we have an opportunity to leave a legacy of welcome and acceptance at this school."– Dan Horn, "Anointed Moments" (2014).
 "'It was the best of times, it was the worst of times,'" Charles Dickens, [British novelist] once wrote. This shows at the end of the day, it depends on your goals and what you want to achieve and how you would want your high school experience to be. I like St. Genevieve High School because of its close community, which helps you [to] know your classmates more. – Ethan Castro, Class of 2019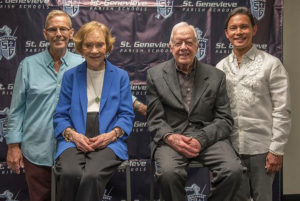 Melanie C. Brooks and Jeffrey S. Brooks, faculty of Monash University and RMIT University in Australia and authors of 'Culturally (ir)relevant school leadership: Ethno-religious conflict and school administration in the Philippines' (2018), wrote this tenet in the International Journal of Leadership in Education: "Culturally relevant school leaders help establish and nurture school cultures that support the academic and social success of all students."
It was informed by their research centered on school principals in Northern Mindanao, Philippines, whose region has a long history of ethno-religious conflict, which has displaced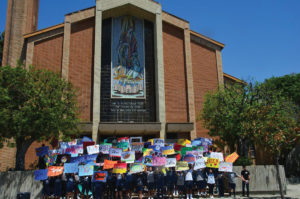 thousands of people for 40 years. Their research findings "make explicit the importance of meaningful principal preparation and professional development programs that interweave culturally relevant leadership skills, reflective practice and intercultural understanding in ways that can be locally applied."
 Their tenet on ethno-religious conflict and culturally relevant leadership from school principals converged with what I observed at St. Genevieve High School in Panorama City, California.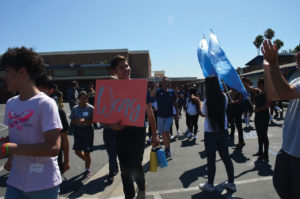 St. Gen, for the 2018-19 school year, has 550 students from K to 8th grade, 600 in high school, with 162 freshmen from all diverse ethnic groups.
On four red brick columns in its front gate are engraved gold plates of these character values: caring, respect, trustworthiness, citizenship. Two more traits are taught to the students: kindness and responsibility.
St. Gen is located in Panorama City, the first planned community after World War II, where homes were built by Fritz Burns and Henry Kaiser and sold to white-only families with loans from GI bill, and with restrictive, racist covenants: "not to be used or occupied by any person whose blood is not entirely that of the white or Caucasian race."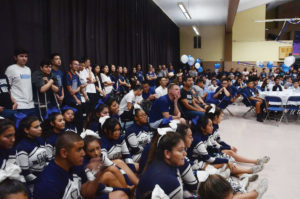 Burdened by a context of a discriminatory past, St. Gen has turned towards light and with inclusive practices, whose front gates are opened wide to all ethnicities, including spaces for international students, who currently matriculate from China, Thailand, Vietnam, South Korea and Mexico.
 That cultural change was made possible by the legacy left behind by the Class of 2000 "who decided that instead of bullying the incoming strangers, they would make them feel welcome in their new home," Principal Dan Horn wrote in his book, "Anointed Moments."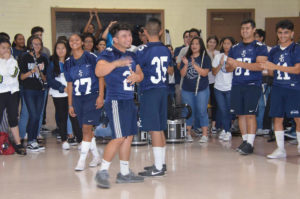 Horn's culturally relevant leadership has transformed this high school by keeping the lessons of Columbine High School alive. Columbine was where 13 folks perished from two hate-filled high schoolers gone mad, but also showed Rachel Scott's martyrdom from her Christian faith, lessons of character that begot the survival of Craig Scott and those he led in prayer inside the library during the shooting.
 Former Pres. Jimmy Carter credibly affirmed the change when he addressed a gathering and asserted that "St. Genevieve is the best high school in the world," for him on Oct. 25, 2010.
 Columbine's character lessons are kept alive through formal retreats of the faculty, seniors, and incoming freshmen retreats, one for boys and another for girls at St. Gen.
"If that [legacy of welcome and acceptance] is what we are about, we won't have to worry about a shooting happening here. If that is what we are about, people will stop looking down at our school and begin looking up to us because we will have chosen to be our best selves every single day. That is the best way I know how to honor those who died at Columbine," Horn wrote in "Anointed Moments."
Horn was the principal for nine years at St. Thomas the Apostle Elementary School in Pico-Union, in Los Angeles, known to have clusters of gangs and random violence, as any dense zip code in the city of LA. But, through culture change accomplished with a hardworking team of teachers and students and supportive parents, the school he led received a Blue Ribbon School of Excellence Award on Dec. 17, 1992, from the U.S. Department of Education.
 Horn then became St. Genevieve's principal and its animating source of culturally relevant leadership, as well as his inner circle of faculty leaders and student leaders, for 20 years now.
 From 1999-2003, St. Gen started character education. On October 17, 2003, it became the "first high school in California – and the first Catholic school in the nation designated as National School of Character from the Character Education Partnership based in Washington, D.C.
 Today, the school has boldly undertaken a strategic campaign for its Inspiration Building, now at $26 million, short of $4 million of their $30-million goal. This building will be the site of inspirational leaders' talks to parents and students, but also where the students can freely express their music, cheerlead, dance and perform their musicals like "Bye, Bye Birdie," "The King and I" and "The Little Mermaid" and even their school events.
 In an interview with the Asian Journal, Horn shared his intentions behind the sustained culture change in our second visit  – "even without the hanging crucifix, what if everyone felt the presence of Christ by our love and kindness?"
Welcome Day for Freshman: An explosion of joyful songs and dance
This writer was invited by Horn to attend the Welcome Freshman Day, making it the third visit to this school.
Dazed and bewildered freshmen were greeted by the marching band, with shouts of welcome, continuous clapping from a people-formed tunnel, where sophomores, juniors, seniors and teachers lined up both sides, a 20-year-old tradition that makes the school feel welcoming and emotionally safe to just focus on learning.
 Of course, they experience problems, like any other school, but instead of punishment, they make the outlying incident a teaching moment, a form of positive leadership. For example, a student wore her St. Gen's uniform at a Planned Parenthood rally and posted it on Instagram.
 A dialogue ensued that the rally was for a specific cause to which not all the school community subscribe to, so wearing the school's uniform and posting it on social media were inappropriate and how to balance that with the student's right to be heard, promoting women's rights. Can you blame this student for wearing her uniform as she took pride in her school?
 Perhaps not, but by showing empathy, not necessarily an endorsement of her actions, it became a lesson in understanding the humanity of someone who thinks differently and from her point of view, progressively for social change.
I got goosebumps and even cried at some point, watching the line-up when freshmen students were welcomed, with activities fit for royalty: marching band, color guards, cheerleaders, over 300+ inside the Madonna Hall, welcome posters introducing each of them with four welcoming letters, one each from sophomore, junior, senior and faculty, and songs sung together. 
The highlight of the program that got everyone cheering was the male football team members, with their first female member (a soccer player) welcomed into their team, dancing for the freshmen. It was so well-choreographed that the students were cheering them on replete with individual exhibitions of prowess to lifting their dance partners.
The last time I experienced the presentation of color guards, ROTC Salute, was during Silliman University's Distinguished Alumni Week in Dumaguete in heat-scorching August for a good friend I supported.
 That same heat-scorching temperatures are what we are experiencing this welcome day. The double-digit summer temperature matched the warmth of Marlon Archey's voice, the director of athletics, in welcoming everyone. He shared that his son graduated from St. Gen in 2009, while his daughter in 2016, and both still treasure and had kept their welcome posters they got at St. Gen years ago.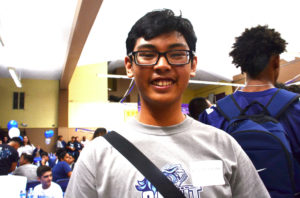 Freshmen are individually cheered on with artistic posters made by the students. Their first names with glitters and colors appear on the front of the poster while in the back are four letters: one each from a sophomore, junior, senior and a teacher. 
 Three upper-class men and women with the student body president spoke about coming to St. Gen, feeling lost and overwhelmed, at first, until the seniors and the teachers helped them out.
Juan Jasso of admissions sat next to me. Jasso shared the story of the Iaccinos, a family whose grandpa and grandma met at St. Gen and had 7 children, who then all went to St. Gen. Now, their grandchildren are attending preschool. A ringing endorsement of the quality of a school, don't you think?
 Buoyed by the explosive welcoming spirit, Fr. Alden Sison ran to the front of the room to lead everyone in prayer to the Holy Spirit. He reminded everyone that as "they attend the field of games, listen to the whirlwinds of sounds and drums, it is Jesus Christ who animates us daily."
 About a dozen or more students stood by the front stage wearing black t-shirts lettered with "Building St. Genevieve Heart."
I asked Dan Horn and his circle of staff and student leaders, assembled for the interview what are some of the qualities at St. Gen that principal, staff teachers, librarian and student leaders are proud of.
In their own words, these traits are:
*Love and genuine understanding – true love of a Christian Catholic; here is a tight community. Teachers make an effort to attend funerals of families of their students. They check in with one another and take the time to do it.
*Family – Celebrate each other's successes and comfort one another.
 *Acceptance – where all are welcome. Being gay is accepted and gay students are not treated differently. Treat others the way you want to be treated, whether as a faculty member or as a student.
*Vibrant Spirit – Kairos retreat leader encourages folks to open up, share their burdens and to have a clear state of mind, unburdened by personal challenges, by reminding each one – I can change whenever I want; I can change my thought process.
 *Drama mask project –Dani Brown (a teacher) has succeeded in getting kids to open up, by teaching students how to do plaster casts of their faces, and then have the students to touch the masks of their faces and the realization that their masks hide their truths. She gives them the space of using their arts as personal expressions of their journeys. The masks become the doorway for students to freely interact, to be themselves.
 *Extend yourself. Be open to what St. Gen has to offer – whether in sports, drama, musical band, student government. Allow others to encourage you, while you encourage others to do different school activities. If you do not have confidence to perform at your best, you have primed yourself for disappointment.
 *To live with honor – character is the foundation of our school, to behave our best when no one is watching, to do the right thing. You can never go wrong when you do the right thing.
*Follow the lighthouse, St. Genevieve. Discover who God intends you to be.
 Can you now see how a principal's culturally relevant leadership principles have created a transformative culture in a school, but also the best character in its teachers and students?
 I have never seen a more joyful bunch of students greet each other with high fives, as well as their teachers. Perhaps they see that in their principal Dan Horn daily?
Recall the prescient words of Ethan Castro, who came to this high school a very shy and quiet boy? He is now a self-assured and high-performing student, with his own wisdom garnered from being here at St. Gen for three years. He will be graduating in 2019.
* * *
Prosy Abarquez-Delacruz, J.D. writes a weekly column for Asian Journal, called "Rhizomes." She has been writing for AJ Press for 10 years. She also contributes to Balikbayan Magazine. Her training and experiences are in science, food technology, law and community volunteerism for 4 decades. She holds a B.S. degree from the University of the Philippines, a law degree from Whittier College School of Law in California and a certificate on 21st Century Leadership from Harvard's Kennedy School of Government. She has been a participant in NVM Writing Workshops taught by Prof. Peter Bacho for 4 years and Prof. Russell Leong. She has travelled to France, Holland, Belgium, Japan, Costa Rica, Mexico and over 22 national parks in the US, in her pursuit of love for nature and the arts.