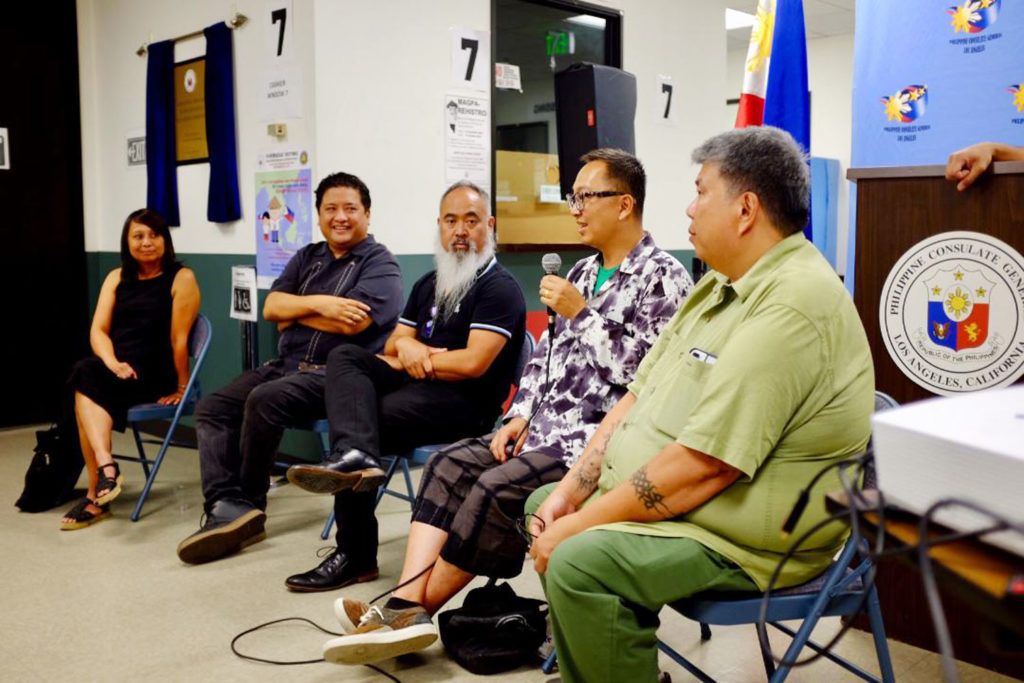 FILIPINO artists came together on Friday, August 3 at the Philippine Consulate in Los Angeles, California to present some of their early and recent works, relating them to their experiences of immigrating to the U.S. from the Philippines.
The presentations came ahead of an upcoming exhibit called "Philippines with Strands:  Filipino and Filipino-American Contemporary Artists Encounter Textile," which opens in the Pinta*Dos Philippine Art Gallery in San Pedro next Saturday, August 18.
Moderating the talk was curator and gallerist Edwin Ramoran, formerly of the Studio Museum in Harley, New York.  Featured panelists were George Domantay, Cirilo Domine, Maryrose Mendoza, Joseph Santarromana, and Eliseo Art Silva.
"The artists that we have here today have so much to offer.  They provide us with a different outlook on life," said Consul General Angelito S. Cruz, in his opening remarks.  "We've got to take time out and enjoy the true meaning of life.  Through the eyes of our artists, through their talents, we can show other people what it is to really live a beautiful life."
Performance artist Domantay shared personal works that he said investigated migration and isolation, and were reminiscent of his experience moving from Baguio, Philippines to the U.S. at the age of 5 with no knowledge of English.
Among his early works was a performance installation called "6 altura" which resembled a garage and was featured at the University of California, Irvine.
Multimedia artists Domine, who works primarily with fabrics, showed pieces inspired by a recent trip to the Philippines.  One piece entitled "rinigirid ti igid" — meaning "frayed borders" in the Filipino Ilocano dialect — was inspired by the fabrics used in Barong Tagalogs.  He described his work as "inheritance" rather than "craft."  Domine is one of the artists to be showing at the Strands exhibit.
Coming to the U.S at the age of 3 and learning English from her parents who themselves were not native speakers, interdisciplinary artist Mendoza shared works she said were inspired by Fil-Am readings and research. 
One of her latest shows called "Red, White and Brown" featured fun pieces that played with perception and space such as a large brown crayon that described its color as "American," pieces of large papers mimicking lined notebook paper folded into waves and a boat, and a coconut palm tree sitting inside a pink pastry box entitled "immigrant."
Artist Santarromana talked about his early days of using video as his art medium, initially making video diaries of his experiences growing up a Filipino immigrant in Indiana and experiencing racism and alienation — things he said he was able to work through.
Among his most well-received works was his "Telegarden" that featured a robotic arm centered in a plot of soil that would rotate to plant seeds and water them, and was controlled over the internet using a web browser.
Also presenting art was studio artist and muralist Silva, whose work has been inspired by the "golden ages" of the Philippines.  Trained in the Philippines' most prestigious art institutions, Silva said he always tries to "Filipinize" his art.
Among Silva's most recognizable works among the Fil-Am community are his "Alab ng Puso: My Heart's Fire" mural, which was the first Fil-Am mural in the U.S. East Coast, the Western Historic Filipinotown Gateway featuring floral art inspired by ones found on the Barong Tagalog, and the famous "Filipino Americans: A Glorious History, A Golden Legacy" mural in Historic Filipinotown's Unidad Park.