"Throughout the history of the American presidency, from George Washington's inauguration to the present day, the chief executive's duties have encompassed more than politics. Our presidents are charged with responding to the hopes and aspirations of the American people, and this is a tremendous burden – one that has crushed some and elevated others. The Constitution only minimally defines the powers of the president because the Founders sought to create an office that could and develop as the course of American history unfolded. They trusted in posterity and relied upon the character and wisdom of American citizenry. In our democracy, the power of the office is subject to the leader's relationship with the electorate, and the most influential American presidents have transcended their own eras to shape the country's present as well as its future. When these individuals took the oath of office, they all accepted an enormous responsibility. But their specific circumstances and their distinct personalities leave us with unique stories of both triumph and failure. On their own, each of the portraits in America's Presidents depicts a leader whose life offers lessons in governance, endurance and character. Collectively, they reveal the contours of the history of the United States." – The America's Presidents exhibit at the National Portrait Gallery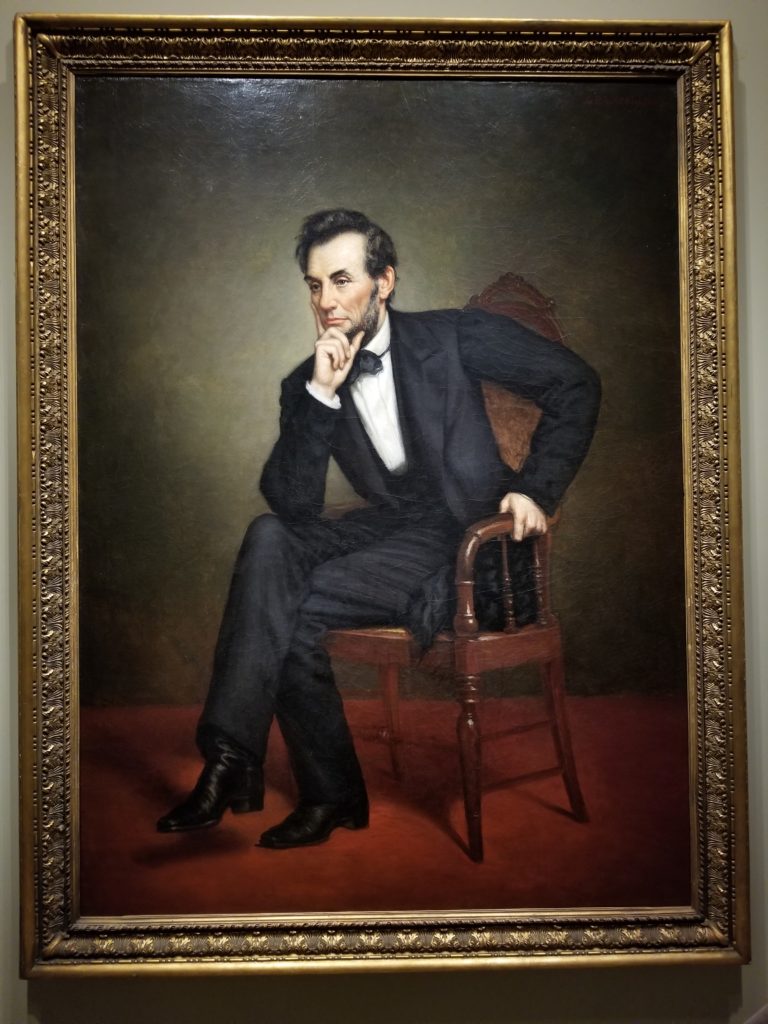 There is a certain awe and respect that one accords to this exhibit on America's presidents. Particularly evident were the sacrifices made by a Republican Abraham Lincoln who sought unity and chose a Southern Democrat, Andrew Johnson of Tennessee.  All along, Lincoln believed that Johnson was a staunch defender of the Union and by choosing him as Lincoln's running mate; he would help hold the border states.
But, following Lincoln's assassination, Johnson became an unfortunate choice. Why? He switched positions and now clashed with the Republican majority in Congress, opting to return power to the white Southern planters and the former Confederate states and to deprive the freed slaves of their rights. This clashed with Lincoln's vision. Johnson's treasonous belief to the forming Union, betraying the country, led to his impeachment, but he escaped conviction by one vote, according to the book for the National Portrait Gallery's America's Presidents exhibit.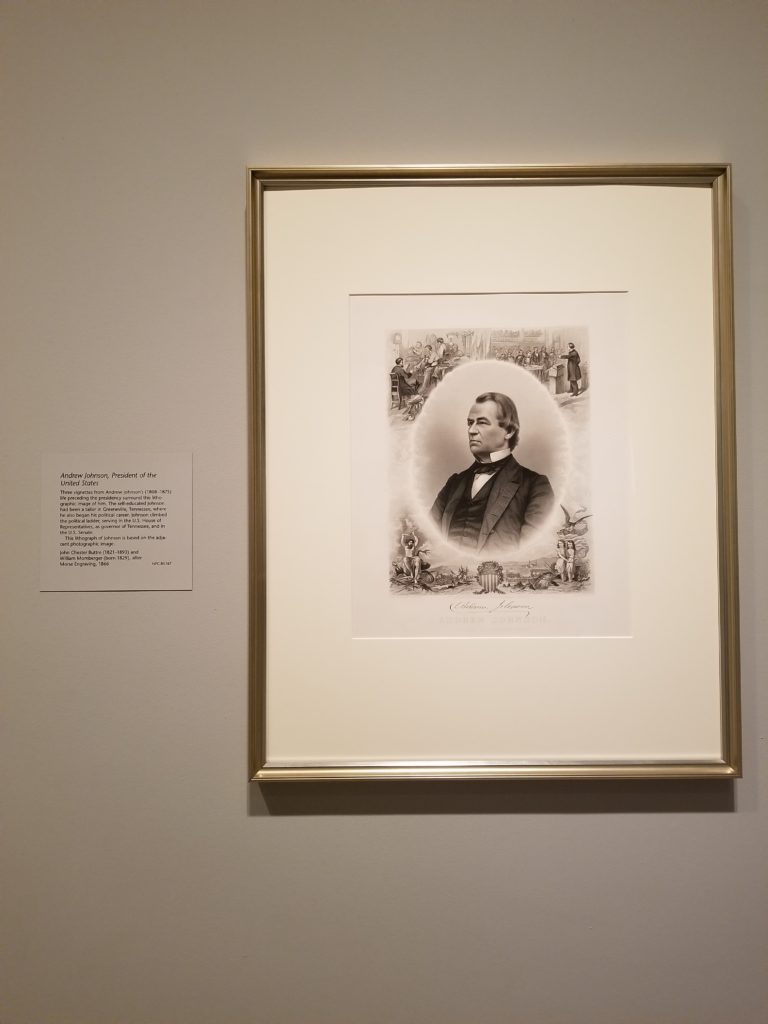 I visited this exhibit on May 3, 2019 in Washington, D.C. Crowds had formed around the portrait of 44th U.S. President Barack Obama, eager to take selfies with the portrait. The caption of the portrait described him "as the President who worked on improving the economy, after inheriting the worst financial crisis since the Great Depression. While working to improve the economy, he also succeeded in enacting the Affordable Care Act, extending health benefits to millions of previously uninsured Americans. Overseas, he oversaw the drawdown of American troops in the Middle East – a force reduction that was controversially replaced with an expansion of drone and aviation strikes. Though his mission to kill al-Qaeda founder Osama Bin Laden was successful, his pledge to close the Guantanamo prison went unrealized." It was also under his tenure that the U.S. Supreme Court struck down all state bans on same-sex marriage, legalized it in all 50 states and required states to honor out of state same-sex marriage licenses in the case Obergefell v. Hodges, narrated a companion video excerpt from the Smithsonian Gallery and History Channel.
In the same exhibit and in the companion book, issued by the National Portrait Gallery, I was surprised to read that it included 45th U.S. President Donald J. Trump who has served 838 days and has 622 days more to serve as of this writing. He has not quite finished his presidential term to merit a mention in this exhibit book. All 44 U.S. presidents have completed their terms before they were included in the America's Presidents book, and their portraits have been done by chosen portrait artists.
Trump is described as "television star that completed a stunning rise to the presidency by defeating Hillary Rodham Clinton, after one of the most volatile and divisive campaigns in recent memory. Tapping into a deep vein of populist American sentiment, Trump — to the surprise of the party's establishment figures-garnered the Republican nomination and became the first nonpolitician to win the presidency since Eisenhower. The beginnings of his presidency have been tumultuous and even chaotic, as he has begun to exercise political power. As was the case with his business career, the presidency of Donald Trump will be defined by the personality of the man himself." He is described as a "can-do businessman who cut through red tape and accepted practices to get things done."
I wonder now how the National Portrait Gallery will portray him after the publication of the 448-page Mueller report? As of this writing, the Los Angeles Times, USA Today, and The New Yorker reported that nearly 800 former federal prosecutors, who served under both Republican and Democratic administrations at different levels of the federal system declared their beliefs: "Each of us believes that the conduct of President Trump described in Special Counsel Robert Mueller's report would, in the case of any other person not covered by the Office of Legal Counsel policy against indicting a sitting President, result in multiple felony charges for obstruction of justice."
The Mueller report describes several acts that satisfy all of the elements for an obstruction charge: conduct that obstructed or attempted to obstruct the truth-finding process, as to which the evidence of corrupt intent an connection to pending proceedings is overwhelming. These include:
• The President's efforts to fire Mueller and to falsify evidence about that effort;
• The President's efforts to limit the scope of Mueller's investigation to exclude his conduct; and
• The President's efforts to prevent witnesses from cooperating with investigators probing him and his campaign.
The letter explains that despite the legal advice by then-White House Counsel Don McGahn (who has since resigned) that the president could face legal jeopardy for doing so, Trump directed McGahn on multiple occasions to fire Mueller or to gin up false conflicts of interest as pretext for getting rid of the Special Counsel.
Note that Rod Rosenstein appointed the Special Counsel on May 7, 2017 for purposes of investigating the Russian interference in the 2016 presidential elections and to prosecute cases arising from the investigation. Mueller prosecuted several cases and referred 14 cases to prosecutors in different parts of the country.
When efforts to fire Mueller gained public view, "Trump made repeated efforts to have McGahn deny the story, going so far as to tell McGahn to write a letter "for our files" falsely denying that Trump had directed Mueller's termination."
President Trump obstructed the truth-telling process of the investigation by seeking to fire Mueller and even ordered documents to be made up that he did not do so. If Mueller had been fired, that would have seriously impeded the investigation, and resulted in obstruction, literally.
The prosecutors continue: "Directing the creation of false government records in order to prevent or discredit truthful testimony is similarly against the law.
The Special Counsel's report states: "Substantial evidence indicates that in repeatedly urging McGahn to dispute that he was ordered to have the Special Counsel terminated, the President acted for the purpose of influencing McGahn's account in order to deflect or prevent scrutiny of the President's conduct toward the investigation."
Attempts to limit the Mueller investigation
They continue their analysis: First, when the president in public view and in private view, called for the un-recusal of Jeff Sessions, the U.S. attorney general, so Sessions can provide oversight to the investigation. He wanted the Attorney General, paid by U.S. taxpayers to be the president's defense lawyer, a misuse of the AG, who is the American people's prosecuting lawyer. Trump also directed then-White House Chief of Staff Reince Priebus to fire Sessions and Priebus refused.
The president committed more acts of obstruction, this time, after being told that McGahn could not reach Sessions, Trump went outside of the White House and got his former campaign manager, Corey Lewandowski, to carry a demand to Sessions to limit Mueller to looking into future elections only. Lewandowski tried but failed. Lewandowski tried to contact a senior White House official Rick Dearborn who has had a prior relationship with Sessions but Dearborn did not pass along the Trump's message. Whether Trump's actions resulted in successful obstruction or not, the law clearly states obstruction can be in the form of an attempted one or a completed action.
The prosecutors write, "All of this conduct – trying to control and impede the investigation against the President by leveraging his authority over others – is similar to the conduct we have seen charged against other public officials and people in powerful positions."
Witness tampering and intimidation
The prosecutors continued, "The Special Counsel's report establishes that the President tried to influence the decisions of both Michael Cohen and Paul Manafort with regard to cooperating with investigators. Some of this tampering and intimidation, including the dangling of pardons, was done in plain sight via tweets and public statements…private messages through private attorneys, such as Trump counsel Rudy Giuliani's message to Cohen's lawyer that Cohen should "sleep well tonight, you have friends in high places."
The special counsel's investigation report states on page 157, "Our investigation found multiple acts by the President that were capable of exerting undue influence over law enforcement investigations, including the Russian-interference and obstruction investigations. The incidents were often carried out through one-on-one meetings, which the President sought to use his official power outside of usual channels.
These actions ranged from efforts to remove the Special Counsel and to reverse the effect of the Attorney General's recusal; to the attempted use of official power to limit the scope of the investigation; to direct and indirect contacts with witnesses with the potential to influence their testimony. ..The President's efforts to influence the investigation were mostly unsuccessful, but that is largely because the persons who surrounded the President declined to carry out orders or accede to his request. Comey did not end the investigation of Flynn, which ultimately resulted in Flynn's prosecution and conviction for lying to the FBI."
The president's defense lawyer provided legal defense and argued "that a core obstruction-of-justice statute, 18 USC Section 1512 (c)(2) does not cover the President's actions. Special Counsel wrote that Article 2 of the Constitution does not categorically and permanently immunize the President from potential liability for the conduct that we investigated."
This obstruction-of-justice statute provides that whoever corruptly alters, destroys, mutilates, conceals a record, document, or attempts to do so or otherwise obstructs, influences, or impedes an official proceeding shall be fined under this title or imprisoned not more than 20 years or both.
The report states "The President has no more right than other citizens to impede official proceedings by corruptly influencing witness testimony. The conduct would be equally improper whether effectuated through direct efforts to produce false testimony or suppress the truth, or through the actual, threatened, or promised use of official powers to achieve the same result."
Doing presidential leveraging of his powers and authority and by making them known to the public by tweeting does not absolve the president from his obstructive actions. After all, the President took an oath of office, "to take care that the laws be faithfully executed." U.S. Constitution Article 2 Section 3. The harm to the justice system's integrity is threatened; either by both attempted or completed acts of obstruction, the special counsel argued.
In Trump's written answers to the deposition submitted on Nov. 20, 2018, the President had written in 30 occasions of "does not recall" or "no independent recollection," which were deemed inadequate.
Further, in the laws of evidence, when an individual directs the destruction of evidence or the creation of false or conflicting statements — all those can be construed as evidence of one's consciousness of guilt, a consciousness to cover-up one's crimes, including active obstruction and making false statements.
The special counsel has transferred 14 pending cases to the Eastern District of Virginia, District of Columbia, and Western District of Pennsylvania, which include open cases of Michael Flynn and Roger Stone.
Completed prosecutions and completed term of imprisonment were reported on George Papadopoulos and Alex van der Zwaan while Michael Cohen, Paul Manafort, and Richard Pinedo are serving jail sentences.
President Trump has now directed all White House staff not to cooperate with the Congressional oversight committees requesting a fuller unredacted Mueller report, the president's income tax returns, the emails on the Puerto Rico disaster relief operations, the 2,300 families still separated at the border and the deployment of an aircraft carrier and bomber task force to warn Iran. As to what we are threatening war, we do not know of the specific goal to achieve.
On December 29, 2016, President Barack Obama imposed sanctions against Russia. Mike Flynn contacted the U.S. Ambassador to Russia and denied that he talked about sanctions with them. Trump Jr. also made telephone calls around this time and is now under subpoena by Congress.
Why? Russia was not considered a U.S. ally, yet Pres. Trump has shown favor to Moscow and reversed these sanctions, justifying that they were imposed by Pres. Obama "to embarrass him as 45th President," when facts revealed that high levels of Russian authorities had interfered in the U.S. elections.
When the sanctions against Russia were lifted by 45th, the operational costs of bottling in aluminum cans in America increased, one company reported it at $40 million, for a ten percent tariffs on aluminum imports, with an increase in investment to be provided by Russian oligarchs. It would be $200 million from a certain Oleg Deripaska, a shareholder/billionaire of United Co. Rusal, a new investor in Kentucky's aluminum plants that now, Russia has gained a foothold in the U.S. aluminum business.  U.S. internal manufacturing activity has dropped since August 2018 and U.S. producers of aluminum are struggling.
Why would a sitting 45th U.S. president go against the weight of posterity and precedents set by former presidents of the USA?
Why did Ronald Reagan remove all the solar panels installed in the White House by President Jimmy Carter? We could have saved energy costs to keep the lights on in the White House almost three decades ago? Why did Trump try to repeal the Affordable Health Care Act that benefited uninsured millions at least 60 times? Why did Trump reverse the sanctions imposed on Russia by Pres. Obama and now, disfavored U.S. companies from manufacturing since August 2018 by increasing their costs of operations, given the tariffs imposed on aluminum imports?
"The Sea Will Tell," says Vincent Bugliosi, and the waves will reveal all the hidden truth and we will soon know why 45th kept the truth from being told or told conflicting lies and statements to conceal what happened to Russia's 2016 interference in the U.S. elections. We now know the lies of 43rd U.S. president leading us to an unjust war in Iraq by falsely claiming weapons of mass destruction were being assembled in the country of Iraq. Or is 45th counting on the same treatment as 43rd, of not being accountable for his mega-lies to the American people?
Is Trump afraid of having his presidency declared illegitimate and therefore part of the exhibit sourcebook, "America's Presidents" as a failed president?
Will 45th be deemed a failure if he is impeached or after he leaves office in 2020, indicted,  convicted, fined and face imprisonment of 20 years?
I reckon his interests are best served by telling the truth, submitting to full oversight by Congress and be accountable. He has manufactured a man-made crisis using his presidential powers, perhaps he can be man enough to undo his obstruction of justice towards Congress  and be man enough to disclose all of the hidden truth, including his income tax returns dating back to 1994 since the New York Times has gotten transcripts of his 10-year income taxes up to 1994 through the State of New York.  We now need 1994 to 2018.
* * *
Prosy Abarquez-Delacruz, J.D. writes a weekly column for Asian Journal, called "Rhizomes." She has been writing for AJ Press for 10 years. She also contributes to Balikbayan Magazine. Her training and experiences are in science, food technology, law and community volunteerism for 4 decades. She holds a B.S. degree from the University of the Philippines, a law degree from Whittier College School of Law in California and a certificate on 21st Century Leadership from Harvard's Kennedy School of Government. She has been a participant in NVM Writing Workshops taught by Prof. Peter Bacho for 4 years and Prof. Russell Leong. She has travelled to France, Holland, Belgium, Japan, Costa Rica, Mexico and over 22 national parks in the US, in her pursuit of love for nature and the arts.