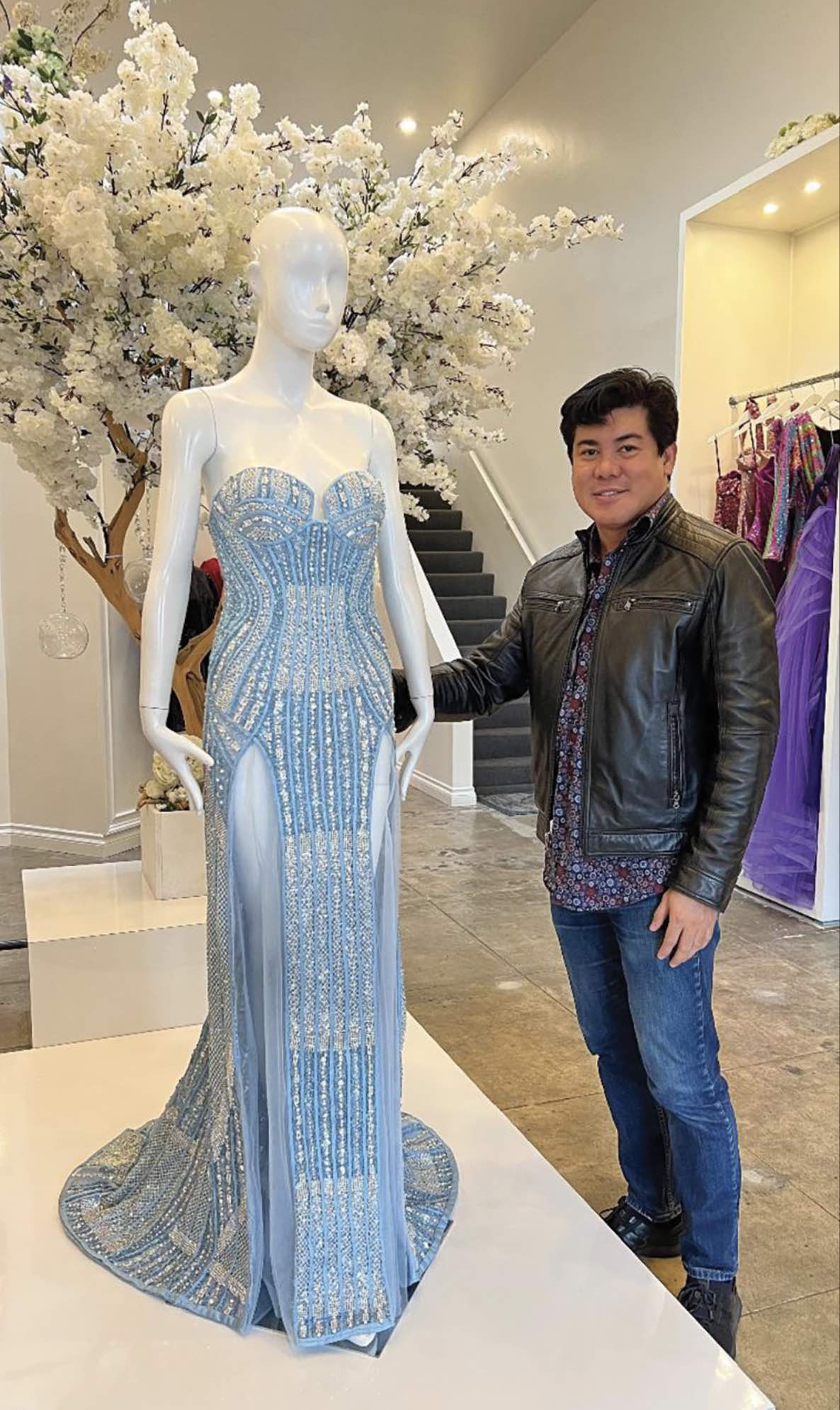 HOLLYWOOD fashion designer Oliver Tolentino has once again answered the call to rescue the Philippines' bet in a Miss Universe competition. Pageant fans will remember that it was 2015 when the celebrity designer received a phone call from Pia Wurtzbach's team while he was skiing on a mountain in Aspen, Colorado. Pia didn't have a proper gown the day before her Miss Universe preliminaries, so Tolentino immediately sent a red gown from his Beverly Hills boutique to Las Vegas, and the rest is history – Pia wore the famous red "rescue" gown and advanced to the finals.
Now seven years later the designer has answered the call to help Celeste Cortesi in New Orleans. He was asked to rush a national costume in four days.  Additionally, he created her preliminary gown that she wore recently within a week's time.
Celeste's evening gown is an Art Deco blush blue column gown made of a combination of tulle and heavily embellished French lace, accented with strips of Thai silk and thousands of crystals hand sewn on the gown. The gown features two see-through front slits and a godet featuring a butterfly pattern. Celeste requested the color blue because it's special to her. Celeste means heavens in Italian and her father looked up at the sky when he was holding her and knew her name would be Celeste. She also requested a butterfly be incorporated in the design because she associates them as signs from her father. One appeared to her when she asked for a sign if she should join Miss Universe Philippines.

For the national costume, Celeste dressed as Darna, the popular Filipino superhero character that pageant fans have long wanted as the national costume, but for which permission to use wasn't granted until just this year.
Tolentino had to rush the costume when Team Philippines visited the designer's boutique in Beverly Hills, California, upon Celeste's arrival in the United States. It wasn't until then that they realized what they already had wasn't working out.
Tolentino normally doesn't work with costumes, but he couldn't refuse Celeste's request for help. Because of the Christmas holidays and his own travel plans, Tolentino couldn't source materials until January 2nd, just a day before Celeste was due in New Orleans. He took four days to create her look, using a headpiece and some other metal work accessories provided by Jerome Navarro.
That was at the same time he was producing the blue preliminary gown which is meticulously time-consuming since every crystal was hand-sewn on the gown.
As far as answering the call for help, according to Tolentino, "Anyone who knows me knows that I pride myself on helping Filipinos on the international stage, whether it is actors, singers, or other high-profile people, so they represent us well to the world. Naturally, when Celeste's team asked for my help, I dropped everything to make sure she would have what she needed to compete for the Philippines in Miss Universe."
The request for providing an option on a preliminary gown started at a social dinner last month in Manila where the designer and Celeste met while Tolentino was working in his Makati boutique. Over dinner Team Philippines shared they had some good options but didn't feel like they yet had the perfect gown. Tolentino quickly took Celeste's measurements and told them he'd work on something. He suggested they stop in his Beverly Hills boutique when they were scheduled to arrive on December 21, just a day before he was due to fly out of L.A. for a weeklong Christmas holiday.
On that day in the Beverly Hills boutique the designer presented a shell for the blue gown he'd created. The team liked the unfinished gown, but with the Christmas holidays Tolentino had only five days to work on it before sharing the finished version on New Year's Eve, just days before Celeste was due in New Orleans. Celeste and the team loved the gown, which is stunning in person, a goal to win the judges sitting feet away.
Tolentino is mostly based in Beverly Hills where he has dressed almost 100 Hollywood celebrities for everything from the Oscars, Globes, Emmys, Grammys, and other award shows. He became the first Filipino designer after Pitoy Moreno to dress an Oscar winner at the Academy Awards. Tolentino is also a big promoter of Philippine fabrics in the international stage with celebrities like Carrie Underwood, Jessica Alba, Emmy Rossum, and Sophia Bush wearing his piña outfits. Additionally, Tolentino was the first designer to dress Oscar and Golden Globes nominees in piña tuxedos. Several of his creations are found in textile textbooks, and a piña and abaca gown of his was featured in Hong Kong Tatler.
For information on his boutiques, please visit www.OliverTolentino.com or @theOliverTolentiino on Instagram.