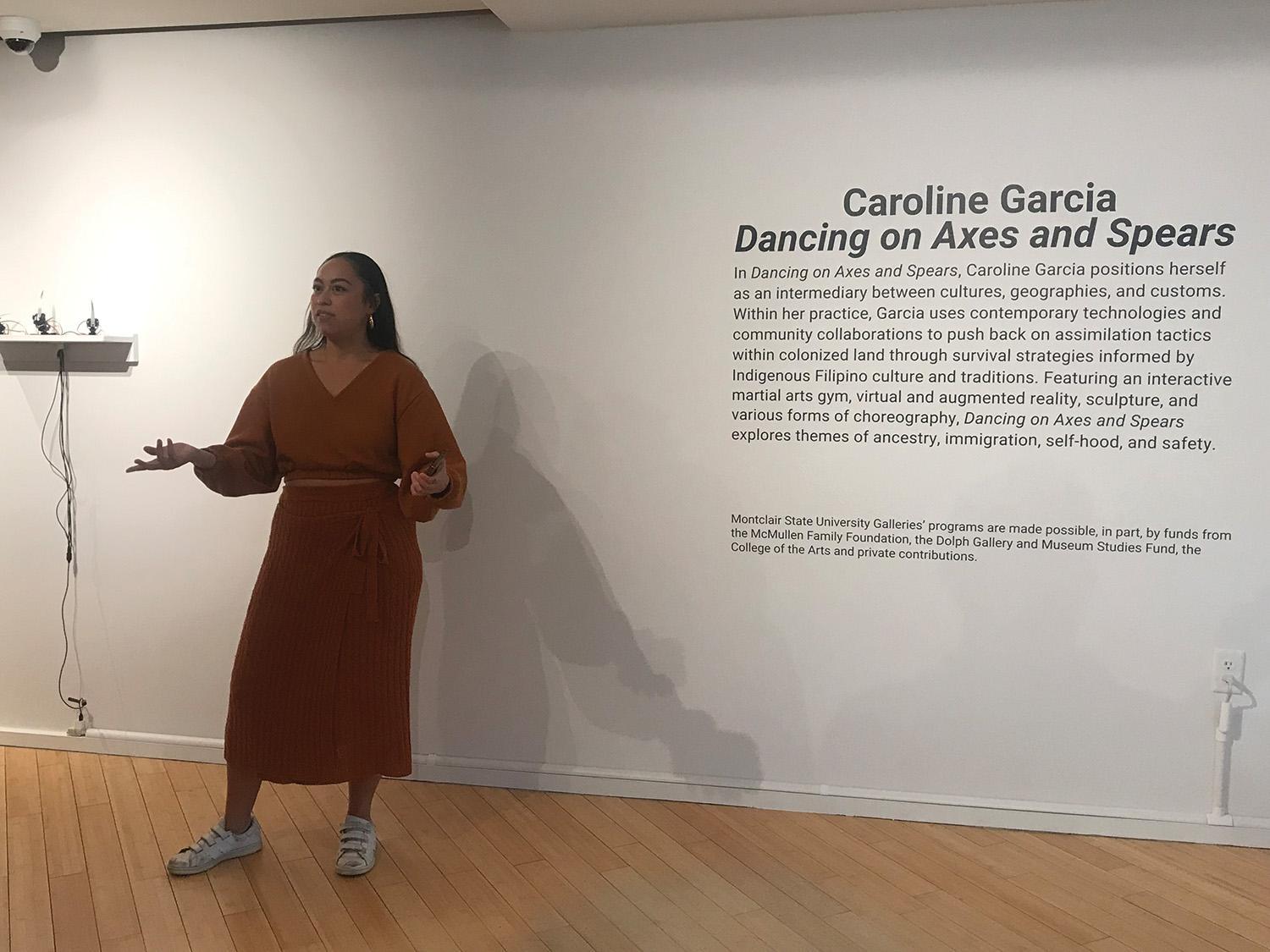 Caroline Garcia is a Filipino Australian who has been living in Brooklyn for five years now, exploring and rediscovering her Filipino identity through her art.
Garcia's Dancing on Axes and Spears, a four-month exhibition at the George Segal Gallery of Montclair State University, featured an interactive martial arts gym, virtual and augmented reality artworks, and various forms of choreography.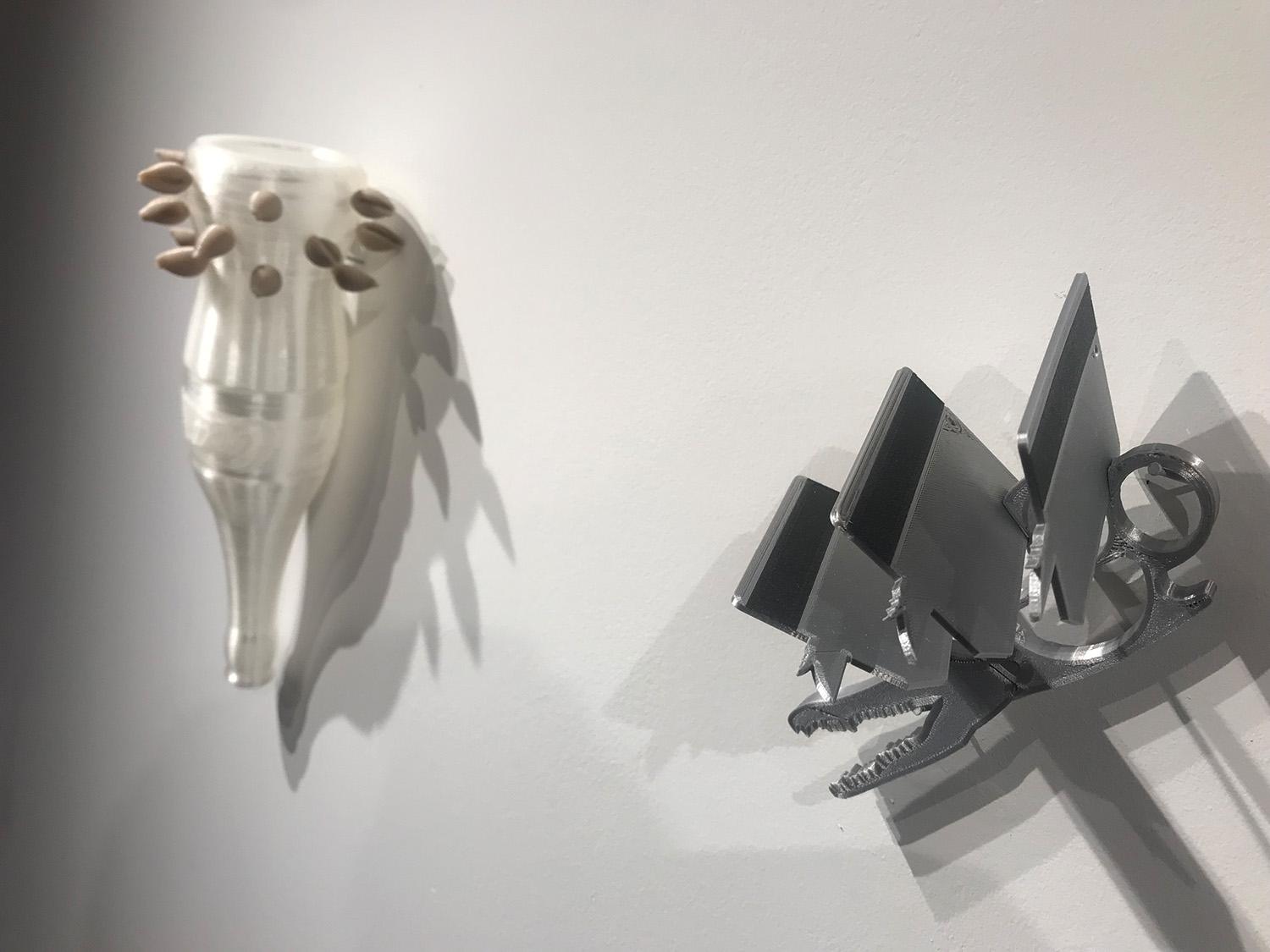 "I'm very much inspired by indigenous Filipino traditions and ritual, and then fusing that with modern or contemporary technologies and then in my efforts to fuse the two together, I kind of create, new languages or new lexicon to express diasporic experiences, very much shaped by my own life," Garcia told the Asian Journal.
In the artist's first solo museum exhibition which ran until April 21, she explored her Filipino identity, assimilation and cultural memory, and Indigeneity through diasporic and feminist perspectives.
Garcia's parents immigrated to Australia from the Philippines in the 1970s, bringing with them the rich cultural heritage of the Philippines. Growing up in Sydney, Garcia was exposed to a blend of Filipino and Australian cultures, which informed her artistic sensibilities and worldview.
After honing her craft, Garcia began exhibiting her work in various institutions in New York City, such as The Shed in Hudson Yards, and Lincoln Center, among others, showcasing her unique aesthetic that fuses traditional Filipino elements with modern techniques.
Through a residency at Wave Hill in the Bronx, Garcia caught the attention of a curator from Montclair, who was impressed by her bold and innovative approach to art.
Currently a resident at the Lower Manhattan Cultural Council, Garcia is continuing to push the boundaries of her interdisciplinary art, experimenting with a variety of media to create pieces that are both visually striking and conceptually profound.
"Garcia reflects on feelings of belonging and alienation from her ancestral homeland in the Philippines and her current home in the United States through a range of media and approaches," said Jesse Bandler Firestone, Curator and Exhibition Coordinator of Segal Gallery. "Her reverence for Indigenous practices, sensitivity to issues of authenticity, and embrace of corresponding nuances related to her diasporic identity create a complicated, sentimental, and layered exhibition that conveys overlapping issues that are not easily distilled."
Employing video, performance, sculpture, and installation, Garcia addresses a central theme of "alterity" – an anthropological term meaning "otherness" to mark her position in the diaspora where distance, language barriers, and colonization fracture traditional knowledge.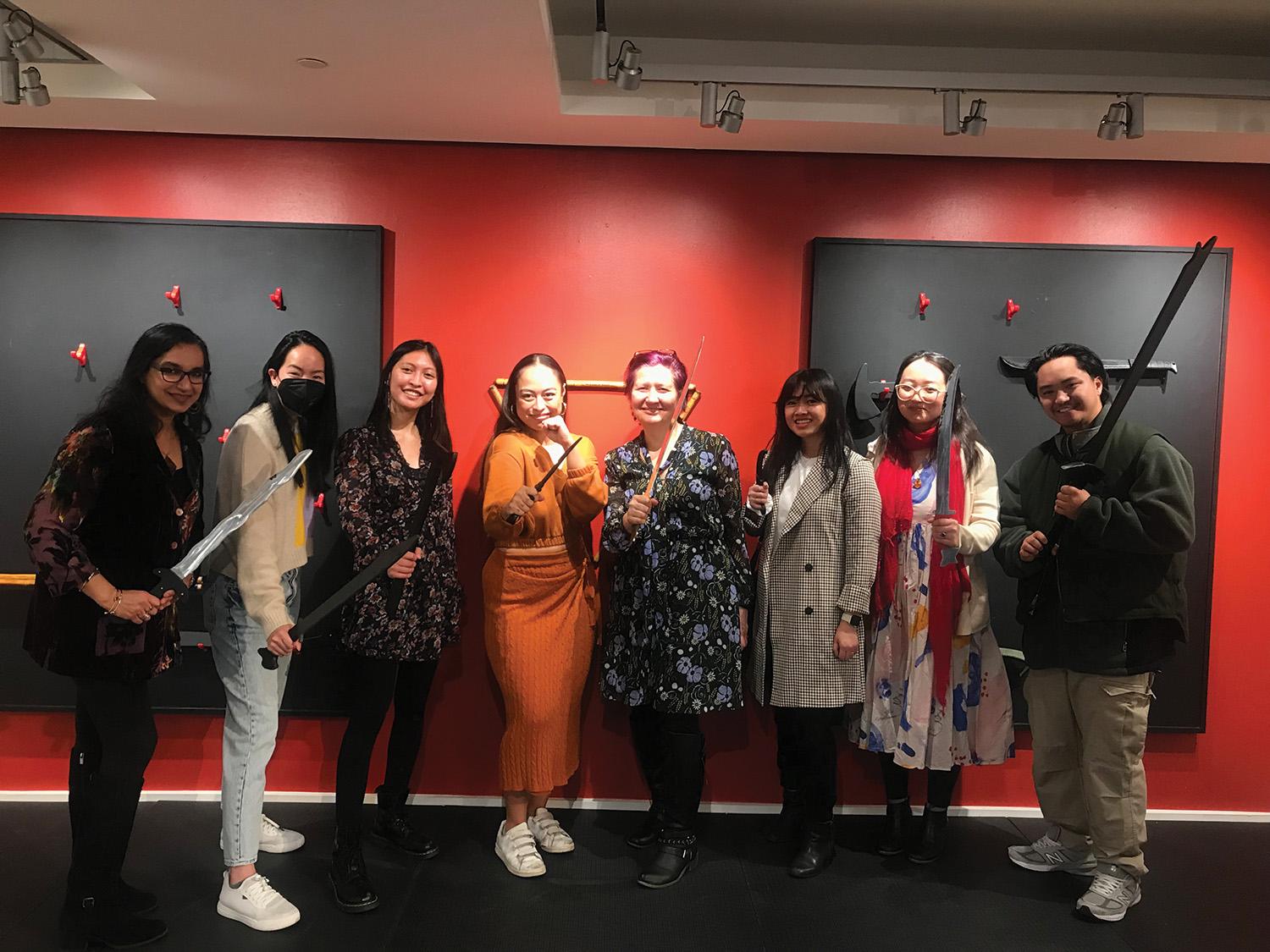 Garcia's exhibition invites visitors to stretch their understanding of Filipino cultural traditions, community resilience, and personal identity. She showcases them as emblematic of the ways she resists assimilation tactics within colonized land through unique survival strategies informed by elements of Indigenous Filipino culture and traditions including martial arts and spirituality, technology, and community collaborations.
Garcia's exhibition at Montclair State University Galleries built upon these themes and their relationships to larger systems including immigration, self-hood, and safety.
The Move to New York
Garcia moved to New York in 2018 to pursue graduate studies at Parsons, where she finished her MFA. She currently lives in Brooklyn.
Despite being born in Australia and living in the United States for five years now, Garcia remains deeply connected to her Filipino heritage, drawing inspiration from the rich artistic traditions of her ancestors.
Garcia describes her artwork as interdisciplinary and inspired by indigenous Filipino traditions and rituals, as well as popular culture and martial arts.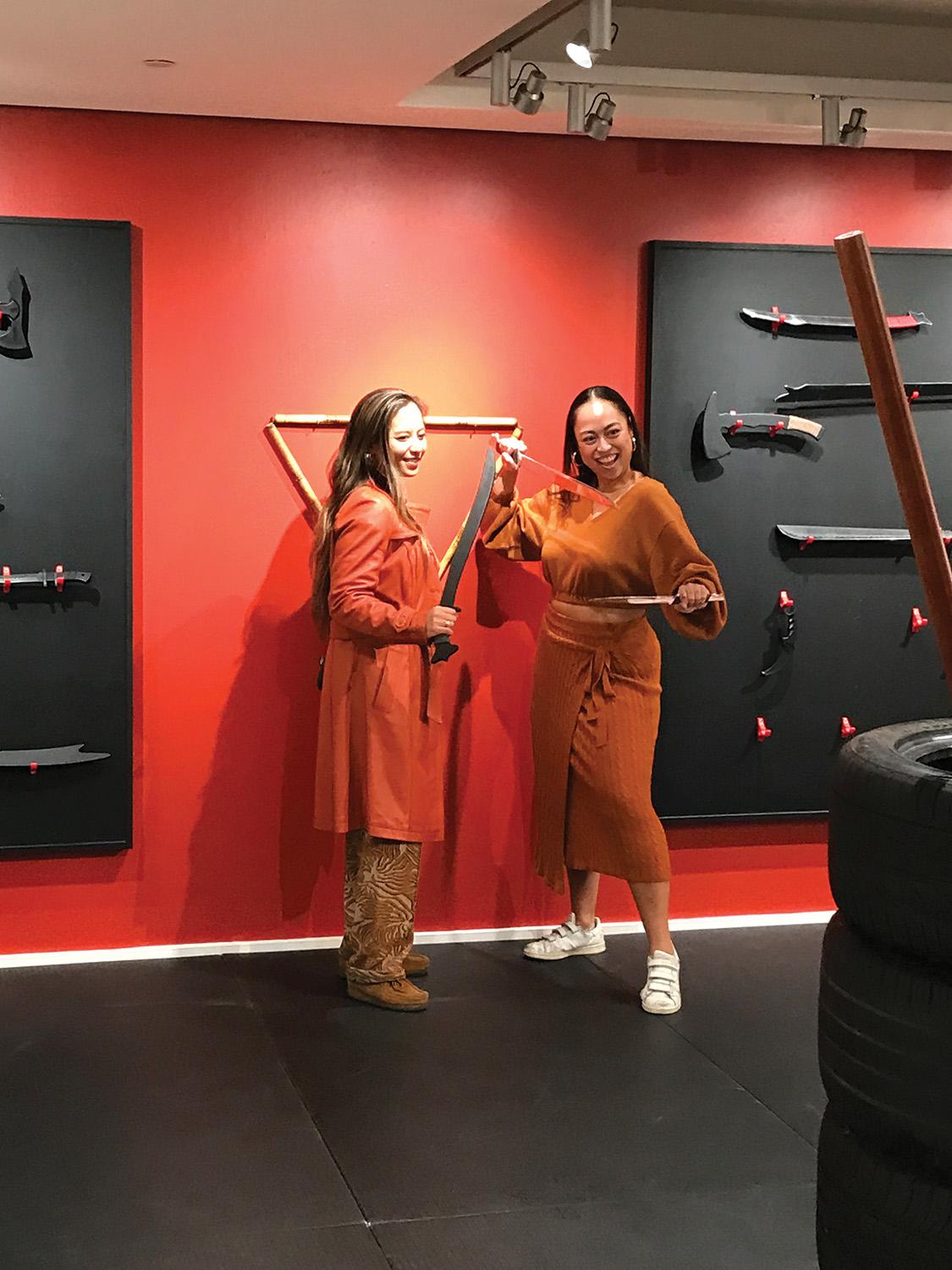 Martial arts play an important role in Garcia's life and artistic practice, specifically Kali, an indigenous Filipino martial art that emphasizes fluid movement and flexibility.
"I've been trained in Kali, a Filipino martial art, and it has really influenced my movement practice and my art," she shared. "I think it's important to acknowledge the cultural heritage that informs my art, but also to bring it into a contemporary context."
Through her participation in a collective called Chrysalis Kali Collective that practices Kali in New York City, Garcia has found a community that shares her passion for this unique art form.
"When I started Kali, I saw something transformative with this practice for me," she shared. "It is like choreography and dance but it's functional and I also felt like I needed some of these skills living in New York, especially."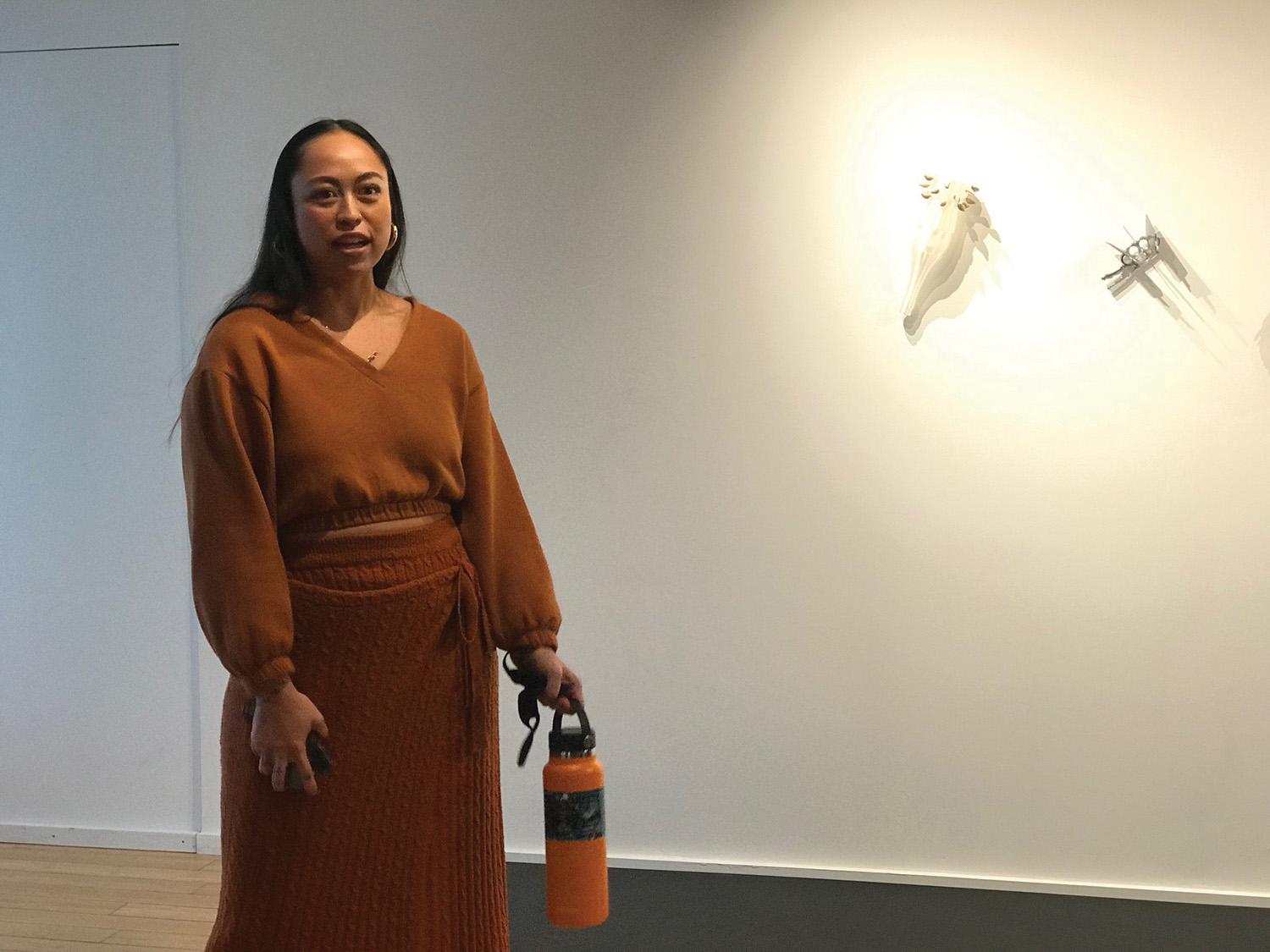 By embracing the influences of both her Filipino and Australian cultures, Garcia's artistic practice reflects a broader theme of cross-cultural exchange. Garcia's work serves as a testament to the power of cultural hybridity and how different artistic traditions can come together to create something entirely new and beautiful. In this sense, Garcia's work is not only a celebration of her heritage but a celebration of diversity and how it can lead to innovation and creativity.
Through her interdisciplinary approach to art, Garcia can explore a wide range of themes and subjects, from identity and memory to politics and society. By drawing on traditional Filipino motifs and blending them with contemporary techniques, Garcia can create pieces that are deeply rooted in her cultural heritage and relevant to contemporary audiences.
Garcia's use of digital technology is particularly noteworthy, as it allows her to create works that are not limited by the constraints of physical space or time. By incorporating digital elements into her work, Garcia can create immersive experiences that engage the viewer on multiple levels.
Overall, Garcia's work reflects a unique blend of traditional Filipino elements and modern techniques, showcasing the power of cross-cultural exchange and innovation.
By embracing her heritage and exploring new forms of artistic expression, Garcia can create works that are both deeply personal and universally resonant.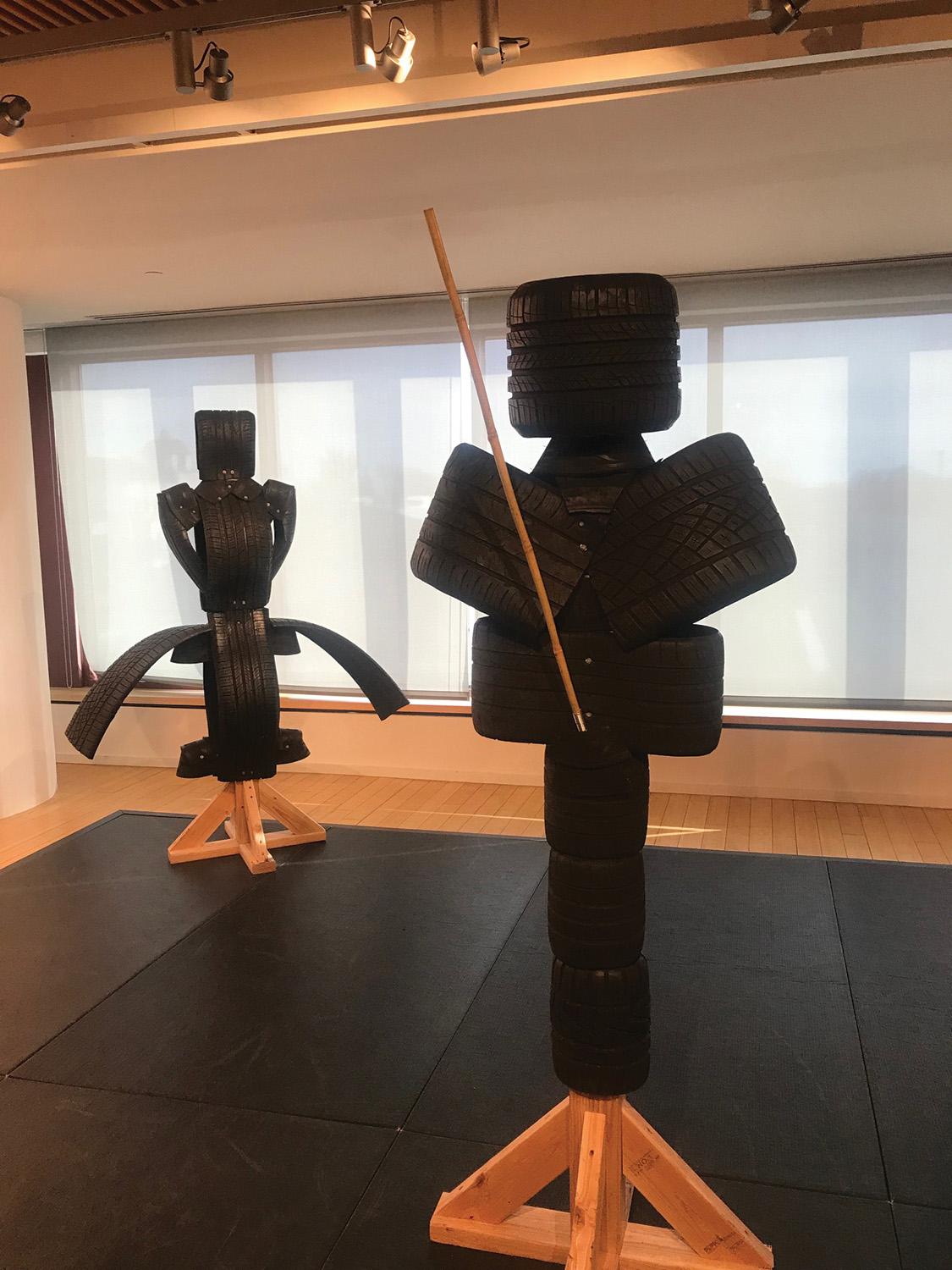 Garcia wants the exhibition guests "to have a critical engagement with violence".
"Violence is a topic that can be quite confrontational, to have and it is especially important and feels significant for AAPI women and femmes to have because statistically, they are most at risk," she said.
Garcia believes it is crucial to have a critical approach towards violence, where we recognize its presence in our daily lives.
"This acknowledgment should inspire us to learn practical skills to defend ourselves, prioritize self-preservation, and understand that our lives hold value and we have the right to exist," she added. n