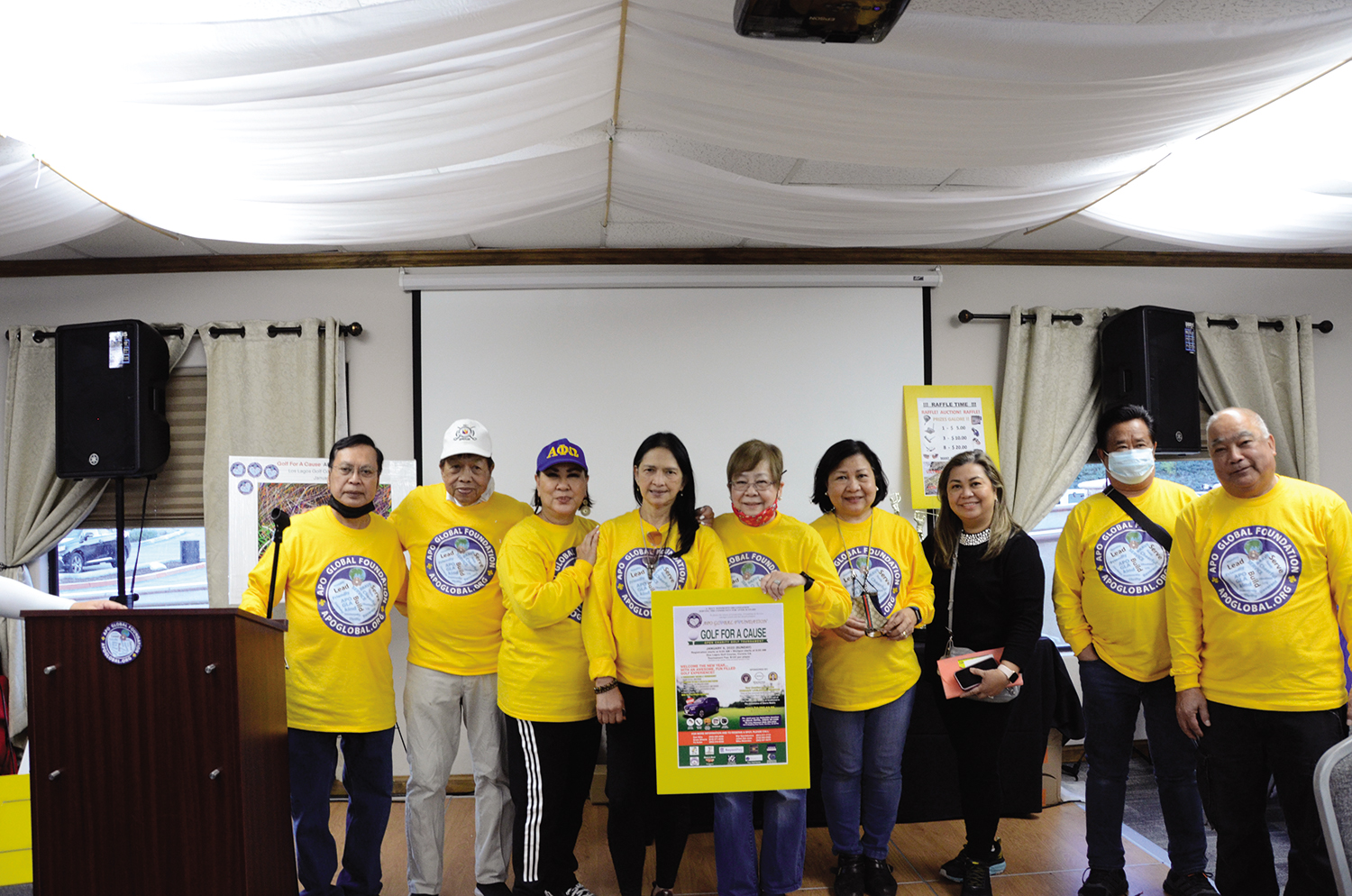 Corona, Calif. – Jake Taruc Merilo, the 22-year-old son of APO member Robert Merilo (APO San Diego) who was also the competitor of the former, topped the 1st Golf For A Cause hosted by APO Global Foundation at the tricky and challenging Dos Lagos Golf Course by the foothills of the scenic, wind-swept Cleveland National Forest.
The young and lanky Merilo at 5'10", carded a 72 low gross in the par 70 playing to 6,544 yards, 18-hole rolling hillside. He was probably inspired  by his lovely girlfriend, Allison Kiehl of Filipina-German descent  who also brought her pet dog named, Willow, of Pug breed.  "Our dog is my caddie," Jake jested. He added, "Of course, Allison was my inspiration."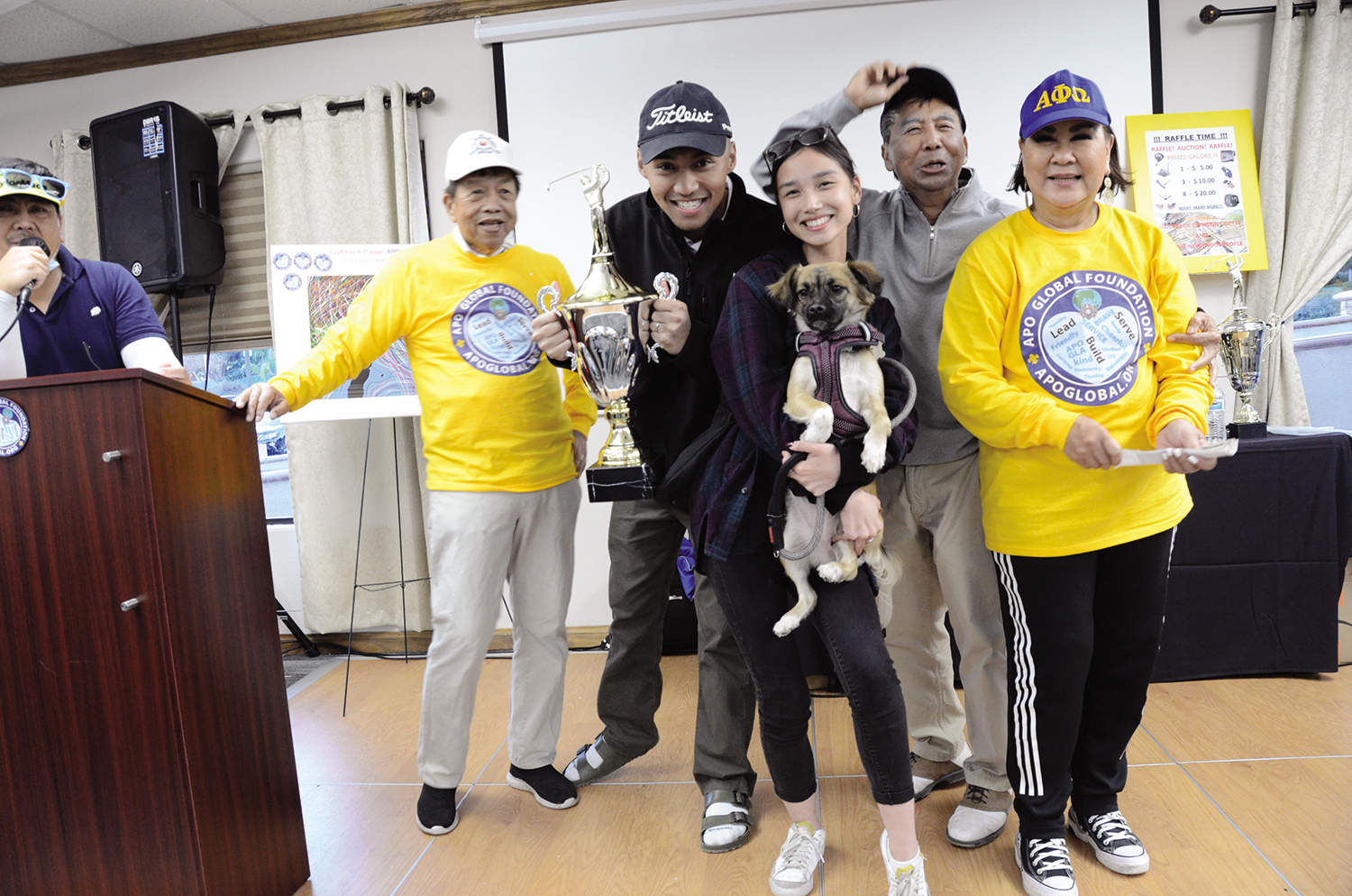 Merilo, a great grandson of the late Hukbalahap Supremo Luis Taruc,  turned in two birdies on the 14th's par 5 and another on the 12th's par 5. He described the golf course which he played for the first time as  narrow, lots of hazards and slopes and "doglegs" a golf parlance of a golf hole having an angled fairway to the left or to the right.
This future Fil-Am golf great who was trained by his dad at age 5 will graduate in May at Cal State of San Diego with a B.S. Degree in Real Estate Finance and has already a job offer awaiting for him in San Francisco.  The APO Golf For A Cause is the 5th golf championships won by Jake organized by APO alumni chapters in the region.
Golfers numbering a hundred, started to trickle in at 6 a.m., a chilly morning — to register and started promptly at 8 — in a shotgun fashion. Some players however, begged off at the last minute due to health protocols.
Among notable winners include Marco Antonio of Yucaipa,  a Class A Champion with Nards  Castillo of APO Golfers Club as runner-up;   Doc Wille Del Mundo of 19th TEE is the Class  B champion while fellow 19th TEE member Erwin Lopez is runner-up. APO San Diego-based Francis Franco and APO Golfers as Class C champion with APO-South Bay/APO Golfers,  Audie Grey  as runner-up.
Golfers became excited and full of anticipation in the "Hole-In-One" competition, covering three holes: Hole No.  5  with a free airline ticket as prize anywhere in the U.S., Hole No. 11 for a new car or $30,000 in cash and Hole No. 17 from a ridge overlooking the green with $10,000 in cash. Unfortunately, no one won but Paul Leary, Jr. came to the closest to the pin. Golf For A Cause chairman, Mar Garchitorena said, "His ball was already moving towards the hole when it stopped about a foot short. The hole was even placed at 135 yards. Although we love for someone to bring home the huge prizes, no one won."
Closest to the pin winners are Renel Silverio in Hole No. 8, Rocky Marte in Hole No. 11 and Arthur Salonga in Hole No. 15, Paul Leary in Hole No. 17 and Ruel  Umandal.
AJ Beckly and Mervyn Gucilatar won the most accurate drive on Hole No. 4.
This Golf For A Cause  was also dubbed as a golf tournament within a tournament. Rival  golf clubs competed against each other like a rematch between Pars & Better and 19th TEE as well as  APO Golf  USA and 19th TEE as a monthly tournament.
The beneficiaries of the "APO Golf For A Cause", according to Dan E. Nino and Mar Garchitorena, board chairman and golf tournament chair respectively of APO Global Foundation, a 501 C-3 public benefit, are earmarked for the disadvantaged and the marginalized Dumagat and Igorot minorities who are settlers of Sierra Madre Mountain in Nueva Ecija. There are now three household recipients who have been allotted with this Egg Laying Livelihood Program. Their poultries of 72 chickens per module are being monitored on the ground by APO Agricultural & Livestock Association of the Philippines.
APO Global would also thank the sponsors, volunteers and golfers for their participation despite the challenges of the pandemic. Among the Diamond and Platimum sponsors who made this golf for a cause a reality include Dr. Mac Lichauco,  HGreg Auto Group c/o Vi & Manny Martinez, Speedpro Plus Signs c/o Rudy Emperado, Asian Journal Publications, Monte Maria Wine Cellars, Bayanihan Pay, Dr. Joselito & Lucy Babaran, Dr. Tim Almazan,  VCA Engineers c/o Virgil Aoanan, LA Financial c/o Loida Atienza, Hand n Hand c/o Flor Mendoza, Dr. Librado I. Ureta Foundation & APO Trekkers c/o Marc Barcelona, and in cooperation with APO Golf Club USA and 19th Tee Golf Club.
For future donations for charitable purposes as espoused by APO Global Foundation, interested  parties may call Irma Almazan @ 562-298-6454 or Mar Garchitorena @ 661-317-1713. – [email protected]