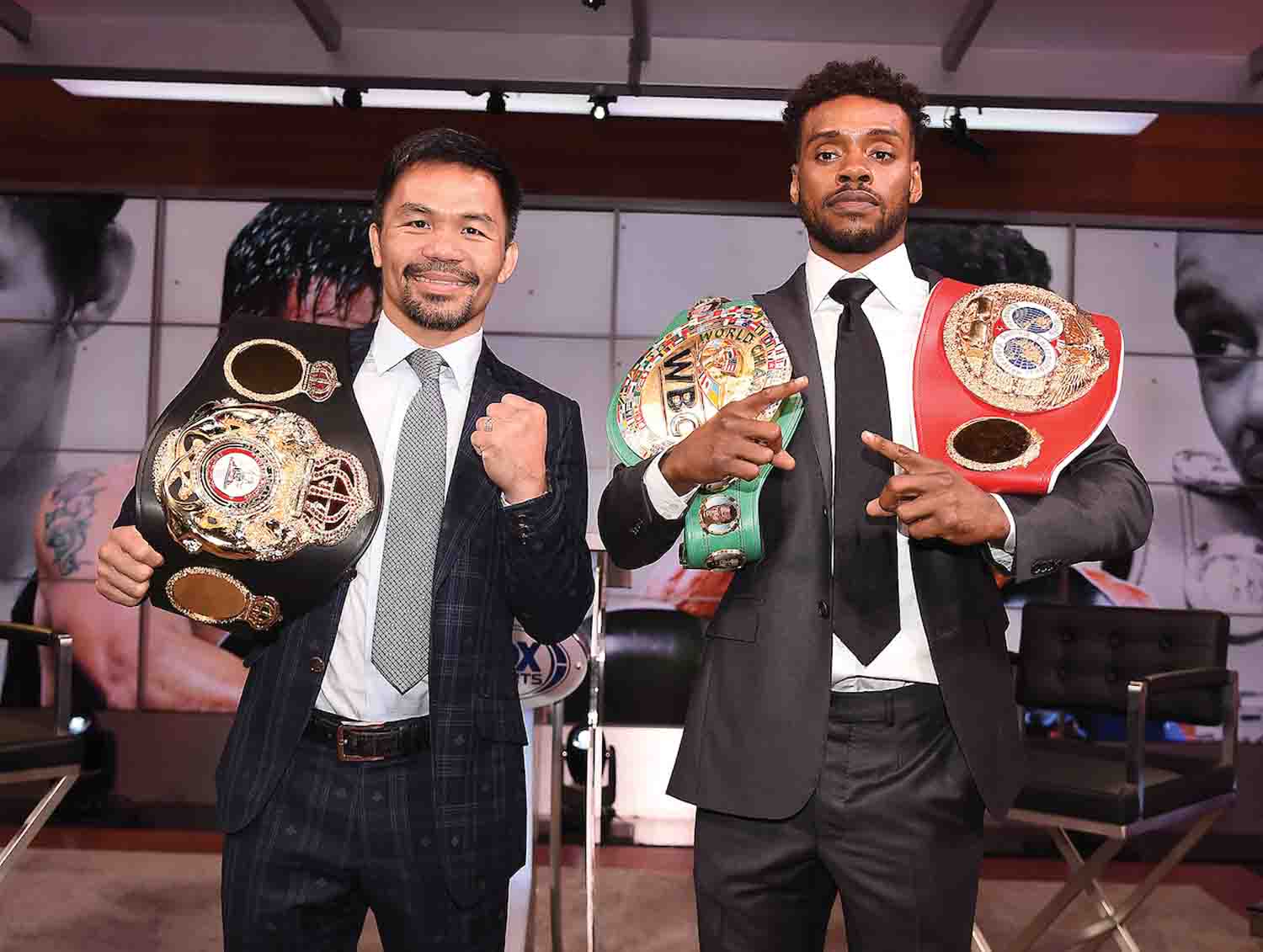 WITH a little over a week to go until returning to the ring, Filipino boxer turned Senator Manny Pacquiao will be facing a new opponent on August 21 in his first bout in two years.
American boxer and unified world welterweight champion Errol Spence Jr. (27-0, 21 KOs) will be bowing out of the anticipated fight after suffering from a retinal tear in his left eye, which will require surgery, Premier Boxing Champions announced on Tuesday, August 10.
"I'm very disappointed that I won't be able to fight Manny Pacquiao on August 21,'' Spence said in a statement. "I was excited about the fight and the event. Unfortunately, the doctors found a tear in my left eye and said I needed to get surgery on it ASAP and that there was no way I could fight with my eye in that condition. I'd like to apologize to everyone. You know I'll be back as soon back soon. We've come back from worse."
The 42-year-old Filipino eight-division and former welterweight champion will instead face 35-year-old World Boxing Association welterweight champion Yordenis Ugas (26-4, 12 KOs), who was originally preparing to make his first title defense against Fabian Maidana in the co-feature of the Spence-Pacquiao card.
"I'm not disappointed at all because my hard work and training is not wasted because Yordenis Ugas is there willing to fight and challenge for the WBA Championship," Pacquiao said during a virtual press conference on Wednesday, August 11.
The Filipino boxer is also not letting his age get in the way of another title. Two years ago when he beat Keith Thurman at age 40, he became the oldest welterweight world champion in history. On August 21, he's seeking to surpass that feat.
"That's very good because I myself am breaking my own record…I like that—making history," Pacquiao said.
Ugas, who is from Santiago, Cuba, is an Olympic bronze medalist and was elevated to world champion in January after winning a WBA Championship belt by defeating Abel Ramos last September. He previously was on an eight-fight winning streak before losing a narrow split-decision to Shawn Porter in a world title fight in March 2019.
"I couldn't be more excited when I got the call. I was able to find out that I was going to fight against one of the best fighters in history, nothing but respect to him and that just heightened the level of excitement for me," Ugas said at the press conference.
He added, "I'm not fighting for the money, but my legacy, for my country, for my own story that's going to be told. This is about to be the most important fight of my life."
The fight will take place on Saturday, August 21 at T-Mobile Arena in Las Vegas and will be broadcast live on FOX Sports PPV.
"What I can say to the fans is this fight is not an easy fight," Pacquiao said. "Ugas is a champion, he took my belt and then we have to settle it inside the ring." . n