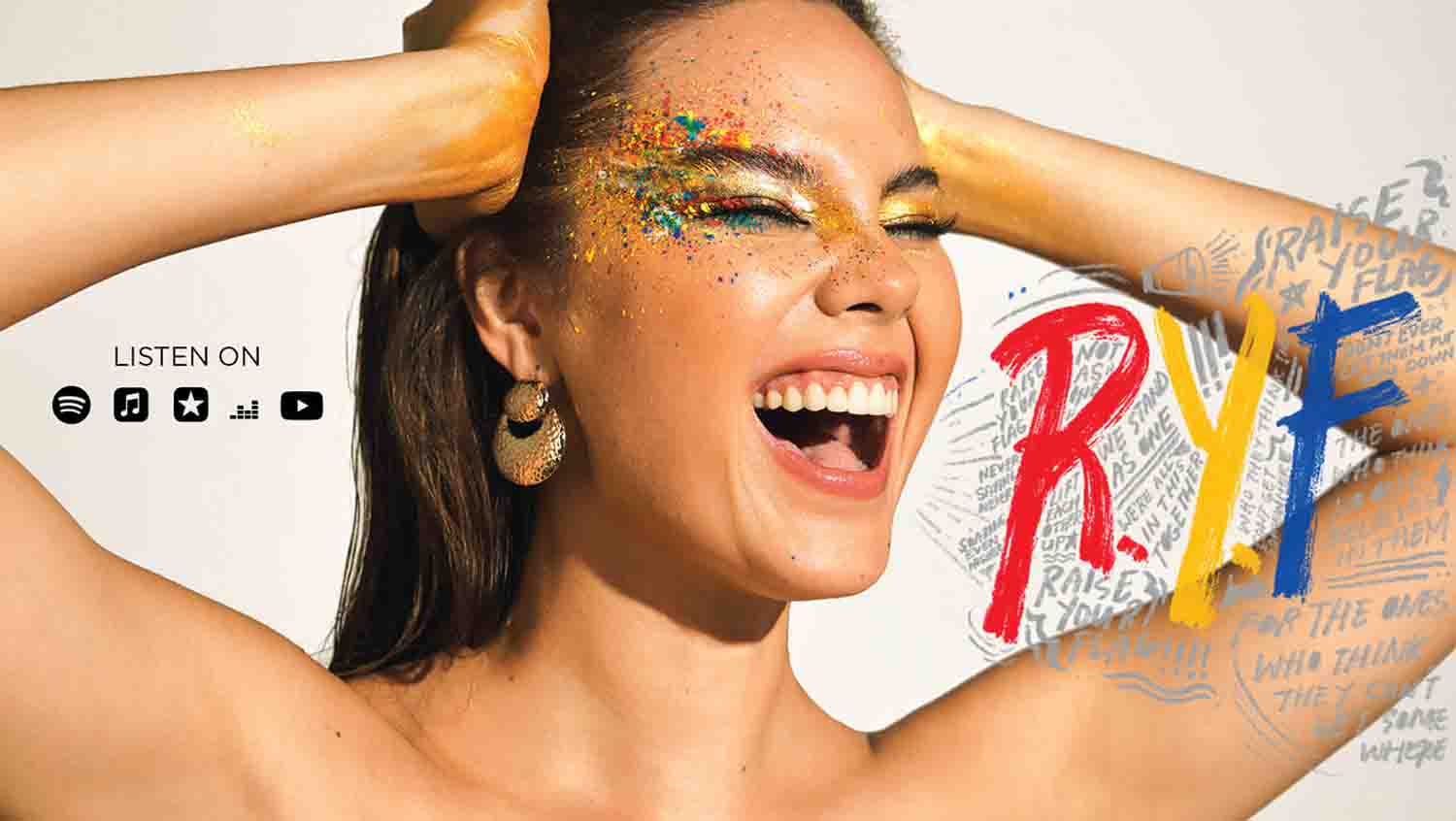 MISS Universe 2018 Catriona Gray is further establishing herself in the music industry with a new single.
"R.Y.F" is Gray's version of "Raise Your Flag," a song inspired by the beauty queen's statements during her Miss Universe pageant journey.
Composed by Trisha Denise and ABS-CBN Music's creative director Jonathan Manalo, "Raise Your Flag" was first performed by KZ Tandingan and Kritiko at Gray's Miss Universe homecoming in 2019.
Speaking with members of the media in a virtual press conference held Tuesday, June 1, Gray expressed excitement over the release of "R.Y.F."
"We actually recorded the song in the first quarter of 2020. It's been sitting in the archive for that long. So I guess there's the feeling of 'oh my gosh, it's actually going to happen,'" she said in response to a question from the Asian Journal.
"I'm just really happy that it's finally seeing the light of day," she added.
The beauty queen emphasized that "R.Y.F" is about advocating social movements and helping someone "in the smallest way."
"I know it started as an ode to my journey in Miss Universe, but I hope that through my interpretation of the song, it can evolve to how I see the song, which is that it means to stand up for something," she told the press.
The sentiment could be adapted to "standing up for your fellow countrymen, standing up for their rights, for their safety, for their well-being," according to Gray.
"I know that it's very trying for all of us because there are so many surmounting challenges that each of us face around the world, not just in the Philippines. So it really is trying to just see how can I be of help to someone in even the smallest way. And I feel that that's really the entire message of 'R.Y.F,'" she added.
Gray also said that "R.Y.F" is "super personal" to her, as the original track "Raise Your Flag" was inspired by her statements during her Miss Universe journey.
"It is really inspired by the things I've said in my Miss Universe journey. When I said those things, they came from a very personal place for me. So it was an amazing experience to first hear this song. And I remember it really vividly, because it was at my homecoming concert in 2019 in Araneta, and KZ and Kritiko performed it," she said.
"It was also full circle for me to see that… so many people now, with my interpretation of the song, can really recognize and connect to the message, which has really evolved from my personal journey, which is where those original statements came from," she added.
Gray noted that "R.Y.F" goes beyond patriotism, stressing that the song is "a call to action."
"The world needs more people to get involved and to give back and to contribute. So 'R.Y.F' is really a call to action. And that's why it's so fulfilling to be able to put out this type of message," she told the media.
Journey
During the online presser, Gray opened up about her experience of recording "R.Y.F," likening it to her Miss Universe journey.
"In a way, it's very much similar… It's lending my voice with a message that I personally believe in that I hope would contribute to the community, which has always been the goal of mine in the platform of Miss Universe — to see what I could contribute and also encourage people to do the same," she said.
The beauty queen also admitted that she has "a lot of nervousness" as an artist trying to establish her music career.
"I feel like there is such a need for me to prove myself in this space. I am very grateful to have the opportunity to have this platform mainly because I brought pride to our country through the Miss Universe, but I feel even more the pressure to really mark my space in the music industry," she explained.
Gray went on to say that "R.Y.F" is the closure to her beauty pageant journey.
"I guess this is almost, in a way, closure of that journey before I really go off into defining who I am as an artist after my Miss Universe journey. But it just felt very important for me personally, to put my spin or my interpretation on this song that was inspired by my journey," she said.
For her full album, Gray teased that she's been working on it "silently."
"It's been on my heart for the longest time. And of course, with the pandemic, a lot of things have been changed around. It's been a little bit difficult logistically, but… I've been working on it silently, so I'm excited to release it hopefully soon for everyone to hear," she said.
The beauty queen also mentioned wanting to collaborate with Filipina singers Jaya and Moira, as well as Tandingan, who performed "Raise Your Flag."
"I just really admire their artistry and how they really carved out their own sound," she said.
"You can just see that their heart is in what they're doing," she added.
Prior to "R.Y.F," Gray released her advocacy anthem "We're In This Together" and a cover of the 1998 song "Angel of Mine" with R&B singer Jay-R.
"R.Y.F" is available on Spotify and Apple Music.