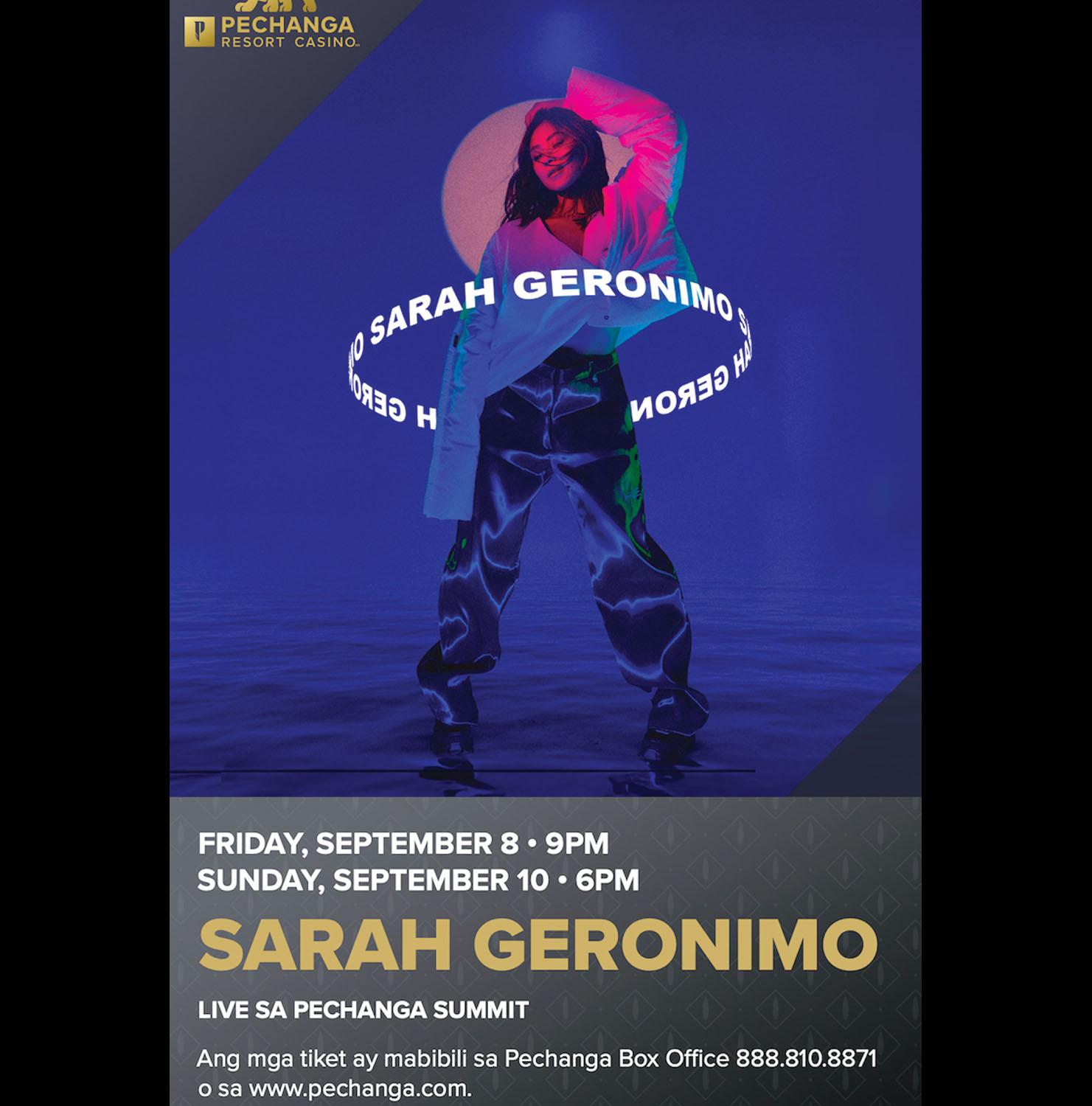 SARAH Geronimo is a very famous Filipina singer and actress, with numerous albums, TV shows and movies accredited to her name. She has been in the entertainment industry since she was four years old, having a very prosperous and long career. She has held 2 concerts at Pechanga before, and will be coming back to Pechanga this year.
Sarah Geronimo will be performing 2 live concerts at Pechanga Summit in September on Friday, September 8 at 9 p.m., and Sunday, September 10, at 6 p.m.
Geronimo rose to fame after winning the television singing contest Star for a Night, where she procured a recording contract with Viva Records at just 14 years old. During her career, Sarah has won 15 Awit Awards, 28 Myx Music Awards, 8 Aliw Awards, 4 FAMAS Awards, the FAMAS Golden Artist Award and a World Music Award. She has also been named one of the most powerful influencers by Forbes Asia. In 2013, she was inducted into the Anak TV Hall of Fame. Geronimo is also a Goodwill Ambassador for Music of the National Commission for Culture and the Arts, as well as a recipient of their "Harvest of Honors" state recognition for multi-disciplinary arts.
In 2004, she starred in Sarah the Teen Princess, her first television show, as well as hosting regularly and performing on the variety show ASAP. She has appeared in 18 films, 25 television shows, and has released 13 albums throughout her career.
Geronimo has made a name for herself from her beautiful, soulful voice to her many appearances on film and TV. In 2014, YES! Magazine ranked her as the "Most Beautiful Star," taking the number 1 spot out of 100 celebrities. Since 2014, she has been the most streamed solo Filipino artist in Spotify Philippines, where millions of people can stream her music.
Pechanga Summit features a 40,000-square foot area for entertainers, concerts, live sporting events, trade shows, weddings, or any large groups to book.  In total, Pechanga now offers 274,500 square feet of indoor/outdoor contemporary meeting and event space, which significantly enhanced the amenities, space and visibility of Pechanga's event offerings.
To get tickets to Sarah Geronimo's concerts at the Pechanga Summit, call the Pechanga Box Office at (888) 810-8871, or go to www.pechanga.com.
Pechanga Resort Casino offers one of the largest and most expansive resort/casino experiences anywhere in the United States. Voted the number one casino in the country by USA Today and rated a Four Diamond property by AAA since 2002, Pechanga Resort Casino provides an unparalleled getaway, whether for the day or for an extended luxury stay. Offering more than 5,500 of the hottest slots, table games, world-class entertainment, 1,100 hotel rooms, dining, spa and golf at Journey at Pechanga, Pechanga Resort Casino features a destination that meets and exceeds the needs of its guests and the community. Pechanga Resort Casino is owned and operated by the Pechanga Band of Luiseño Indians. For more information, call toll free (877) 711-2946 or visit www.Pechanga.com. Follow Pechanga Resort Casino on Facebook, Instagram and on Twitter @PechangaCasino.
(Advertising Supplement)