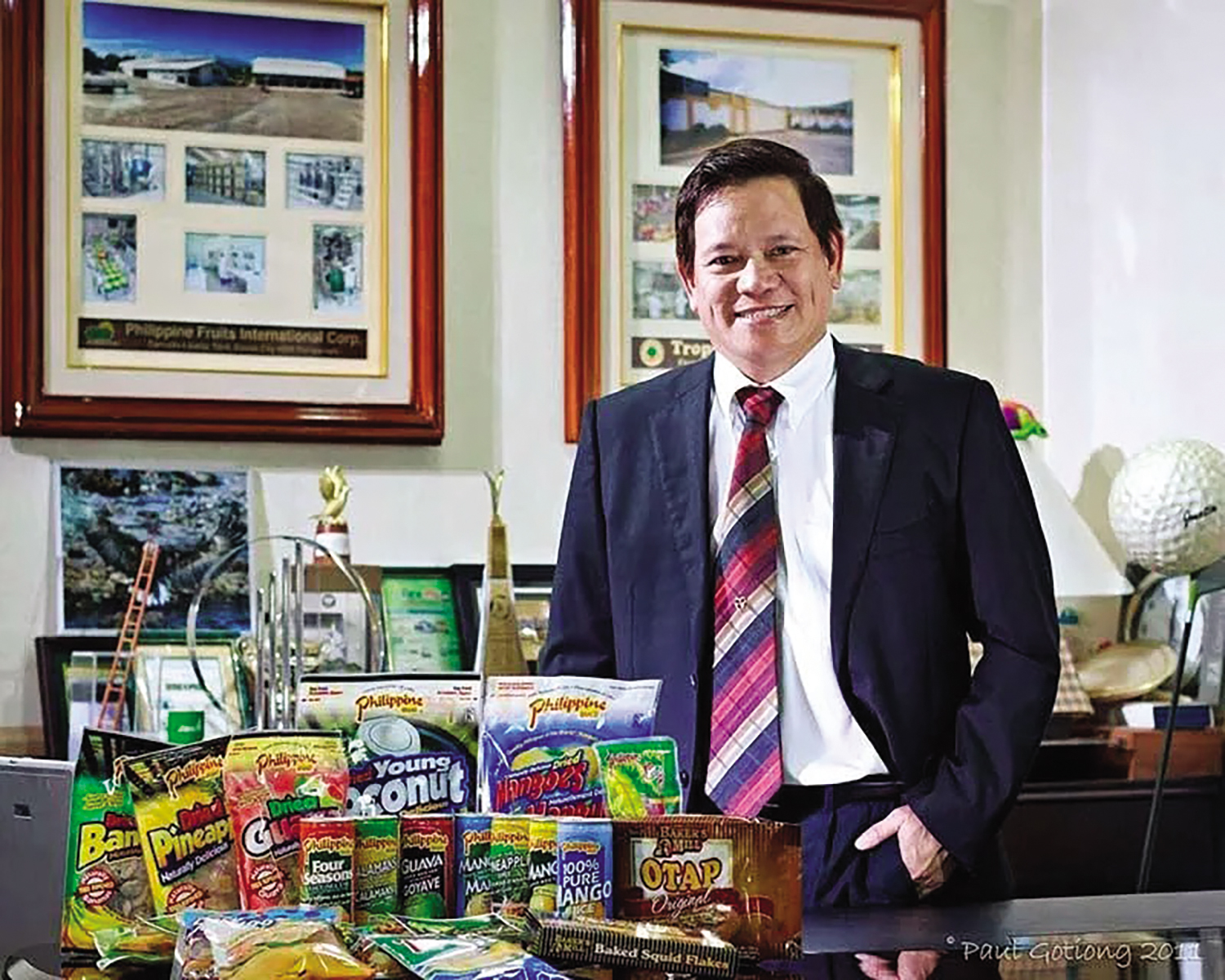 "REAL hard work, perseverance, and focus."
Those are three of the main ingredients that helped Mango King Justin Uy in life.
In an interview with the Asian Journal, Uy recalled his humble beginnings and the string of failures that helped him grow into what he is right now.
"I remember when I started this mango company, I worked 18-hour days for 18 years without any holiday, and no weekends, no holidays at all," he shared.
He was 19 years old when he started with Profood International back in 1980, four years after he officially started. At this age, he already knew the ins and outs of manufacturing and selling because of his previous attempts at starting and running a business.
When he was 15, he ventured into fashion jewelry using shell craft. He also went into poultry and mushroom growing. All three failed but Uy decided that he won't be defined by these failures. He gathered what lessons he learned in these three businesses and used them to propel his fourth into greatness.
"I was determined to succeed. And in fact, the three failures became my pillars or my stepping stone to help me succeed in this fourth one," he said. "For example, the mushroom business gave me all the connection to the rich people in Cebu because I delivered fresh mushrooms to their houses. The other ones taught me all about retailing and manufacturing."
Calling Profood International a sweet success would be an understatement. The company is now the leading dried fruits manufacturing company in the Philippines with a market of more than 50 countries globally.
Check the luggage of every Filipino balikbayan traveling from the Philippines and chances are, you'd see the world-famous Philippine dried mangoes or any of its varieties.
It began when he saw an aunt preparing dried mango in the kitchen. Uy said his aunt learned from her colleagues who are pioneers in the dried mango business in Cebu. These pioneers started doing this in the 1950s when they were drying under the sun.
What started as a way to earn money for his family has evolved into a much bigger undertaking – letting the world know about the Philippine mango.
"We are a big family, we are 11 siblings. So when financially we reached a point that even going to school was a problem, that's the time I told myself that I had to do something," he shared. "Initially, I was just doing it to help the family."
He had a hard time penetrating the local market because it was controlled by the pioneers. He went the export route and began selling his products outside the Philippines.
Profood's products are now available in more than 50 countries. Aside from mangoes, they also process 16 types of Philippine fruits, including pineapples and bananas. The US and Canada are the biggest markets, followed by Japan, Hong Kong, and China. They are also working hard to further strengthen their foothold in the Asian and European markets.
Uy credits his parents for teaching him about the basics of the business. His father was into cigar distribution at that time. Uy was only 12 years old at that time and was assigned to take some accounts. "I didn't know then that I was already doing an auditor's work," he quipped.
Now, they're the biggest player in the mango industry and the largest Philippine-based dried fruit producer. The Mango King however is not planning to rest on his laurels.
"We've become so successful to the point that the Philippines cannot provide us enough mango to produce for the world market," Uy declared. "So we're encouraging the government… we have a lot of mango trees in the Philippines, the problem is the farmers don't have the money to produce it. So they need government help."
A Duke University report said that the Philippines is lagging as far as yield is concerned, compared with India or Mexico.
Uy recalls that back in the 1980s, he proposed to buy a property to put up a small mango farm for research and development. The government didn't exempt him from agrarian reform and was not given the authority.
"So what happened? We don't have the advanced technology for mango production," he lamented. "Secondly, because of the agrarian reform, almost all the corporate growers shy away from planting mango."
Investing in mango trees is a long-term commitment because they get to become economically viable in the 12th year.
When Uy and his team finished scouring the entire country, from Ilocos Norte to General Santos, for more mangoes they found that they have exhausted all their suppliers so they began to look elsewhere.
Because of this shortage, the price of mango keeps on going up. In fact, according to Uy, it has grown at least 50x compared to the price in the early 80s.
"So what we did is we put up a factory in Cambodia so that when we offer the premium Philippine mango, if they say it's too expensive and they want us to match with the Thai, we offer counteroffer with our Cambodian variety so this way we still control the market," he explained.
Uy added that even Thailand and Vietnam are getting mangoes from Cambodia for processing. Because there are no typhoons in the country, they are capable of harvesting four times more.
"Because of the high-quality of mangoes produced in the Philippines, other countries use the Manila name," he shared. "Decades ago, I already complained to the Department of Agriculture on this matter. I said you have to do something they're calling their mango Manila."
Unfortunately, he said nothing happened to his plea.
The Philippines needs to be more competitive in terms of lowering the price point, getting more yield, and helping the mango farmers across the country.
If he had his way, Uy said he'd "remove the agrarian reform because it's not really working" and maybe look at Taiwan and Japan which give land, infrastructure, and seed money to their farmers.
"We need to have the corporate growers come back. They can help in the R&D and improve the country's farming methods," he said.
Major Expansion
After decades of being in the mango industry, Uy also ventured into tourism and hospitality and became a big player, especially in Cebu.
He owns and runs Jpark Island Resort and Waterpark in Mactan Island and J Centre Mall in Mandaue City. The 16.5-hectare resort and waterpark offer 568 rooms, villas and suites, six themed pools, 10 dining outlets, a casino, an activity zone, a dive shop, and a private beach. The sprawling water complex which has become a major tourist destination in Cebu takes pride in its three towering waterslides, a lazy river pool, and a pool with a beach-like shoreline.
"We call it expansion, we expanded into this dollar-denominated industry," he said. "Eventually we want to go to medical tourism in the future. So you have your resort and mall and we have also planned to put up a marina and golf course. So when you come in with medical tourism, you have all these things you can do at the same time."
Their success in Cebu led them to replicate the project in Panglao, Bohol. Other cities and destinations in the country are in the pipeline.
Uy also talked about the Profood Mango Museum that they opened in Mandaue City. The place celebrates all things mango, the national fruit of the Philippines, and the main reason why the company is successful.
A one-hour tour of the 17-hectare factory gives tourists and students a glimpse of the company's history along with how the Philippine mango is grown, harvested, and processed into numerous products that are then exported globally.
"So I'm trying really to promote the Philippines and show the world that the best dried mango comes from our country," Uy quipped.
Now, he has an additional opportunity to do so as a travel and hospitality ambassador through his hotels, theme parks and luxury real estate projects.