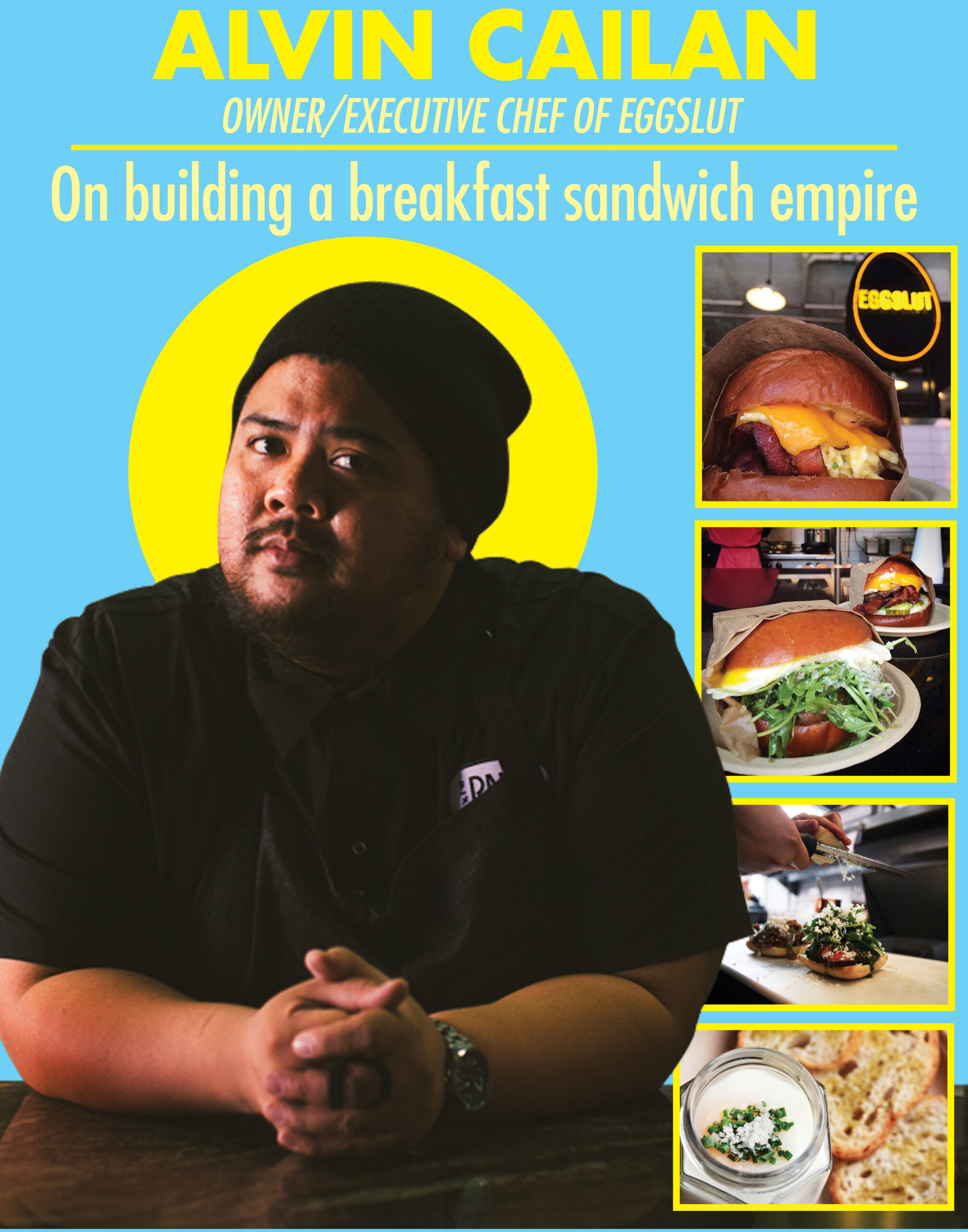 IT all started with eggs.
Growing up as a latchkey kid, Alvin Cailan's father taught him how to cook eggs when he was tall enough to reach the stove.
Who would have thought that years down the road and experiences at fine-dining restaurants under his belt, he would circle back to what he first learned how to cook? And even, build an empire on the basic ingredient that's making Angelenos salivate and queue up?
"All my life," Cailan shared, "I always wanted to cook." At 15 years old, he got a job as a dishwasher, eventually making his way up to kitchen manager.
However, he steered into a different route after high school: he studied business at Cal State Fullerton and worked at a construction company upon graduation. "All I could think of every day was, 'what am I going to cook for dinner?'" he said.
With that insatiable hunger to prepare food and a personal mantra of 'just doing it,' Cailan took a leap and moved to Portland to attend the Oregon Culinary Institute.
However, reality hit that breaking into the culinary industry wasn't so simple. He knocked on every major restaurant in the city and faced constant rejection; if there was an opening, it was for free and a short period of time. When he landed his first paying job, the restaurant shuttered six months later.
It was back down the coast of California for Cailan, as he stopped at Yountville and Napa along the way, where some of the country's best and Michelin-starred restaurants are located. Bouchon offered him a job, but he declined and moved back to his hometown of LA, where he made rounds at places like Spago and Hatfield's.
For six months, he worked at Manhattan Beach Post, which he continues to regard as one of his most rewarding experiences.
"My experiences from Manhattan Beach Post and working with a chef that lets a lot of [his] cooks figure out things for themselves made me realize that opening a restaurant for myself would be easy. That six months there really taught me how to be a restaurant owner. That's when I knew I was ready," Cailan said.
A breakfast revolution
At this point, Cailan was nearing 30 years old and stumbled upon perhaps the saddest and most pathetic breakfast sandwich to exist — so sad that it motivated him to sell his car and buy a food truck, just as the city's food truck movement was hitting its peak.
"I was really in shock [over] how breakfast was at the time. I went to a diner in Hollywood and they're known for their breakfast. I ate their sandwich, and I thought, 'in Portland, this is the lowest of the low,' he said. "Then, I really looked into it and Yelped to see who were our competitors: McDonald's or Starbucks. But in the craft realm, there were none."
Along with his cousin Jeff Vales, Cailan based his mobile eatery on something as simple as eggs and breakfast sandwiches, drawing in that comfort and familiarity. Yet, there would be a twist of innovation, and a jarring name to it: Eggslut.
"I'm not going to take credit for actually inventing the word. But if you looked at food blogs 10 years ago, chefs were using that term, which then became an industry term, like 'oh, all the chef does is make food with eggs…he is an eggslut,'" he shared. "I figured, being Filipino and in the second-largest market in the country, how do you make waves? Having a name like Eggslut threw people off. Immediately people were intrigued by the name, [but] they would walk in, taste the food, stay and then come back. I took a word that no one was using commercially, got the trademark and went forward with it."
The Eggslut truck was initially parked in front of Intelligentsia in Silver Lake, under the premise that "if people buy $7 coffee, they're going to buy $6 breakfast sandwiches," Cailan said.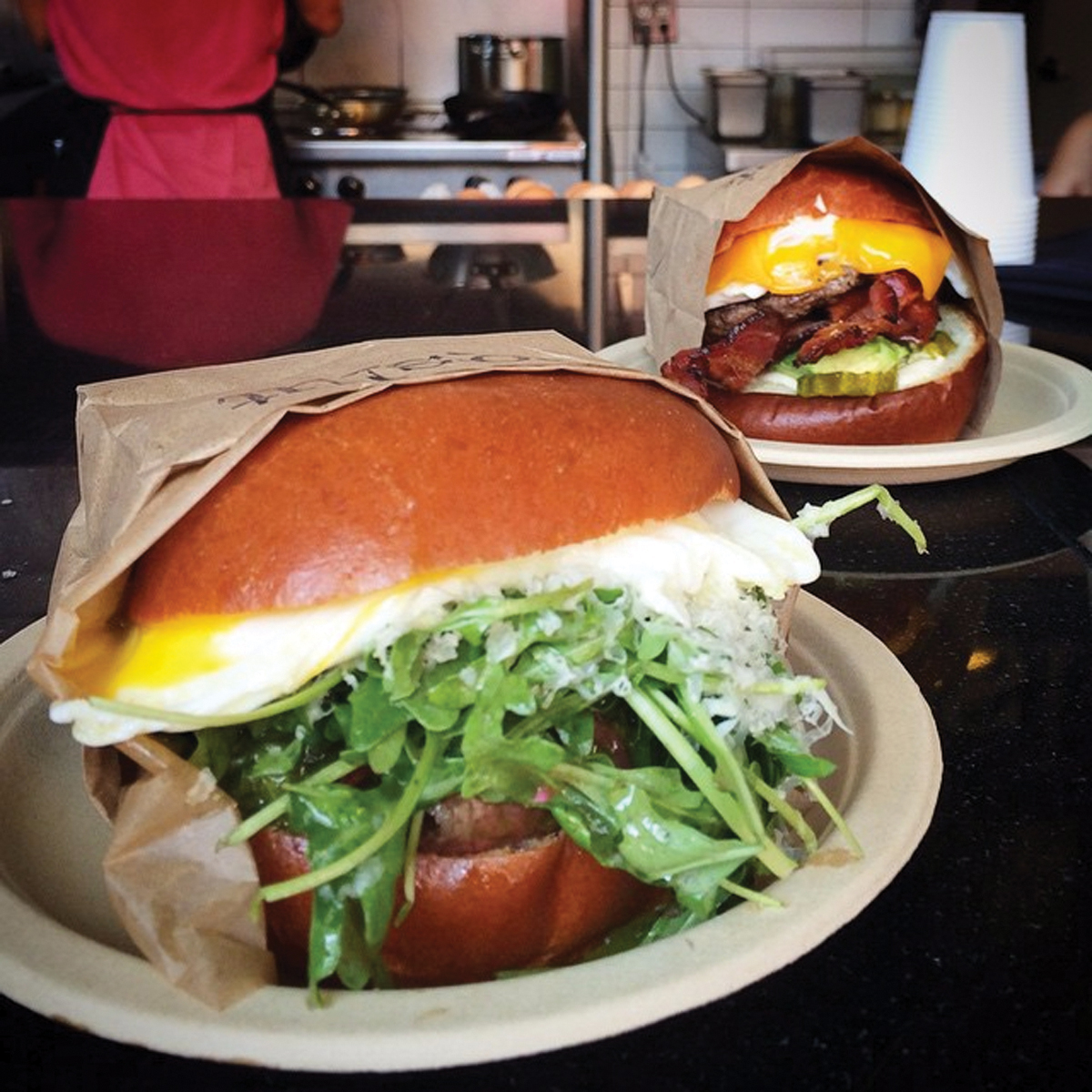 Some of the menu items were elevated and elaborate — a pork belly banh mi or croque madame, for example. But, it really was the simple, bacon-egg-cheese combinations that resonated.
"At the end of the day, when you're eating at a food truck, the last thing you want is fancy because it doesn't translate. You're eating on the side of the street and eating something hard to eat. It took some time to realize that making bacon, egg and cheese is the right thing to do… As far as how Eggslut really became Eggslut was finding out what people wanted to eat because you have to be selfless in opening a restaurant — you can't just cook what you want to eat," he said.
The eggs made for a natural pairing with one's morning coffee. Cailan did research on what classic coffee shops offered, and one of the dishes was a coddled egg, a process that required cracking an egg into an espresso cup and stirring it with an espresso wand to heat the top until it coddles.
Eggslut's rendition became known as the "Slut," a coddled egg on top of a smooth potato purée, poached in a glass jar and served with a demi baguette. At $9 a pop, it's a dainty dish, but signifies the burst flavor that "both the novice and extreme foodie" could indulge in.
Other menu items include a turkey sausage sandwich, which came about to offer a less heavy option for pork in the morning, and the "Fairfax" (scrambled eggs, cheddar cheese, caramelized onions and sriracha mayo in a warm brioche bun), which was composed of separate elements already present in the kitchen.
The popularity and crowding near the Silver Lake coffee shop, however, eventually caused other business owners to complain.
"…I had to move and that was the biggest hit.  Three months rolled by and I was making like $50 a day. I was running the truck myself. I would wake up at 4 in the morning from Compton and drive it down to West Hollywood myself. Back then, it was just yell 1, 2 or 3 because I [was] the cashier, cook and everything else," he said.
Then a "miraculous" morning happened in January 2012, as the truck was parked along Fairfax Ave. in Mid-City: Ruth Reichl, famed food critic and former editor-in-chief of Gourmet magazine, approached and ordered the "Slut."
"She comes up to the truck and my knees are shaking. She was the reason in the 80s and 90s why restaurants in New York would either be soaring successes or closing their doors. She was that kind of food critic," Cailan recounted. "I did everything to order all for her, gave it to her and ran back to the truck…Food trucks have a little window and I'm looking out the window and she digs in and eats it. Boom, you just see it. I'm like I…crushed this."
Following that morning encounter, Eggslut's Twitter went from 70 to 2,000 followers, all thanks to Reichl's blog post, "The Most Decadent Breakfast" — a poetic narration of why she was drawn to the food truck not because of its name, but because of the description of the coddled egg dish:
"A well-coddled egg is a beautiful thing, and when the chef said, 'This will take a while; we coddle them to order,' I was hooked.
"As anyone would be.  This is a perfect way to start the day – a tender egg, held together with no more than a wish, on top of buttery pureed potatoes.  The crunch of salt, the snappy bite of chives. Heaven in a spoon. And so rich it made three of us deliriously happy for the rest of the day."
"I owe it to her. If it wasn't for her, I wouldn't have gotten to shine," Cailan noted. "She gave me a chance…Next thing you know, every food blog and writer [was] hitting me up."
In late 2013, Eggslut transitioned from four wheels to a 20-seat counter at Grand Central Market in downtown LA. On opening day, the staff of three only expected 150 orders and even thought that was a stretch.
"But at 8 am, on the day we opened on November 19, [2013], there were 400 people who showed up to Grand Central Market. We opened and sold our breakfast menu in an hour and 15 minutes. We reopened for lunch and sold out in two hours. Immediately after that, I was freaking out because I didn't order enough," Calian recalled how their supplies for the next week were gone within a few hours, and forced them to close for the next two days. Luckily, their purveyors were able to deliver ingredients immediately.
"We ended up muscling through and got over the first week. We thought that maybe in two weeks the lines would go down, but it just got worse," he joked.
Head over to the market at any time between 8 am and 4 pm, and Eggslut isn't hard to miss with a line of customers, 50-100 people deep, snaking behind the stand.
The marketing behind Eggslut has been organic and social media-driven.
"At the end of the day, you can spend millions of dollars on promoting a name, but if your product sucks, no one is going to show up," he said. "We get fortunate when a famous person with like 2 million followers tweets or Instagrams us, because immediately that's a reach of 2 million people."
To date, the brick-and-mortar does about 500 covers on weekdays, with wait times averaging 45 minutes around lunchtime, and 1,000 covers on weekends, with an hour-long wait time.
It may be peculiar from afar that something so uncomplicated like an egg sandwich would magnetize a horde of curious foodies. Is it for the name Eggslut itself? For the coolness factor and the Instagram? Scrambled eggs with sriracha mayo? A seared wagyu tri-tip steak and eggs wedged in a warm brioche bun?
Every minute — from waiting in line to placing the order to taking the first bite — is part of the entire Eggslut experience.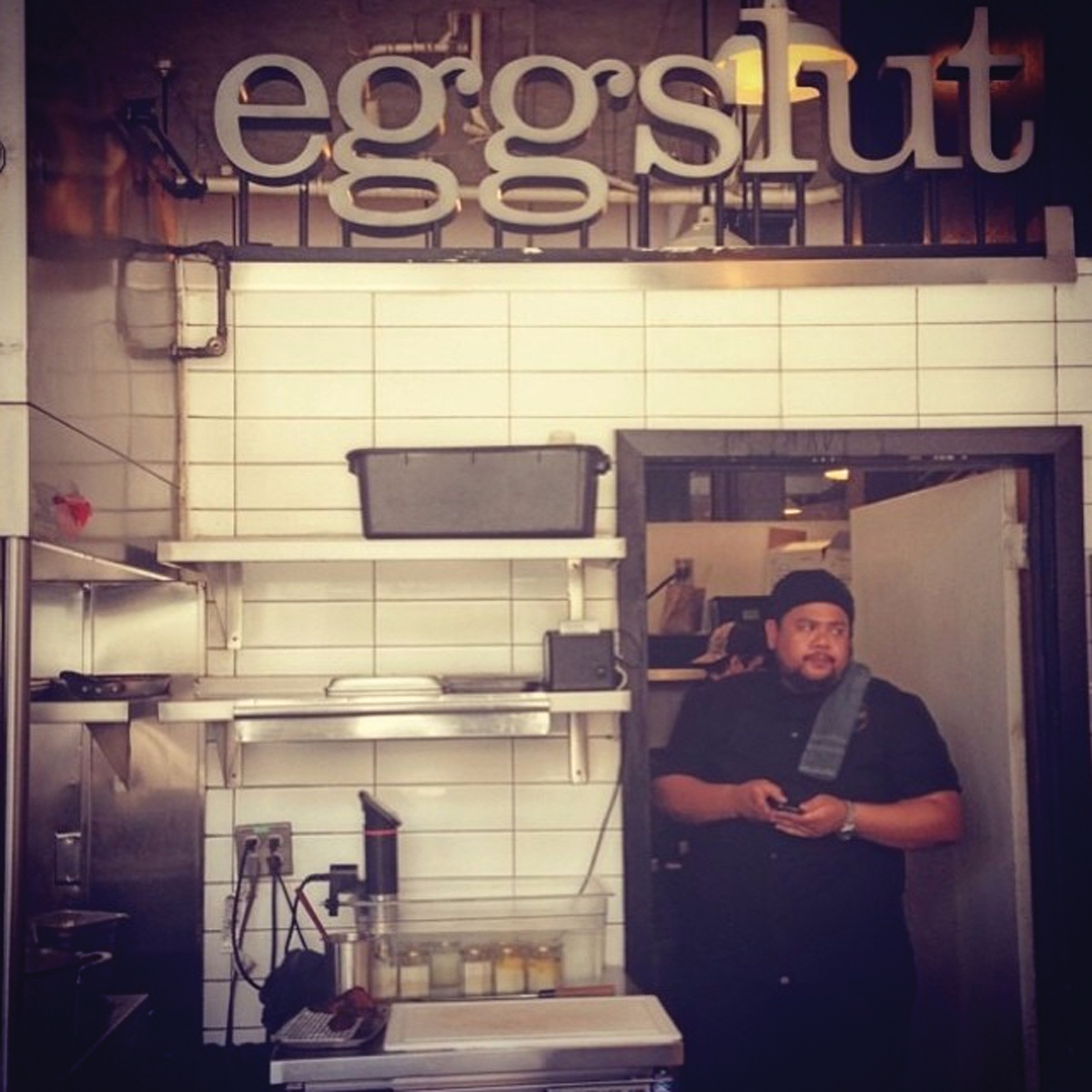 "At Grand Central Market, it's the perfect place to wait because you have the option to try cheese or grab coffee. It's a food hall, so in an hour, you can easily try every restaurant and then wait for us [Eggslut] to end your meal. Grand Central Market in itself as a location is perfect. But going forward, we want to make sure that our food is the reason why people wait in line, especially with locations we plan on opening later on, we have to make sure our food is on point. We have to show people that we're different and why they should eat with us and not stray away. That's our marketing plan," Cailan said, name dropping all of the local farms in Southern California where the ingredients are sourced from. "Everything is as local as possible at a really low price. Again, that's another reason why people come and wait in line — it's quality."
However, like anything popular or successful, not everyone has been eating up Eggslut.
"There are certain places that we couldn't do events in because of our name. Like a lot of these food truck roundups, some places didn't want Eggslut because of the name. When we were announcing our opening at Grand Central Market, we received a lot of letters, saying the name is disgusting and vulgar…But in due time, we've ended up changing the connotation of the word by someone who's obsessed and loves a certain thing, which is eggs," he said.
Earlier this year, Eggslut was invited to be at Food & Wine Classic in Aspen and at an event in New York, both instances where the lines were long.
"I think we chose the right name. Our work ethic and our food are here to stay," Cailan affirmed.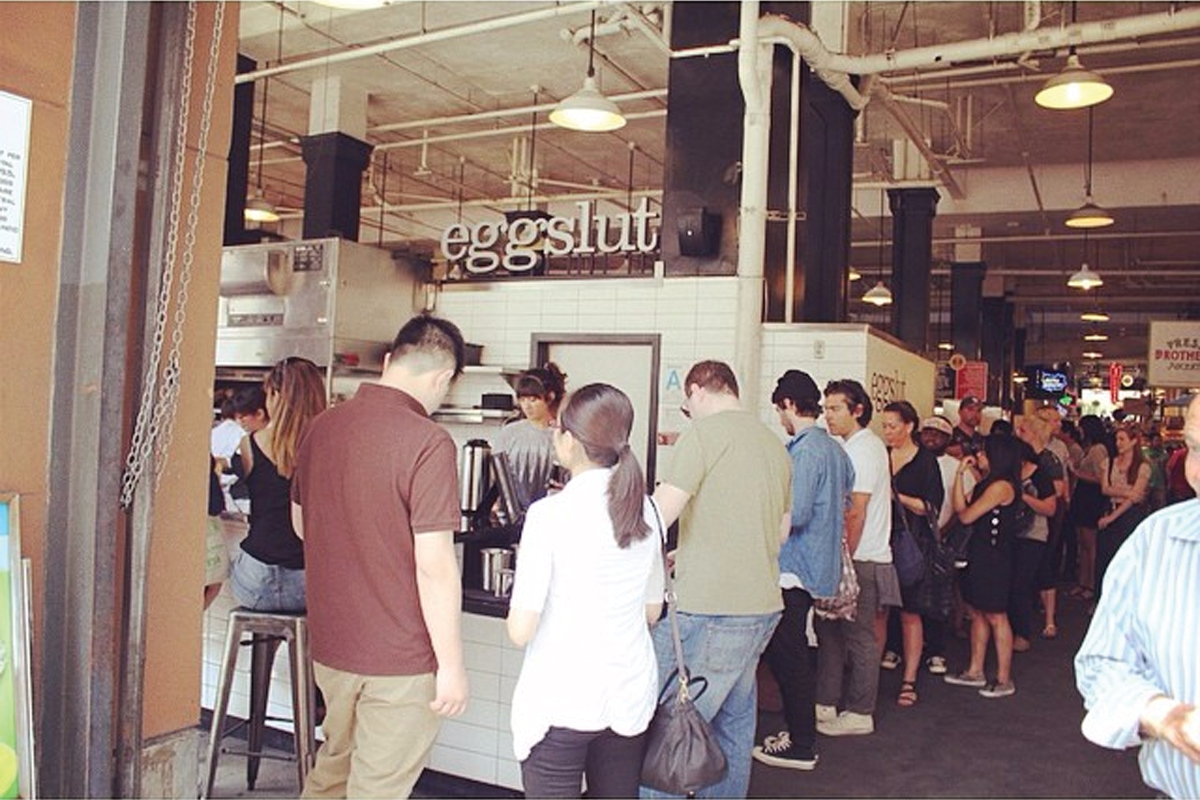 Eggslut expansion
In the nearly two years since the Grand Central location opened, Cailan has since dipped into other ventures.
Cailan frequented Men Oh in Little Tokyo and other restaurants across the city in pursuit of the perfect ramen bowl, which led to studying broth, noodles and the ramen-ya concept. Along with partners Johnny Lee and Nathan Asamoto, former chef of Men Oh, Ramen Champ was opened in Chinatown in January, as a place where everything is completely made from scratch, Japanese style.
The broth is an elaborate process wherein pork bones are cleaned and soaked for two days, then cooked for 20 hours. (Cailan mentions that Drew Barrymore is a fan — "She says that it's the closest bowl to Tokyo. We ended up being really good friends over it.")
"After the broth is finished, we only serve it for that night and after that, whatever's left over gets thrown out. That's why we always sell out because it costs so much to make from scratch, so we only make enough to sustain," Cailan said.
In other words, there's no room for mistakes.
"You can mess up a bacon and egg sandwich, but in 10 minutes later, you can make a new one. But if you mess up a batch of ramen, that's it for the day. There were times when I shut the restaurant down because I didn't like how the broth tasted. It's a lot tougher and there's a lot of risk," he said.
At first, juggling both restaurants brought on sleepless days with a routine of making sure Eggslut was running smoothly in the morning, only to spend another eight hours at Ramen Champ.
Being in Chinatown, Cailan said, is tricky because of the absence of other ramen competitors that could provide a taste comparison. In August, Ramen Champ went on hiatus, and will be re-opening in early October under new ownership.
"I wish I could've given all my attention to Ramen Champ and that simply wasn't the case. Eggslut and other projects kept me busy and I had to find people who can keep pushing the best ramen in town. The folks from Yokocho were the perfect fit and now they're continuing the legacy. It couldn't have landed in better hands while I grow Eggslut and other endeavors," the Ramen Champ co-founder, who will stay on as a consultant, said.
Cailan also conceptualized a diner that would bring simple comfort food — in a city "where we've gotten so crazy with food" — but the concept would be too time-consuming for Cailan, who realized that the attention shouldn't be taken away from Eggslut.
"The realistic thing is, our customers at Eggslut want us to open more because they're tired of waiting too," he said. "It's crazy, like when Krispy Kreme first opened in LA, we would wait freaking three hours for a donut and I hated that. I always wondered why they wouldn't just open another [store]. I was really stubborn and wouldn't want to open another Eggslut, but now I'm getting backlash from customers who want another one so they don't have to wait in line. Now my focus is finding the right place that doesn't jeopardize who we are integrity wise."
While nothing is set in stone just yet, Cailan said Mid-City and the Westside are considerations for additional Eggslut locations.
Lessons from the kitchen
In addition to his parents, Cailan credits his success to his past experiences and go-getter attitude. Working in the kitchen since 15 has made him "as powerful as possible" to open his own restaurant.
As for mentors, Cailan mentions three men who have helped shape him into the chef he is today: Chef Mark Tagnipez, who has been his best friend since kindergarten; Michael Hannigan (chef de partie of Ten 01 in Portland), who taught him how to focus; and David LeFevre of Manhattan Beach Post, who taught him how to open and run a restaurant.
"We talk a lot all the time about how it's easy to have a dream and it's easy to make it happen, especially when people are shoveling money your way," he added. "But can you actually be a smart business owner? The only way you can be a smart business owner is through experience. I learned a lot from [working]. Also closing a restaurant taught me what not to do."
He said camaraderie, especially among Filipinos in the food industry, is essential in building up support for each other's projects.  "With more and more entrepreneurial spirit from restaurant industry people, Filipino food is going to grow really quickly," he noted.
"Don't do it for the money. You can't be in this industry if you're doing it in the money. A lot of people who go to culinary school end up being waiters because you make more money than being a cook or chef. If you really want to cook, know that we are the lowest-paid people in the hospitality game, so be prepared to cap at $14 an hour. If you go into the industry, it's because you love it," he said.