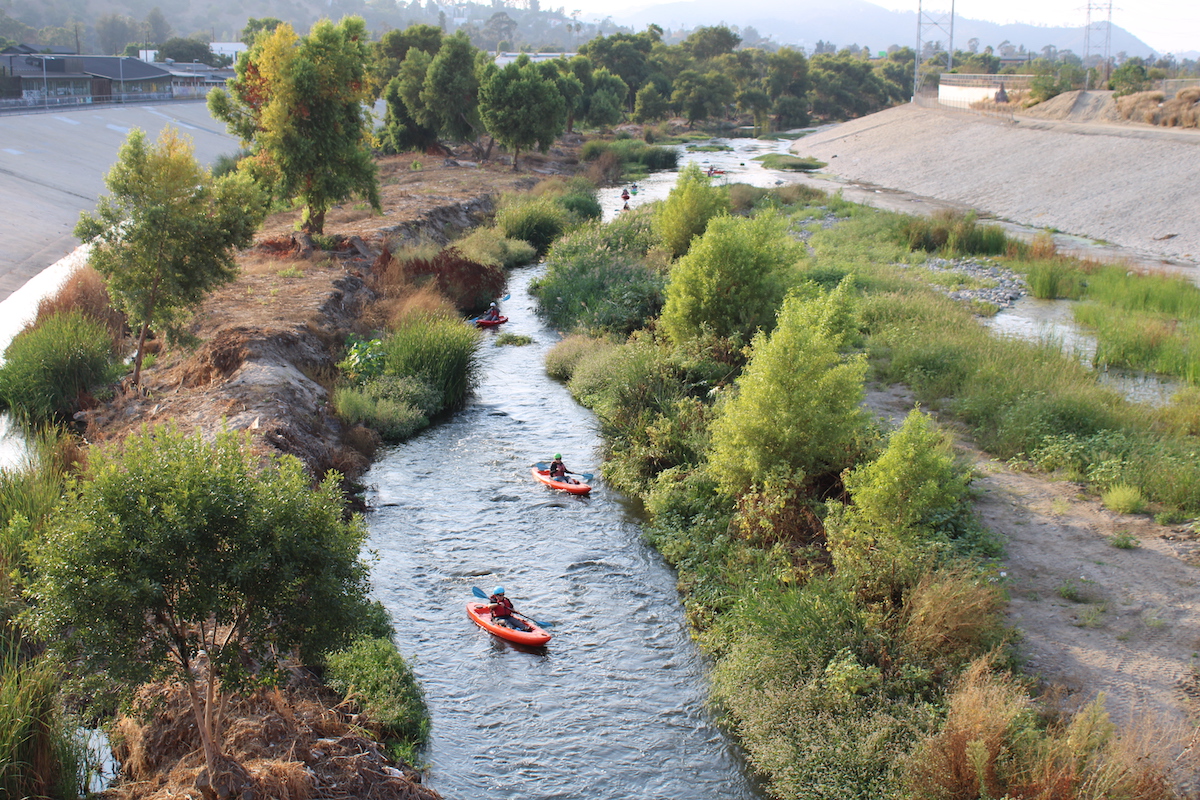 AFTER nearly 30 years after the first master plan for the historic Los Angeles River, the county is closer than ever to harnessing the full potential of the river to benefit the ecosystem, local communities, and future generations of Angelenos.
Los Angeles County Public Works, in partnership with Ethnic Media Services (EMS), released the final LA River Master Plan (LARMP) last month, which, in short, blueprints revitalization of the river in the context of three main categories: water quality, environmental sustainability, and community.
The entire LARMP released on May 17 is available to read here: https://larivermasterplan.org/.
The LA County Board of Supervisors is scheduled to consider the plan for adoption on June 14.
As reported by the Asian Journal over the last several years, LA Department of Public Works, along with other local government and community agencies, have been updating the LARMP to design a more comprehensive, interactive, and accessible LA River than can act as much more than a cool movie set.
If enacted, the LA River — which spans 51 miles across the sprawling county — and the immediate areas around it would be redesigned to not only improve irrigation and infrastructure-related issues like flood reduction and water quality, but to also address the social and cultural implications.
"We are stewards of this land both the natural and built environment," Keith Lilley, assistant deputy director of L.A. County Public Works, said at a press conference hosted by EMS on Tuesday, May 17. "We seek to foster a more positive and equitable foundation for all current and future residents.  There are nearly a million people living within a mile of the river. We reimagine a plan that will encourage   people and environments to commingle and thrive."
As previously reported in the Asian Journal, the mission to revitalize the LA River to better serve its vast communities has been a years-long effort. For a long time, large areas of the LA River resembled more of an open sewer with almost no water flowing through it, a mere vestige of what made Los Angeles an attractive location to indigenous communities and early settlers.
But since 1996, when the LARMP was first drafted, the county has been working to make the river a priority again, collaborating with local communities, non-profit organizations, state and national agencies and other groups to help the river reach its full potential.
To promote botanical appreciation and studies, habitat and ecosystem functions and laboratories would be located along the river, with a focus on increasing and supporting biodiversity among flora and fauna native to California.
But historically one of the most pressing concerns over the LA River among Angelenos is its lack of amenities and activities for residents.
Along the river, open spaces will connect throughout the 51-mile expanse of the river, complete with support facilities and trail access, including upgrading the LA River Trail which organizers hope will extend to include the entire length of the river, from Canoga Park to Long Beach.
The organizers hope this will encourage more residents to partake in outdoorsy activities; potentially, these open spaces can also act as event locations and venues for the community.
"The LA River is an incredible natural resource, but it was never designed to serve the recreational and environmental needs of our river-adjacent communities or the county as a whole," Kuehl said. "This final version of the LA River Master Plan brings the potential of the river up to date by establishing a thoughtful, comprehensive road map that creates a 51-mile artery of sustainable and healthy habitats for plants, animals and people."
However, the massive undertaking of essentially creating an LA River 2.0 doesn't come without serious concerns from the diverse communities that the LA River serves. Communities of color that are adjacent to the river, like Chinatown, have already been plagued with displacement, leading to hordes of long-time Angelenos to become homeless.
"Many people don't know that Chinatown is one of the poorest neighborhoods in Los Angeles. Many of our residents are one rent increase away from becoming homeless," said Sissy Trinh, executive director of the Southeast Asian Community Alliance.
She added that, in addition to Chinatown, other river-adjacent communities actually recoiled at the idea of increased parks and recreation near the river because residents feared it would add to the mounting gentrification problem.
Once the master plan is implemented, she predicted that real estate developers are likely to take advantage of the beautification and the real estate opportunities to buy multiple plots, build housing and commercial units, and charge considerably high rents, pushing families, business owners and residents out of these neighborhoods.
"We were in this place where we questioned, do we fight [against] having nicer neighborhoods or do we accept that it's going to happen and that we would just get pushed out?" Trinh noted.
If the county approves the plan — it's likely that it will — several projects outlined by the LARMP will be set in motion. Despite apprehension that the revitalization efforts may harm vulnerable communities, LA Public Works is confident that the years of planning spent on the blueprint will address any community concerns.
"We explored areas of social, cultural, and ecological disparity, including homelessness, gentrification, public open space, public health, and community and environmental inequities in infrastructure," said County Public Works Director Mark Pestrella, who is also the chief engineer of the Los Angeles County Flood Control District. "The result is a plan that recognizes the river as a complex `system of systems' in which people, places and the environment are encouraged to coexist, intermingle and thrive." (Klarize Medenilla/AJPress)