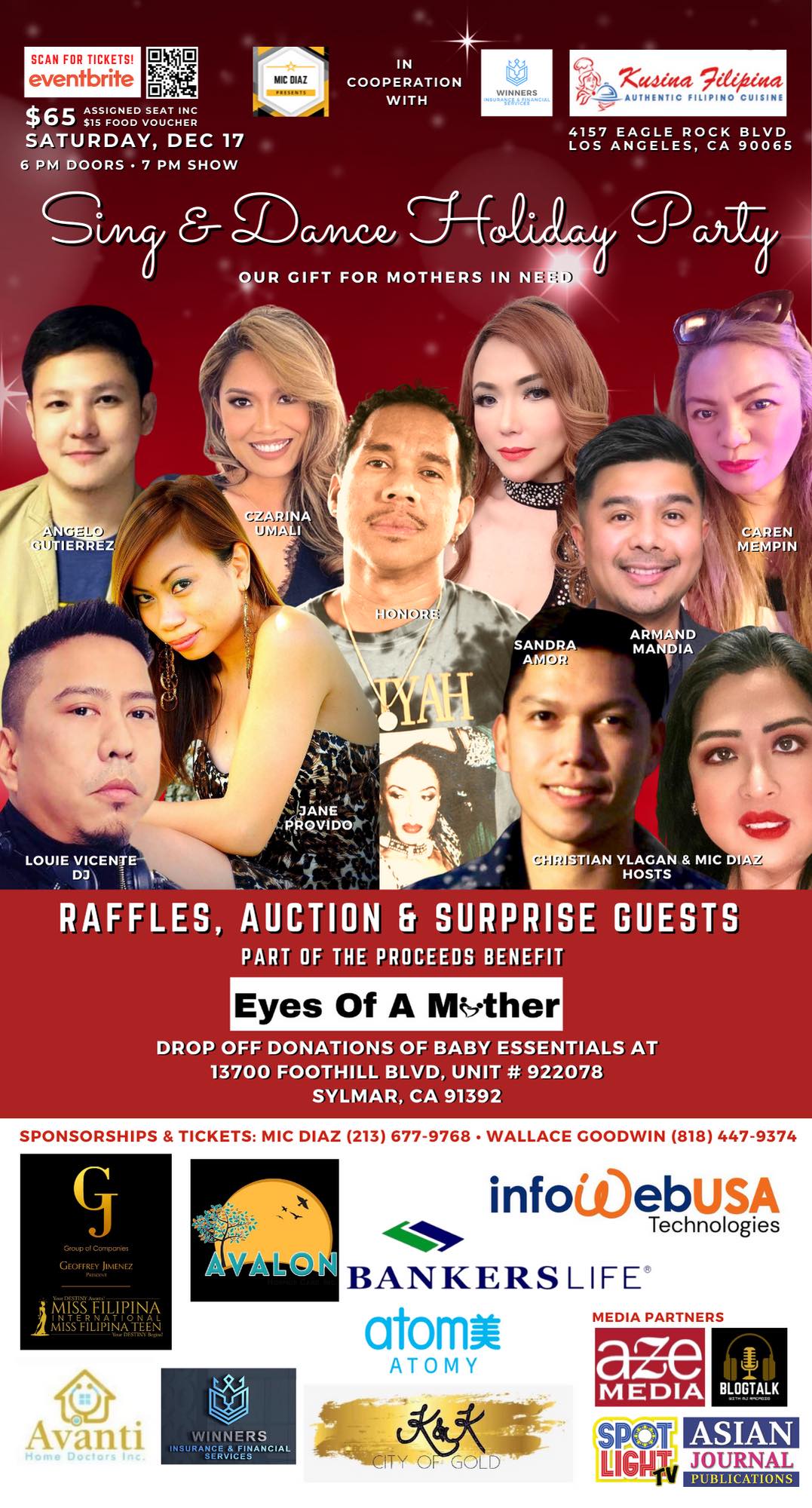 Raises funds for Eyes of a Mother
This holiday season, Mic Diaz Presents in cooperation with Winners Insurance & Financial Services brings to you a SING & DANCE HOLIDAY PARTY with some of the best local Filipino-American artists such as Spotlight Awards Best Female Vocalist of 2022 Jane Provido, Manny Pacquiao's former leading lady Sandra Amor, the Rising Comeback Singer Armand Mandia and R&B sensation Honore on Saturday, December 17 at Kusina Filipina in Eagle Rock, Los Angeles, California.
Come party with us this December 17 and help mothers in need. This fun-filled event seeks to raise funds for Eyes of a Mother, a 501(c)3 nonprofit organization in the business of bringing improved health, hope and dignity to underserved families through the procurement, fulfillment and distribution of baby hygiene products and service the needs of families and children in Sylmar and neighboring cities.
This event is filled with amazing performers, dancing, raffles and a silent auction. There will be an opportunity for you and your company to speak in front of the audience about your business and products. At this concert, we expect a 100-guest attendance from the Los Angeles and Southern California community who are OPM enthusiasts, who are energetic, lively and like the latest craze and some nostalgia as well. They are Filipino-Americans and members of other ethnic groups who are in their 20s to 60s, most of whom are in the healthcare, medical, real estate, legal, accounting and insurance fields.
Be part of this fun, engaging and fulfilling event, and support our underserved families artist community while getting the word out about your business! We look forward to you supporting this holiday celebration. We INVITE YOU to kindly support our efforts by attending our event that is brought to you by Avanti Home Doctors, Inc., Winners Insurance & Financial Services, Bankers Life, InfoWeb USA and Atomy.