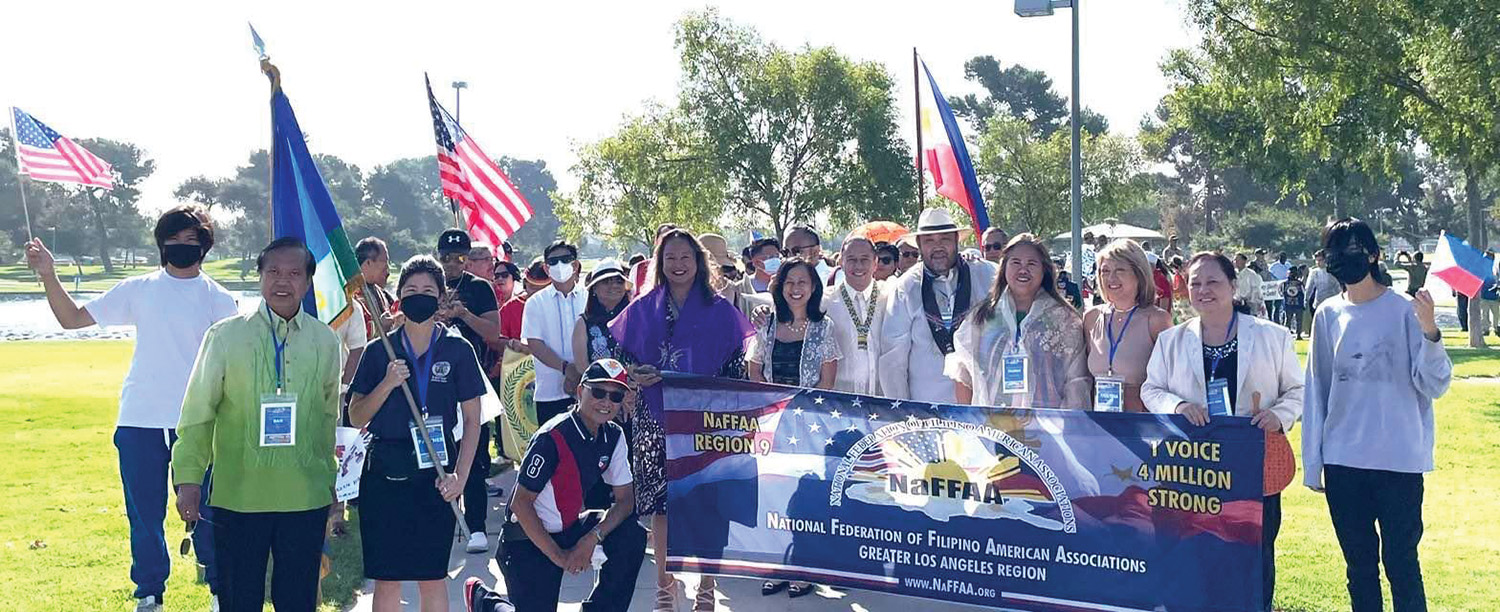 CERRITOS, Calif. — The Filipino American community of Southern California recently came together at the Don Knabe Community Regional Park for the Philippine-American Friendship Day hosted by the National Federation of Filipino American Associations (NaFFAA)-Greater Los Angeles.
This year's celebration theme, "Together We Rise. The Time Is Now," is a fitting tribute to the accomplishments of everyday Filipino Americans who have made California their home and who have realized their American Dream.
NaFFAA's core values are civic engagement, leadership development, economic empowerment as well as other national advocacies.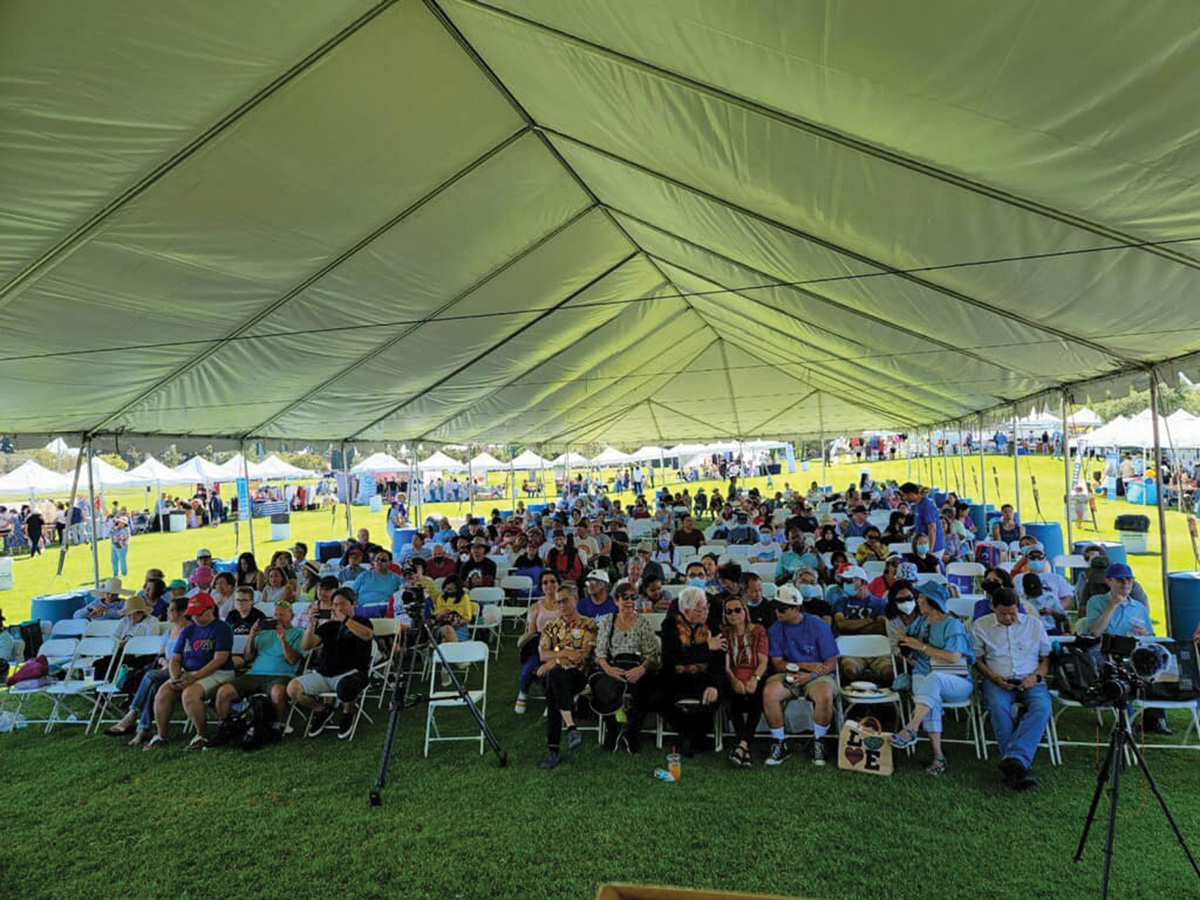 Los Angeles County alone has an estimated 500,000 Filipino Americans. Attendees came from as far as San Diego, Temecula and Palmdale, and nearby Orange County.
Entertainers with diverse specialties and genres wowed the crowd estimated at 3,000, which included vendors, customers, entertainers, members of non-profit organizations and fans. They descended on this city named Tree City USA, known for its well-planned landscape, an award-winning library and the Center for the Performing Arts Center, and for its rich ethnic diversity.
Musical, dance entertainment and cultural presentations had a wide range of coverage like pop, standard, patriotic, Broadway, Opera, ballads, R&B, rock, folk rock, disco, and danceable music from the 1980s to the 2020s. Cultural dances like Tinikling and Bulaklakin performed by Club Magkaisa of Cerritos High School brought nostalgia to the throng.
Early arrivals to provide security and parking assistance to VIPs and entertainers and parade goers were the Alpha Phi Omega Alumni Associations of APOGLA and APO South Bay who served as volunteers. They were the eyes and ears for suspicious characters who might disrupt the festive ambiance of this Los Angeles County's largest Philippine-American Friendship held in this gateway region.
The 65 booth vendors of businesses and non-profit organizations who had to set up their wares and parade goers were excited to participate around the refreshing lake with sparkling fountain and murmuring mini gorge.
Among the novelties that enlivened the huge crowd were the five mounted sheriffs courtesy of the County Advisory Council (CAC) and a flyover helicopter under the jurisdiction of LA Sheriff Alex Villanueva. And the surprise appearance of a dozen of Miss Philippines-USA beauty contestants.
The day's program was opened with the singing of the United States and Philippine national anthems by child prodigy Ardyanna, followed by the invocation of Pastor Ren Sabio of Temecula. This was immediately followed by welcome remarks of NaFFAA Board Chair and President Noel S.V. Omega and the symbolic banging of the gong three times by this author who also served as overall event chair.
City of Cerritos Mayor Chuong Vo formally welcomed the huge crowd, followed by two elected Cerritos Fil-Am Councilmembers, Lynda Johnson and Frank Aurelio Yokoyama. Thereafter, Mayor Vo presented NaFFAA organizers with a scroll of proclamation and commendation. The Vietnamese American mayor even bought a resplendent Barong Tagalog that fit him well.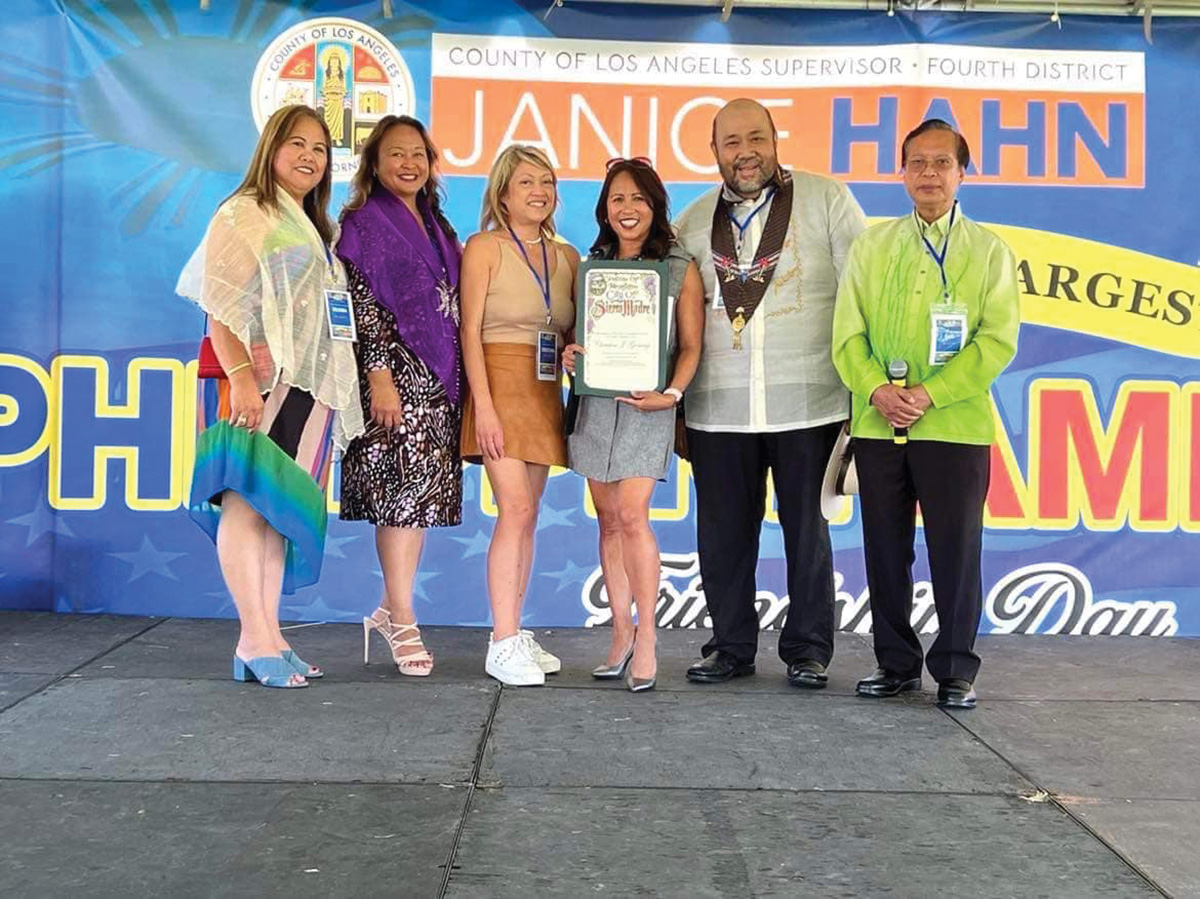 Among those elected Filipino American and mainstream officials who presented scrolls of proclamations and commendations and delivered inspiring messages include Artesia Mayor Melissa Ramoso, Lakewood Mayor Pro Tem Ariel Pe, Sierra Madre Councilmember Rachelle Arizmendi, former Carson Mayor and current Councilmember Jim Dear on behalf of Mayor Lula Davis-Holmes and County Supervisor Janice Hahn.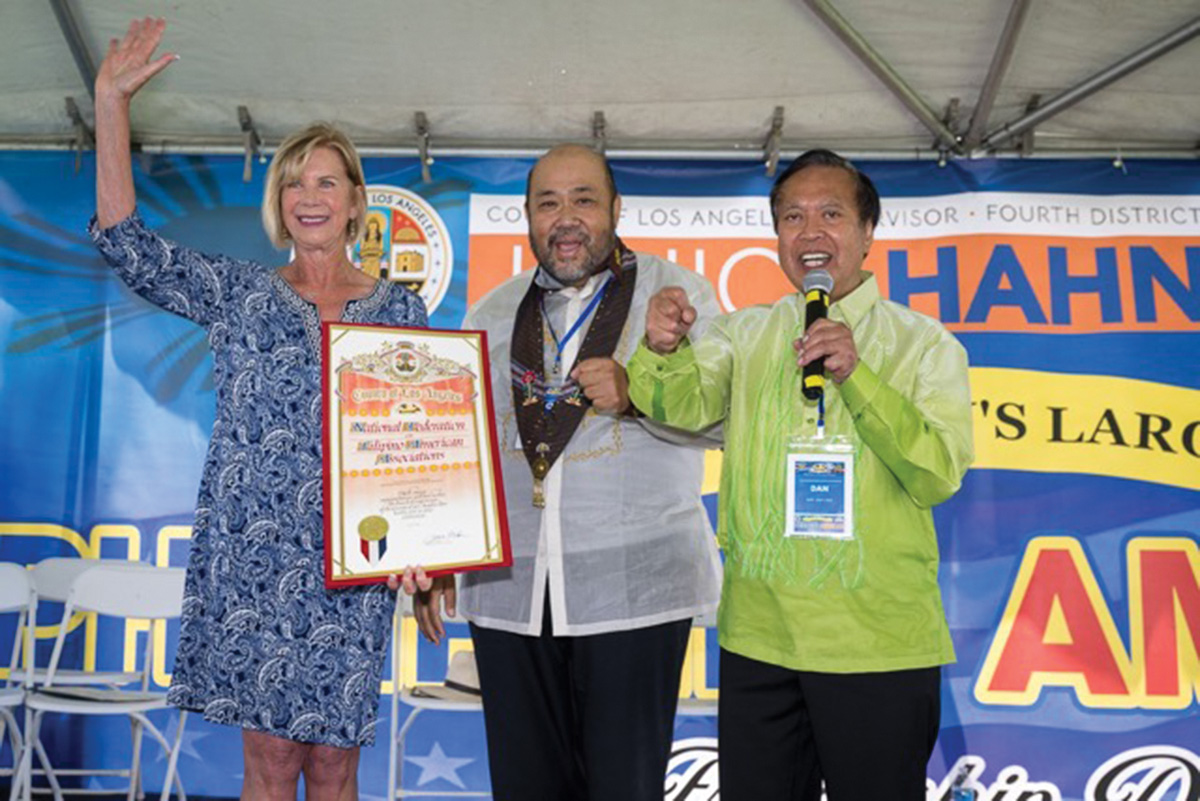 The keynote speech was delivered by 4th District LA County Supervisor Janice Hahn, the lead sponsor of this historic milestone. She exhorted the large audience from all walks of life to be on guard.
She recalled a hate incident wherein Fil-Am resident Cesar Echano was physically assaulted at the park without provocation and was told, "you do not belong here." As a result, she organized the "Stop The Asian Hate" rally in 2021.
She emphasized, "The Filipino American residents made our county and country stronger. And today with this friendship festival, we are celebrating you. It is appropriate that we hold this 'Friendship Day' here in this same park, where everyone is welcome, everyone can feel safe and everyone can take part in their community."
Inspiring and uplifting messages were also delivered by Philippine Deputy Consul General Ambrosio Bryan F. Enciso, LA County Sheriff Alex Villanueva, Jessica Caloza, the Deputy Chief of Staff to California Attorney General Rob Bonta, California Treasurer Fiona Ma, and Bellflower Councilmember Victor Sanchez, representing Mayor Pro Tem Sonny Santa Ines. He also handed a scroll.
U.S. Rep. Michelle Steel, who covers California's 48th congressional district, also showed up to say hello to her constituents.
As a side event, an economic summit and immigration and music workshops were conducted inside the gym.
Among the entertainers included: Zumba Dancers of courtesy of Nonie Belarmino, Dance Exhibition of the Iligan/Lanao Del Norte Group, the Filipino American Symphony Orchestra, Sara Mislang, Hollywood Dance Moms, Lyndon Apostol, Kangoo Dance Fitness, Emeben Baysic, Jay Auditor, Ancestral Dance Movement, Felson Palad, Synergy Rising Kids Stars, Ventriloquist Shane Seloria, Garth Garcia, Cerritos High School's Club Magkaisa Folk Dancers, Filipino Cultural School Rondalla Ensemble, TFC Hour featuring Kiana Valenciano and Robin Nievera. The finale was performed by Playback Jukebox led by Paco Arespacochaga, drummer of Filipino pop-rock band, Introvoys.
Philippine-American Friendship Day is an annual celebration on July 4 to mark the shared history between both nations after the Philippines gained its complete independence from the United States. (Contributed by Dan E. Nino)