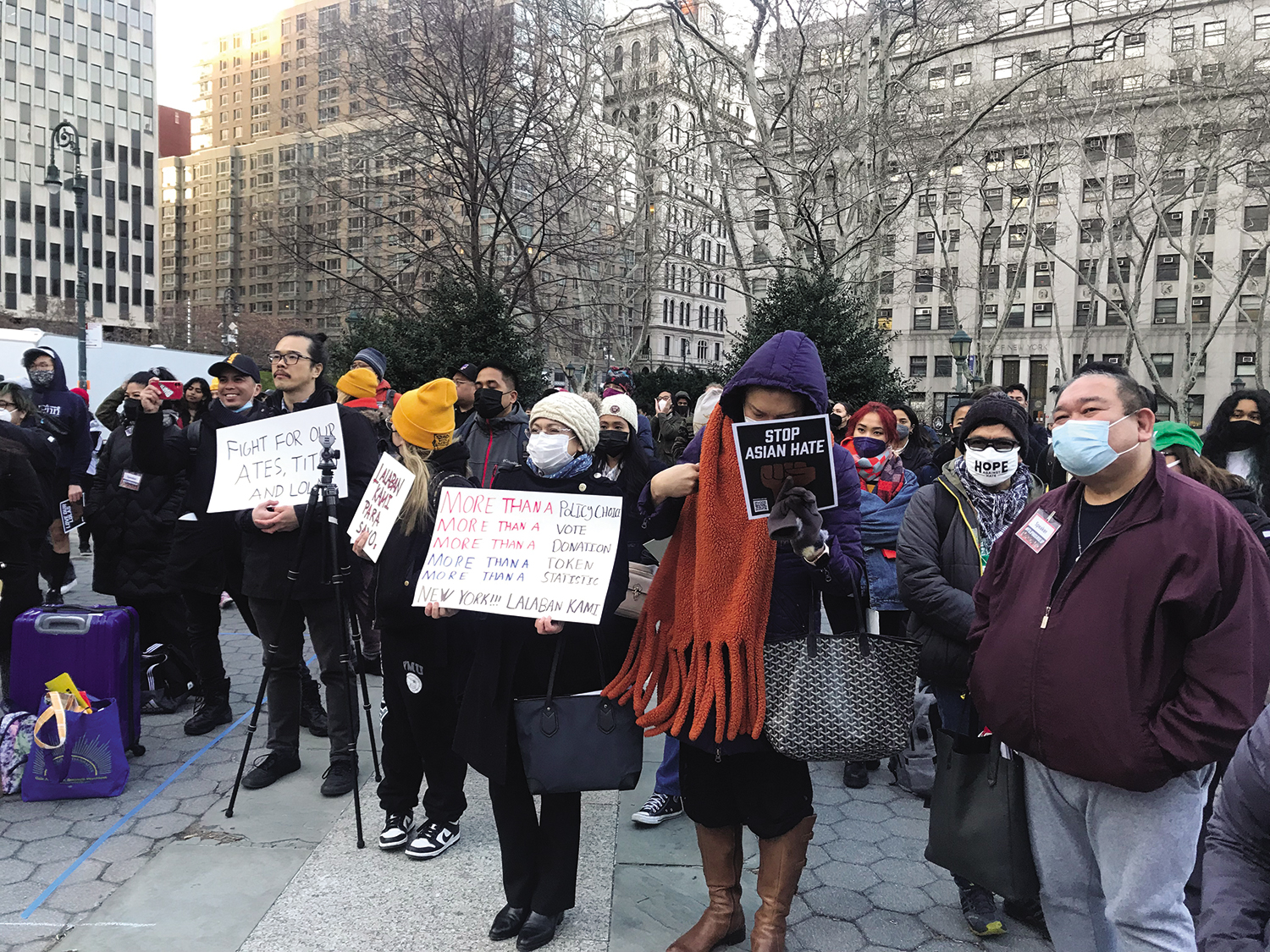 THE Filipino community of New York and its allies are up in arms against hate as numerous community members continue to be viciously attacked.
Different organizations and individuals gathered in a united front with one agenda, to keep the community safe.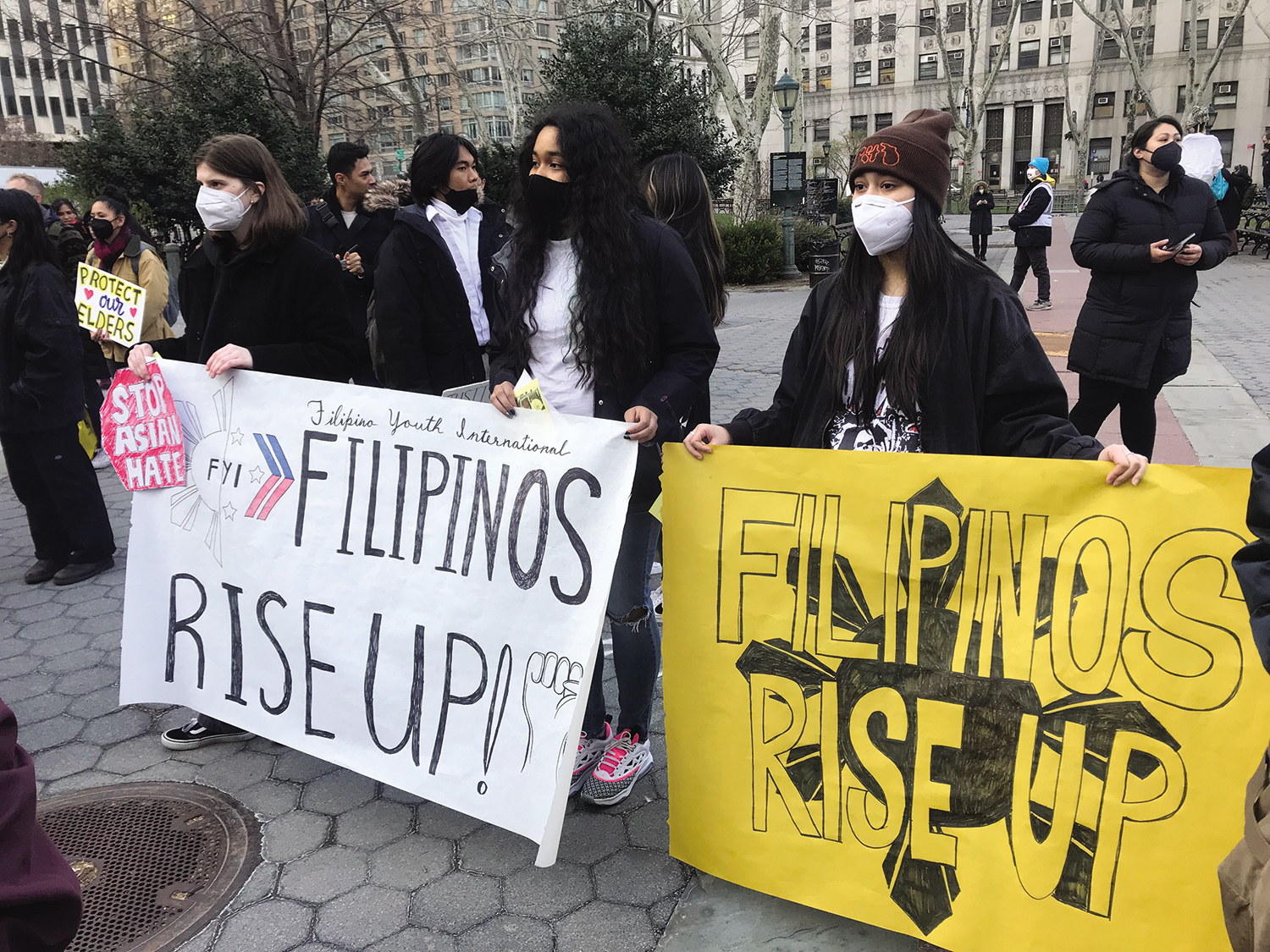 "This rally marks just the beginning of a united Filipino community," remarked Rachelle Ocampo, who hosted the program. "This is not the city that I imagined my family to live and work in. I am scared. We are all scared, angry, and honestly fed up with these unprovoked attacks on our community."
"We just all wanted to make sure we were doing something because last year, almost exactly one year ago, this happened to Vilma Kari and the fact that it's happening over and over again, it's time that we make sure that our voice is heard," added Deirdre Levy, one of the event organizers.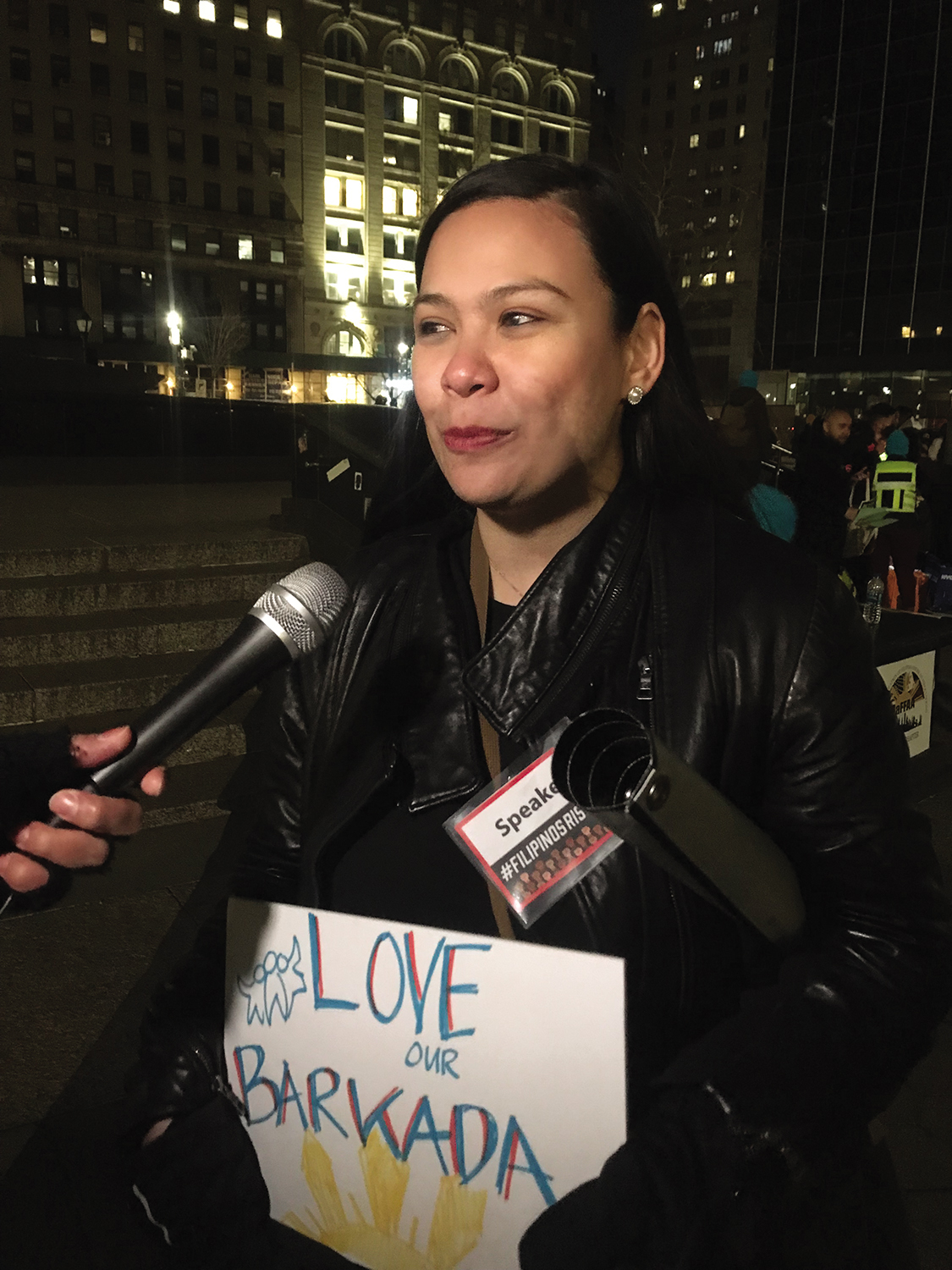 Levy, along with Fr. Julian Jagudilla, Ocampo, and Steven Raga were discussing the recent spate of attacks particularly the case of the 67-year-old elderly Filipina in Yonkers who was assaulted and struck more than 125 times as she was entering her apartment building in Westchester County.
In less than two weeks, they organized a network and decided to stage the rally in Foley Square. They worked with community organizations such as Damayan, the National Federation of Filipino American Associations, Little Manila in Queens, NAFCON, among others.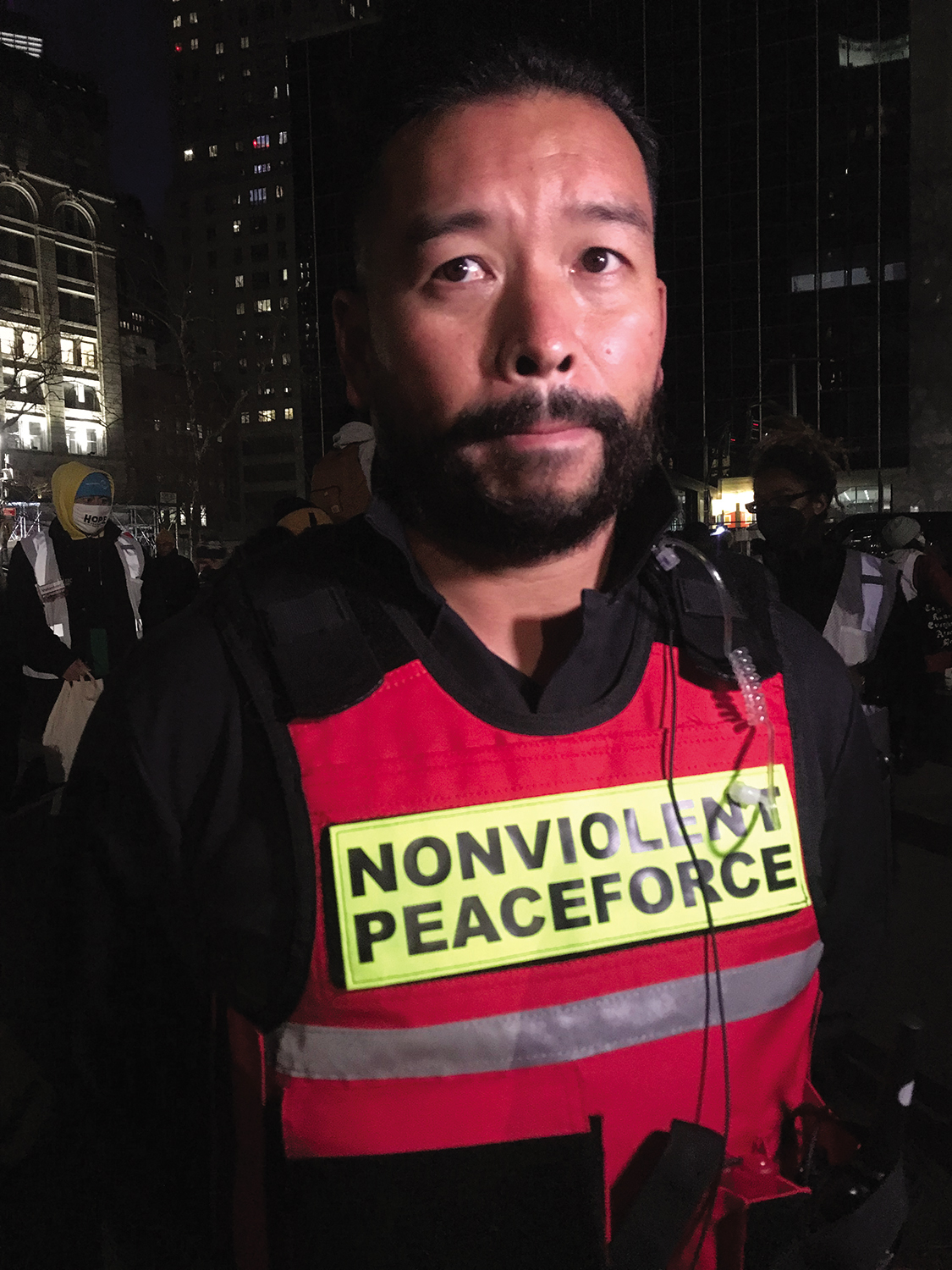 "I don't feel safe. This is the first time in my 16 years that I haven't felt safe in New York City," said Kalayaan Mendoza, who works with Nonviolent Peace Force. "I do this for a living, and this is what I do in my spare time and if I feel completely unsafe, I can't imagine what others, especially our elders are experiencing right now."
The last reported attacks before the rally were that of two Filipino men in unprovoked attacks that happened in broad daylight.
The first one is a 73-year-old man who was attacked on the corner of Eighth Avenue and 40th Street while he was on his way to church while the second one, a 53-year-old man was just buying his breakfast at the McDonald's on Seventh Avenue near 34th Street when he was assaulted from behind.
Like the Yonkers attack, everything was caught on CCTV cameras, and to catch the perpetrators, the police released the videos.
"It's infuriating. It also disgusts me to see the complacency in New Yorkers when that happens. New Yorkers, I know that we're not nice, but we are kind. And I think every New Yorker has it in them to be an upstander when violence happens," Mendoza added.
Noel Quintana was one of the high-profile cases of anti-Asian hate last year when he was attacked and slashed in the face while riding the subway. He has been active in sharing his story in rallies across the city.
He called on other victims of crimes in the city or anywhere in the US to speak out and complain.
"We want to hear your stories too. It is not your fault to be a victim of crime," Quintana said. "Be active in gatherings like this because there is force in number. For the elderly, have a whistle or pepper spray with you and if possible, always have somebody with you.
Fr. Julian Jagudilla started a Facebook page called Filipino American Network Against Asian Hate upon hearing about the Yonkers case.
He said some of the victims he has personally met do not want to divulge their names because they are afraid their relatives in the Philippines would find out or that they are undocumented and are worried about their immigration situation.
"Nakakagalit kasi kababayan natin inatake, for what? Random acts of violence? So what is the city's response? Our response is very concrete that we have to unite and speak as one community," he said.
Like Fr. Jagudilla, Jo-Ann Yoo is also asking for a concrete response from city officials. Yoo is the executive director of Asian American Federation, an organization that has been at the forefront of fighting against Asian hate which dramatically increased at the start of the pandemic in 2020.
"I want to know where is the help that our community needs? Where is it and when is it coming? Why haven't our elected leaders reached out to us to say, 'we know what is happening, we hear you, we see you because we watch those tapes too.' They need to show up for us because we can do this by ourselves," she said.
Yoo also mentioned the Yonkers case, saying that the Filipina attacked there who was seven years older than she could have been someone's sister or mother.
"Somebody told me 'Don't watch it' and it took me days to not watch it. I don't even know what to say and every political person is trying to use that to score political points, you can score points after you help us and you take care of us," Yoo said. "This is horrible. How many times do we have to come out here and demand recognition and visibility."
Rising Together
The greater Asian American community has rallied support for the Yonkers survivor with an official GoFundMe fundraising campaign that has raised almost $50,000 through more than 1,000 donations as of Wednesday, April 6.
The woman's name was withheld by the organizers of the fundraiser to protect her and her family's privacy. They posted a letter from the children of the woman who was assaulted in front of her own home.
"In this despicable, unprovoked attack, she suffered serious head trauma and internal injuries. She is currently stable and out of the hospital, but has extensive injuries that requires constant outpatient care," her family said. "It's a miracle that she'll be able to make a full recovery, but it will be a long journey and we don't know when she'll be able to go back to work."
"We want to protect our mother any way we can, so we ask to stay anonymous so that she can focus on her recovery without being bombarded by the media or having more fears for her safety," the family added. "We are grateful for the outpouring of love for our mom and any support you're willing to contribute to her medical bills, rehabilitation, and mental health services, and move to a new home."
"What we have here tonight is an outpouring of anger and heartbreak," said Lara Gregory, founder of Filipino Americans for Racial Action.
Gregory believes that the rally is an opportunity to reframe the "Filipino culture of hiya (shame) or not wanting to rock the boat" because it stops people from reporting the attacks to the proper authorities.
"We need to recalibrate that, a misplaced value of hiya is not what we need right now. We need to celebrate the strength to survive of these hate crime survivors," she said. "To the 67-year-old lady in Yonkers. I want you to know that we have the self-defense class because of you and your strength to survive."
Community leader Loida Nicolas Lewis described the spate of attacks as atrocious and alarming.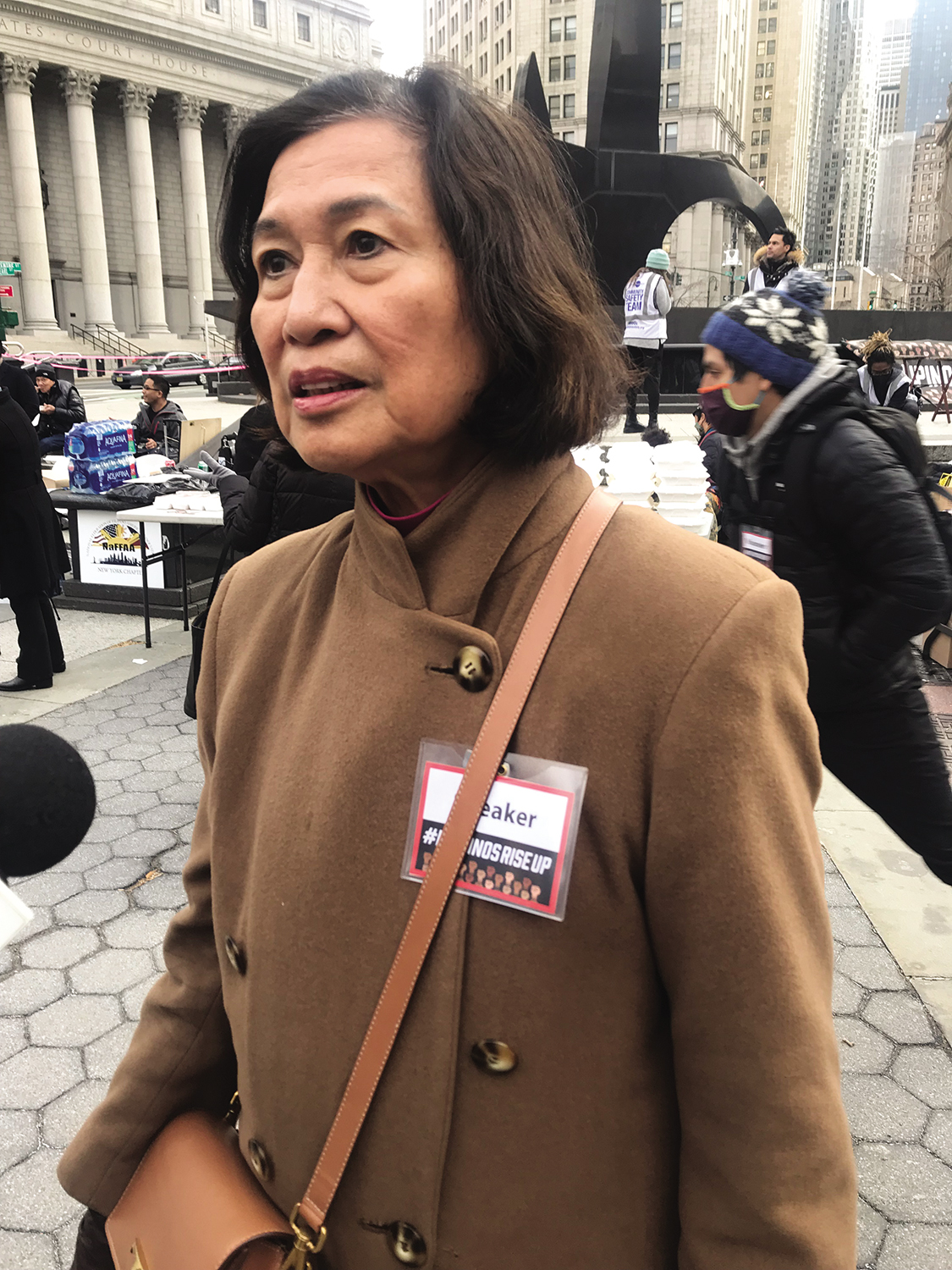 "We have to stand up and say 'Enough already. Tama na!' It's getting worse," Lewis said. "Those who are mentally ill or for whatever reason, are now giving their hatred towards us just because our eyes are different, we speak with an accent or even just the color of our skin."
Lewis, who is the first Filipina accepted to the New York State Bar in 1975, believes that the law about hate crimes has to be changed. The law says that unless the attacker says Asian slurs, it's just an assault.
She called on kababayans to stand up and protect themselves.
"We are getting a little bit braver," Lewis said, adding that the rally is a good start. "We have to stand up and get alarmed. Get some things to protect yourself and learn karate if necessary. Be careful because Asian hate is real." n