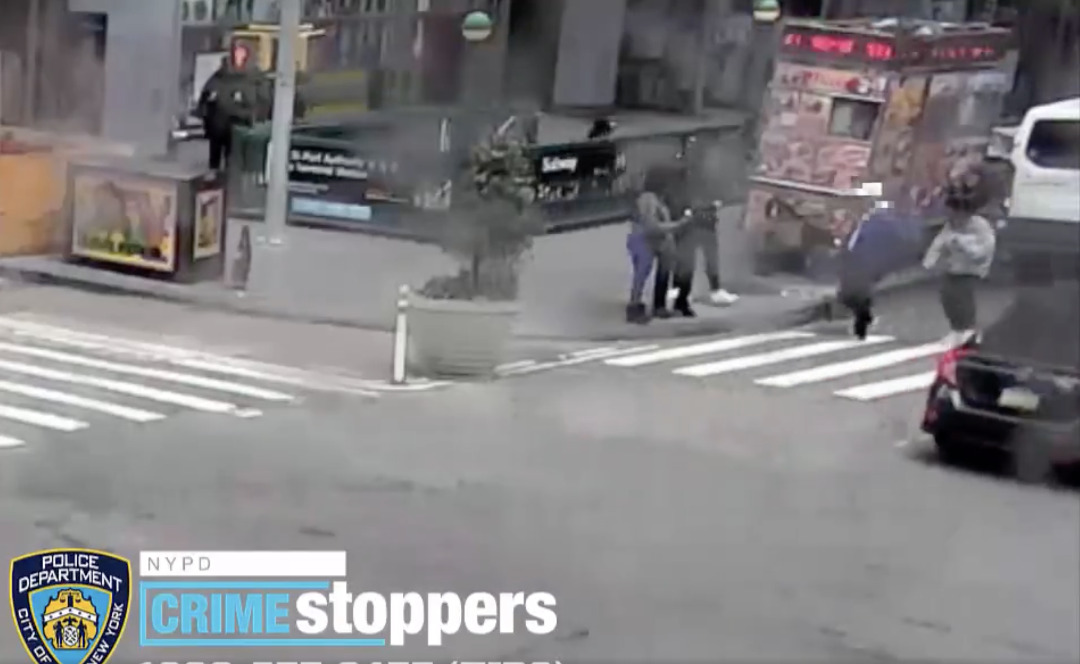 TWO Filipinos in New York City were added to the growing list of community members who have been victims of brutal, unprovoked attacks. Both incidents happened in midtown Manhattan a few blocks from each other.
On Sunday, March 27, a 73-year-old Filipino was reported to have been assaulted by a homeless individual while on his way to church between 8th Avenue and 40th Street in Manhattan.
73YO Filipino man on way to church when man tried to grab wallet, pushed him to ground Sun 8th Ave & 40th. Not being investigated as hate crime but victim thinks heard racial slur. Has black eye, swollen shut, bruises all over body. Cops arrested 44YO Dominick Staton (homeless). pic.twitter.com/GUJiQa9JfY

— CeFaan Kim (@CeFaanKim) March 29, 2022
The following morning, a 53-year-old Filipino was beaten unconscious and robbed by another homeless individual at a McDonald's store on 7th Avenue near 34th Street.
According to a Daily News report, the man assaulted inside McDonald's identified as Melvin Dizon pleaded for help from the staff and customers but no one came to help him.
"I said, 'Help, help, please call the cops,'" Dizon told the Daily News from his Bellevue Hospital bed on Tuesday. "I was hoping people were going to help me, but they didn't … they were just watching and they didn't get involved. I guess they're scared."
Based on a security video released by the NYPD, Dizon was making a purchase from a kiosk when his attacker came up from behind and pummeled him to the ground before stealing his phone and cash.
An ABC7 news report on Wednesday, March 30, said that police have arrested the man who assaulted Dizon.
He was identified as Rasheed Osundairo, 30, and was arrested after he was recognized by an off-duty police officer while on the subway. He was additionally charged with an assault on the subway on March 23 and for criminal possession of stolen property said to be found in his possession at the time of his arrest.
The Philippine Consulate General in New York has issued a statement condemning the latest attacks against members of the Filipino Community and the senseless violence that has left many Filipinos in fear.
"The Philippine Consulate General in New York condemns in the strongest terms the latest attacks against members of the Filipino Community," Consul General Elmer Cato said in a statement.
"The Philippine Consulate General in New York reminds kababayan to be vigilant at all times and to take the necessary precautions, especially when in public," the statement added. "The Consulate again calls on authorities to do more to make sure that the streets of New York City are safe again for everyone."
The assaults, which follow the brutal attack against a 67-year-old Filipino woman in Yonkers, New York, two weeks ago, bring to 34 the number of anti-Asian hate incidents and criminal violence involving Filipinos since last year.
Community leaders led by the National Federation of Filipino American Associations – NY State Chapter and the newly-formed Filipino American Network Against Asian Hate (FANAAH) organized the #FilipinoRiseUp campaign as a response to the attack on the 67-year-old woman in Yonkers. They worked with a number of Filipino American organizations and coalitions to show a united front as a community.
"We demand action and funding from our elected officials to address these attacks and let New Yorkers know we belong here," the group said in a statement.
According to Consul General Cato, the incidents in Manhattan bring to seven the number of cases involving members the Filipino Community reported to or monitored by the Philippine Consulate General in New York this year.
The Consulate issued a call for authorities to "do more to make sure that New York City is safe again for everyone by removing dangerous individuals, especially those with criminal records, from the streets and addressing concerns related to homelessness and mental health". n