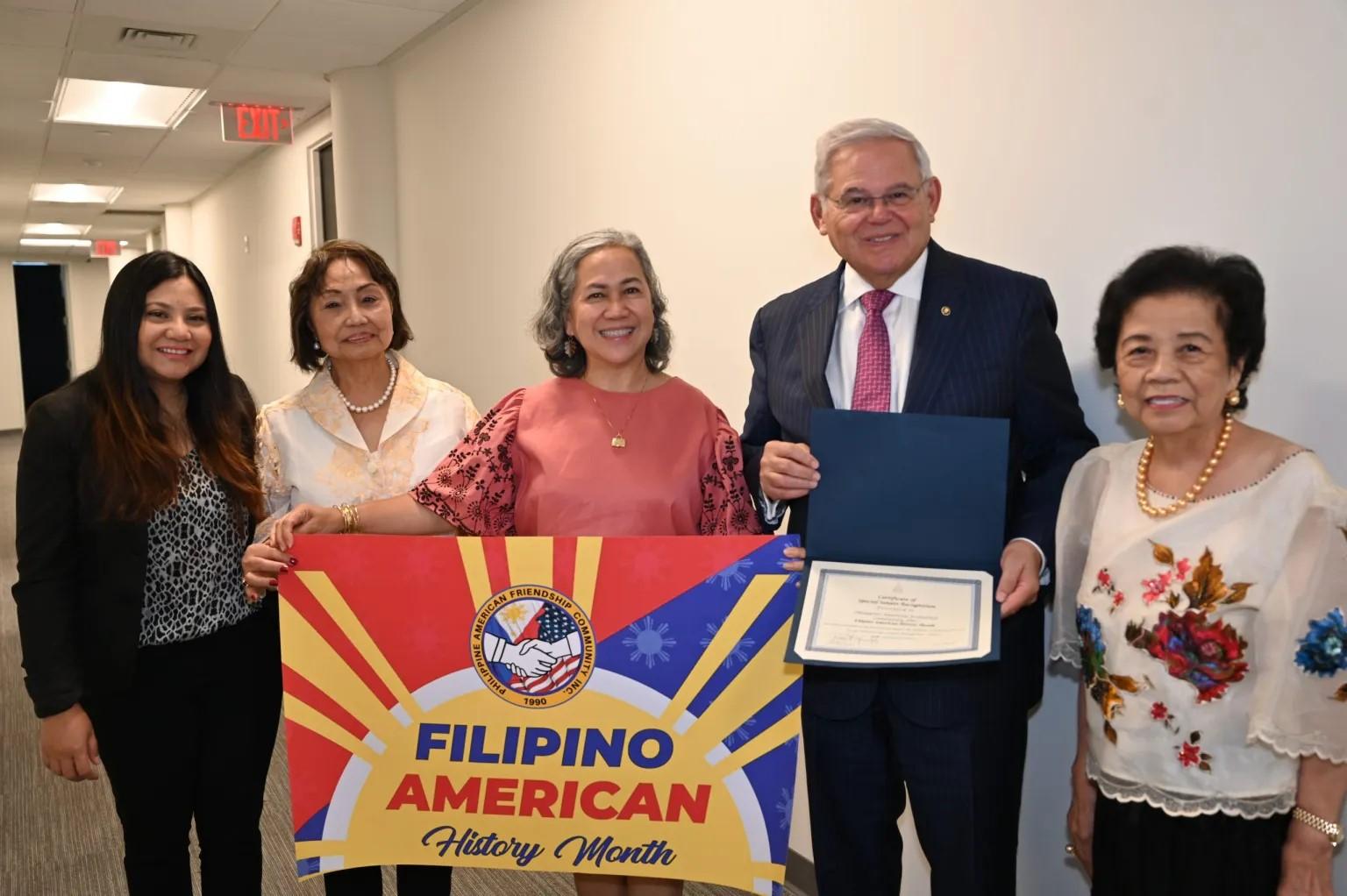 U.S. Senator Bob Menendez (D-N.J.) met with members of the Philippine American Friendship Community (PAFCOM) recently to celebrate Filipino American History Month and recognize the significant contributions of Filipino Americans to our nation. During the meeting, they talked about concerns facing the Filipino community today, including hate crimes against Asian-Americans and Pacific Islanders, housing, economic, and healthcare issues.
"It was wonderful to hear directly from Filipino community representatives as we celebrate the rich history and remarkable contributions of Filipino Americans in the United States," said Sen. Menendez. "I am committed to supporting the needs of the over 140,000 Filipinos living in New Jersey and working to ensure a better quality of life and greater safety."
In 2009, Sen. Menendez proudly supported a resolution marking October as Filipino American History Month. This month celebrates the arrival of the first Filipinos in the continental United States. Census data from 2018 showed that New Jersey is home to 143,000 Filipinos, with the largest Filipino-American population found in Jersey City, Bergenfield, Piscataway, Union, Edison, Hackensack, Dumont, and Bayonne.
In recent years, the AAPI community has faced increased racism, xenophobia, and discrimination in the United States. Sen. Menendez joined his Senate colleagues in passing the COVID-19 Hate Crimes Act into law, providing the federal government with the tools to combat race-based violence. He remains committed to fighting hatred and bigotry, as demonstrated by his work on New Jersey's landmark Bias Crime Law, one of the first laws in the nation to classify crimes based on race, religion, ethnicity, or sexual orientation as aggravated offenses with stricter penalties. This law served as a model for anti-hate legislation nationwide.
The Philippine American Friendship Community is dedicated to celebrating the contributions of Filipino Americans in mainstream America, alongside other ethnic communities. The organization's mission is to foster stronger relationships among Filipino Americans, other American communities, and multi-ethnic groups to create a more close-knit community. They aim to develop focused socio-economic and educational programs that benefit the elderly, individuals with disabilities, youth, and families in need, ultimately improving their quality of life. n