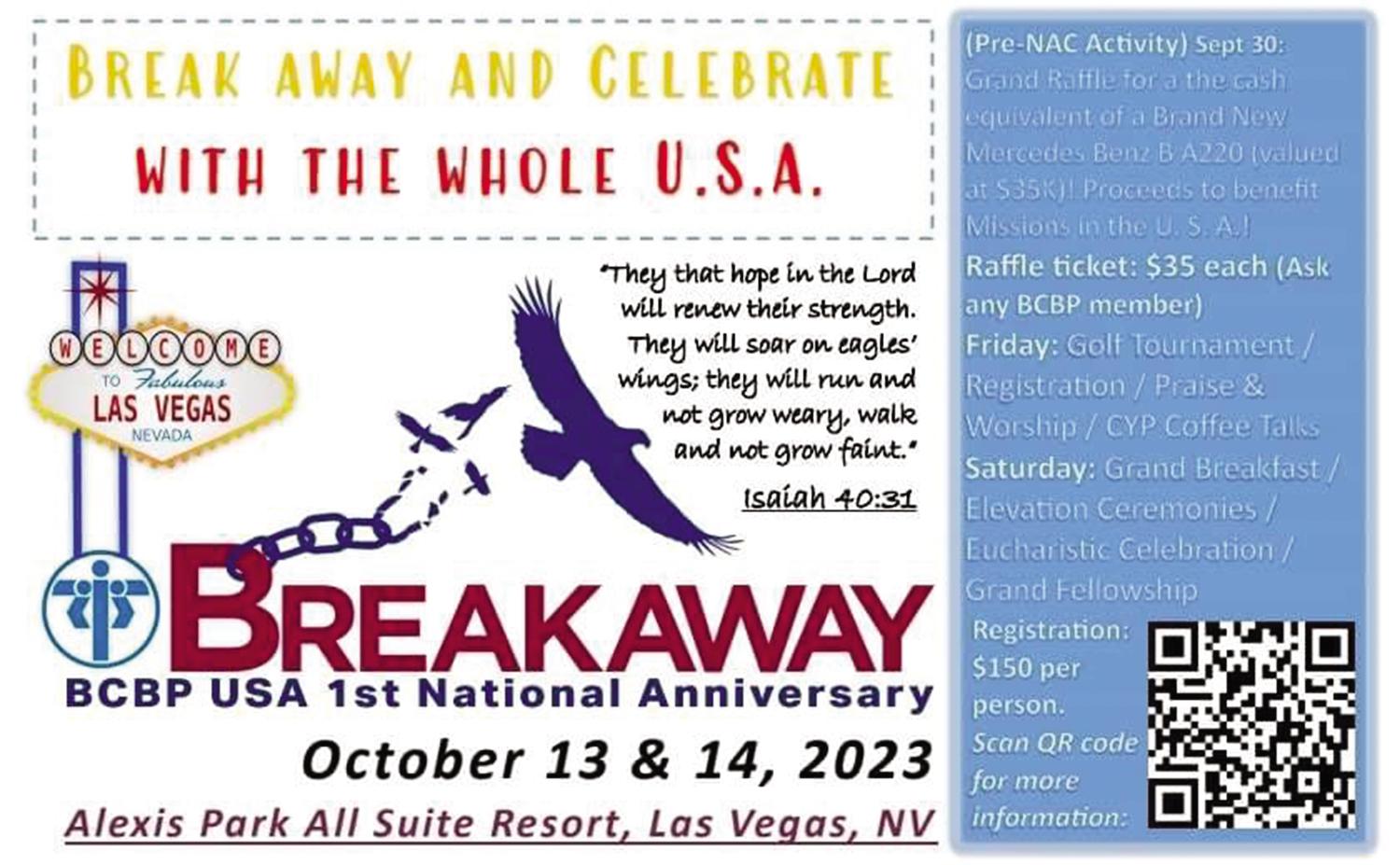 Members of the Brotherhood of Christian Businessmen and Professionals (BCBP) from New York, Chicago, San Francisco, Los Angeles, North American cities and the Asia-Pacific Region will converge in Las Vegas, Nevada on October 13-14, 2023  to celebrate another barrier-breaking accomplishment in the history of BCBP USA: the National Anniversary Celebration or NAC 1 USA at the Alexis Park All Suite Resort. The event kicks off with a golf tournament and Praise and Worship session on October 13, 2023 and will culminate with a Grand Breakfast, chapter and outreach elevation rites followed by a Eucharistic Celebration and a Gala fellowship night on October 14, 2023.
For those who are unfamiliar with BCBP, it's a spiritual community spearheaded in 1980 by Fr. Herb Schneider with a vision to evangelize the business sector of the Philippines for Christ.  And before long, BCBP grew by leaps and bounds all over the country. But what about in America, the home of the brave and land of the free to follow one's religion and political persuasion?
Well, it began with an against-all-odds attitude.
Even before the year 2003, when the first reconnection among BCBP members who migrated to the USA happened for the first time in Long Beach, Los Angeles, the late bro. Louie Morales was already planting the seed for BCBP to break ground as a community in different states of America. After fizzled attempts were made in previous years, Louie kept on beating the drum. A BCBP Alabang member who was migrating to the States in 2000 thought that the idea of "starting BCBP in the U.S.A." was way too ambitious a task in a multi-racial, multi-denominational American environment. Gradually however, it began to catch fire among BCBP migrants in Los Angeles County.
Looking back, Bro. Louie just rode roughshod over any doubts that it would happen. "BCBP in America" was like a battle cry he kept brandishing around as he touched base with other Filipino BCBP migrants from Los Angeles, San Francisco, New York and Chicago who in turn laid the groundwork for BCBP to germinate little by little.
In 2009, BCBP Southern California became the first-ever overseas chapter and the first BCBP chapter in the U.S.  Even as establishing a whole new life in America was like a high mountain to climb, BCBP members found themselves strengthened by the BCBP way of life in Christ as more missions were planted, which turned to outreaches, which grew into chapters in several areas in Los Angeles, San Francisco, Chicago and New York. Long story short, BCBP started breaking barriers in the USA.
Then came the pandemic of 2020.  A momentum-breaker for all of us. Families and communities were locked down and separated from each other. Locked down in shackles is probably the most vivid description of one who is experiencing a severe case of COVID-19 infection during its first wave in the early 2020. But in a way, it describes almost everybody in fear of getting infected. It also describes an organized community such as the BCBP whose people-gathering activity was shut down. Almost every outdoor activity was on hold. It's a forgettable nightmare with over 3 million lives lost globally according to the latest WHO report. It was a dark, global episode which we want to shut it down in our memory bin even after it was officially lifted this year of 2023.
Looking back however, we remember how undeterred and unyielding the BCBP community's response was as it unlocked its spirit of perseverance through Zoom technology among its members who marched on utilizing on-line Holy Mass, Action Group Meetings, Worship Assembly and Special Events and celebrations. Another pandemic upside is the formation of BCBP USA Area Governance team under the headship of Bro Jun Obra which unified and consolidated efforts of leaders from New York, Chicago, San Francisco, Las Vegas and Los Angeles County through regular online meetings to establish long-distance relationship with each other over and above meeting goals and objectives.
Three years after, BCBP chapters and outreaches found with God's help, the Courage to Change in the changing world. With a renewed momentum to work and relate to each other, not as separate entities, but as ONE community, ONE body in Christ. No longer locked down and held back by anxieties and uncertainties into the future, BCBP USA converted its external and internal challenges into spiritual wins, ready to go all in and all out for Christ in a BREAKAWAY mode. Breakaway from near-sighted visions and outmoded models of operations. Breakaway from the shackles of spiritual timidity and locked-down mentality.
For God's greater glory, we are poised to spread our wings and take BCBP USA off to a whole new level.
Please follow the link below for advanced hotel booking for the BCBP USA NAC1 ALEXIS PARK RESORT HOTEL – LAS VEGAS BCBP USA NAC1 HOTEL BOOKING LINK https://reservations.travelclick.com/85179?groupID=3876555