LA County to allow certain activities, outdoor dining again 
CALIFORNIA lifted the regional stay-at-home order across the state amid "positive signs" of a slower spread of COVID-19, officials announced this week, paving the way for activities like outdoor dining and personal care services to reopen once again with modifications.
On Monday, January 25, all counties returned to the color-coded tiers that indicate which activities and businesses are open based on local case rates and test positivity.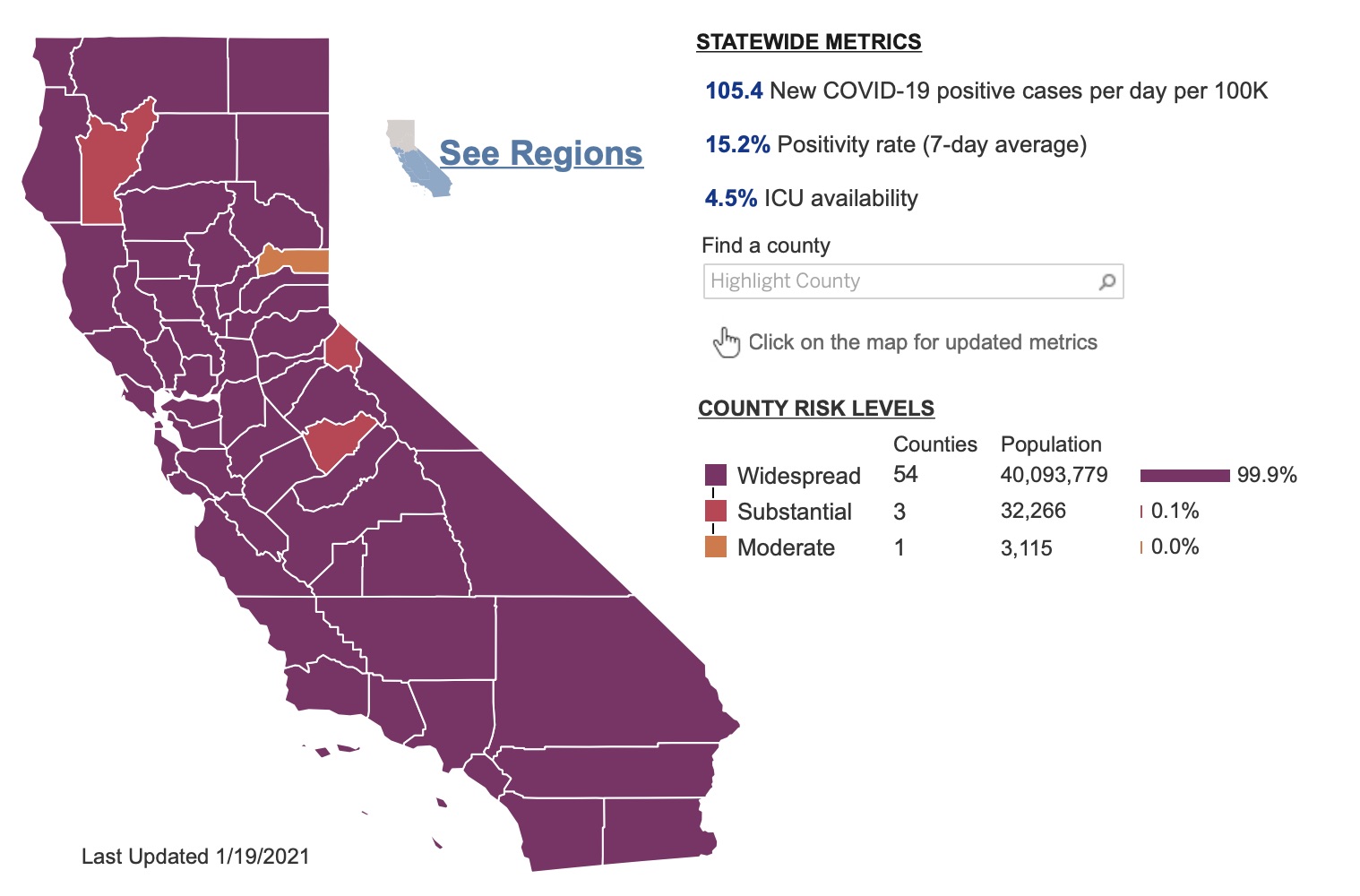 Prior to the announcement, San Joaquin Valley (1.3% ICU capacity), Bay Area and Southern California (0% ICU capacity) were still under the regional stay-at-home order, but four-week ICU capacity projections for those areas are reportedly above 15%.
"We are in a position, projecting four weeks forward, with a significant decline in the case rates, positivity rates, we are anticipating decline still more decline in hospitalizations and more declines in ICUs and that's why we are lifting that stay-at-home order effective immediately today," Governor Gavin Newsom said during his daily briefing on Monday.
By Feb. 21, the projected capacity will be 22.3% in San Joaquin Valley, 33.3% in Southern California, and 25% in the Bay Area, according to numbers provided by the governor.
The projected capacity depends on current estimated ICU capacity available, current community transmission, current regional case rates and the proportion of cases admitted to the ICU.
Newsom introduced the regional order in December and extended it into the new year. The Sacramento region exited the order on January 12 and the Northern California region never entered the order.
Purple tier rules
Currently, the majority of the counties are in the strictest, or the purple tier. Under the tier, retail can continue to operate with 25% maximum capacity, restaurants and wineries can reopen outdoor dining, gyms and fitness centers can hold outdoor classes, personal care services like hair and nail salons can open indoors with modifications, and family entertainment centers, cardrooms and movie theaters stay outdoors. Bars, where no food is provided; live audience sports; and amusement parks remain closed.
Meanwhile, the counties of Trinity, Alpine, and Mariposa are in the red (substantial) and Sierra County is the only one in the orange tier (moderate).
Tier updates are provided weekly on Tuesdays. Individual counties could choose to impose stricter rules, officials said.
"California is slowly starting to emerge from the most dangerous surge of this pandemic yet, which is the light at the end of the tunnel we've been hoping for," said California Health and Human Services Secretary Dr. Mark Ghaly. "Seven weeks ago, our hospitals and front-line medical workers were stretched to their limits, but Californians heard the urgent message to stay home when possible and our surge after the December holidays did not overwhelm the health care system to the degree we had feared."
With the end of the regional restrictions, the statewide limited stay-at-home order, which limits non-essential activities between the hours of 10 p.m. and 5 a.m., also expired.
Officials remind the public to continue to help slow the spread by wearing masks when outside, maintaining physical distancing, and avoiding large gatherings and mixing with other households.
As of this writing, California has reported 3,153,186 cases and 37,527 deaths since the start of the pandemic.
LA County
In Los Angeles County, which is considered the epicenter of the virus, officials announced that the county will align with the state health order.
Activities like personal care services were allowed to reopen by Tuesday, but the county said the following restrictions remain in effect until Friday, January 29: restaurants, wineries and breweries remain open for pick-up, delivery, and take-out only; and non-essential businesses must be closed from 10:00 p.m. to 5:00 a.m.
The county Department of Public Health confirmed 291 new deaths and 5,927 new cases of COVID-19 on Tuesday, the one year anniversary of the first reported virus case in the county. To date, Public Health identified 1,075,044 positive cases of COVID-19 across all areas of LA County and a total of 15,592 deaths.
Los Angeles County's COVID-19 Vaccine website, VaccinateLACounty.com has incorporated the State's new appointment registration platform, MyTurn. The registration system features a streamlined process for residents eligible to receive the vaccine and will inform them when they can book an appointment.
The site also alerts people who registered to when appointments open up, or when vaccinations are opening up to additional priority groups.  Currently, MyTurn will make appointments for the county's five large capacity sites as well as two other county-operated vaccination sites.  Appointments for all other locations, such as pharmacies and clinics, are also available on the website. With limited vaccine supply, there are not enough appointments available to meet demand, officials cautioned.
"While our metrics are headed in the right direction, if we aren't careful this can all quickly change.  In order to prevent another increase in cases that leads us back to more restrictions, as sectors re-open, we strongly encourage everyone to follow the protocols that are in place and to keep doing what we know will help reduce transmissions — wear a face covering, maintain physical distance, avoid large gatherings and crowds.  If you are at high risk for serious disease from COVID-19, we strongly recommend you continue to stay home as much as possible," County Public Health Director Barbara Ferrer said.