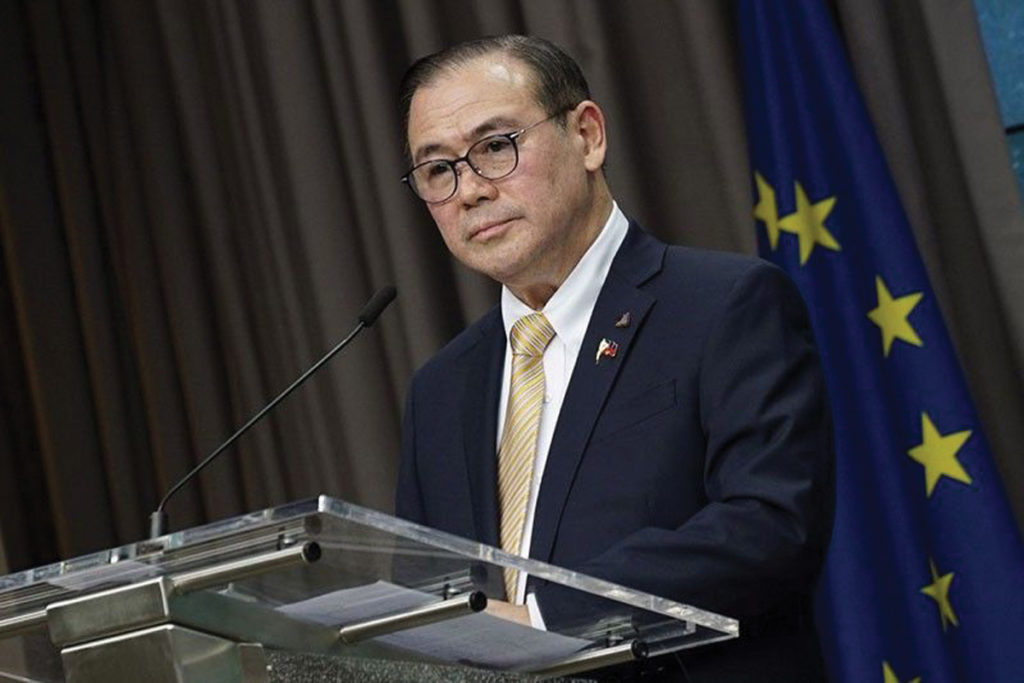 Philippine President Rodrigo Duterte on Thursday, April 4 demanded that China back off from Pag-asa Island in the South China Sea (West Philippine Sea), which has been swarmed by hundreds of Chinese ships this week.
The president told reporters that he would not let China "occupy" the island as it belongs to the Philippines.
"Pag-asa Island belongs to us. Hindi ako papayag kung pati 'yung Pag-asa i-occupy nila (I will not allow them to occupy Pag-asa Island). No, of course not," Duterte said.
He said that he would not "plead or beg," but warned the country to "to lay off Pag-asa because I have soldiers there."
He added that the Philippines would continue to reach a compromise versus going to war because "we would never win and I would suffer beyond imagination."
"I would just go there to send my soldiers and policemen to be slaughtered. I am not prepared to do that," the president said.
In response to the Chinese vessels, the Department of Foreign Affairs (DFA) said in a statement that the presence is "illegal" and a "clear violation" of Philippine sovereignty.
"Such actions are a clear violation of Philippine sovereignty, sovereign rights, and jurisdiction, as defined under international law including the 1982 United Nations Convention on the Law of the Sea (UNCLOS)," the DFA said in a statement.
According to Malacañang, the DFA is preparing to protest the massive presence of Chinese vessels around Pag-asa, which is part of Palawan.
"We call on concerned parties to desist from any action and activity that contravenes the ASEAN-China Declaration on the Conduct of Parties in the South China Sea (DOC), as these generate tension, mistrust and uncertainty, and threatens regional peace and stability," the DFA said.
It added that full and effective implementation of the DOC is currently being called for by the Philippines while negotiations for a Code of Conduct (COC) in the South China Sea are ongoing.
"We cannot emphasize enough the imperative to build and promote mutual trust and confidence, to exercise self-restraint in the conduct of activities; and to avoid actions that may further complicate the situation and undermine peace, security, and stability in the region," it said.
Supreme Court Senior Associate Justice Antonio Carpio said a diplomatic protest is the best approach to the situation to "preserve our sovereignty."
"Otherwise, the Philippines will be deemed to have acquiesced to China's claim that the waters around Pag-asa belong to China under its nine-dash line claim," he said in a statement.
He also pointed out that Chinese fishing vessels have no right to fish within the 12-nautical-mile territorial sea of the island.
"They can only exercise innocent passage in our territorial sea — meaning these vessels must transit in a straight, continuous and expeditious passage. These vessels cannot stop, loiter or even zigzag in our territorial sea," he said.
Additionally, Carpio urged for the filing of diplomatic protests over Beijing's seizure of Sandy Cay and two low-tide sandbars.
"Sandy Cay, a high-tide sandbar, and two nearby low-tide sandbars, are less than two nautical miles from Pag-asa. These sandbars emerged within our 12-nautical-mile territorial sea in Pag-asa. Anything that emerges within our territorial sea is also our territory. That is well-recognized under international law," he stressed.
Failure to file the protests "will be deemed to have acquiesced" to Beijing, the SC magistrate warned.
Presidential spokesman Salvador Panelo said a diplomatic protest is being readied after the military's confirmation of the Chinese vessels' presence near Pag-asa Island.
While Beijing's Ambassador Zhao Jianhua insisted those are merely fishing vessels, Panelo maintained they are militia boats.
Reaffirmed commitment
The fourth Bilateral Consultation Mechanism (BCM) on the South China Sea concluded on a good note in Manila despite the concerns over the large presence of Chinese vessels around Pag-asa island. The two countries reaffirmed their commitment to exercise self-restraint in their activities in the South China Sea so as to not threaten the peace and stability in the region.
Leading the Philippine delegation was Foreign Affairs Assistant Secretary Meynardo Montealegre of the Office of Asian and Pacific Affairs; meanwhile, Chinese vice foreign minister Kong Xuanyou led the Chinese representatives to the meeting.
"In a frank yet cordial and constructive manner, both sides raised specific issues and recent developments and actions in the South China Sea which have raised concerns to either side, and proposed ways to address them in a cooperative manner," the DFA said in a statement late Wednesday afternoon.
"Both sides reaffirmed their commitment to cooperate and to continue to find ways forward to strengthen mutual trust and confidence," it added.
Guerilla warfare
UP law professor and expert in maritime affairs Jay Batongbacal, however, believes China is basically launching guerrilla warfare at sea as the Department of National Defense (DND) and the Armed Forces of the Philippines (AFP) watch helplessly.
In an ANC interview on Thursday, he said: That is real dilemma now to the defense department and Armed Forces. They were not designed to confront this kind of tactics. It's basically like a guerrilla warfare at sea… and they are now confronted by this kind of possibilities."
He also pointed out that the AFP appeared to be no longer intimidated by the presence of Chinese militia ships.
"So I think they reached a certain point already with those tactics. So that is why we are now at a kind of stalemate but we are not reacting to them so we were able to continue on what we are doing in Pag-asa Island," Batongbacal said.