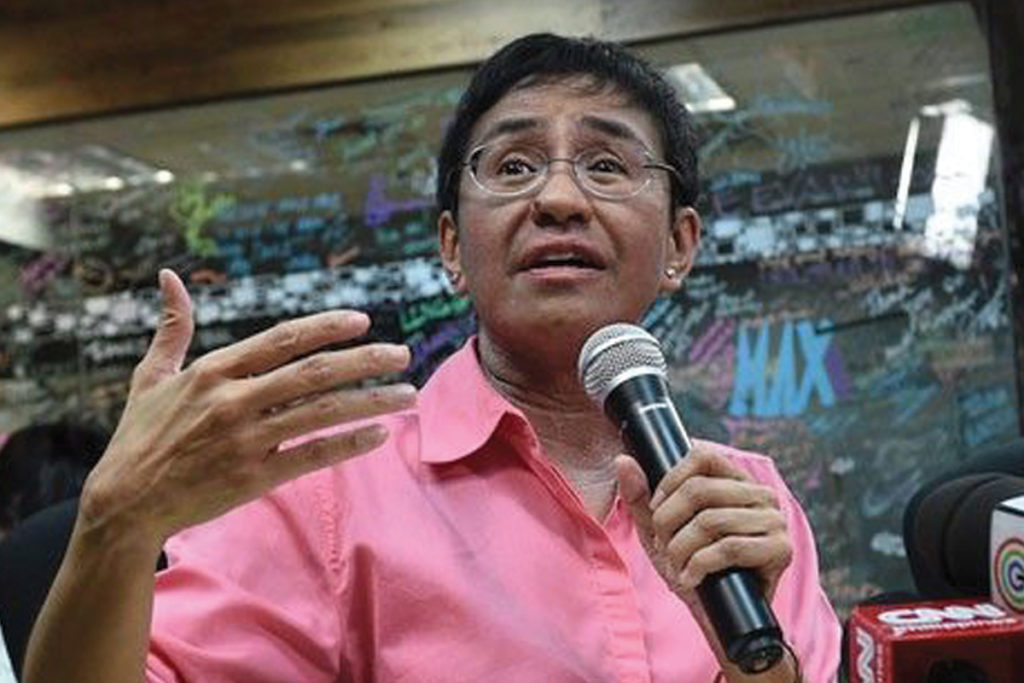 Malacañang on Tuesday, June 16, said Rappler executive editor and chief executive officer Maria Ressa, and writer Reynaldo Santos Jr. can apply for probation over their cyber libel conviction to avoid jail time.
"I caution Maria Ressa and Mr. Santos. Their penalty is subject to probation. Walang kulong 'yan (there's no prison time there). If they want, they can just apply for probation and they can be scot free," Presidential Spokesperson Harry Roque told CNN Philippines' "The Source."
"But when they appeal and they lose their appeal, then they have to serve time because that is what happened to Alex Adonis," he added, referring to Davao-based broadcaster Alexander Adonis who was imprisoned in 2007 after being convicted of libel for reading on air a tabloid article about then-House Speaker Prospero Nograles' alleged extramarital encounter.
Ressa and Santos were found guilty of violating Section 4(c)(4) of the Cybercrime Prevention Act of 2012, or cyber libel, sentencing them to the indeterminate penalty of imprisonment ranging from six months and one day as a minimum to up to six years, according to the sentence handed down by Manila Regional Trial Court Branch 46 Judge Rainelda Estacio-Montesa.
According to Rappler, the court allowed bail under the same bond. It also ordered Ressa and Santos to pay complainant Wilfredo Keng P200,000 in moral damages and another P200,000 (a total of $7,900) in exemplary damages.
Keng in 2017 filed cyber libel charges against the two for naming him in an article as the owner of a sports utility vehicle (SUV) used by the late Chief Justice Renato Corona, who was then facing impeachment in 2012.
Meanwhile, the court found Rappler Inc. to have no corporate liability in the case.
"A news organization who claims to adhere to accuracy, fairness and balance in terms of reporting, would have retracted, or at the very least issued a clarificatory article if there have been some indications of falsity to its previous article… This clearly shows actual malice," the court's decision read.
"[T]he court is mandated to decide solely on the basis of the evidence presented by the parties and to apply the law. No more, no less," it added. "The Courts are tasked to strike a balance between the enforcement of one's right to speak his mind and the protection of another's right against defamation of his honor and reputation without regard to the stature of the personalities involved."
Roque noted that Theodore Te, the legal counsel of Ressa and Santos, failed to present any evidence to disprove malice.
"I read the decision and I was surprised there was no defense evidence offered to prove the absence of malice," he said.
According to him, the complainant does not have to prove there was actual malice as the law presumes that there was, and it is the burden of the defense to overcome this presumption.
"They only presented two witnesses and there was really no witness who took the stand to say that they went out of their way to verify their facts. They accused a private individual of being a criminal. They should have at least gotten public records to indicate that he was in fact a criminal," Roque pointed out.
Ressa to continue fighting
Ressa, considered a vocal critic of the Duterte administration, said the verdict was as she expected.
"It is a blow to us. But it is also not unexpected," she said in a press conference following the verdict.
"I appeal to you, the journalists in this room, the Filipinos who are listening, to protect your rights. We are meant to be a cautionary tale. We are meant to make you afraid. But don't be afraid. Because if you don't use your rights, you will lose them," she added.
Ressa, who was among four journalists named Time magazine Person of the Year in 2018, also vowed to continue fighting.
"Freedom of the press is the foundation of every single right you have as a Filipino citizen. If we can't hold power to account, we can't do anything," she said.
"Are we going to lose freedom of the press? Will it be death by a thousand cuts, or are we going to hold the line so that we protect the rights that are enshrined in our constitution?" she added. "We're at the precipice. If we fall over we're no longer a democracy."
Meanwhile, Amal Clooney, her lawyer, said the verdict was "an affront to the rule of law, a stark warning to the press, and a blow to democracy in the Philippines,"
The Committee to Protect Journalists (CPJ) called on Philippine authorities to not contest Ressa and Santos' appeals and recommended that the cyber libel law be reformed "to ensure that members of the press do not face jail time for their work," the organization said in a statement.
"We call on the Philippine authorities not to contest Maria Ressa and Reynaldo Santos' appeals and to stop their campaign of legal harassment against Rappler and other independent media outlets," said Shawn Crispin, CPJ's senior Southeast Asia representative. "The criminal prosecution of journalists for their work has no place in a country that purports to be a democracy."
Malacañang, in response, dismissed Ressa's claims as "without basis."
"Wala pong basehan iyan (That has no basis), she is barking at the wrong tree. Sinuportahan po ni presidente si Alexander Adonis noong siya ay nagpunta sa UN Human Rights Committee. Ano pa po ang kinakailangang ebidensiya na isa sa pinakamalakas na supporter ng freedom of expression at freedom of the press ay ang presidente (The president supported Alexander Adonis when he went to the UNCHR. What other evidence do you need to prove that the president is the biggest supporter of freedom of expression and freedom of the press)?" Roque said.
"Hindi po Presidente ang nasa likod sa panunupil diumano ng kalayaan nang malayang pananalita at pamamahayag. Iyan po ay desisyon ng ating Korte Suprema sa panahon pa ni Presidente Noynoy Aquino (The president is not behind efforts to curtail free speech and free press. That is the decision of the Supreme Court during the term of President Noynoy Aquino)," Roque added.