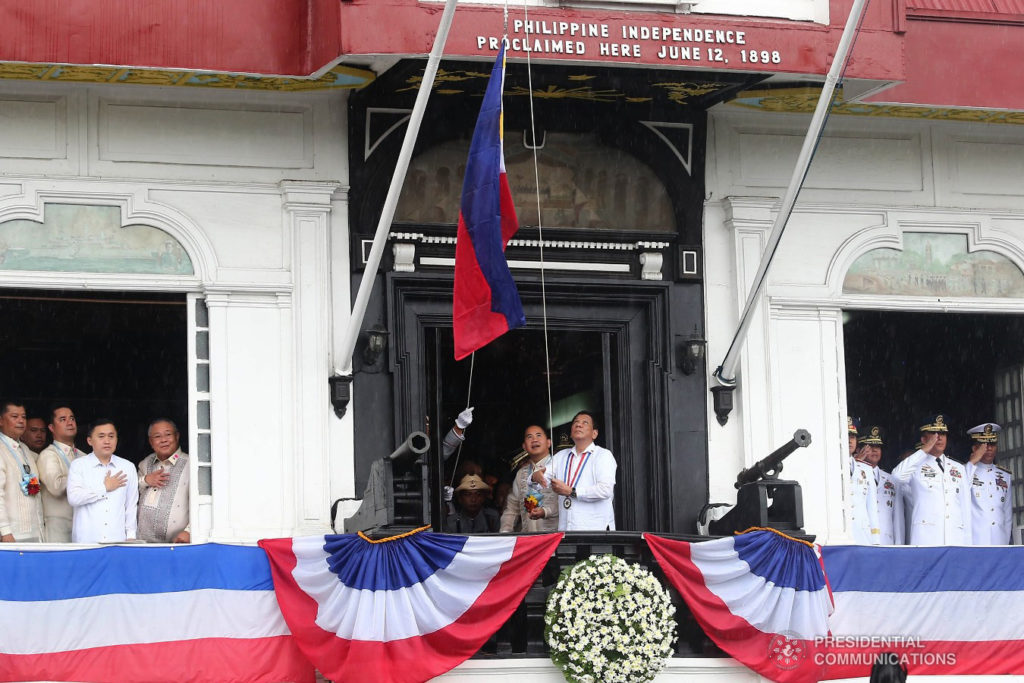 Kawit — President Rodrigo Roa Duterte on Tuesday, June 12, joined his countrymen in honoring the patriots who have given their lives for the Philippines' liberty, urging Filipinos to be worthy of the "great sacrifice."
President Duterte led the flag raising ceremony at the Museo ni Emilio Aguinaldo as he graced the celebration of the 120th anniversary of the proclamation of Philippine independence.
On June 12, 1898, the Philippine flag was waved by, as the Marcha Nacional Filipina played, at former President Emilio Aguinaldo's residence here, following the proclamation of independence from Spain.
In his speech, the Chief Executive said "our generation, and those who will come after us, will never be able to pay in full the debt that we owe to the heroes that founded this nation."
"The least that we can do is to see to it that the sacrifices they made, so that we may enjoy these freedoms, were indeed worth it," he said.
"Today, we honor and remember the patriots who have given their lives in the name of liberty and freedom. As heirs of this great sacrifice, let us all be worthy of their legacy," the President further said.
The President stated that Filipinos remember today the past filled with optimism for a future that can be proudly bequeathed to the next generations of Filipinos.
"Indeed, the story of how our forebears fought for our sovereignty and established a Filipino nation shall forever inspire us to cherish the freedoms that we enjoy all of us today," he said.
President Duterte however noted that the nation still has to face enemies "that attack from within."
"Sadly, more than a century since our heroes liberated us from foreign subjugation, our nation still has to face enemies that attack from within," he said.
The President cited the modern challenges being faced by Filipinos, such as poverty, corruption, environmental degradation, terrorism, criminality and illegal drugs.
"I have made it my personal mission to rid our nation of these ills, but I cannot do it alone. At this crucial juncture in our history, we need to draw strength from the lessons of our past to ensure that these ills do not cause any more damage to our future," he said.
At the same time, the Chief Executive reiterated his campaign promise to stop graft and corruption.
"Pero ako, sabi ko, I have a few more years. And I will do my best especially in the matter of graft and corruption," he said.
"I said I will stop graft and corruption and I'm doing it. Talagang ginagawa ko. Inuupakan ko lahat. Sinabi ko, hintuin ninyo ang droga because drugs will destroy this nation," he added.
Meanwhile, some protesters disrupted the event and shouted during the beginning of President Duterte's speech.
Duterte advised the law enforcement "to just deal with them peacefully and with maximum tolerance."
"Hayaan mo lang. It's a freedom of speech. You can have it. Okay lang. I will understand. 'Di bale. Hindi manood ako kasi hindi naman lahat eh," the President said as he waved to the crowd.
"Our Constitution guarantees freedom of the press, freedom of assembly and free expression," he said.
Before leaving, President Duterte paid his respects to the first President of the Philippine Republic and spent a few moments at Aguinaldo's monument.