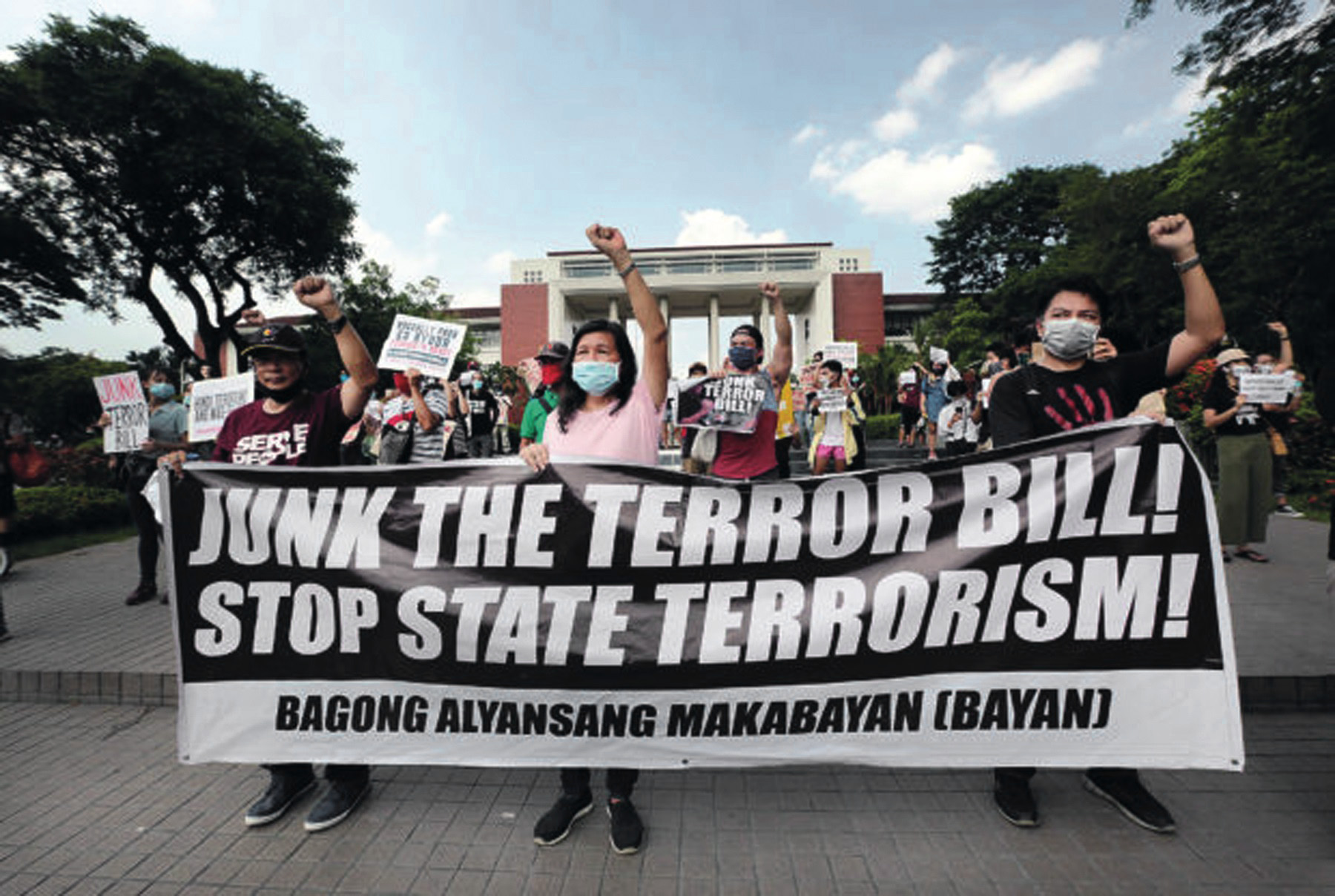 PHILIPPINE Justice Secretary Menardo Guevarra on Tuesday, June 16, said the Department of Justice (DOJ) is on track to submit its report on the anti-terrorism bill to the Office of the President, after it has finished reviewing the proposed measure.
"As scheduled, we finished our brainstorming session yesterday (Monday), examining and inter-relating with one another each and every section of the enrolled anti-terrorism bill," he said.
"We are drafting our comments today and will send our internal communication to the Office of the President tomorrow (Wednesday, June 17)," he added.
President Rodrigo Duterte earlier gave the DOJ until June 17 to submit its report on the controversial bill.
"I am confident that the President will wait for and consider not only the comments of the DOJ but also those of other government agencies whose comments were requested by the Office of the Executive Secretary," Guevarra said.
He also said that the communication is classified as highly confidential, so there is no guarantee the review would be accessible to the public.
"We'll leave it to the Office of the Executive Secretary to decide if they would publicly disclose the basis of whatever action the president would take on the bill," Guevarra added.
Malacañang, for its part, said Duterte "is inclined" to sign the proposed amendments on the country's anti-terrorism bill.
"He [Duterte] spoke and rhetorically, he said he was waiting for Senator [Panfilo] Lacson to finish his commas and his periods, but that was rhetorical because of course the road bill is now on his desk. Let's just say that he is taking a final look at it and I think he is inclined to sign it," Presidential Spokesperson Harry Roque said.
He added that Duterte is now awaiting for the DOJ's input on the proposed bill.
The anti-terrorism bill, which seeks to strengthen the Human Security Act of 2007, grants any law enforcer the capacity to arrest and detain without warrant "a person suspected of committing any of the acts" punishable under the measure for 14 calendar days, extendable by 10 days. The suspected "terrorist" can also be placed under surveillance for 60 days, extendable by up to 30 more days, by the police or the military.
Acts punishable under the bill include:
• Engaging in acts intended to cause death or serious bodily injury to any person, or endangers a person's life;
• Engaging in acts intended to cause extensive damage or destruction to a government or public facility, public place, or private property;
• Engaging in acts intended to cause extensive interference with, damage, or destruction to critical infrastructure;
• Developing, manufacturing, possessing, acquiring, transporting, supplying or using weapons; and
• Releasing of dangerous substances, or causing fire, floods or explosions.
Any person who will propose, incite, conspire, participate in the planning, training, preparation, and facilitation of a terrorist act; as well as those who will provide material support to terrorists, and recruit members in a terrorist organization will also be penalized by life imprisonment without the benefit of parole.
Meanwhile, anyone who will threaten to commit terrorism, and those who will propose any terroristic acts or incite others to commit terrorism will suffer imprisonment of 12 years.
This also goes for anyone who will voluntarily and knowingly join any organization, association or group of persons knowing that such is a terrorist organization.
Duterte has 30 days to act on the legislation or else the bill will lapse into law 30 days after receipt.