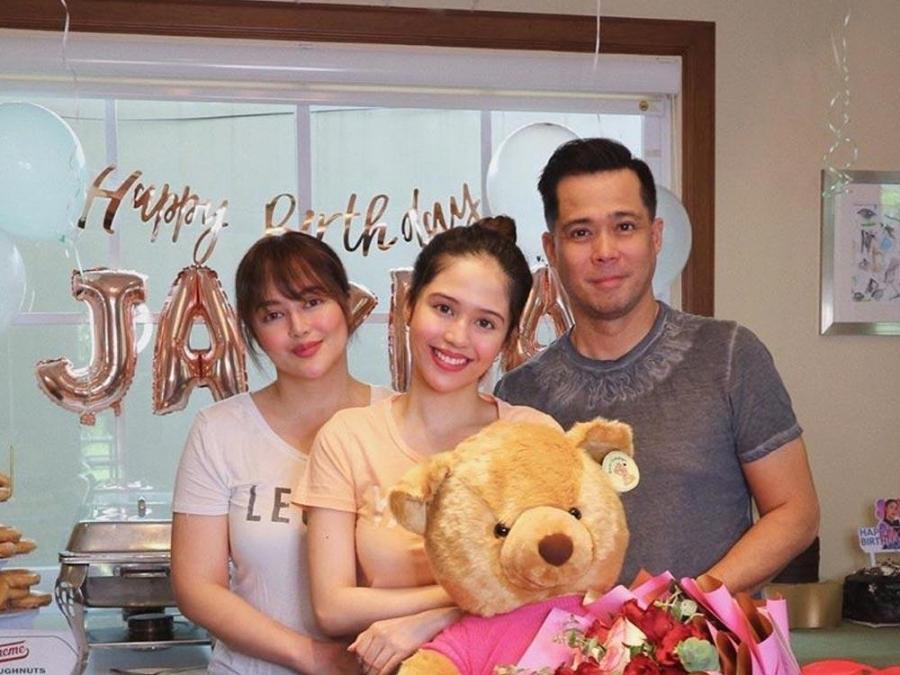 AFTER two years of waiting, TFC Events is staging its first live in-person concert, "Revelation: The U.S. Tour," featuring the Original Prince of Pop Dingdong Avanzado and the Phenomenal Diva Jessa Zaragoza with their daughter Jayda, the newest music wonder.
The concert tour promises to be an unforgettable experience for all music lovers who will be in for a great treat of "revelations" from this musically-inclined and multi-awarded family of performers.
Conceptualized by Anvanzado, the Revelation Concert Tour will showcase a repertoire that combines the couple's nostalgic songs and the latest hits from Jayda's debut album.
Asked about the title of the concert, Avanzado said, "The Revelation concept came to me late last year. We were here in the U.S. that time and I remember attending bible studies. We encountered and learned a lot from the Book of Revelation."
"I realized that during this pandemic, there are so many things that are revealed to us in so many aspects of our lives. We discovered some things about ourselves that  probably we don't realize we had or we lack. At the same time, it's like a perfect way for a great reveal for Jayda, her new undertakings and accomplishments as a singer, a composer and an artist," Avanzado said.
More layer of that "revelation," he said, is that they will also be celebrating more than two decades of their marriage. "We will be celebrating our 21 years of being married. We are going to reveal a lot about our marriage," he said. " And we will also want to reveal more things like the stories behind the songs like why and how we made them," he added.
Zaragoza, for her part, said they are grateful that they are given the opportunity to be the first to hold a live concert in the US. "We feel so blessed. We will give our best for this concert. There's a lot of pressure on us. But we will make sure that our audience will love the show," she said.
The Avanzados, who used to live in Northern California, said they also are excited the perform with their "kababayans."
"It's really an amazing experience for me to be able to be part of this event and not just as a milestone in terms of my career in the sense that this is one of the first live shows that I will be playing with my first debut album out now into the world. The first live show that I did was back in early 2020 before the pandemic hits so this is really a big thing. But I am also excited for our kababayans since this is a milestone for the Filipino community since this is one of the first official comebacks into the live concert scene," Jayda said.
"There's nothing like performing with live audience. The timing is perfect and it all came together as planned," Avanzado said, noting that especially now that the COVID restrictions seem to be easing up.
Avanzado said these are also concerts for a cause. Some of the proceeds from the LA show will go to the JIR (Jesus Is Risen) Foundation while portion of the San Francisco's ticket sales will help the victims of typhoon Odette, through an ongoing campaign of ABS-CBN Foundation.
"It's nice to know that we will be having fun and at the same time, help people in need. It's all encompassing. We really want it to be more meaningful and the fact that this is one of the first or the first Filipino show being done here in America now (after the pandemic) makes it special for us and we want to live up to the expectation," Avanzado said.
Avanzado started his illustrious career in 1987, with his hit songs Ikaw Lamang, Tatlong Beinte Singko, Maghihintay Sa Iyo, Makapiling ka Sana, Bakit Labis Kitang Mahal, To Love Again, Paalam na and Walang Kapalit. Over the years, he has honed his craft to become a highly-respected multi-platinum recording artist, songwriter, concert director and total entertainer.
In the early 90s, Zaragoza already catching everyone's attention being a star with a very distinct musical voice on the hit program that time, "That's Entertainment". In 1997, she released her first album, "Just Can't Help Feeling" which contains the single, "Bakit Pa", which rose to the top of the chart and became the national anthem for many Filipinos worldwide. It turned Platinum eight times and one of the biggest selling debut albums in the Philippines music history. She continues belting out unforgettable songs such as "Diba't Ikaw," "Paano Kaya," "Baliw na Puso," "Siya ba ang Dahilan," "Ibigay Mo Na" and "Hindi na Bale" which permanently etched in the heart of Pinoy music lovers around the world. The hitmaker is also an award winning artist.
Born in June 1, 2003, Jayda, Janelle Amanda Loyola Avanzado, is being touted as the next artist to watch out for. She has shown an extraordinary musicality even with the very early age, writing her first song at the age of 12. Her single "Paano Kung Naging Tayo?" became a hit and won the Best Music Video Award on International Film Festival Manhattan 2021 in New York. She also bagged the Best Performance by a New Female Performing Artist in Awit Awards in 2019.
The Revelation: U.S. Tour will be held on March 12, 6:30PM at Alex Theater in Glendale, CA, ticket prices start at $50, call 818-2548426; and on March 26, 6PM at Fox Theater, ticket prices start at $35, Redwood City, CA, call 650-443782.