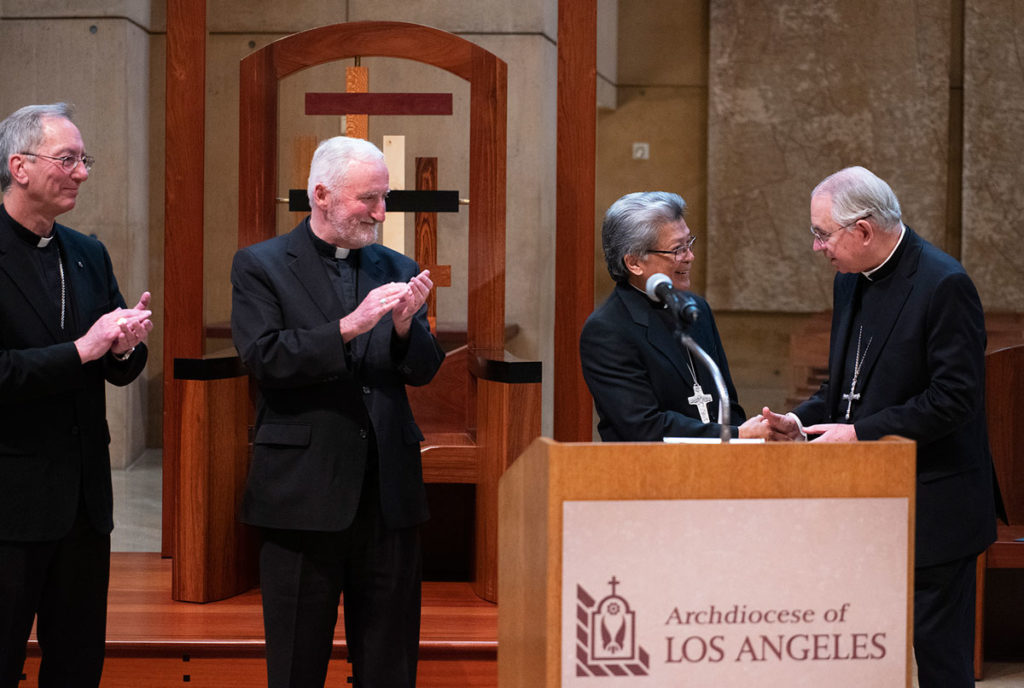 ON March 5, the Vatican named Monsignor Alejandro "Alex" Aclan the newest auxiliary bishop for the Archdiocese of Los Angeles, making him the second Filipino to ever be presented as bishop in the United States.  
"I really see that as an acknowledgement of the church and the Vatican, of the contribution of the Filipino American Catholics in the United States," said Aclan, whose nomination to bishop comes 15 years after Fil-Am Bishop Oscar Solis was named in 2004.
In a statement announcing the nomination, Los Angeles Archbishop Jose H. Gomez described Aclan as a "proud son of our vibrant community."
"We need to remember that Christ did not remain dead," said Aclan."He did rise again and we must remind ourselves that our Lord Christ rose again and we can rise again too."
"Bishop-elect Aclan is a man of prayer and he has a true heart for Jesus — and a deep concern for the people he is called to serve," said Gomez, further describing Aclan as voice for Filipino Catholics who he said were a "beautiful sign of growth and renewal" in Los Angeles and throughout the U.S.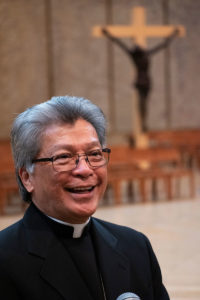 For 25 years, Aclan served as a priest in Southern California, getting to know the Filipino American community while serving in several parishes around the Los Angeles Archdiocese.  
But Aclan's journey to priesthood wasn't a linear one as many who have gotten to know him may have learned. In fact, it wasn't until after he paved himself out an already secure career that he decided to switch paths.
But looking closer at his whole story, one may say that his calling to priesthood was just a matter of coming full circle back to his early years growing up in the Philippines where he witnessed first hand the presence of God.
"I grew up in a relatively religious household," said Aclan who was born in Pasay City, Philippines to Emerenciana and Geronimo Aclan as the third among a total of eight siblings.
Growing up in the Philippines — the only majority Christian nation in all of Asia where over 80% are Roman Catholic — Aclan grew up feeling experiencing the tight-knit Catholic community that makes the country so unique.
He also recalled how priests would often visit their home which was located next door to their parish church in Makati which is now the National Shrine of the Sacred Heart.
"I'm sure that a few bags of cement used in building the church were donated by my father," said Aclan laughingly reminiscing.
He recalled how his father, a Philippine Army Air Corps lieutenant, would often lead the family in praying the Rosary and how his parents made it a point to encourage him and his siblings to be active members of their church.
As he and his siblings grew older, his parents continued to make sure they all were able to receive a high quality education while remaining close to the Church. For Aclan, there was the prestigious University of Santo Tomas (UST) — the oldwest university in the Philippines. For his brother, there was the also the esteemed Colegio de San Juan de Letran where his father also attended. For his sisters, there were the all girl schools, St. Scholastica's College and St. Mary's Catholic School for Girls.
"My home was a place where I saw and experienced Christianity —  not just where I heard about or was told about what being a Christian was. My mom and dad really lived out a good Christian life, especially in the way that they helped others," said Aclan.
"All of those influences, without a doubt, definitely formed my spirituality and the work that I was eventually going to do for the church," said Aclan.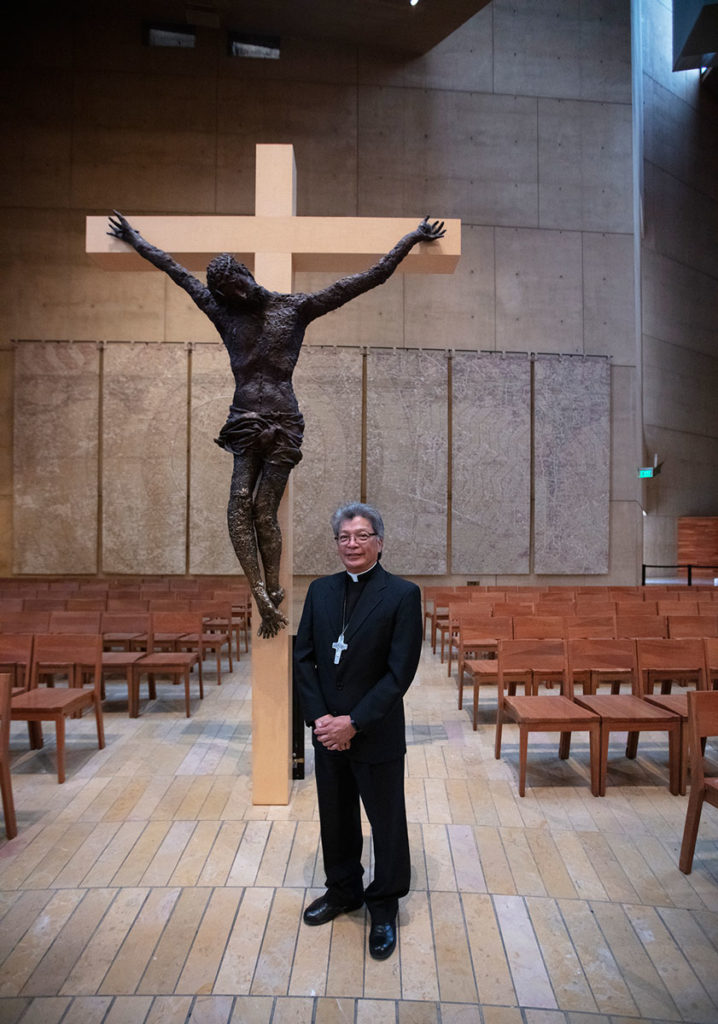 An unexpected calling
Despite having grown up in a strong Catholic home, Aclan, like many other young Filipinos was set on taking on the traditional career trajectory of getting a degree and entering the professional workforce.
Initially choosing a medical path, Aclan graduated from UST with a Bachelor of Science degree in medical technology. Upon graduating, his career path then moved towards electronic data processing, which then led him to working as a programmer and systems analyst for numerous companies in the Philippines including Citibank and San Miguel Corporation — the last company he worked for before immigrating to the U.S.
Upon moving to the Southern California in 1982 with his family, Aclan began working for Union Bank in Los Angeles as a project manager, all the while continuing to attend church every Sunday with his family, like he always did in the Philippines.
Coincidentally, the church he first came to be a part of when he moved to the U.S. had the same  Sacred Heart name as the church he grew up in while in the Philippines. It was there, at the Sacred Heart Church in Covina that he suddenly felt a calling to enter the seminary. This became more apparent as fellow parishioners began encouraging him to follow the calling.
For four years, Aclan discerned his vocation before finally taking the plunge and leaving the career he built and start on a new path. Over the next five years in the St. John's Seminary in Camarillo, his calling grew even stronger.
"I become more convinced that this is where God wanted me to be, primarily because I started to really enjoy formation," said Aclan of his early years in the seminary.
"I saw myself grow spiritually, and I was growing intellectually. I was growing as a human being.  I was growing in my will to serve others," added Aclan. 
During his journey to priesthood, Aclan further found a new meaning to the importance of community as he experienced an overwhelming amount of support in the trying years.
"During the entire time, one of the realizations I made was the importance of community during that time.  A community that will provide support," said Aclan.
"You have no idea how people people were praying for me during that time. It was so moving," he added.
Still remembering one event in particular, Aclan shared of a time when he unknowingly walked in a group of praying women who were members of the Legion of Mary in his parish who offered one decade of the Rosary for him.
"That was so important and essential. They actually offered one decade of that Rosary for me. Can you imagine that?," said Aclan, still amazed.
Of the other total of 13 men and women who were a part of his discernment group, Aclan said they became not only his primary support group, but true friends.
"They were not only an emotional support group, they were friends who provided the social support that I needed when I was there," added Aclan. "It's hard to do this by yourself."
Filipinos and the gift of faith
"Filipinos have this gift of faith and it really is a true gift," shared Aclan, who most recently spent two months of his sabbatical in the Philippines at the end of last year.
While there, he was able to again fully immerse himself in the Catholic community he grew up being so close to.
"The deep faith that the people have is the same," said Aclan. "It is a true gift from God."
Having witnessed the devotion and religiosity during the two months he was there, Aclan said he left encouraged by how dedicated people of all ages were.
Visiting groups of senior citizens, he was amazed at how faithfully strong many of them were despite having experienced obvious hardships throughout their life.
"It's just so encouraging and heartwarming to see how the people pray," Aclan gave as an example.
He shared how every mass he attended in those two months contained a full complement of ministers and parishioners even in the early 6:30 a.m. masses.
"I was absolutely mesmerized at the fact that every came all awake and ready early morning," said Aclan, adding that everyone from senior citizens to the young children were always wearing their best.
"And kind of like the cherry on top was the music. The music was just so wonderful," added Aclan, emphasizing the full participation of the youth in the choir and as altar servers.
"Early in the morning, you have all these young kids participating. The participation by the youth in the Philippines is strong," said Aclan. "It's just absolutely amazing."
While Aclan's position as new bishop does not officially begin until May, he is ready to take on the new role and continue doing what he loves best — helping the community that encouraged him, shaped him, and set an example of what it means to to be a true follower of Christ.
"My favorite thing is being able to alleviate people's burdens, big and small, spiritual and otherwise," said Aclan.
He said that as priests, they have the opportunity to dedicate time to making a difference in people's lives every moment of the day.
"That's what we're all about. Bringing more people to Christ and letting people experience what Christ is like, with the hopes of course that we'll have a more peaceful and more loving and more progressive society. To heal hurt and division among parishioners and to unify our church," said Aclan.  
He added, "We've allowed our differences to separate us. We should focus on what is common among us, because there are much more things that we share in common than the difference that divide us."
In light of Holy Week and Easter, Aclan encouraged people to reflect on the passion and death of Christ.
"We need to remember that Christ did not remain dead," said Aclan. "He did rise again and we must remind ourselves that our Lord Christ rose again and we can rise again too."