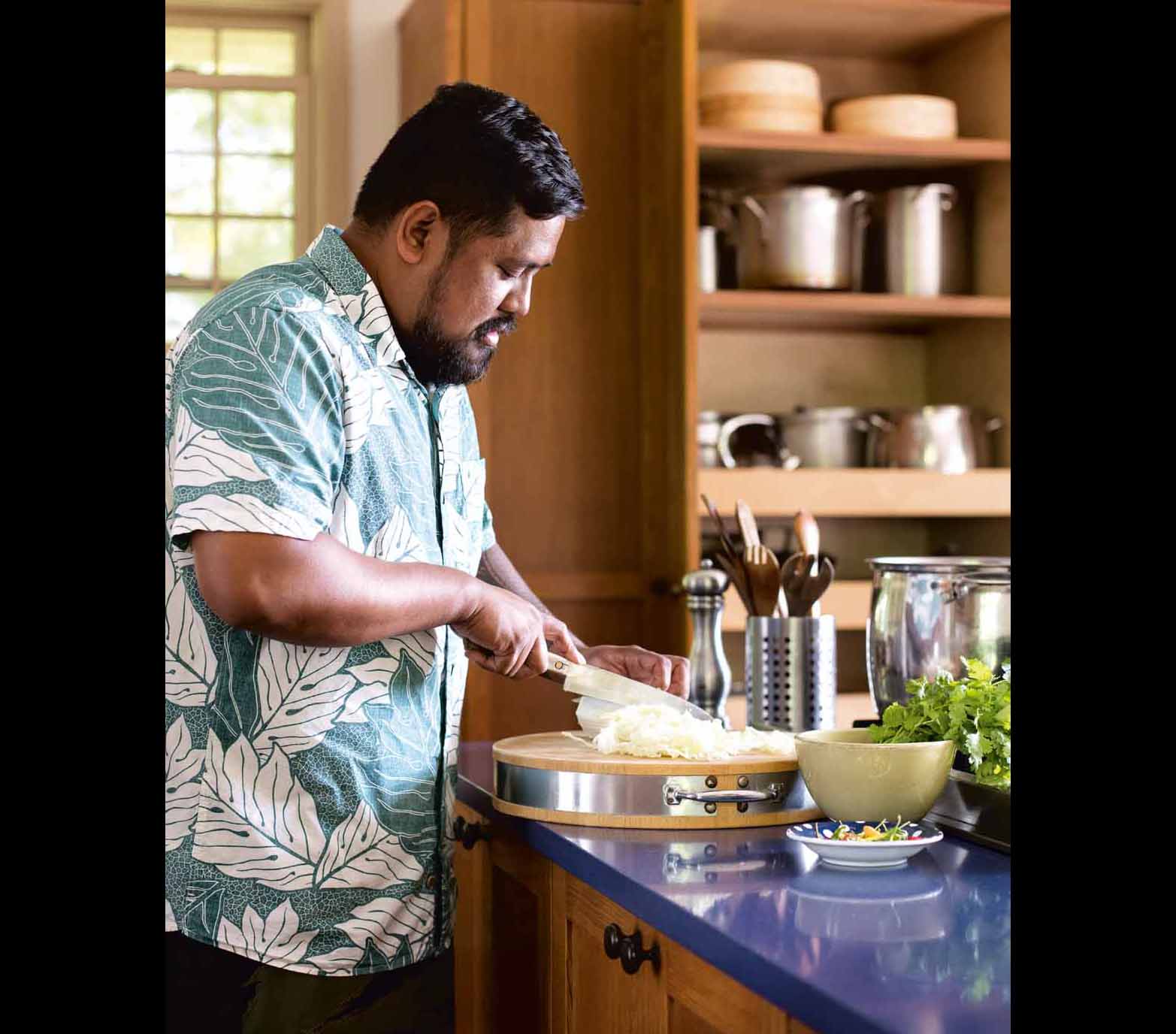 Multi-hyphenate Chef Sheldon Simeon, two-time Top Chef finalist and chef/owner of Tin Roof is adding another title: cookbook author.
He just released "Cook Real Hawai'i," a collection of everyday dishes that celebrate the culture of his home state and his own family's version of classic Filipino dishes like pancit and adobo. Call it his love letter to the home and the family that cared and nurtured him.
"The recipes contained in this book are not just dishes I've served at my restaurants, they're foods that represent my culture and family, foods of great celebration and bounty, of poverty and humility," Sheldon wrote.
Sheldon is one of the most memorable Top Chef graduates and he has endeared himself not only to the fans of the show but also to fellow chefs. Proof of this is his collaboration videos with them via Instagram Live to promote his book and cook for his colleagues.
If you're having some withdrawal symptoms from the recent end of the show's Season 18 shot in Portland, head to Sheldon's IG account @chefwonder weekly and watch him cook and chat with all-stars like fellow Fil-Am Dale Talde, Richard Blais, Brooke Williamson, and Melissa King.
In one of these chats, he shared that the recipes he included in "Cook Real Hawai'i" are the dishes he used to cook with his family ("My most favorite memories are those times I cooked with my dad and uncles"); others are from his past restaurants, and the rest inspired by his home state, all with the goal of spreading the food of Hawaii and getting it out there.
Through the years, Top Chef has launched the careers of many cheftestants. Some of them have gone on to open their own restaurants across America while others went on to become head chefs of the finest restaurants in the country or entrepreneurs in the food and beverage industry.
Sheldon was a solid fan favorite when he first competed in season 10. His amazing run was cut short right as he got eliminated just before the finale. He returned to the  Top Chef  kitchen in season 14, which ended in another heartbreak as he was once again eliminated right before the finale. He ended up winning the Fan Favorite award both times.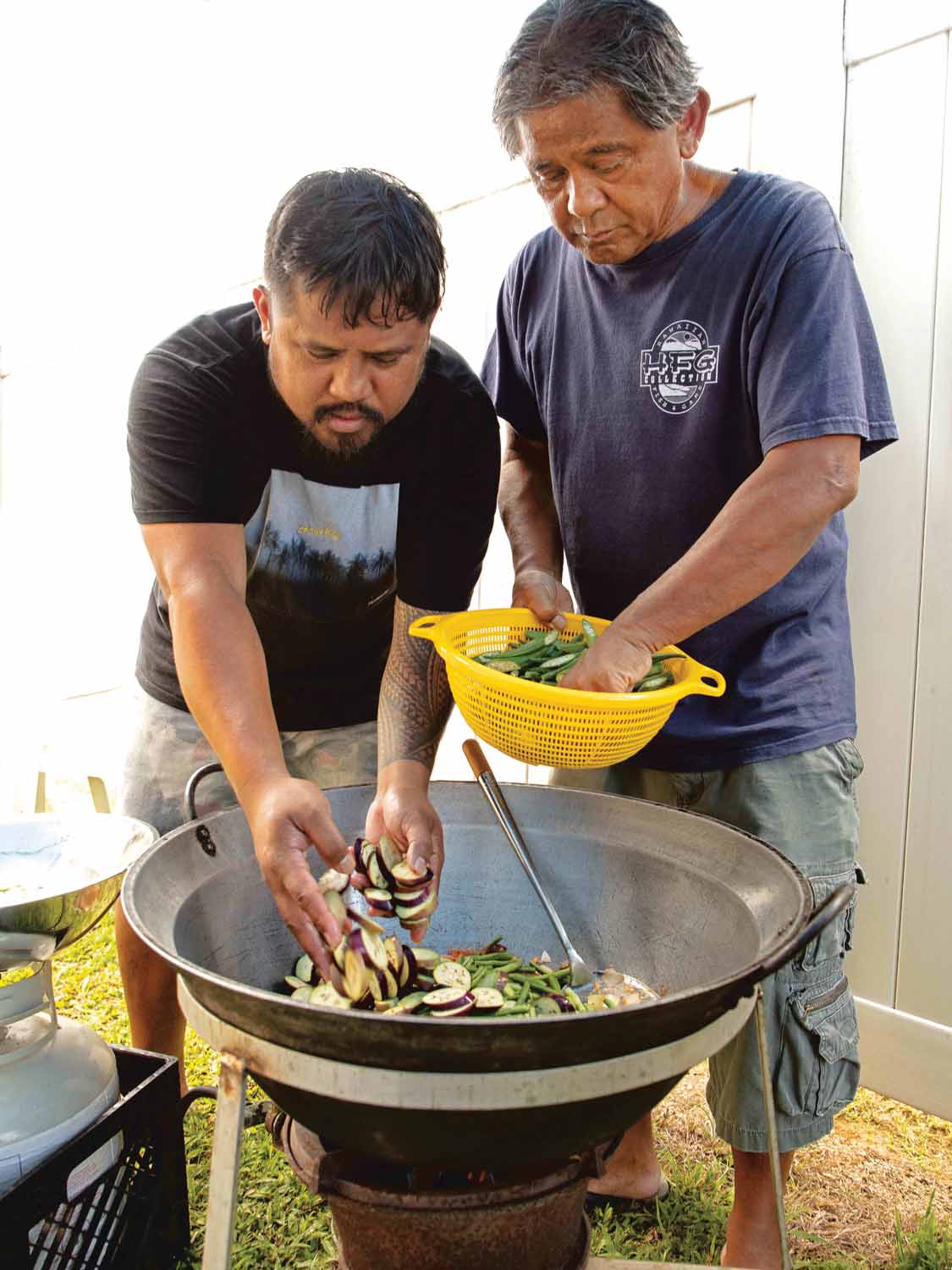 He says he has been "extraordinarily fortunate" in the two seasons he competed on the show as it brought him national exposure.
"I was scrubbing pots in the dish pit when our hostess told me someone from Top Chef was on the line," he shared, reminiscing about the day he received the call. "I packed my knives and my ukulele and headed off to the show."
Every season, the cheftestants and viewers look forward to the Restaurant Wars episode where the remaining chefs are divided into two groups and open a restaurant. They were judged from creation to execution.
Sheldon calls it his highlight of Season 10.
He got the opportunity to pitch his idea, one he'd been jotting down in a notebook for years: a restaurant called Urbano, named after his grandpa, that served contemporary Filipino food.
His team ended up winning the episode (he also won a Toyota Avalon) but beyond that, the part that stuck with him was seeing the judges get blown away by his sinigang and pork belly adobo dishes.
In a rather disappointing twist of his own doing, Sheldon worried about being called as a one-trick pony who could only cook Asian or Filipino food so he made dishes based on what he thought then would impress the judges. He was asked to "pack his knives and go," missing his spot in the show's finale.
The experience taught him a lesson: stay true to himself, belatedly realizing that cooking from his background was what actually propelled him to reach that far in the competition.
He returned to Maui with a clearer mind full of ideas. He opened Migrant, a nod to his grandparents who crossed an ocean to build a new and better life for his family.
Tracing his roots
A third-generation Filipino American, Sheldon was born and raised on the Big Island. Both sides of his family come from the Philippines. His Lolo Urbano Simeon left his hometown of Laoag City, Ilocos Norte when he was only 18 years old and came to Hawai'i as part of a wave of sakadas, or Filipino migrant workers, to work on the sugar plantations in the 1930s.
Urbano then met and fell in love with Felicisima and had nine kids. Sheldon's dad, Reinior Simeon, was the youngest son.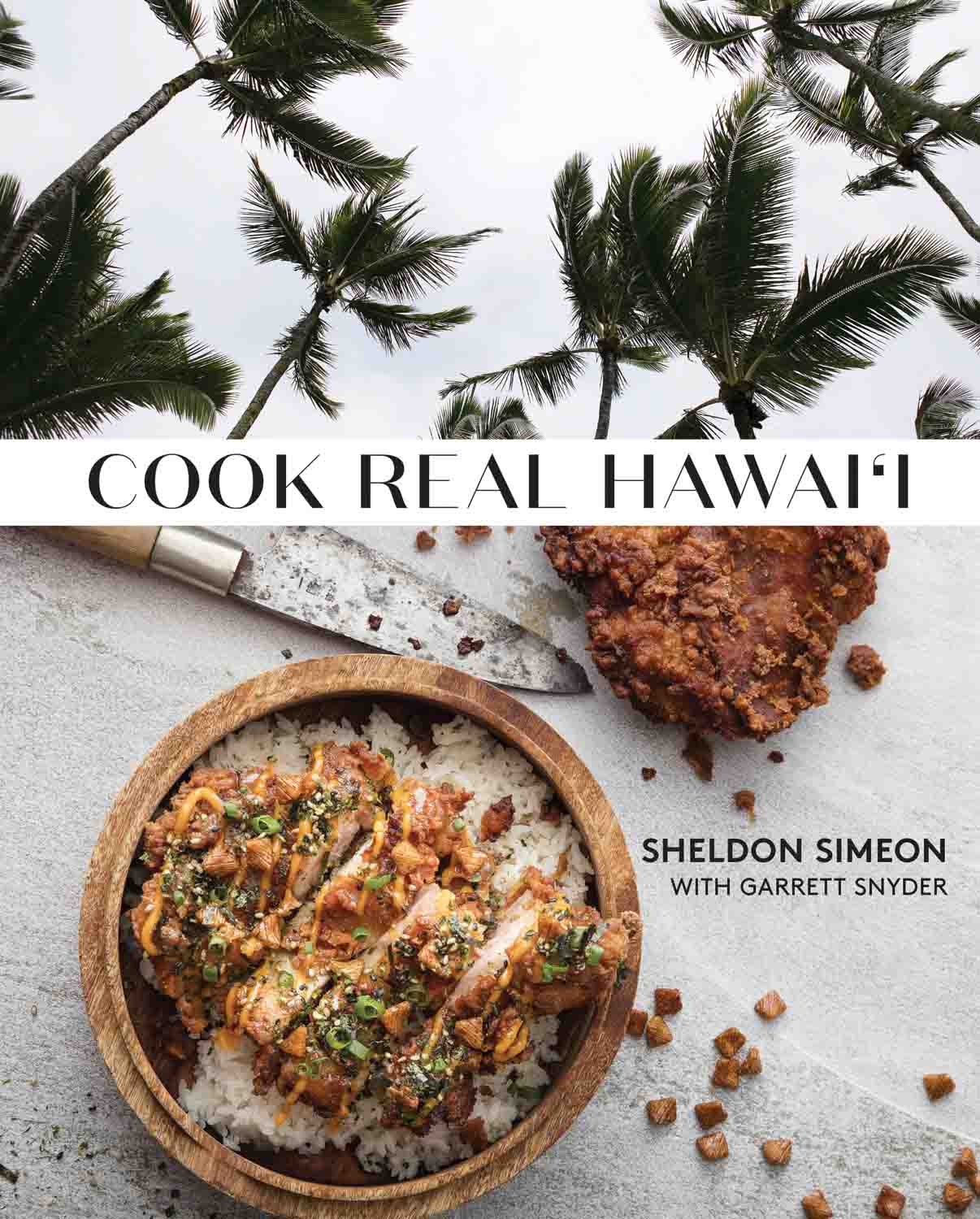 In the book, Sheldon shared how the islands shaped his upbringing and how their family thrived as they lived on the outskirts of Hilo, a relatively sleepy town on the rocky windward coast of the Big Island. He ended up marrying Juanita Janet "Joanne" Moreno, who came to Hawai'i in the 1970s with her family from Santa Lucia town in Ilocos Sur.
Coming from a big family, Sheldon remembers the parties they would host every weekend, as his grandparents brought with them their traditions and heirloom recipes.
"The Simeon house was known as the gathering spot (also the "gout house" because we served many rich foods). Dad was the designated cook of the community; before a big event like a wedding, graduation, or first birthday, he'd cook from sunup to sundown to feed upwards of three or four hundred people," he reveals in the book.
Here, he witnessed his uncles roast whole pigs and goats using the metal cookers his dad welded together. It was a family affair, especially since both sides of his family tree were filled with amazing cooks.
As small kids, Sheldon, his older brother, Jeremy, and their cousins were taught to always help out, clean the table, and wash dishes.
"Looking back now, it's not exactly surprising that both my brother and I ended up in culinary school after high school, since we'd both been butchering chickens since the first grade," he shared further. He is endlessly thankful that his mom instilled in them a deep love and appreciation of food early on, much the way she had learned from her mother and grandmother.
After attending culinary school on O'ahu, Sheldon worked as a prep cook at Aloha Mixed Plate in Lahaina. From there, he worked his way up to becoming a sous-chef.
"Even when I wasn't the best chef on the line, I made sure I was the hardest working," he wrote.
A roller coaster of emotions followed, bookended by the death of his mom, him marrying Janice, and them having their first child.
He eventually opened his first restaurant, Star Noodle, a noodle shop in Lahaina that served food inspired by the local dishes he grew up eating. Star Noodle became a hit among both locals and tourists and opened the proverbial door to his career as a chef and restaurateur.
The natural progression of things followed, starting with getting recognized through James Beard Award nominations, and a nomination for Food & Wine "Best New Chef."
After his Top Chef stint, he opened Migrant to celebrate the food and the culture that his grandparents brought with them. Later on, he and his wife Janice opened Tin Roof and then went on his second stint at Top Chef.
Then came Lineage, an upscale restaurant in Wailea, which was named one of Bon Appetit's Top 50 New Restaurants.
Although he still thinks of himself as a "glorified line cook" today, Sheldon has realized the unique platform that he has been given in order to share the stories of him growing up and his love for ohana, the Hawaiian word for family.
He remains eternally thankful to his grandfather for coming to Hawaii to make a better life for his family especially since he sees himself in grandpa Urbano now, two generations later, as he tries to do the same for his growing family by sharing with the world the Hawaii he knows and loves.
Chef Sheldon's recipes to enjoy: