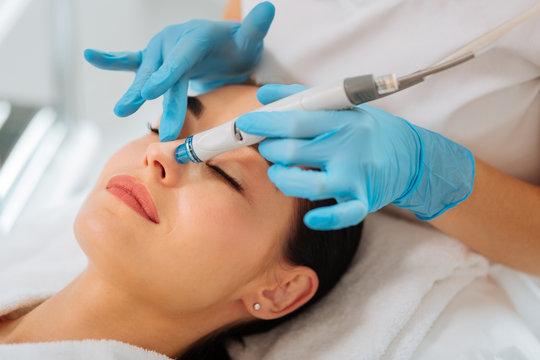 When was your last facial treatment?
This is one of the questions I ask my clients at the beginning of my consultation. Surprisingly, most of them can't remember, or they admit to not having regular facial treatments at all.
Age has always been the "taboo" word in my line of work. Though we have accepted the truth that aging is a natural process, it is not the part of growing old that usually bothers us, but "looking older" than our actual age. And quite frankly, you can tell a person's age by just looking at their skin.
The skin is the largest organ of the body. The skin and its derivatives (hair, nails, sweat and oil glands) make up the integumentary system. One of the main functions of the skin is protection. It protects the body from external factors such as bacteria, chemicals, and temperature. When we age, the outer skin layer (epidermis) thins, even though the number of cell layers remains unchanged. The number of pigment-containing cells (melanocytes) decreases. The remaining melanocytes increase in size. Aging skin looks thinner, paler, and clear (translucent). Pigmented spots including age spots or "liver spots" may appear in sun-exposed areas.
It is a known fact that we have different types of skin. While there are products and treatments that suit to any skin type, it is important to start with the (most) basic treatment such as a monthly facial. So before you consider doing any cosmetic injectables like Botox , fillers , PDO thread and the like, you have got to go back to the basics. This is similar to how you take care of your nails, and doing a "re-touch" on your grey hair roots –– both done on a regular basis.
Sadly, people tend to take facial treatments for granted. I would usually tell my clients that "if you have good skin, the more you need facial to preserve your beautiful skin. And if you have sensitive skin that easily gets clogged or prone to skin discoloration, all the more you need to have regular facials to prevent it from getting worst .
Now that we have established how important it is to have regular facial treatments, allow me to to talk about the best innovation "in the face of facials.," The Hydrafacial machine. And I am so excited to announce that the latest edition of Hydrafacial machine is now available ISkin Medspa and MiSkin. My dear readers, meet SyndeoTM.
SyndeoTM
SyndeoTM is "the most innovative and advanced Hydrafacial delivery system–ever." The way it "elevates the entire experience by making it more personalized and seamless," is just phenomenal. But first, what is Hydrafacial? It is a non-invasive treatment that, unlike traditional facials, is performed via device rather than by hand, for deeper penetration and longer lasting results. It improves skin health, addresses individual concerns, and creates a glow like no other.
And with its latest edition, SyndeoTM, it allows more for personalization and customization. Simply download the app and it analyzes your skins' needs and recommend what serum or booster is the most applicable for you. This technology is exclusively available as a customized protocol at our spas, wherein we incorporate our signature protocol for facial so that you can enjoy the benefits of this amazing machine.
There are four solutions that can help cleanse, exfoliate, peel and hydrate your skin –– and all of that can be done in as little as 30 minutes. It delivers long-term skin health and can be tailored to meet the specific needs of all skin types. It offers instant, noticeable results with no downtime or irritation. You may put on makeup and return to your normal activities right after the treatment . The Hydrafacial treatment removes dead skin cells and extracts impurities while simultaneously bathing the new skin with cleansing, hydrating and moisturizing serums.
The truth of the matter is we are all going to age. But I tell my clients: "You have two options. Either accept that and let yourself go, or you do something about it" – Or even better if there is a way to enjoy it. Take this Hydrafacial treatment for example.
With so many ways to delay aging, you just have to choose the best and right approach for you. Opt for non- invasive types of treatment, and the most affordable one you can find –– and get educated about it. It is also important to get consultations with professionals that you trust.
There are so many options to take care of your skin. but having facial treatments is something we all need as part of our monthly skin care routine. It is best to compliment good skin regimen at home with regular facial. Invest in your skin. Your skin is still the best accessory you can have. And if it only takes 30 minutes to have a soothing, refreshing, non-irritating and immediately effective facial treatment, I highly suggest you take it. You'll thank yourself later.
Come check us out for free consultation. For more information on Hydrafacial, go to iskinbeverlyhills.com or you may also visit hydrafacial.com.
Visit iSkin Med Spa and MiSkin MedSpa for a free consultation. iSkin is located at 8665 Wiltshire Blvd penthouse Beverly Hills, 90211 or call 424-382-1002.
MiSkin MedSpa is located at 9227 Haven Ave. Suite 120 in Rancho Cucamonga or call 909-9898464.
You may follow us on social media: @iskinmedspa and @miskinmedspa.
* * *
Imee Ong-Maghanoy is an established aesthetician, a business owner and CEO of iSkin Beverly Hills, iSkin MedSpa and MiSkin MedSpa. Imee has been in the aesthetics industry for more than 20 years. She has a degree in Biology and Doctor of Dental Medicine. iSkin MedSpa and MiSkin MedSpa are fast emerging as a top Spa destination in LA. iSkin is located at 8665 Wilshire Blvd penthouse Beverly Hills. MiSkin MedSpa is located at 9227 Haven Ave. Suite 120 in Rancho Cucamonga, CA.
(Advertising Supplement)