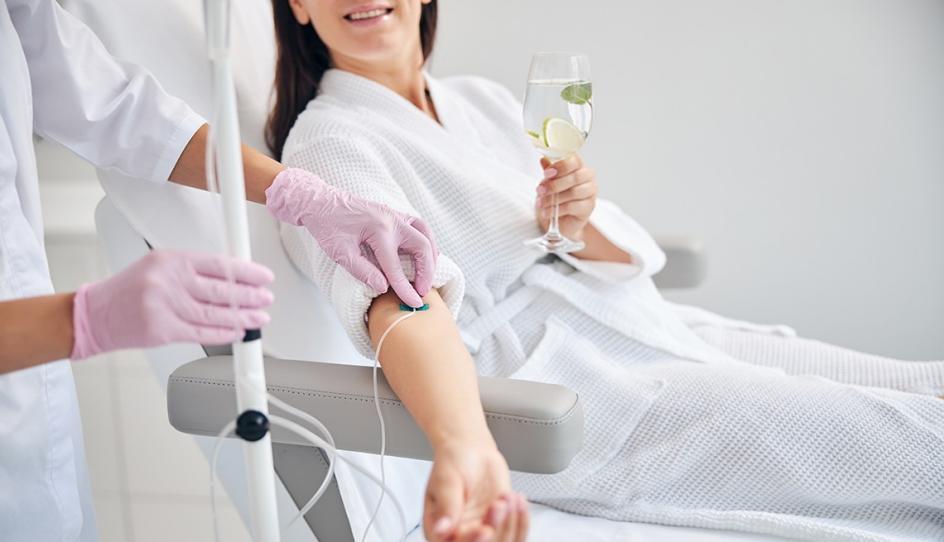 WE have seen "IV drip" added on service-menu boards of numerous wellness centers and spas  everywhere. In recent years it has caught on in the media like wildfire. For sure, you, or someone you  know may have actually tried it once or twice, but what makes these "drip bars" popular is actually  something worth delving into. So let's get to it, shall we?
IV stands for intravenous, which means inside the veins. The IV Drip that we know today goes back  to the 1960s when the famous Myers Cocktail was invented. You can get an IV Therapy in doctors'  offices, wellness centers, and spas across the world. It is the fastest way to replenish your body's vital  nutrients and delivers fluids directly into the bloodstream. For instance, a bag of IV releases a steady  drip of saline solution and nutrients into a tube inserted into your arm with a needle or catheter. As a  result, your body receives and absorbs essential nutrients faster. But of course, the IV solution  nutrients are chosen based on what your body needs or the benefits you desire.
What are the benefits of an IV drip?
Intravenous therapy has been used to successfully address many conditions, including cold and flu  symptoms, hangover and headache relief, brain fog, chronic fatigue, immune system strengthening, as  well as skin rejuvenation and anti-aging.
The contents of the IV drip depends on the needs of the client and the benefits desired. At ISkin and  MiSkin, we have a menu of standard IV drip cocktails that are based on specific benefits, but we can  also customize an IV Drip specifically for your needs. The most popular one we have is the  Hollywood Cocktail and the Immune Booster.
The Hollywood Cocktail is a combination of Glutathione, Vitamin C, Magnesium, Calcium, and  essential vitamins such as B5, B6, B12, B-complex and Zinc. This special concoction helps brighten  skin, boosts energy and immune system, relieves muscle spasm and supports bone health. With all the  given benefits, it is no wonder that our Hollywood Cocktail is a favorite among our clients. Another  combination that our "IV drip bar" is famous for is the Immune Booster. Benefits of The Immune  Booster include: boosts energy and immune system, promotes glowing skin, and strengthens bones. It  contains Glutathione, Vitamin C, Magnesium Chloride, Calcium and Zinc.
Why are people choosing IV drip over oral supplements? 
Oral supplements go through a complex and inefficient process before they get into the bloodstream.  For example, they have to go through a layer of cells that isn't easy for them to get through. Some of  the vitamins never make it to the bloodstream.
An IV drip delivers 100 percent of each vitamin directly into your bloodstream, totally bypassing the  digestive system. The absorption rate is much better, and you get a higher concentration of vitamins than  you can get by "taking your vitamins." In fact, many people notice that they get an immediate boost right  after the session from increased hydration and the effects of the nutrients kick in shortly after.
IV drip takes around 30 to 45 minutes total. It is relatively safe, but you want to choose wisely about where  you have it performed. In other words, do your due diligence and make sure that the facility and providers  are certified medical professionals.
How often should you get IV drip?
It depends on what you are using it for. Each individual has their own needs, so we recommend that you  talk with your provider about what the best timing is for you. We also offer free consultation so you would  know which combination or "IV cocktail" is best for you. And with our customized treatment plans and  protocols, each dosage is carefully controlled and tailored to meet your specific needs. You may call us to  schedule your appointment.
If you are in the LA area, you are more than welcome to our iSkin location. And if you happen to be in the  Inland Empire and Orange County, we have MiSkin Spa for you self-love and self-pampering needs.
For more information you may visit iskinbeverlyhills.com.
Visit iSkin Med Spa and MiSkin MedSpa for a free consultation. iSkin is located at 8665 Wilshire Blvd. penthouse, Beverly Hills, CA 90211 or call 424-382-1002
MiSkin MedSpa is located at 9227 Haven Ave. Suite 120 in Rancho Cucamonga, CA 91370 or call 909-9898464. You may also follow us on social media: @iskinmedspa and @miskinmedspa.
* * *
Imee Ong-Maghanoy is an established aesthetician, a business owner and CEO of iSkin Beverly Hills, iSkin MedSpa and MiSkin MedSpa. Imee has been in the aesthetics  industry for more than 20 years. She has a degree in Biology and Doctor of Dental Medicine. iSkin MedSpa and MiSkin MedSpa are fast emerging as a top Spa destination in LA. iSkin is located at 8665 Wilshire Blvd penthouse Beverly Hills. MiSkin MedSpa is located at 9227 Haven Ave. Suite 120 in Rancho Cucamonga, CA.
                (Advertising Supplement)