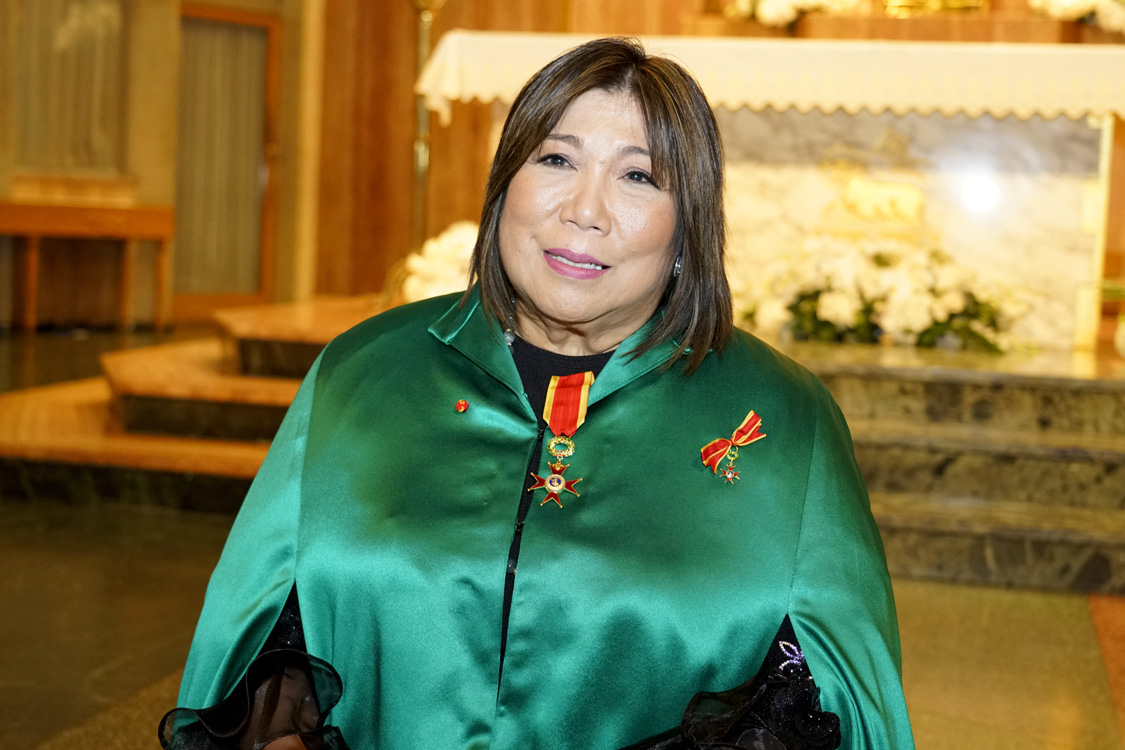 On August 4th Grace Mercado Ouano became the first Filipino American to receive the Order of St. Gregory the Great from the Catholic Church. Monsignor Lawrence J. Spiteri, on behalf of Pope Francis, bestowed the knighthood at St. Therese Roman Catholic Church in Alhambra, California.
The Order is awarded to Catholic men and women in recognition of their personal service to the Holy See and to the Roman Catholic Church, through their unusual labors, their support of the Holy See, and their excellent examples set forth in their communities and their countries. Dame Grace Mercado Ouano shares this honor with such great luminaries as G.K. Chesterton, Bob and Dolores Hope, and Eunice Kennedy Shriver.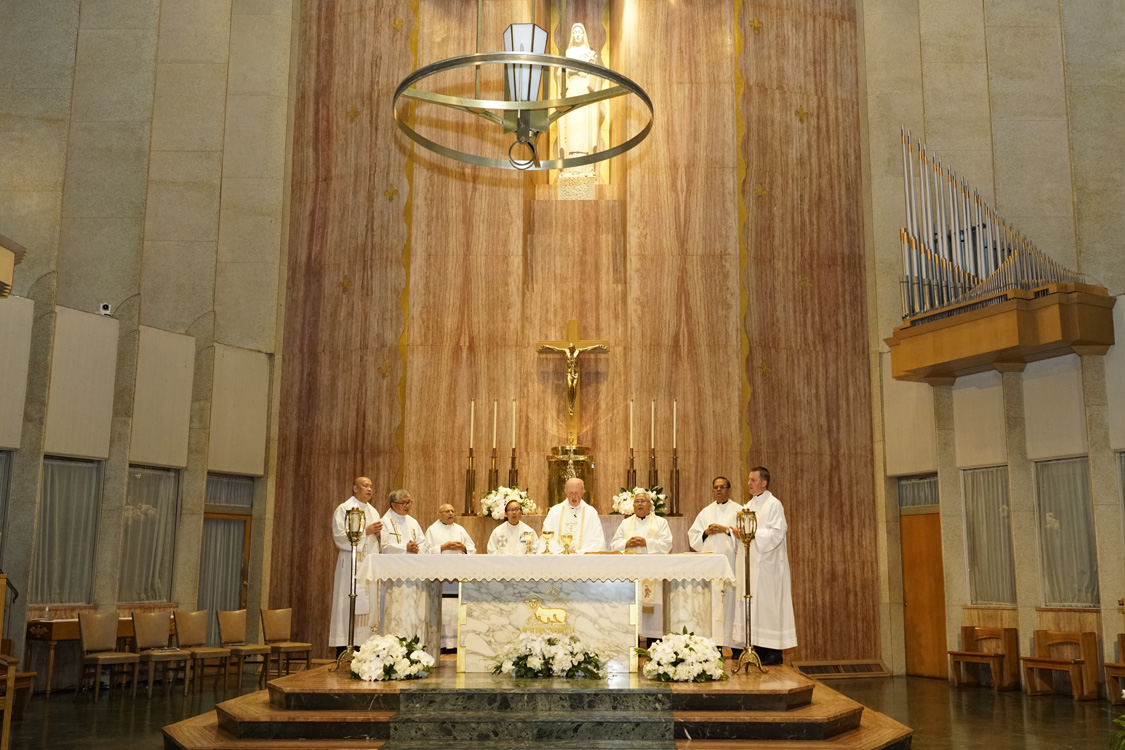 The beautiful ceremony included a full mass with the Philippine Chamber Singers of Los Angeles and six musicians, including a pipe organist.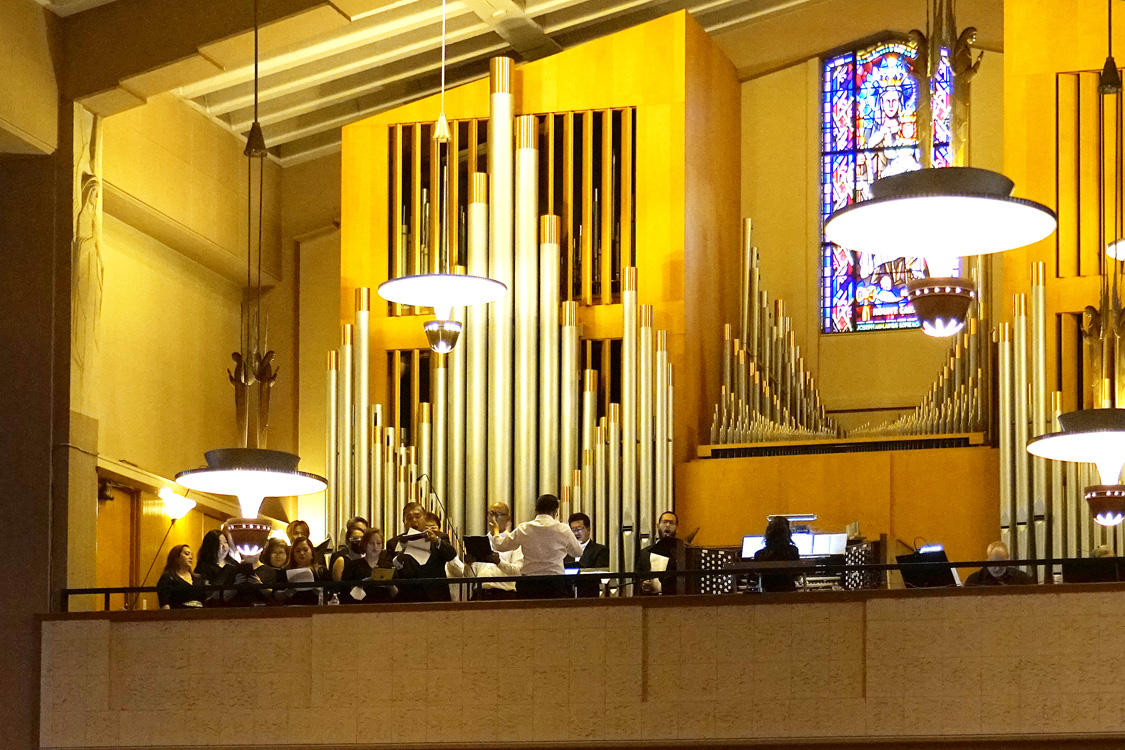 For the investiture, Monsignor Spiteri changed into his red and white vestments to fulfill his role as the Supreme Justice of the Roman Rota.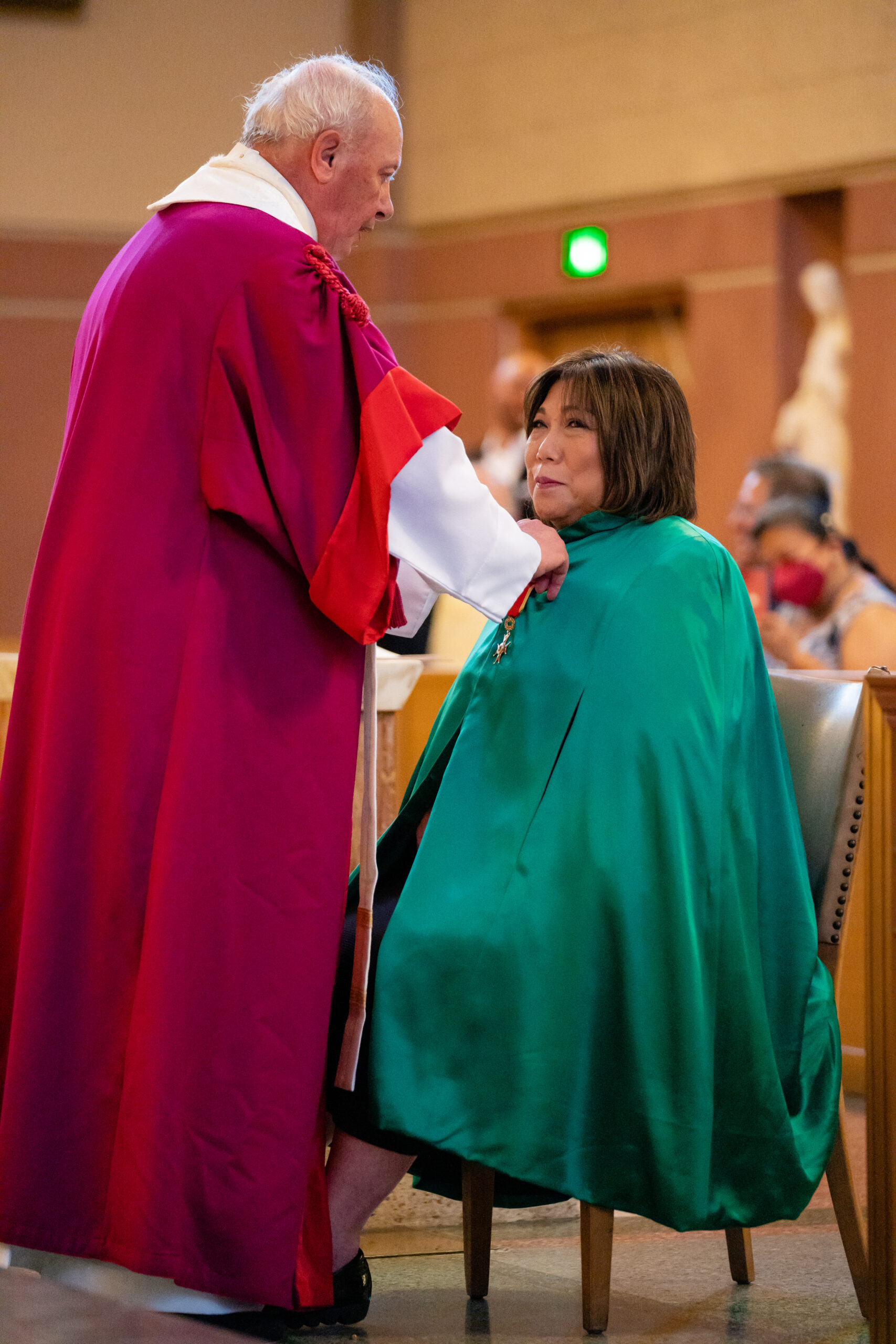 He pinned the medals onto Dame Grace's emerald green cape, custom-designed, along with her black dress, by David Tupaz for the occasion.
Grace acknowledged Msgr. Spiteri's spiritual guidance as her big brother in her acceptance speech. She also said, "A sincere thank you to my family and friends. I am deeply touched that you are here on one of the most important days of my life. I will always remember this day and that you were all here to celebrate with me."
With special words to her husband Rupert Ouano and her staff, Grace quoted St. Gregory, "If not for your encouragement, hard work and patience, I would not be here celebrating this honor. As St Gregory himself said, 'If we are, in fact, now occupied in good deeds, we should not attribute the strength with which we are doing them to ourselves.' It is with your help, competence, and fortitude that I am able to carry out God's work. From the bottom of my heart, I thank you."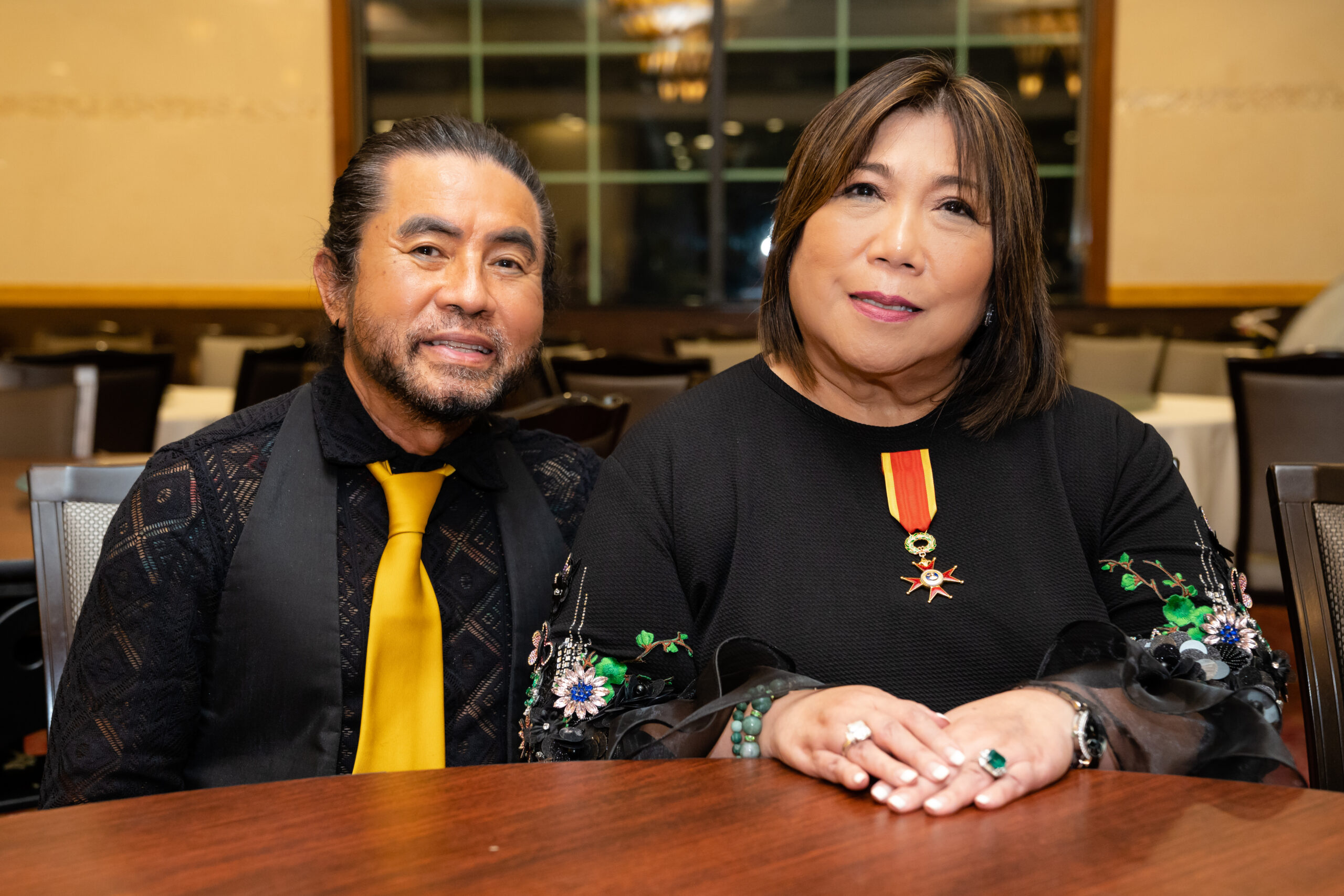 Special guests included Los Angeles' Philippine Consul General Edgar Badajos, La Cañada Flintridge's Mayor Sonny Santa, and Bellflower's Mayor Michael Davitt, who were there to support and congratulate Grace. The crowd of nearly 300 family members, friends, colleagues, dignitaries, priests, and nuns filed out of the church into the lovely California sunset, on their way to a celebratory dinner at Capital Seafood in Arcadia where Dame Grace continued her long tradition of generosity.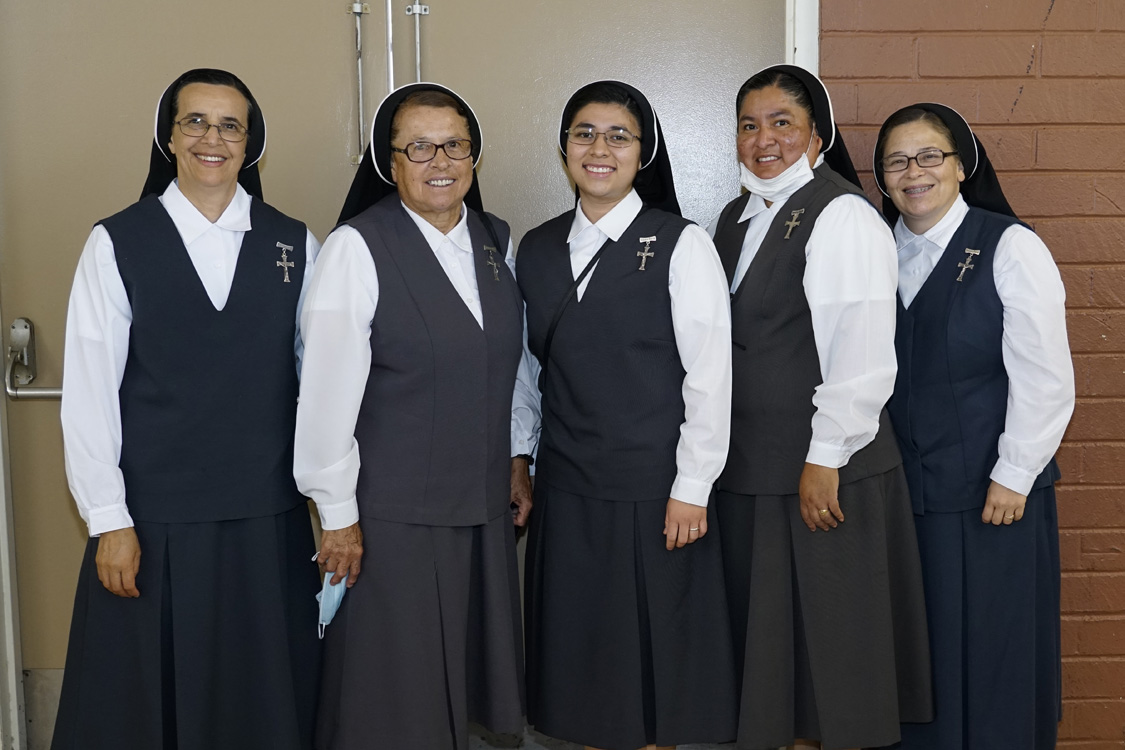 Over a span of 30 years, Grace O has built an impressive record of business achievement, community building, philanthropy, and community service in California. Guided by her spirit of entrepreneurship and building on a model of generosity learned from her family, Grace has spent a lifetime helping people heal through food and medicine. When she moved from the Philippines to the U.S. in 1992, she began her impressive corporate ascent from employee to owner and operator of a number of skilled nursing facilities in California.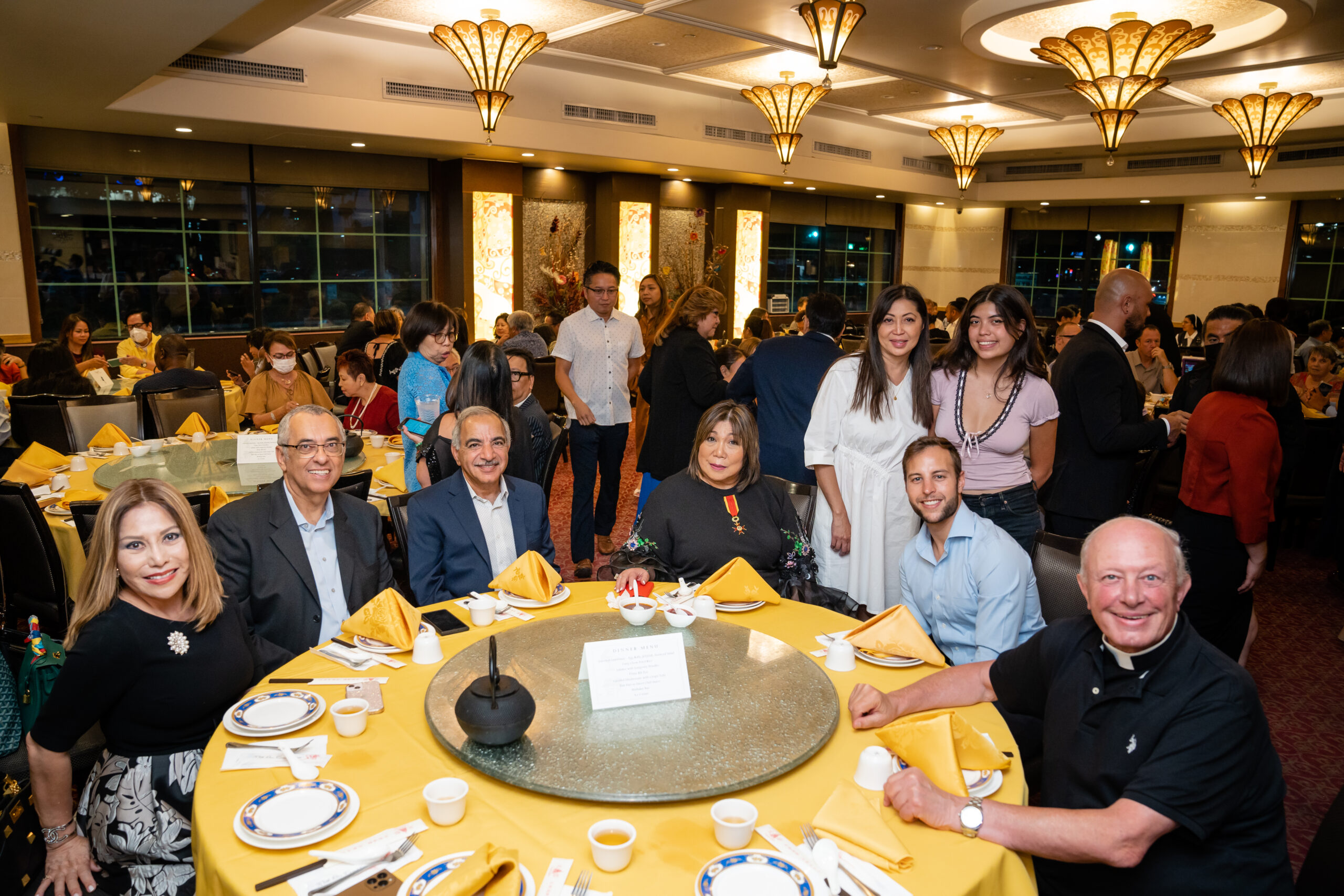 In 2011, Grace combined her entrepreneurial skills, her passion for the culinary arts, and her commitment to health by launching a new culinary brand, FoodTrients®, a non-profit website and cookbooks dedicated to the nutrients in foods that help prevent the diseases of aging. She is the author of two award-winning cookbooks—The Age GRACEfully Cookbook: The Power of FOODTRIENTS to Promote Health and Well-being for a Joyful and Sustainable Life and The Age Beautifully Cookbook: Easy and Exotic Longevity Secrets from Around the World. Her third cookbook – Anti-Aging Dishes from Around the World — published by Skyhorse Publishing will be released this month on August 23.
To further understand and help prevent the diseases of aging, Grace launched the Grace O Foundation, which is dedicated to nutrition and longevity research, health education, food advocacy, and other charitable efforts. All proceeds from her cookbooks are contributed to the Foundation's research and programs.
Grace encourages others to join in her efforts to educate the world about eating for health and longevity.