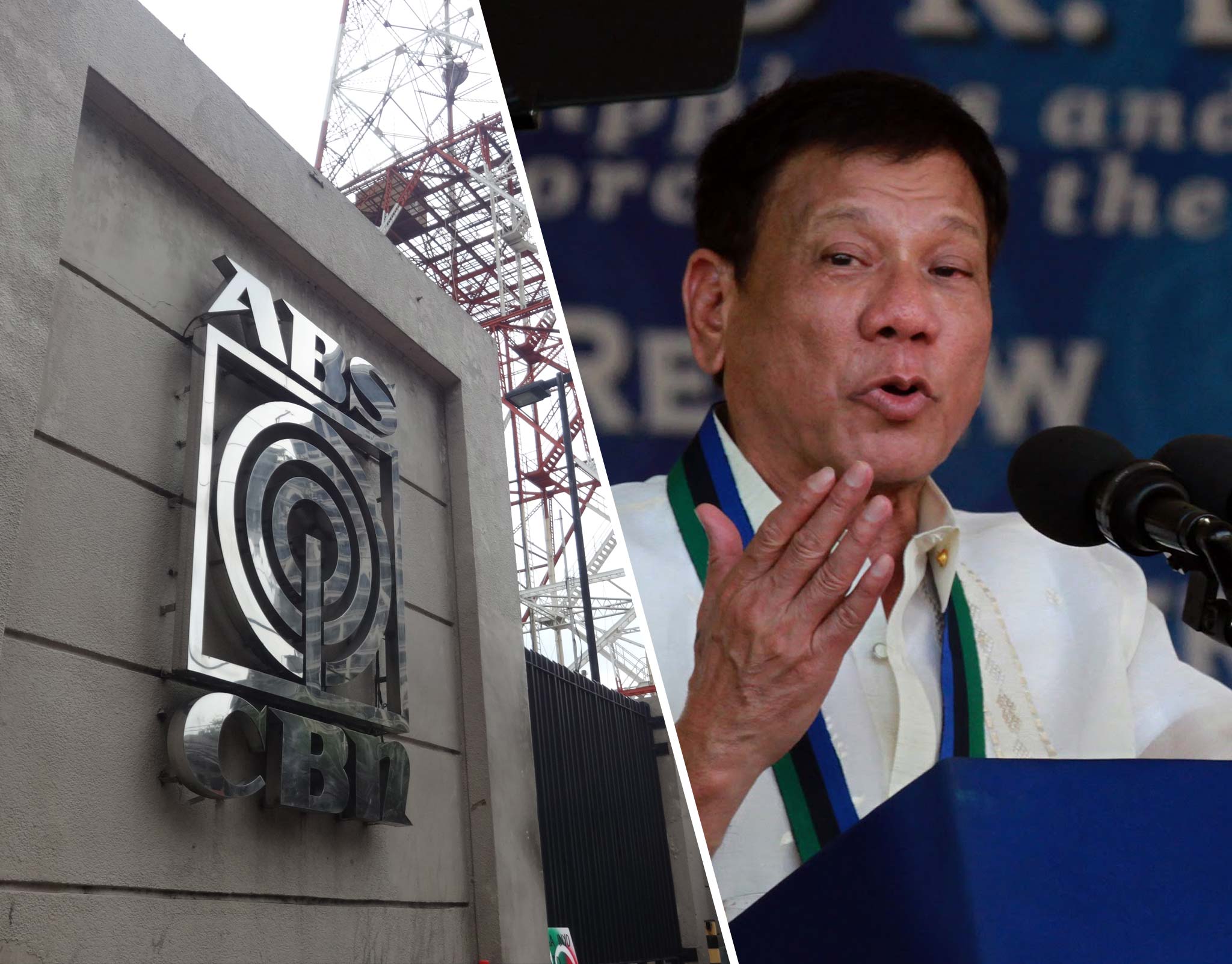 RES IPSA LOQUITUR. The thing speaks for itself. I remember learning a lot about legal terms in Latin on the legal talk, public service and drama radio program on DZMM with the late Philippine Senator Rene Cayetano, the good father of House Speaker Alan Peter Cayetano.
The "Compañero ng Bayan", as I fondly called him, would give pro-bono legal advice to my radio listeners, sharing my objective to make ordinary Filipino people more aware of their rights and obligations as provided for by the law. The Filipino people rewarded the elder Cayetano by catapulting him to the Philippine Senate in 1998.
Res Ipsa Loquitur. The thing speaks for itself. I believe the late Compañero will agree with me that this legal term is very much applicable to the online forum live-streamed on Facebook and shared on various social media platforms.
After killing the ABS-CBN franchise on July 10, a Zoom video call shows that Dutere's minions are now strategizing on ways to seize the assets of and take over ABS-CBN.
As InterAksyon reported, and as viewed by Filipinos all over the world on social media, "Deputy Speaker Rodante Marcoleta (Sagip Party-list), Deputy Speaker Jesus Crispin Remulla (Cavite, 7th District), Rep. Michael "Mike" Defensor (Anakalusugan Party-list) and Rep. Yedda Romualdez (Tingog Sinirangan Party-list) talked about the different ways that ABS-CBN's properties could be used and acquired, including seizing the broadcast giant's sprawling headquarters in Quezon City."
Cognizant of the fact that an overwhelming majority of Filipinos surveyed (75 percent) said Congress should have renewed the franchise of ABS-CBN, this "leaking" of a such sensitive (or should I say insensitive) Zoom meeting was purposely done by Defensor.
The Partylist Anakalusgan representative, who appeared to be more obsessed about killing the franchise of ABS-CBN than to help kill COVID-19 as he has sworn to do, hosted the informal meeting and made the streaming public on his official Facebook page.
The report said Defensor contended that "the online discussion was meant to "explain" the franchise committee's technical working group's recommendation on rejecting ABS-CBN's application, which was eventually upheld by the House panel."
President Rodrigo Duterte — whose vow was: "Ikaw, ABS-CBN, ang inyong franchise, mag-end next year. If you are expecting na ma-renew Yan, I'm sorry. You're out" — must be very happy with his minions in Congress.
After all, he has repeatedly threatened to shut down the network for not airing some of his campaign ads [regional ads, because of shorter time allocation, per ABS-CBN President Carlo Katigbak] during the 2016 Presidential elections with Speaker Cayetano as his running mate, and not issuing the campaign the refund for unaired materials.
After all, he has made public again and again with expletives you wouldn't want your children to hear from their president, his rage against ABS-CBN's critical reporting of him and especially of his war on drugs, his hatred for ABS-CBN management, especially Chairman Emeritus Gabby Lopez, for failing to air his campaign ads.
After all, Duterte himself said "Yun namang ABS-CBN binaboy ako. Pero sinabi ko kapag ako nanalo, bubuwagin ko ang oligarchy ng Pilipinas." He also said, "'Yung kaibigan kong tumutulong, 'pag yumaman ka nang yumaman, mas maligaya ako (My friends who are helpful, if you get richer and richer, I will be happy)."
After all, it was Duterte himself, amid his threats, who urged ABS-CBN to sell the network to a new owner. Some have speculated that the president's friend Dennis Uy, who donated P30 million to Duterte's campaign, will acquire the Lopez-owned network, as Rappler reported.
Amid his doublespeak and quoting verses from the Bible, Speaker Cayetano never had a single hearing about the franchise renewal even before the pandemic, and waited for the franchise to expire, despite numerous petitions waiting to be heard as early as 2014.
After all, the rule of law mandates that franchise renewal applicants should be accorded a fair hearing before any decision is made. Furthermore, contrary to the treatment given to other applicants, ABS-CBN was not allowed to operate while the decision was pending.
Worse, the dishonorable minions who voted to kill the franchise did not take into consideration the testimonies given by the officials of the Department of Justice, Department of Labor, Bureau of Internal Revenue, National Telecommunications Commission, that ABS-CBN had no violations of the provisions of its franchise as alleged by detractors in the court of public opinion. They also penalized the network for issues, which were non-issues, in their treatment of other franchise applicants like GMA-7.
On February 24, Duterte's former aide turned Senator Bong Go was quoted in a Rappler article, saying the president was "hurt" as ABS-CBN chose to air "black propaganda" instead of "legitimate" ads paid for by the Duterte campaign. "Kung masama ka sa Pangulo, mas maging masama siya sa 'yo (If you are mean to the president, he will be meaner to you)," he says.
RES IPSA LOQUITUR. The thing speaks for itself. The politics of vendetta and cronyism and political dynasty in the Philippines. Condoned and perpetuated not only by the three supposedly independent and co-equal branches of government, but by many Filipinos who are loyal Duterte supporters.
Mrs. Chita Lopez-Taylor, the mother of Gabby Lopez and widow of the late Geny Lopez, the one who built ABS-CBN, shared with me a statement from a priest which she allowed me to share in my column.
I can only imagine what Tita Chita is going through right now, after having experienced how the Marcos dictatorship imprisoned her husband, sequestered ABS-CBN when martial law was declared in 1972, all because of a vendetta for the network's reporting. The Lopezes were only able to take back the broadcast headquarters in 1986 when Marcos was deposed by People Power.
Here is the statement:
WE ARE BACK TO THE STREETS
I was here in these same streets with a throng of discontented crowd last February 24-25, 1986. That was 34 years ago when I was still a young seminarian. Today, I am back with the same arms in protest. Deja vu!
Despite the COVID-19 scare, people are out again – from Makati, from Luneta, from Quezon City – raising their fist, honking their horns, shouting, creating any kind of noise. I can again feel what I felt during the days of People Power – the emotion, the disgust, the anger, the dedication, the commitment, the youthful faces.
Why are they risking their lives when the virus is just lurking in the air? Because something is wrong, terribly wrong. There was even a young lady who brought out her body and sat by the side window of her car with tears falling on her cheeks as she raised her arm in silence. She was not born yet in 1986. But I saw in her eyes the same anger, the same cry, the same "No" that emerges out of the depths of our humanness when our moral fiber is violated. We say "this is wrong" and we raise our fist in protest.
I am here for some of my ABS-CBN friends – Inday Espina-Varona, Eli Sepe, Ilsa Reyes, Paul Catada, and several others. But I am also here in the name of thousands of people whom I do not know, their camera men, drivers, waitresses in restaurants, production assistants, technicians of transmitters, tindera ng sari-sari store sa kanto ng Esguerra at Panay, people we do not see on camera, who will go home to their families in the following weeks with nothing, not knowing how to start again. Only because of the personal vendetta of the king by the Pasig river, legitimated by the rude dramatics of his cohorts in Congress. We do not need to be lawyers to see that something is wrong in those hypocritical charades in high places. How many times in this country shall we see the law being weaponized to kill the poor. No, he has not destroyed the oligarchs in this country; he has killed the poor!
I have joined small picket lines of 20-30 workers in some factories or displaced lumad since I was a student. Today, we are talking of 11,000 workers and many others without a future. They and the many victims of this government deserve our support. It is time to stand up, to rise and make our voices be heard. In the face of evil, silence is yes to the status quo. Neutrality is to be complicit with the powers that be.
I write my name below to show that I am fully responsible for what I write here; it is necessary especially now that the Terror Law is in effect. Because I also raise my fist in protest of this dangerous and unjust law. I also cry in protest for the extrajudicial killings which I see at close range and their wailing widows and orphans. And I say No to all the values proliferated by this government that is against the basic human sensibilities that my poor parents, my best teachers and my dedicated guides have taught me in my life
Fr. Daniel Franklin E. Pilario, C.M. St. Vincent School of Theology, Adamson University
[email protected]
07.19.2020.
* * *
Gel Santos Relos has been in news, talk, public service and educational broadcasting since 1989 with ABS-CBN and is now serving the Filipino audience using different platforms, including digital broadcasting, and print, and is working on a new public service program for the community. You may contact her through email at [email protected], or send her a message via Facebook at Facebook.com/Gel.Santos.Relos.